A sweet but fresh and filling savoury bowl for either lunch or dinner.
Broccoli salad
300 g broccoli
2 dl green soy beans
2 dl white soy beans
250 g mangold
Herb dressing
2 tbsp olive oil
1 tbsp balsam vinegar
Juice and zest from ¼ lemon
A branch thyme
10 peppercorns
Black and white pepper
Salt flakes
Baked tahini roots
1-2 carrots
½ swede
A handful walnuts
2 tsp firm honey
2 tsp balsamico
1 tsp dry thyme and some branches fresh thyme
Black and white pepper
Salt flakes
Juice from ¼ lemon
Make a herb marinade of the oil, vinegar and juice, cut the fresh thyme in it and spice. Cook the beans if they aren't already. Cook the broccoli just a few minutes so they are a bit chewy. Mix together with the herb marinade and mangold.
Put the oven on 175 degrees Celsius. Peel and cut the carrots and swede. Mix tahini, honey, balsamico and spices in a bowl. Add the cut veggies and mix well by hand, so that everything is covered in the glaze. Put it in a ovenproof tin and bake it for 20 minutes. Add it on the warm broccoli salad and top with some fresh thyme and lemon juice.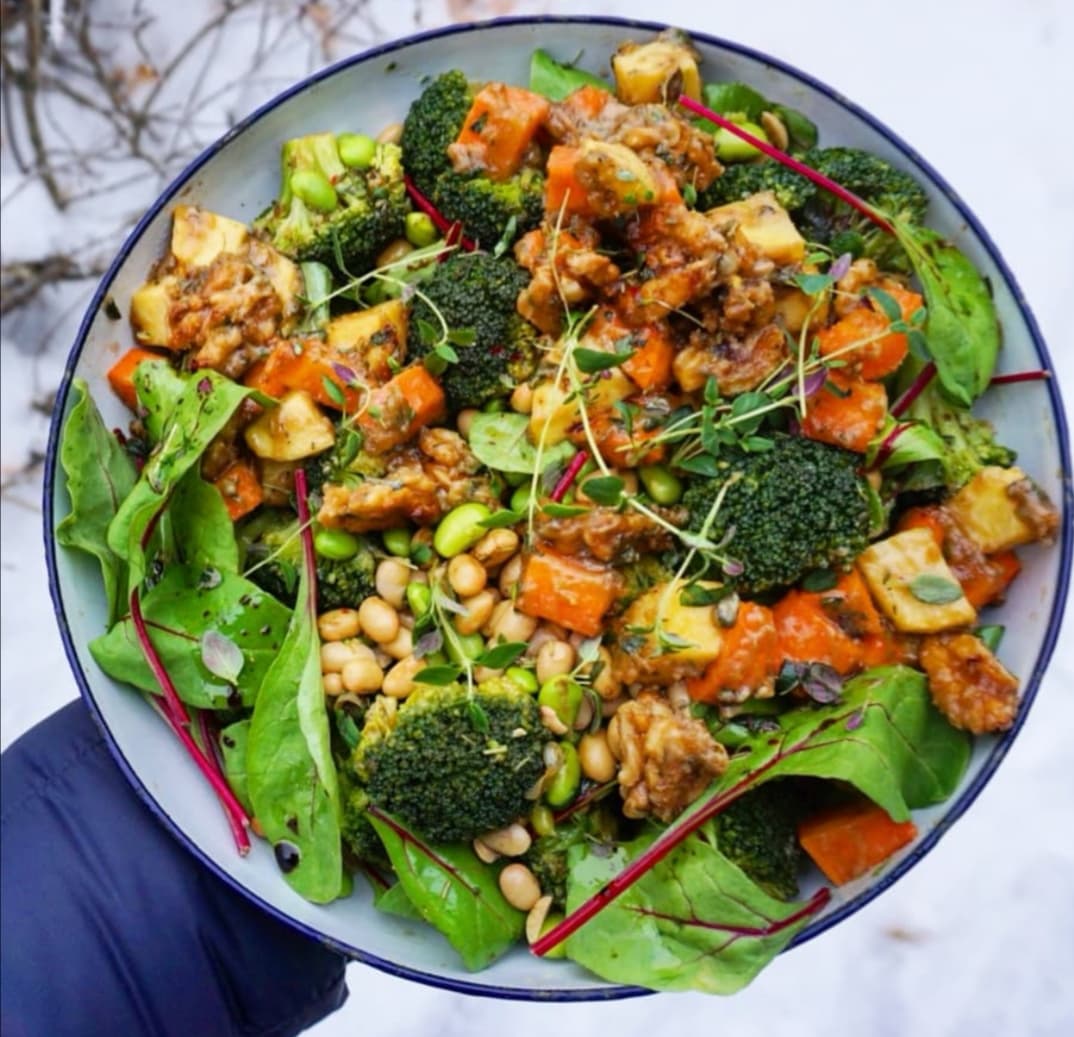 En söt men fräsch och fyllig ljummen salladsskål som lunch eller middag!
Ljummen Sallad
Brocclisallad
300 g Broccoli
2dl gröna sojabönor
2 dl vita sojabönor
250 g mangold
Örtdressing
2 msk olivolja
1 msk balsamvinäger
Saft och zest från ¼ citron
Ett knippe färsk timjan
10 rosépepparkorn
Några rejäla drag med pepparkvarn
2 nypor flingsalt
Gratinerad tahinipytt
1-2 morötter
½ kålrot
1 dl hela valnötter (tips är att blötlägga valnötterna några timmar, så blir det en helt annan smak!)
6 msk tahini
2 tsk fast honung
2 tsk balsamico
1 tsk torkad timjan och några kvistar färsk timjan
Några rejäla drag med pepparkvarn svart och vit
2-3 nypor flingsalt
Saft från ¼ citron
Koka bönorna om de inte redan är kokta. Koka broccolin lätt så det är en kärna kvar, lite tugg helt enkelt. Blanda om med örtmarinaden och mangoldblad.
Sätt ugnen på 175 grader. Skala och tärna morötterna och kålroten. Blanda tahini, honung, balsamico och kryddor i en skål. Rör ner rotsakstärningarna och valnötterna, så att allt är glaserat i såsen. Häll över i en ugnssäker form och gratinera i cirka 20 minuter. Häll över det på den ljumma broccolisalladen. Och Pressa över lite färsk citron och toppa med timjankvistar.