Gingerbread cookies for everyone! These are gluten free and very very tasty, we promise, as always!
Gingerbread cookies
1/3 cup almond flour
1 cup chickpea flour
2 tbsp psyllium husk
1/2 tsp bicarbonate
1 tbsp unsweetened apple sauce
1/3 cup coconut sugar
3 tbsp agave syrup
3 tbsp coconut oil
a pinch of sea salt
Spices:
2 tbsp cinnamon
2-3 tsp ground ginger
1 1/2 tsp ground cloves
1 tsp ground bitter orange peel
1 tsp ground cardamom
1 tsp pounded cardamon
Chopped nuts for topping
Put all dry ingredients in a bowl. Melt coconut sugar, coconut oil and agave syrup in a pot. Mix it in the bowl of dry ingredients into a compact dough and put in the fridge for about 1 hour.
Depending on how thin you want your cookies, there are two ways: 1, Tuck out the dough very thin and use cookie frames to cut out cookies. OR 2, let the dough be in the fridge for a longer time until it is more set, then use a mandolin to get super thin cookies. Put some chopped nuts on every cookies and bake them on a tray with baking sheet in the oven on about 200 C degrees for about 2-6 minutes depending on thickness of the cookies. Let cool before eating.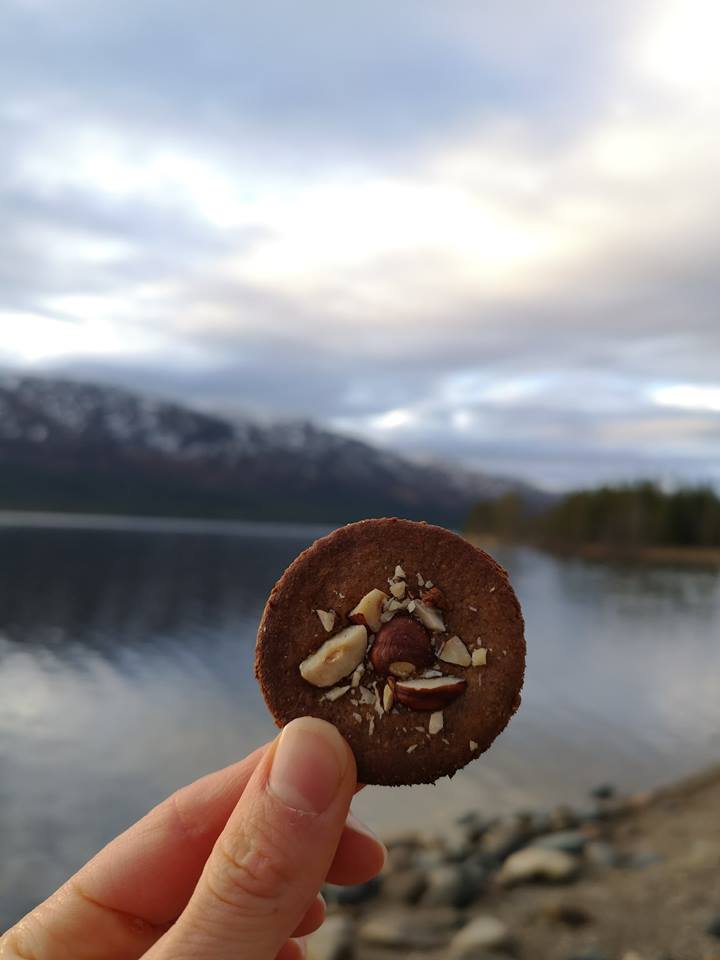 Spröda och tunna pepparkakor, dessutom glutenfria, så att fler kan njuta av dem! Kokossockret gör de extra krispiga och lite karamelliga! Ni måste verkligen prova dessa...
Pepparkakor
1 dl mandelmjöl
3 dl kikärtsmjöl
2 msk fiberhusk
1/2 tsk bikarbonat
1,5 msk äppelmos
1 dl kokossocker
1/2 dl agavesirap
3 rågade msk kokosolja
en nypa havssalt
Kryddor
2 msk kanel
2-3 tsk ingefära
1,5 tsk nejlika
1 tsk pomerans
1 tsk kardemumma
1 tsk stött kardemumma
Hackade nötter till topping
Blanda alla torra ingredienser i en skål. Smält kokossocker, kokosolja och agavesirap i en kastrull. Rör sedan ner det i skålen med torra ingredienser och rör om till en degklump. Låt svalna i kylen cirka en timme eller i över natten, beroende på hur du vill göra dina kakor. Vi har två sätt, antingen kavlar du ut degen riktigt tunnt och stansar ut pepparkakor med pepparkaksformar eller glas, ELLER så väntar du över natten så att degen har satt sig mer och är ordentligt kall och mandolinerar supertunna kakor! De blir riktigt krispiga och goda.Toppa gärna med hackade nötter och grädda i ugnen på 200 grader i ca 2-6 minuter beroende på tjocklek. Låt kallna innan de äts.