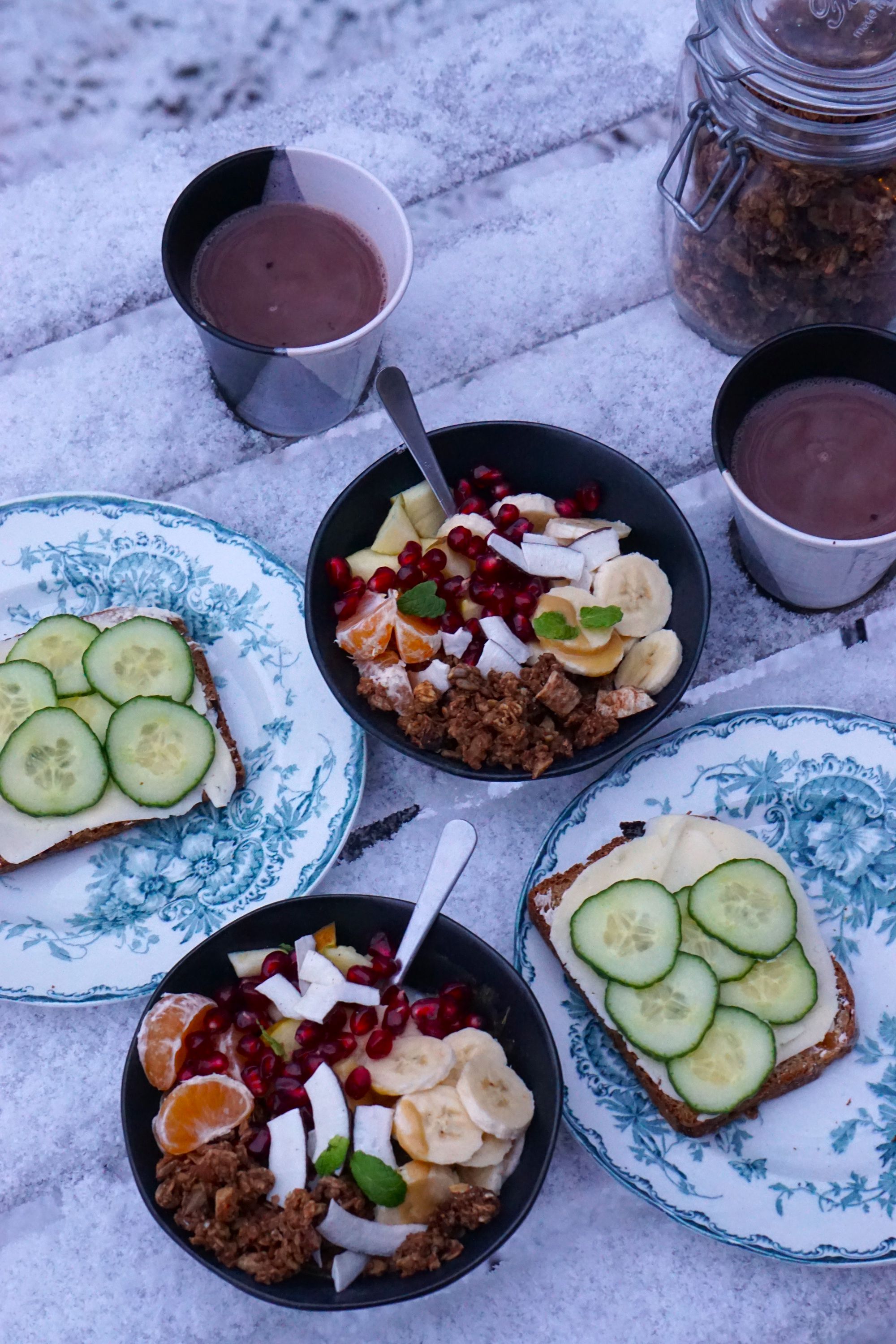 For english, please scroll down.
Härlig frukost ute i snön. Vi serverar oss själva fruktsallad med hemgjord kryddig granola, som vi delar recept på nedan, med frukt- och nötbröd (köpt) och kaffe-choklad.
Granola
En granola i goda klumpar som fungerar bra som snacks och kan tryckas ihop till bars också. Inte krispig och crunchy, lite "mjukare" och vansinnigt god!
En plåt
en näve valnötter
en näve mandlar
en näve torkade fikon
3 msk honung eller sirap
3 msk kokosolja
1 ½ - 2 dl kokhett vatten
1 dl äppelmos
½ dl valfritt nötsmör eller tahini
9 dl havregryn (denna gången använde vi hälften fiberhavregryn)
1 ½ dl solrosfrön
en näve kokosflakes
1 msk kanel
1 msk maca
kardemumma och saffran efter behag
salt, efter behag
Hacka nötter och fikon. Lös upp kokosolja och honung i kokhett vatten. Blanda om med äppelmos och nötsmör. Rör ihop alla ingredienser i en bunke. Sprid ut på ett bakplåtspapper på en plåt. Rosta i ugnen på 125 C i 30 minuter, rör om då och då. Sänk därefter temperaturen lite. Låt torka. Ta ut när det fortfarande är lite mjuk. Den torkar efter som.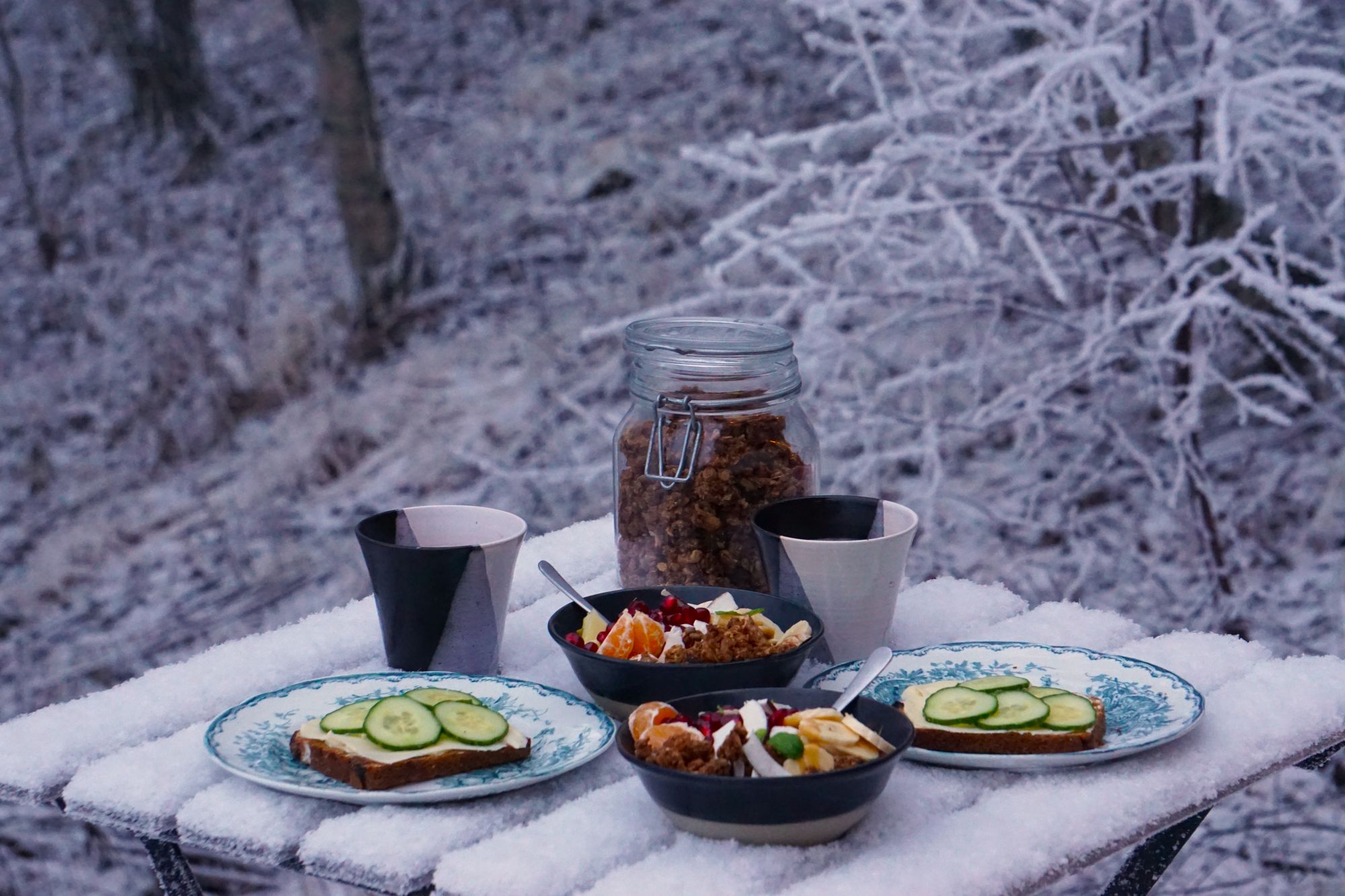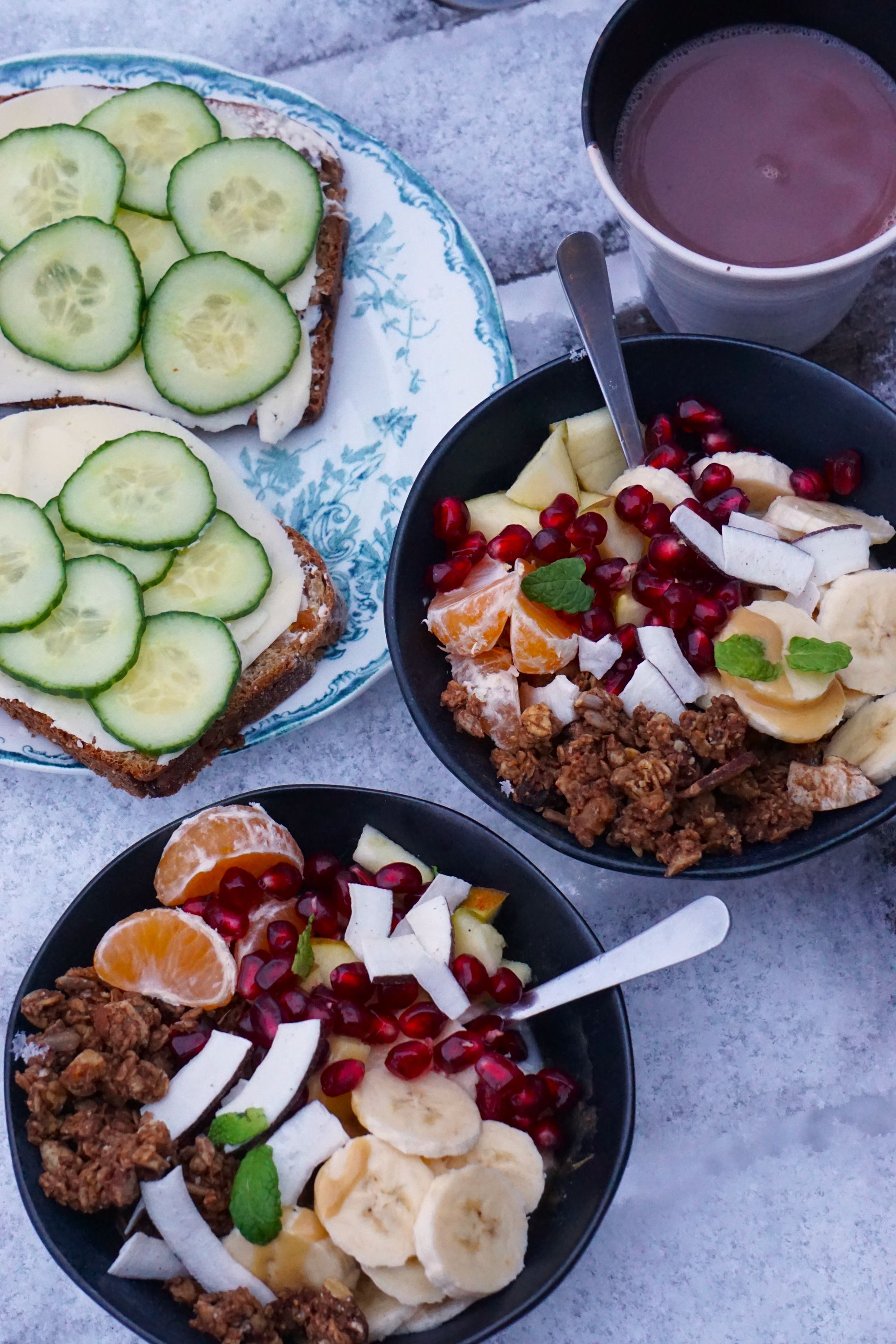 A very yummy breakfast outdoors in the snow. We served ourselves fruit salad with homemade spicy granola, which we have recipe for you right here, together with nut- and fruit bread (bought) and hot chocolate-coffe blend.
Granola
A granola in chunks that also works well as snacks and can be pressed together into bars too. Not crunchy and crunchy, a little "softer" and insanely tasty!
One tray
a handful walnuts
a handful almonds
a handful dried figs
3 tbsp honey or syrup
3 tbsp coconut oil
1 ½ -2 dl hot water
1 dl applesauce
½ dl optional nut butter or tahini
9 dl rolled oats
1 ½ dl sunflower seeds
a handful coconut flakes
1 tbsp cinnamon
1 tbsp maca powder
cardamom and saffron, at will
salt, at will
Chop nuts and figs. Dissolve coconut oil and honey in boiling hot water. Mix with applesauce and nut butter. Stir all the ingredients together in a bowl. Spread out on a baking sheet on an oven tray. Roast in the oven at 125 degrees Celsius for 30 minutes, stirring occasionally. After that, lower the temperature a little. Allow to dry. Take out when it's still a little soft. It dries completely after some time.