The perfect crunchy, sweet but also nutritious treat when you want some energy!
Nutty Quinoa Pop Tarts with Ginger bites, Peanut butter and Maca
1 dl puffed quinoa

2 dl natural nuts (we used organic pecans and hazelnuts)

1/2 dl pumpkin seeds

1/2 dl roasted coconut flakes

1/2 dl dried ginger bites (ours was just ginger and rolled in liqourice powder)

1/2 dl russin

1 dl crunchy peanut butter

2 tbsp maca powder

2 tbsp coffee

zest from an orange

100-150 grams of dark chocolate (we used organic 80% couverture chocolote from Zotter)
Chop nuts, nuts and ginger. Mix in a bowl with puffed quinoa, pumpkin seeds and cocnut flakes.
In another bowl, mix penaut butter, maca, coffee and zest from 1/2 an orange.
Melt the chocolate over a water bath. Mix with the nut mix. Spread out on a baking sheet, about 1/2-1 cm thick. Crumble the peanut butter mixture on top and press it out. (Great to use a baking sheet on top) Let cool. Then slice them up with a sharp knife!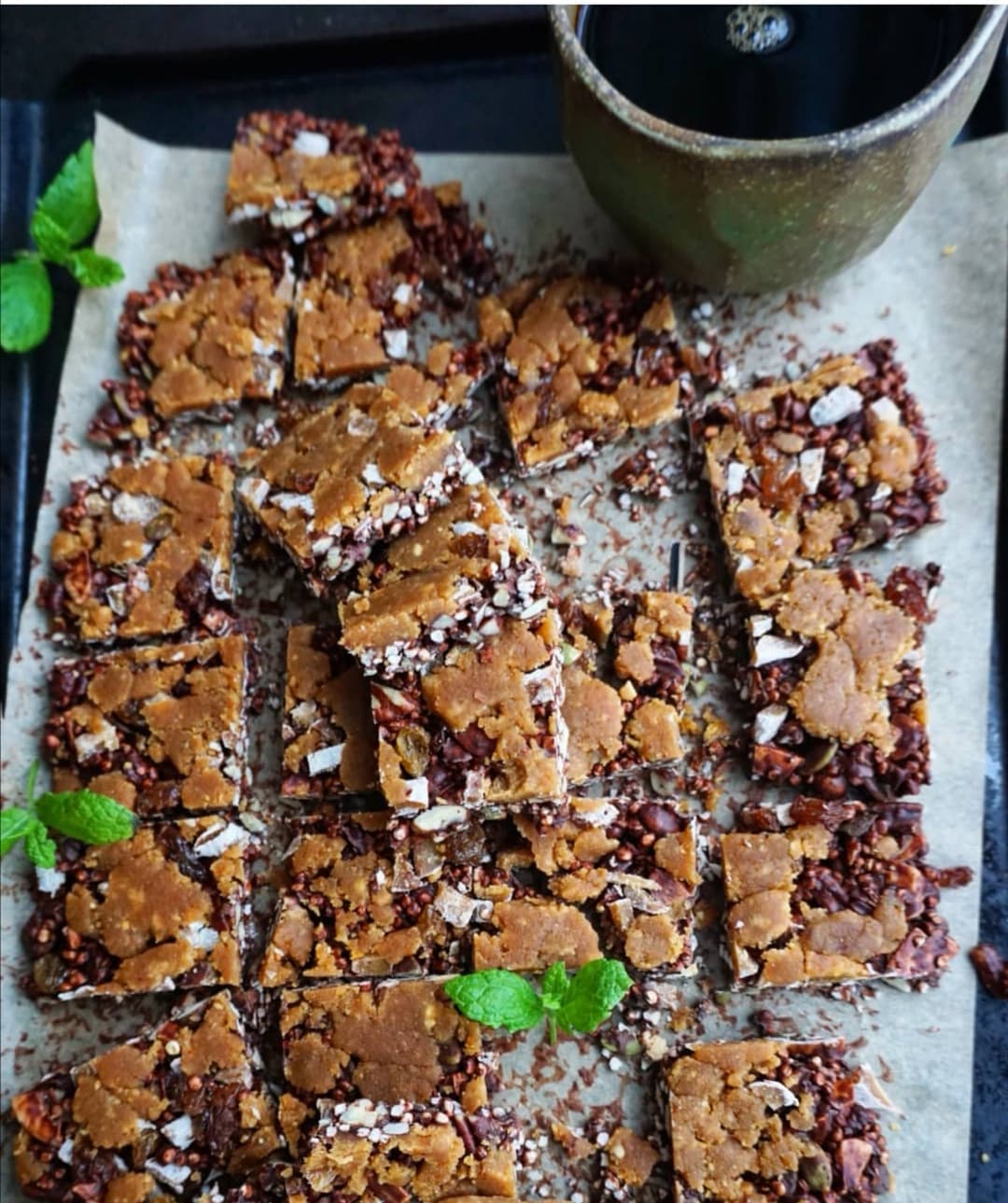 Nötiga Quinoa-Chokladrutor med Ingefära, Maca och Jordnötssmör
1 dl quinoapuffar

2 dl naturella nötter (vi använde ekologiska pekan och hasselnötter)

1/2 dl pumpafrön

1/2 dl rostade kokosflakes

1/2 dl torkad ingefära (Vi använde denna)

1/2 dl russin eller torkade tranbär

1 dl Crunchy jordnötssmör

2 msk macapulver

2 msk

apelsinzest från 1/2 ekologisk apelsin

100-150 gram mörk choklad (vi använde 80% couverture-choklad från Zotter)
Hacka nötter, russin och ingefära. Blanda ihop i en skål med quinoapuffar, pumpafrön och kokosflakes. Smält choklad över vattenbad och blanda med nötblandningen. Bred ut på bakplåtspapper ca 1/2-1 cm tjockt. (Låt INTE stelna innan du lägger på jordnötssmörslandningen!)
Blanda ihop jordnötssmör, maca, kaffe och apelsinzest. Smula över på choklad-nötblandningen. Lägg på ett bakplåtspapper och tryck fast. Ställ kallt och låt stelna. Skär sedan i rutor med en vass kniv!