A glutenfree fresh bread with walnuts and a rhubarb jam. A perfect start of a summer morning.
Ett glutenfritt saftigt bröd med valnötter och rabarberkräm. En perfekt start på sommarmorgnar!
Walnut Bread
6 dl water
1/4 pkt yeast
7 dl buckwheat
1 dl coconut flour
1 dl corn flour
1/2 psyllium husk from LindroosHälsa
1/2 dl oil
1,5 dl pumpkin seeds
2 handful walnuts from Ekonötter
Bread Spices, Anise and Fennel
2-3 pinches of salt
1,5 tbsp honey
Disolve the yeast in the water. Add the rest of the ingredients and stir well to a nice dough. Cover with a cling film and a kitchen towel. Let rise for about 3 hours. Make some nice cuttings on top, and then bake for 12 minutes on 200 degrees celsius, lower then the degrees to 150 degrees celsius and bake for another 60 minutes. Let cool before cutting and serving.
Rhubarb Jam
500 g rhubarb
200 g strawberries
2 dl water
1 pinch of vanilla powder
1,5 tbsp coconut sugar
little yacun syrup or honey
a dash of lemon juice
a piece fresh ginger
2,5 tbsp chia seeds
Cut the rhubarbs and strawberries in small pieces. Cook togehter with everything else in a sauce pan. Boil until the rhubarbs are soft, about 20 minutes. Stir now and then. Put the in clean jars.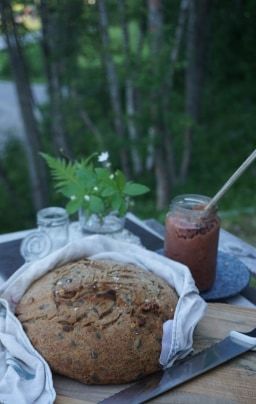 Valnötsbröd
Lös upp jästen i vattnet. Tillsätt resten av ingredienserna och rör om till en jämn deg. Täck med plastfolie och en kökshandduk. Låt jäsa i cirka 3 timmar. Gör några fina skär ovanpå och baka sedan i 12 minuter på 200 grader, sänk sedan graderna till 150 och baka i ytterligare 60 minuter. Låt svalna innan du skär och serverar.
Rabarberkräm
500 g rabarber
200 g jordgubbar
2 dl vatten
1 nypa vaniljpulver
1,5 msk kokossocker
liten yakunsirap eller honung
en skvätt citronsaft
en bit färsk ingefära
2,5 msk chiafrön
Skär rabarber och jordgubbar i små bitar. Låt koka med resten av ingredienserna. Puttra tills rabarberna är mjuka, cirka 20 minuter. Rör om då och då. Häll över i rena burkar.