RACE REPORT
PITZTAL ALPINE GLACIER TRAIL 45K Glacier
Honestly both of us had really tired bodies the days before the race. Our heads wanted more than the bodies, at least the muscles were very tight. Not weird when thinking about everything we had been doing the previous weeks. But with some easy days before and good food at Hotel Vier Jahreszeiten in Mandarfen in Pitztal we felt ready and were eager to get to the start line for Pitztal Alpine Glacier Trail. 45 kilometers with about 2.800 m of elevation. The race have many distances to choose between, 15k, 30 k, two 45 k, one on glacier and one flatter, 60k, 90k, and the big one, 105k.
It was a bit different this year of course, due to Corona. Our starting time was schedule at 2 am in the night which meant we would run more than half of the race in darkness. Runners were divided in starting blocks, 50 at a time. We were in the elite field, and everyone had to wear a buff as a mask and keep distance.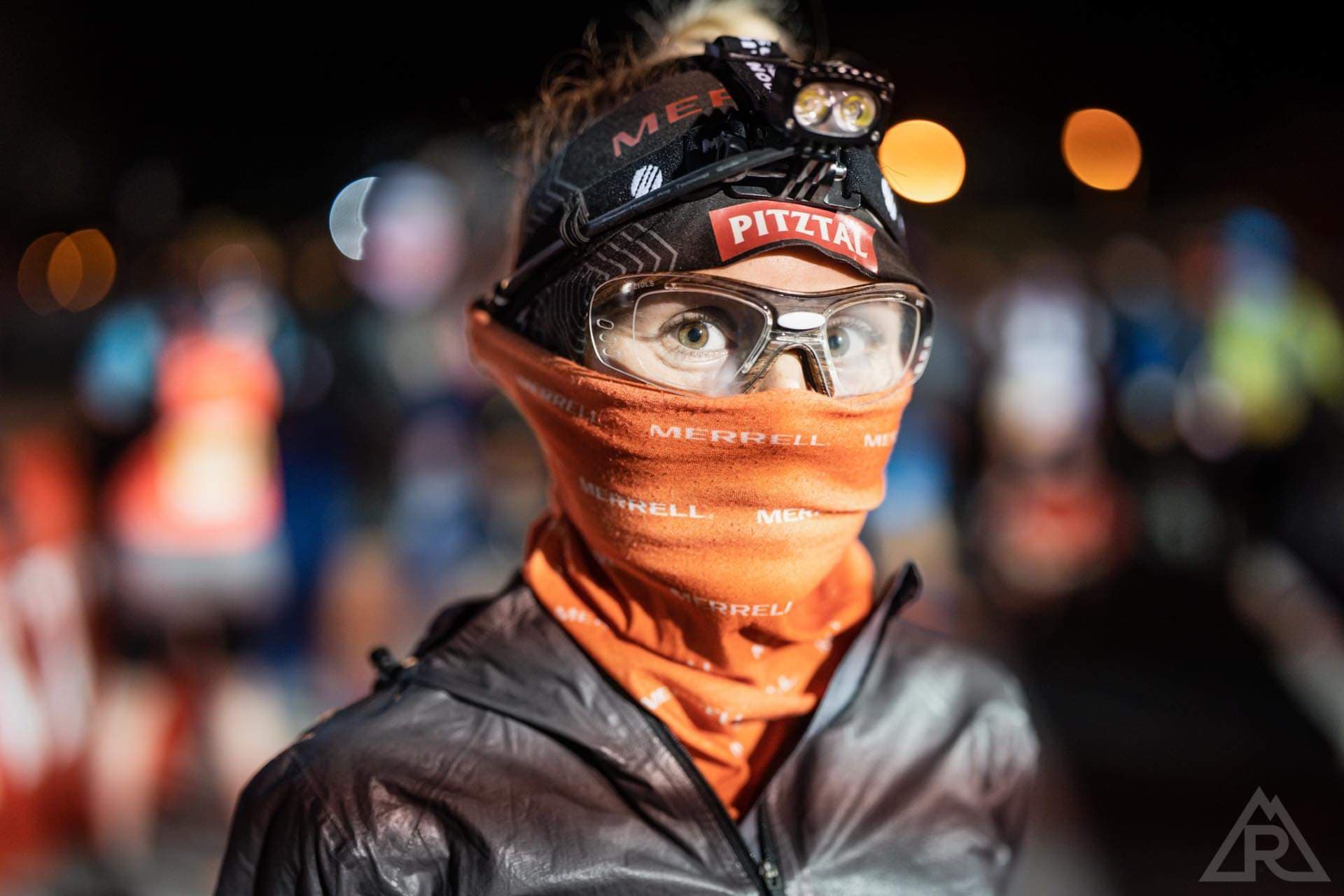 The first 700 m was an asphalt stretch. Nice to start on an let the legs roll and push before a narrow and steep climb in the forest. Our first climb was up to Mittagskogel, a majestetic mountain just in front of Mandarfen, 6 k with 1300 m of elevation, so pretty much just straight up. But that's how we like it. None of us knew who would be the strongest one of us, since we have trained equally this summer.
It was dark around us, and our Moon Light Mountain Gear head lamps helped us see the trail ahead. The sky was full of stars and the moon was also strong, a bit too strong, irritating, just in front of us, with a strong glare light.
No girl to see behind us, but a guy had the same pace. We zig zagged up, and the last part were more scrambling. The guy seemed to be faster downhill than us, and we told him that he could pass. But he didn't want to run alone in the dark. I understood him, I felt safe with Lina so close. After a while he continued though. We've been on the glacier in the dark a few times, but with skiis on our feet on a lot of snow. To now enter the glacier from rocky stones and put on spikes was another thing. Everything was glittering and we had such a magical moment!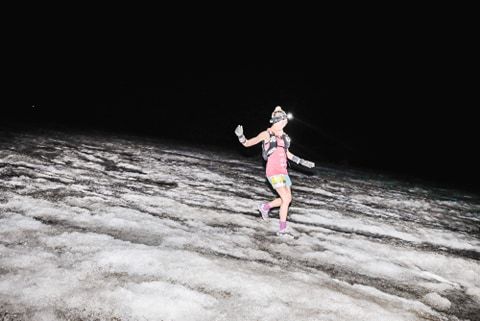 I was running and laughing and had so much fun together with Lina. We pushed and supported each other and without planning it we stayed together and ran like a team. I think we both felt we were stronger together; the race was so much more fun then!
At Braunschweiger hutte we passed the first 105 k runners. They had started at 11 pm. We doubted these people would finish the whole course, but we kept our fingers crossed for them! On Transalpine Run we ran up this part, I remember it as a neverending climb, and it felt better now to bounce downhill instead towards Mandarfen. We had very much stomach ache since a few days, and it didn't get better when running. So we struggled a lot to keep a good speed even though it hurt.
In Mandrafen again, halfway, we were allowed to leave our spikes and head lamps, though it would be another 30 minutes for the sunrise, so we kept our head lamps. Even though it was a quick stop, we had new energy and felt unstoppable up the trail to Sunna Alm and Riffleesee. Once there, there is a flatter part with gravel road. It was so nice to stretch out the legs. But just as we entered the trail again, I guess my mind wasn't with me, I stumbled and fell with my left thigh on a sharp stone! It hurt so much and I couldn't stop swearing and crying. Everything that had felt so good. Now Lina had to continue by herself! At least I thought so. Lina didn't want to even though I yelled at her. But started to do so after a while as I limped after.
I couldn't bend the leg very well, but tried to jump more on the other leg to come over stones and such. It worked and I tried not let Lina gain too much distance in front of me. I guess with the adrenaline and a bit of experience from tougher times, I continued to run with the harsh pain. This race was also a bit too long for Linas knee, (she was injured the whole last year because of a bursitis in her knee). And as she also had to slow down for some pain, we automatically fell into the same pace once more.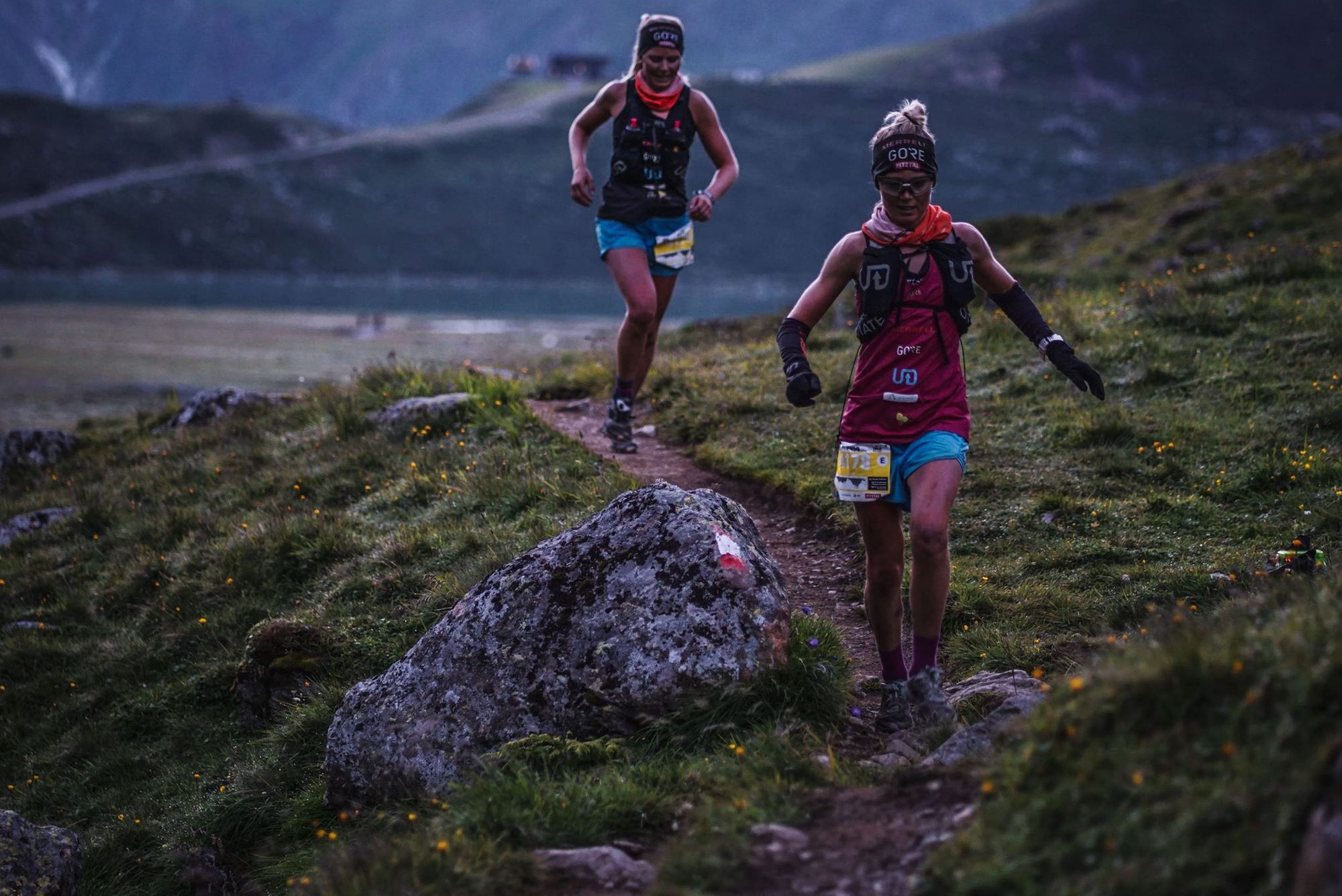 None of us wanted to be on another place than just here and said we could run with some temporary pain anyway, because we had each other and had a great time out there. The sunrise was beautiful, but we didn't like that the sun tried to get us on fire. I mean, we were literally on fire for running, but slowing down for the heat. Too hot for a swede even in the morning. As we came longer into the valley, closer to Taschachhaus, we came into the shade again! By this time, we had passed even more long-distance runners, and cheered them along. This part of the course is a traverse into a valley. Very nice, grassy and runnable. But my Maurten gels were out and I would have liked to have one more...
From Taschachhaus it is a trail on a little ridge, and the last aid station, where we took some coke, to make us fly down the last 6 k on gravel road. I like to end races where you can run fast without risking falling. We finished side by side with two big smiles! 6 hours and 49 minutes. And now we could just have a shower and go directly to breakfast.