For english, scroll down
Lunch utomhus, det är mysigt även vintertid! Klä på dig extra kläder och glöm inte sittunderlaget. Häromdagen åt vi ugnsrostad pumpa, svartkål och paprika, marinerade kikärtor och breda zucchinizoodles till en currysås.
Utomhuslunch
2 portioner
Ugnsbakat
1/2 pumpa
1/2 paprika
1 msk kokosolja
salt och peppar
några svartkålsblad
Marinerade kikärtor
1 pkt kikärtor eller vita bönor (ca 2 1/2 dl)
1/2 msk äppelcidervinäger
1 msk olivolja
1/2 msk pumpakärnsolja (kan uteslutas)
1 tsk yacunsirap (eller annan sirap)
salt och peppar
en nypa chiliflingor
Sallad
1/2 zucchini
några körsbärstomater
1 msk svarta och vita sesamfrön
1/2 citron, zesten
3 dl kokt havreris
Currysås
2 dl havrefraiche
1 1/2 msk currypulver
1 tsk äppelcidervinäger
salt och peppar
Skär pumpa och paprika i mindre bitar. Ugnsbaka på bakplåtspapper med lite kokosolja, salt och peppar på 175 grader i 12 minuter. Lägg därefter in svartkålsblad i 3 minuter. Blanda kikärtor eller vita bönor med vinäger, olja, sirap och kryddor. Hyvla zucchini och skär tomater i bitar. Blanda med sesamfrön och citronzest. Rör ihop en sås med vegansk yoghurt, exempelvis havre fraiche, tillsammans med curry, vinäger, salt och peppar. Lägg i lunchlådor och njut av en enkel lunch utomhus!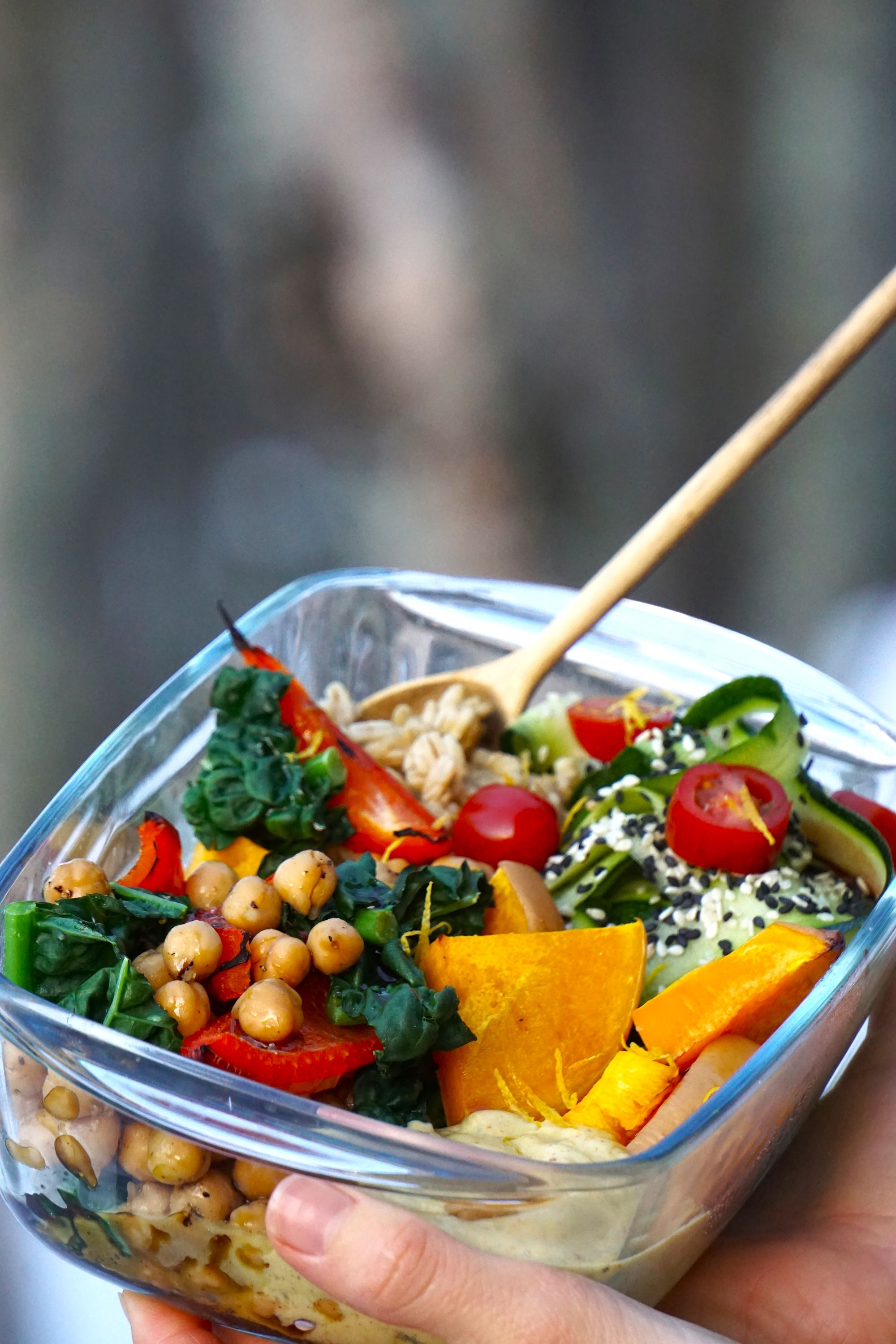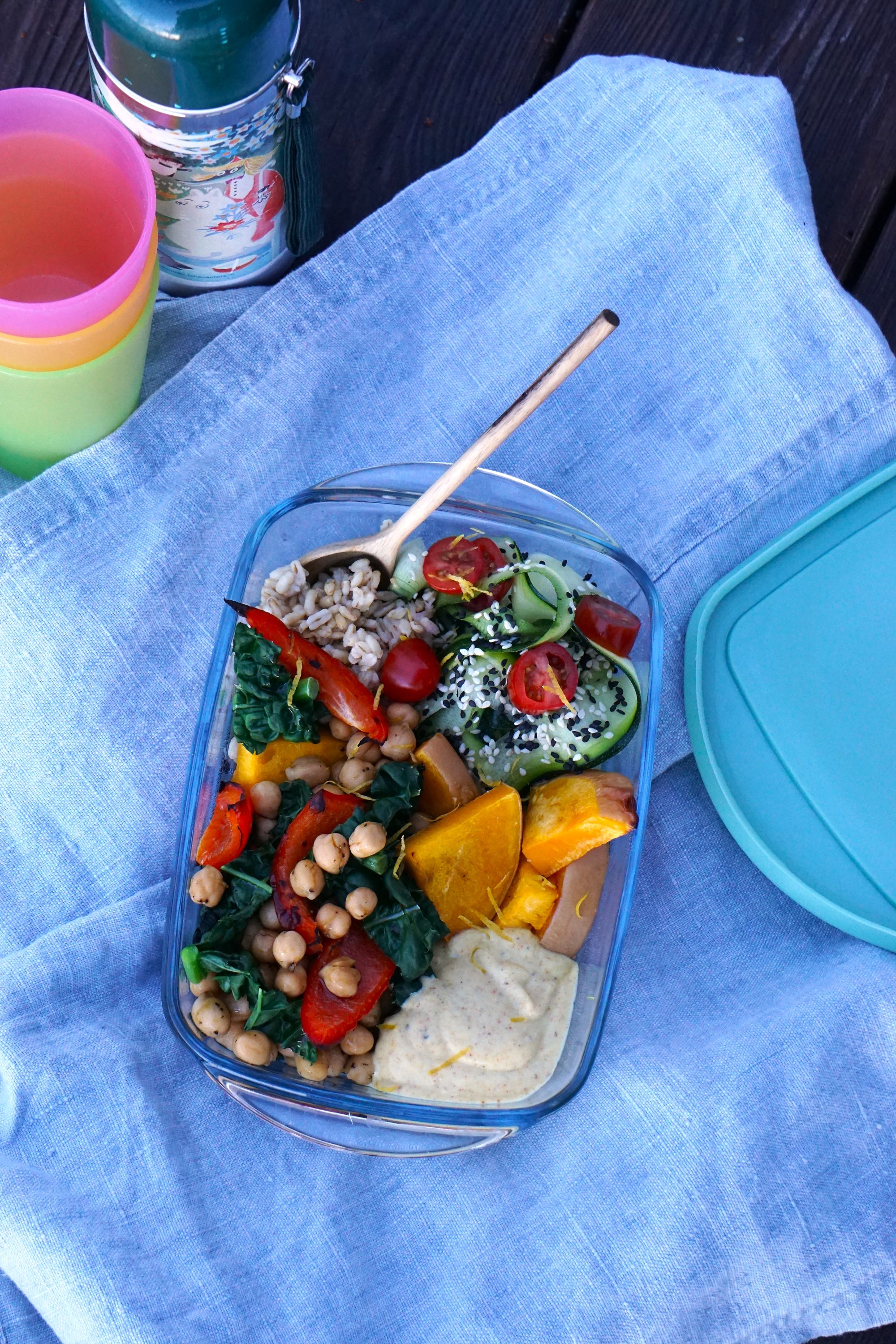 Spicy lunch box to enjoy outdoors. It is always cozy to eat outside, even during winter. Just put some extra layers on, and something warm to sit on, and there you are! We enjoyed oven roasted pumpkin, bell peppers and dino kale with lemon zest, oat rice, chickpeas in a marinade and zucchini noodles with a curry sauce.
Outdoor lunch
2 portions
Oven baked
1/2 pumpkin
1/2 red bell pepper
1 tbsp coconut oil
salt and pepper
some dino kale leaves
Marinated chickpeas
1 pkt chickpeas or white beans (about 1 cup)
1/2 tbsp apple cider vinegar
1 tbsp olive oil
1/2 tbsp pumpkin seed oil (can be excluded)
1 tsp yacun syrup (or other syrup)
salt and pepper
a pinch of chili flakes
Salad
1/2 zucchini
some cherry tomatoes
1 tbsp black and white sesame seeds
1/2 lemon, the zest
1 cup rice made of oats
Curry sauce
2 dl oat based creme fraiche or vegetable yogurt
1 1/2 tbsp curry powder
1 tsp apple cider vinegar
salt and pepper
Cut the pumpkin and the bell pepper into smaller pieces. Bake on a tray with baking paper with a little coconut oil, salt and pepper at 175 degrees celsius for 12 minutes. Then add dino kale leaves for 3 minutes in the oven.
Mix chickpeas or white beans with vinegar, oil, syrup and spices. Make the zucchini into noodles and cut tomatoes into pieces. Mix with sesame seeds and lemon zest.
Make a sauce with vegan yogurt, such as oat fraiche, along with curry, vinegar, salt and pepper. Put everything into lunch boxes and enjoy a simple lunch outdoors!