Recipe in english, scroll down.
Makaroner och sås, det går att variera så mycket! Vad sägs som en krämig rödbetssås med kikärtspasta, toppat med crunchy macadamianötter, rostad svartkål och zucchini med citronzest?
Kikärtspasta med rödbetssås
3-4 portioner
6 dl kikärtsmakaroner
Sås
2 rödbetor
300 ml havregrädde eller kokosmjölk
200g fast naturell tofu
3 msk näringsjäst
1 msk äppelcidervinäger
1/2 msk tryffelolja
1 grönsaksbuljong
salt och peppar
basilika, färsk eller torkad
Ev. En sked cashewsmör (otroligt gott att toppa på ALLT!)
Topping
1 zucchini
några svartkålsblad
kokosolja till stekning
en nypa salt
en näve macadamianötter eller näringsjäst eller vegoparmesan
citronjuice och zest
Koka makaronerna i saltat vatten enligt anvisning på förpackningen. Skala och riv rödbetorna. Lägg över i en kastrull tillsammans med smulad tofu och resterande ingredienser. Koka upp och låt koka några minuter. Mixa slätt med stavmixer. Rör i makaronerna. Skär zucchinin och svartkålsbladen i bitar. Stek med kokosolja i en panna tills de fått färg. salta. Hacka macadamianötter. Häll över den krämiga pastan på tallrikar och toppa med toppingen.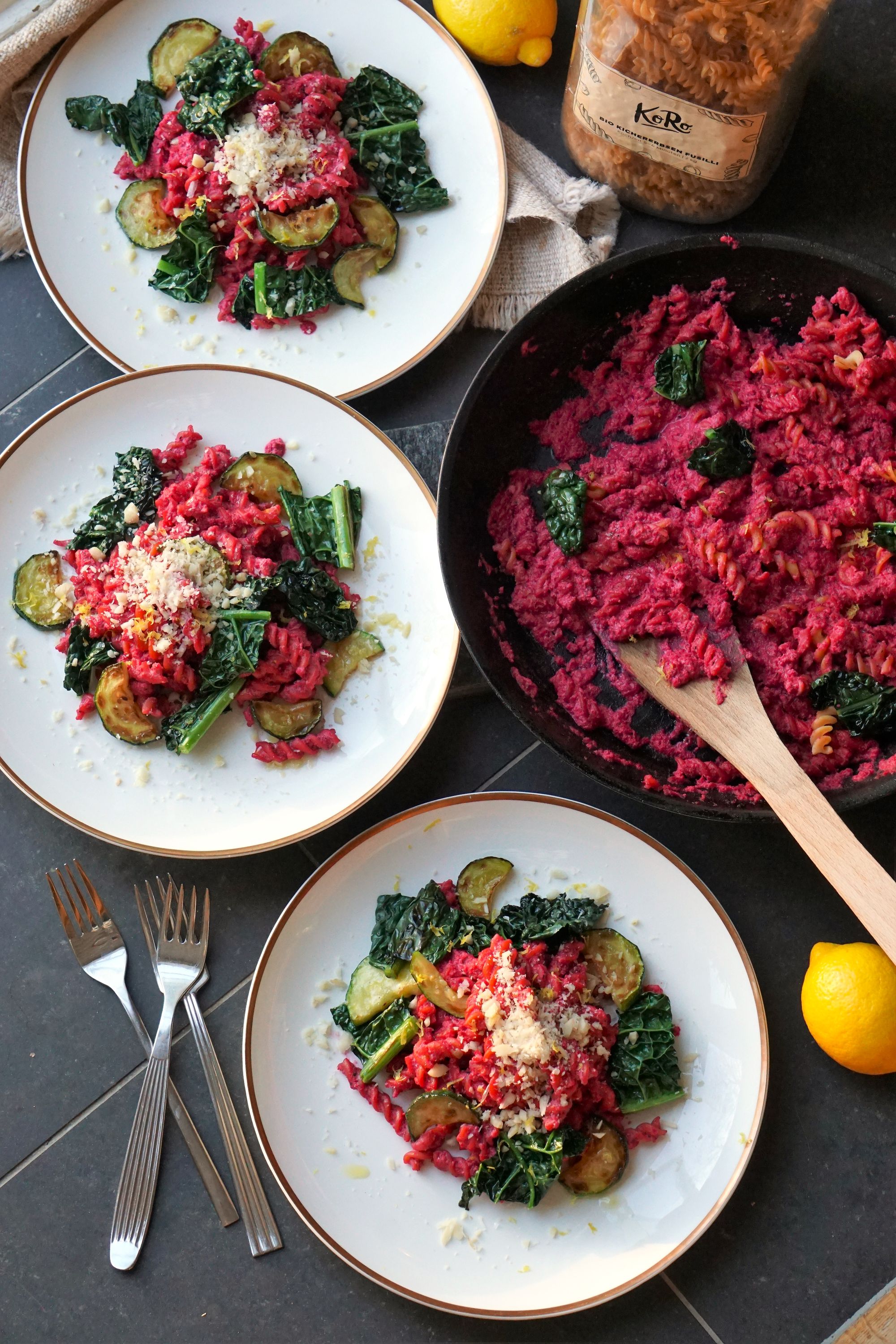 Pasta with a sauce, it can be so many variations! What about a creamy and colorful beetsauce with some fried veggies?!
Chickpea pasta with beetroot sauce
3-4 servings
6 dl chickpea pasta
2 beetroots
300ml oat cream or coconut milk
200g solid natural tofu
3 tbsp nutritional yeast
1 tbsp apple cider vinegar
1/2 tbsp truffle oil
1 vegetable broth
salt and pepper
basil, fresh or dried
A spoonful of cashew butter (incredibly good to top on everything!)
Topping
1 zucchini
some dino kale leaves
coconut oil for frying
a pinch of salt
a handful of macadamia nuts or nutritional yeast or vegoparmesan
lemon juice and zest
Boil the pasta in salted water as indicated on the package. Peel and grate the beetroot. Place in a saucepan along with crumbled tofu and the remaining ingredients. Bring to the boil and cook for a few minutes. Mix smooth with a hand blender. Stir in the pasta.
Cut the zucchini and dino kale leaves into pieces. Fry with coconut oil in a pan until coloured. Salt. Chop macadamia nuts. Pour over the creamy pasta on plates and top with the topping.
Enjoy!