For english, scroll down.
Vår vän Sophie som kommer från och bor i Schweiz lagar en variant på den här currygrytan varje gång vi är på besök. Vi alla tre tycker den är så fantastiskt god, särskilt efter våra turer på skidor uppe i bergen där!
Röd currygryta
4 portioner
Gryta
1-2 sötpotatisar
1 gul lök
3 cm färsk ingefära
1 röd paprika
½ zucchini
2 msk currypasta
½ tsk örtsalt eller buljong
600 ml kokosmjölk
Skala och hacka sötpotatis, lök och ingefära i småbitar. Skölj och hacka paprika och zucchini. Häll över allt utom zucchini och kokosmjölk i en kastrull. Ta liten del av mjölken och stek i kastrullen några minuter. Tillsätt därefter all mjölk och låt puttra under lock cirka 12 minuter. Tillsätt zucchini och låt puttra några minuter till innan servering.
Frästa grytbitar
6 dl torkade grytbitar av ärta eller soja (kan bytas ut på tofu eller bönor till exempel)
2 msk kokosolja, till stekning
2 - 3 msk tamarisoja
en nypa salt
peppar
färsk persilja
Blötlägg de torkade grytbitarna i cirka 15 minuter. Häll över i en stekpanna med kokosolja och stek på tills de har fått fin yta. Tillsätt soja och kryddor och låt fräsa ytterligare några minuter.
Riven sallad
¼ rödkål
2 morötter
1 hjärtsallad
2 blodapelsiner
1 msk limejuice
1 tsk äppelcidervinäger
en näve persilja och mynta
Strimla rödkål, morötter och hjärtsallad. Skala och skär apelsiner i bitar. Krydda med lime, vinäger och örter.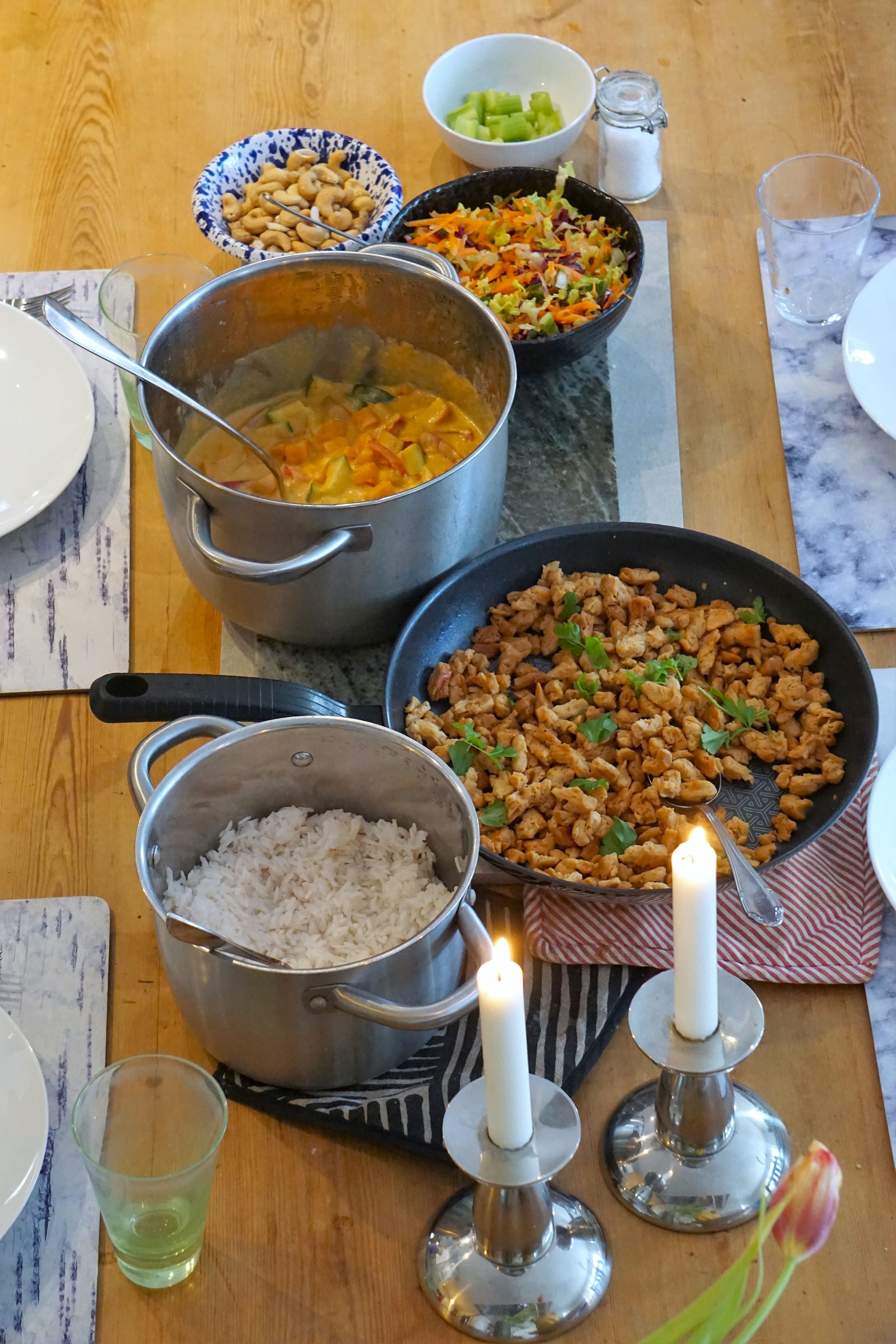 Our friend Sophie who comes from and lives in Switzerland cooks a variation on this curry every time we visit. All three of us think it's so fantastic, especially after our tours on skis up in the mountains there!
Red curry
4 servings
Curry
1-2 sweet potatoes
1 yellow onion
3 cm fresh ginger
1 red pepper
½ zucchini
2 tbsp curry paste
½ tsp herb salt or vegetable broth
600 ml coconut milk
Peel and chop the sweet potatoes, onions and ginger into small pieces. Rinse and chop the bell pepper and zucchini. Pour everything except the zucchini and coconut milk into a saucepan. Take a small portion of the milk and fry with everything in the saucepan for a few minutes. Then add all the milk and leave to simmer under a lid for about 12 minutes. Add the zucchini and simmer for a few more minutes before serving to cooked rice, some fried chunks and chopped salad.
Fried pea chunks
6 dl dried chunks of pea or soy (can be replaced to tofu or beans for example)
2 tbsp coconut oil, for frying
2 - 3 tbsp tamari soy
a pinch of salt
pepper
fresh parsley
Soak the dried chunks for about 15 minutes. Put into a frying pan with coconut oil and fry until they have a nice surface. Add the soy and spices and leave to fry for a few more minutes.
Chopped salad
1/4 purple cabbage
2 carrots
1 heart salad
2 blood oranges
1 tbsp lime juice
1 tsp apple cider vinegar
a handful of parsley and mint
Chop purple cabbage, carrots and heart salad. Peel and cut oranges into pieces. Season with lime, vinegar and herbs.