For English, scroll down
Små berg av kokos som kan varieras med smaksätting, saffran och apelsin till exempel, eller som citron och hasselnötter som vi tog den här gången. Goda att doppa botten eller toppen med choklad också.
Kokosberg
en plåt
200 g riven kokos
1 ½ msk kokosolja
5 msk kokossmör (kokosolja och kokossmör kan bytas ut mot veganskt smör)
1 dl kikärtsspad
¾ dl kokossocker eller annat socker
2 msk majsstärkelse
en nypa salt
½ dl hasselnötter, hackade (kan uteslutas)
½ citron, zest och juce
ev. mörk choklad att doppa i
Sätt ugnen på 200 grader. Blanda torra ingredienser i en bunke. Smält kokosolja och kokossmör. Blanda sedan ihop allt. Forma till små kokosberg och placera ut på en plåt med bakplåtspapper. Grädda i ugnen i ca 10 minuter. Låt svalna helt innan du eventuellt doppar dem i choklad.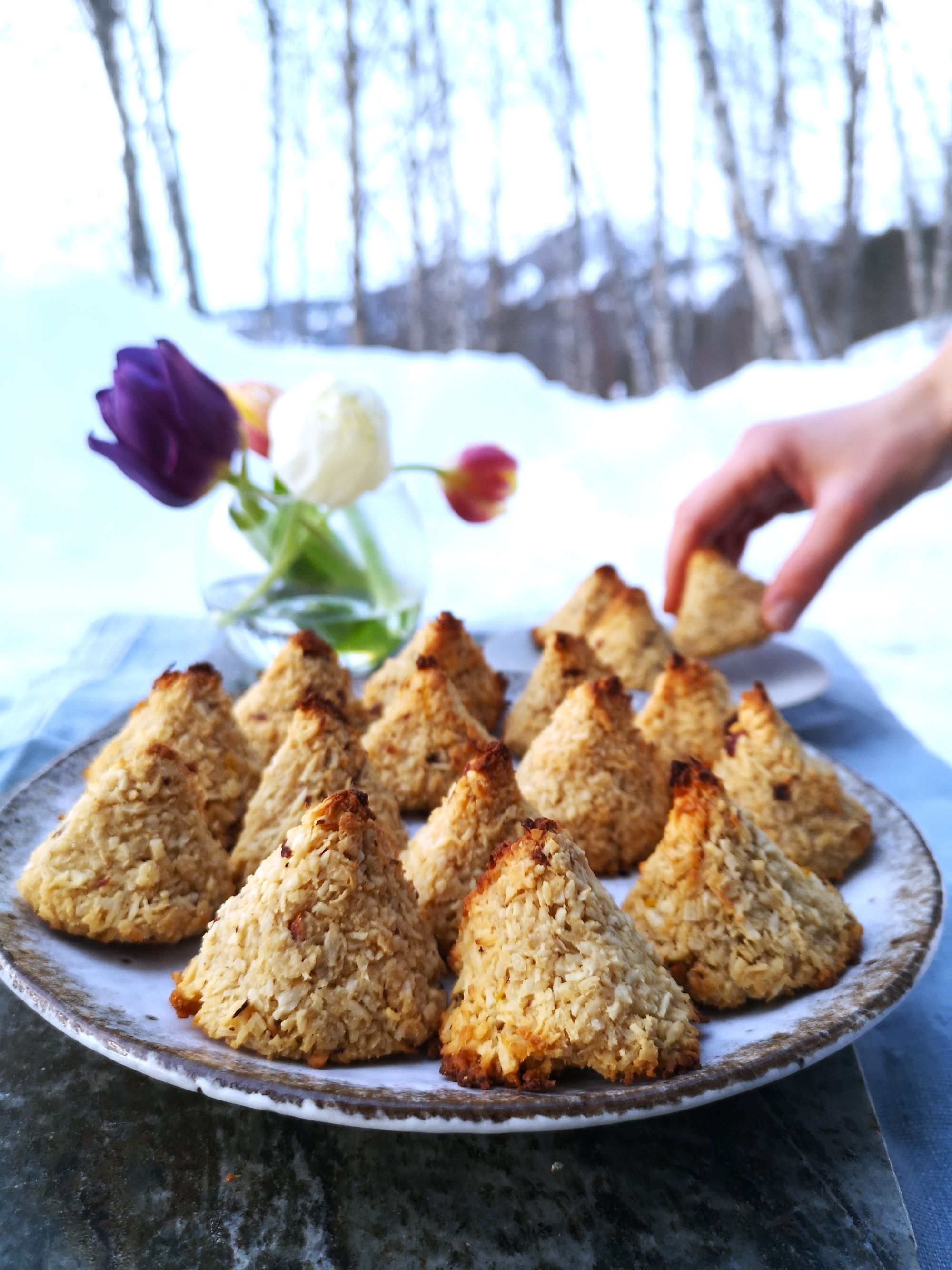 Coconut Mountains
Small mountains of coconut that can be varied with different flavours, saffron and orange for example, or lemon and hazelnuts that we took this time. Good to dip the bottom or top with chocolate as well.
Coconut mountains
One tray
200 g grated coconut
1 tbsp coconut oil
5 tbsp coconut butter (coconut oil and coconut butter can be replaced with vegan butter)
1 dl aqua faba (the liquid from a can of chickpeas)
¾ dl coconut sugar or other sugar
2 tbsp cornstarch
a pinch of salt
½ dl hazelnuts, chopped (can be excluded)
½ lemon, zest and juce
optional, dark chocolate to dip in
Heat the oven to 200 degrees. Mix dry ingredients in a bowl. Melt coconut oil and coconut butter. Then mix everything together. Form into small coconut mountains and place on a plate with parchment paper. Bake in the oven for about 10 minutes. Allow to cool completely before dipping them in chocolate.