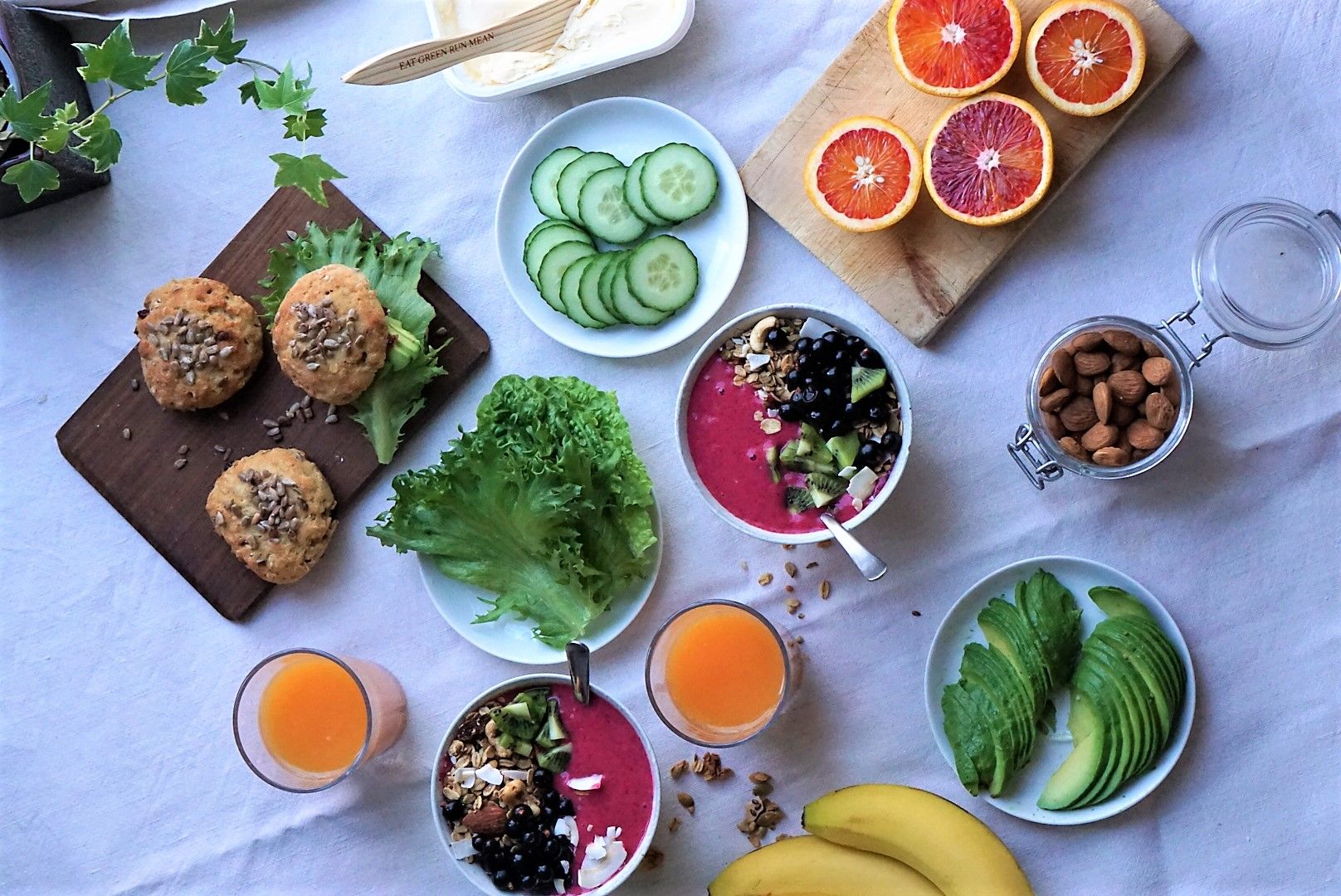 De här frallorna är härligt saftiga och proteinrika tack vare tofu! Dessutom passar de många eftersom de är glutenfria och veganska. De svängs ihop under 30 minuter. Du kan byta ut de olika mjölerna mot vilka mjöler du faktsiskt har i skafferiet. Varför de är tre olika är helt enkelt för att vi hade några mjölslattar kvar hemma som vi ville bli av med. Skafferirens. Så det ska nog inte vara några problem att variera.
Tofufrallor
1 plåt
Frallor
1 pkt fast tofu, ca 270 g
1 ½ msk olivolja
4 - 4 1/2 dl hett vatten
1 msk äppelcidervinäger
1 msk agavesirap (eller annan sirap)
1 dl bovetemjöl
1 dl kikärtsmjöl
1 dl rismjöl
2 dl glutenfria havregryn
3 msk psylliumhusk
2 tsk bakpulver
1/2 dl torkade tranbär (kan uteslutas)
½ dl solrosfrön + ½ dl till topping
1 tsk salt
Sätt ugnen på 200 grader. Mixa tofu, olja, vatten och äppelcidervinäger slätt. Blanda torra ingredienser i en annan bunke. Blanda sedan ihop allt, låt dra i några minuter. Forma sedan med lätt fuktade händer till frallor och fördela ut på en plåt med bakplåtspapper. Toppa med solrosfrön. Grädda i ugnen i ca 17 minuter.
Jordgubbsssmoothie
Smoothies är alltid gott och går ju att variera jättemycket beroende på vad som finns i kyl och frys. Vi ser till att oftast ha frysta bär och bananer som är bra som bas.
2-3 frysta bananer i slantar
2 ½ dl frysta jordgubbar
1 dl frysta lingon eller blåbär
3 cm färsk ingefära
1 dl fruktjuice (vi tog en mix av rödbeta, äpple, apelsin)
2 citronklyftor
1 dl havremjölk
Mixa slätt i en kraftfull mixer. Häll upp i skålar eller glas och toppa med granola.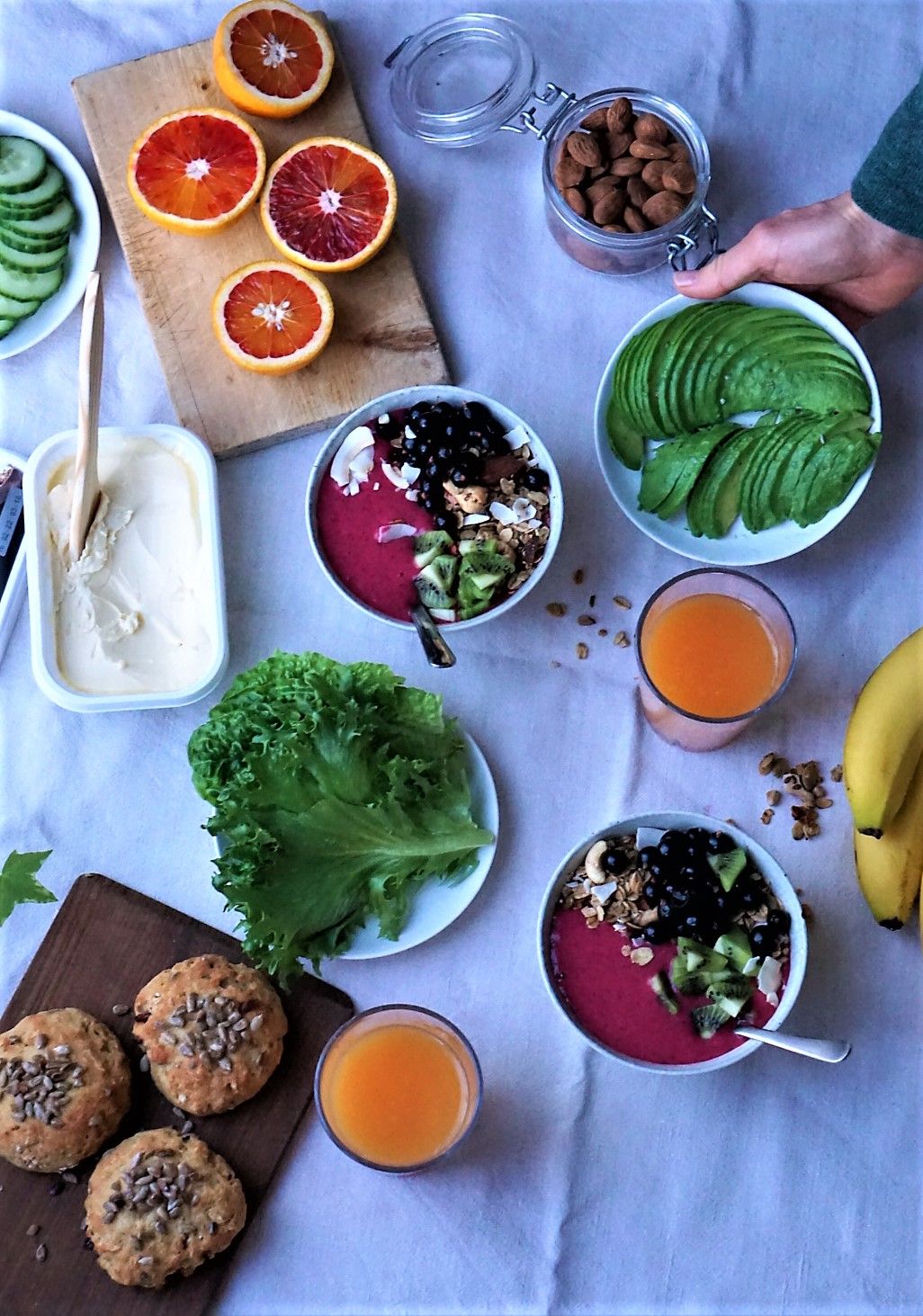 These buns are deliciously fluffy and protein rich thanks to tofu! In addition, they are suitable for many because they are gluten-free and vegan.
Tofu Buns
1 tray
Buns
1 block firm tofu, about 270 g
1 ½ tbsp olive oil
4 - 4 1/2 dl hot water
1 tbsp apple cider vinegar
1 tbsp agavesyrup (or other syrup)
1 dl buckwheat flour
1 dl chickpea flour
1 dl rice flour
2 dl gluten-free rolled oats
3 tbsp psyllium husk
2 tsp baking powder
1/2 dl dried cranberries
½ dl sunflower seeds + ½ dl for topping
1 tsp salt
Set the oven to 200 degrees. Mix the tofu, oil, water and apple cider vinegar smooth. Mix dry ingredients in another bowl. Then mix everything together, let set for a few minutes. Then shape with slightly moistened hands into buns and put on a sheet of baking paper. Top with sunflower seeds. Bake in the oven for about 17 minutes.
Strawberry smoothie
Smoothies are always good and can vary a lot depending on what is in the fridge and freezer. We make sure to usually have frozen berries and bananas that are good as a base.
Smoothie
2-3 frozen bananas in slices
2 ½ dl frozen strawberries
1 dl frozen lingonberries or blueberries
3 cm fresh ginger
1 dl fruit juice (we took a mix of beetroot, apple, orange)
2 citronklyftor
1 dl oat milk
Mix smoothly in a powerful blender. Pour into bowls or glasses and top with granola.