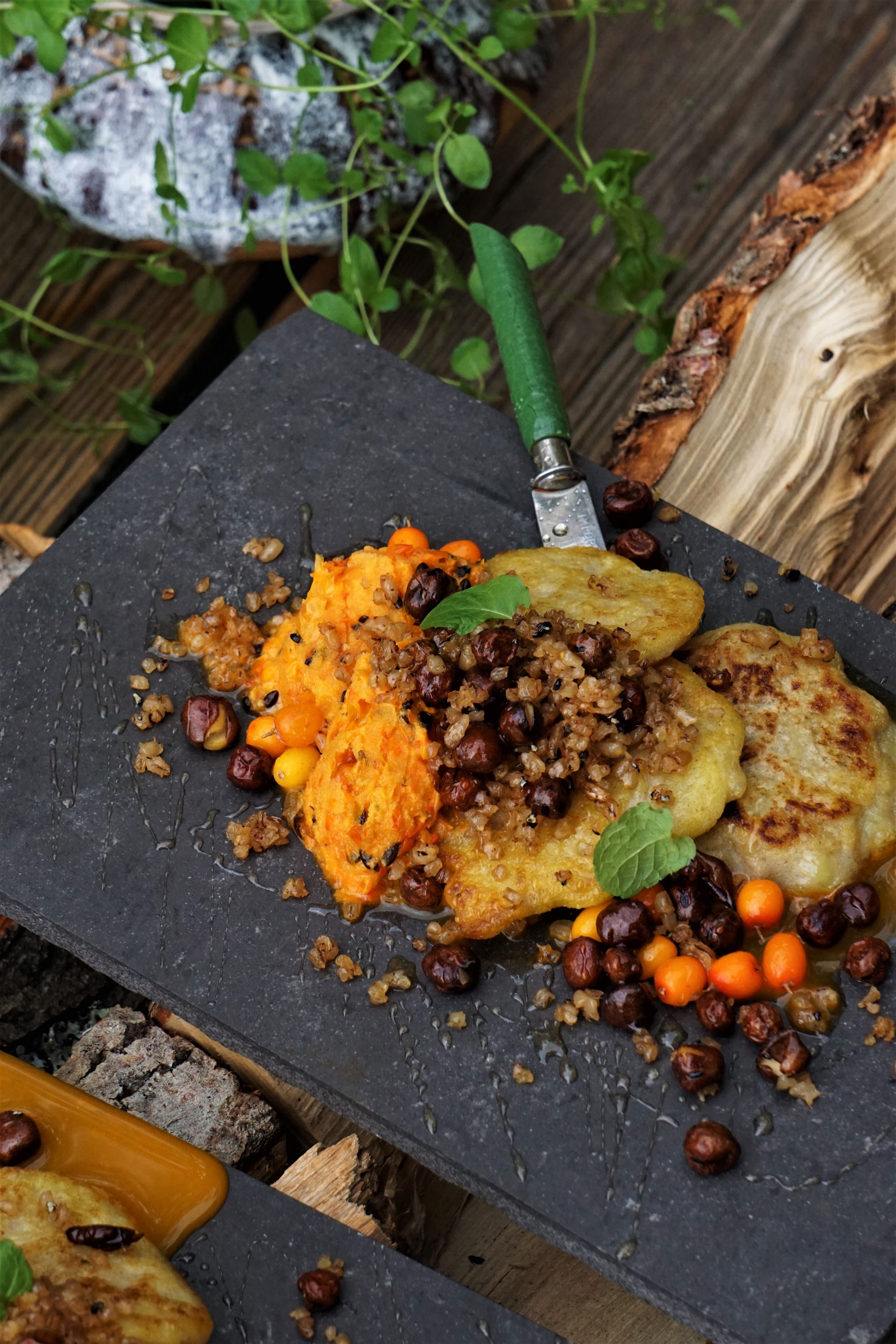 For english, please scroll down.
Alla ingredienser till de här rätterna är från Jämtland, vilket känns jätteroligt. Vi fick en utmaning av Hushållningssällskapet Jämtland att skapa rätter från en låda fylld med råvaror från olika företagare och bönder i kommunen. Detta delfinansierades av EU's jordbruksfond för landsbygdsutveckling. Här är en av rätterna vi tagit fram.
Det är en enkel potatisplätt, eller, Peranplätt som vi har valt att kalla dem. Plättarna kan ätas antingen som en förrätt eller som en efterrätt, beroende på vad för topping du väljer.
Längst ner hittar du länkar till alla företagare.
Peranplättar till förrätt och dessert
Peranplättar
2,5 dl kokt och tärnad potatis
1,5 dl fint kornmjöl
2,5 dl vatten
en nypa salt
rybsolja
Tärna och koka potatisen tills den är mjuk. Häll av vattnet och mosa dem med en gaffel. Tillsätt mjöl, vatten och salt och rör om till en tjock smet. Hetta upp en stekpanna med rybsolja och grädda plättar några minuter på varje sida.
Förrätt
Peranplättar med lyxtopping
8 peranplättar
2 dl bondbönshummus
2 dl torkade trattkantareller
2 salladslökar
4 msk surkål
4 msk lingonsylt
Bondbönshummus
20 bondbönsskidor (cirka 2 dl bönor)
1 tsk rybsolja
½ vitlöksklyfta, skalad och riven
Pilla ut bönorna ur skidorna. Häll över dem i en kastrull med vatten och koka cirka 10 minuter. Skölj kallt och skala sedan av det hölje som är kvar på bönorna. Mixa bönorna med olja och vitlök till en slät hummus.
Förväll trattkantarellerna i vatten i 15 minuter. Stek sedan på dem i en stekpanna med rybsolja tills de är knapriga. Hacka salladslöken. Toppa peranplättar med bonbönhummus, trattkantareller, salladslök, surkål och lingon.
Dessert
Peranplättar med crunch och sorbet
8 peranplättar
2 dl korngryn- och gråärtscrunch
några skopor havtornssorbet
2 msk honung
Korngryn- och gråärtscrunch
2 dl kokt korngryn
2 dl kokt gråärta
2 msk Rybsolja
2 msk honung
en nypa stött kardemumma
en nypa salt
två nypor kanel
Blanda ihop allt och sprid ut på en plåt med bakplåtspapper. Rosta i ugnen på 160 C grader i cirka 15-20 minuter. Rör om då och då och håll koll så att det inte bränns.
Havtornssorbet
4 dl frysta havtorn
4 msk honung
1-2 msk vatten
Mixa till en sorbet.
Toppa Peranplättarna med crunch och sorbet och drissla över honung.
Länkar:
Korngryn, kornmjöl, bondbönor och rybsolja är från Rögrinna gård
Trattkantareller och vitlök från Langbergets gård
Salladslöken från Mällbyngård
Potatis, rårörda lingon och honung från Fjåsen och fjällan
Gråärt från Nordiskråvara (dock ej från Jämtland)
Havotorn från HavtornsTina
Surkål från Siljemyra Gård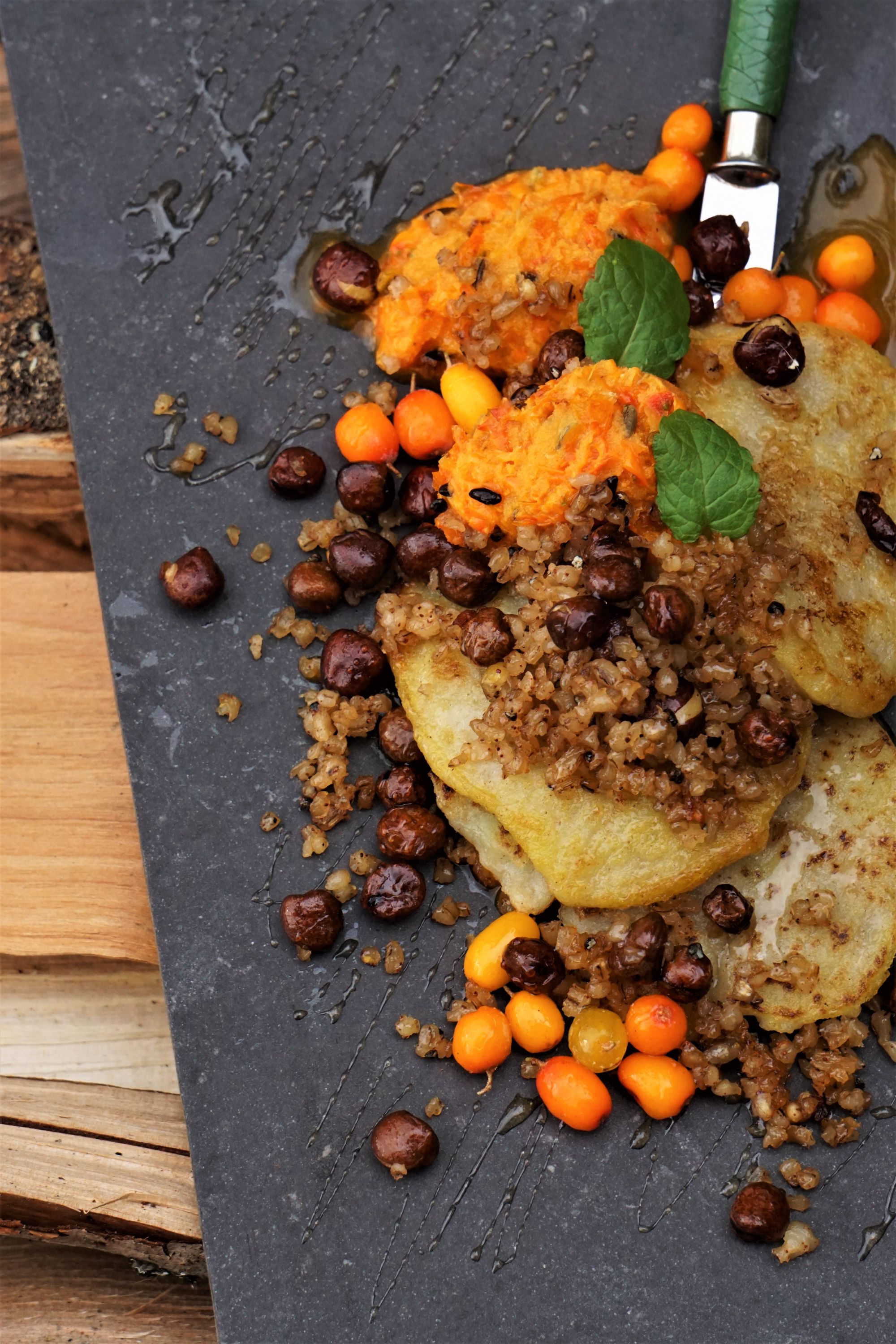 We got a challenge från Hushållningssällskapet in Jämtland, the region we live in, to cook some dishes from a basket filled with products only from farmers and companies produced in Jämtland. Here is one (two) recipes that we made out of the challenge.
Mini potato pancakes for either starter or dessert, depending on which topping you'll choose to make. Hope you can find similar products in the region you live in by the local farmers.
Potato mini pancakes for starter and dessert
Potato mini pancakes
2,5 dl boiled and diced potatoes
1,5 dl fine barley flour
2,5 dl water
a pinch of salt
Rapeseed oil
Dice and cook the potatoes until soft. Drain the water and mash them with a fork. Add flour, water and salt and stir until a thick batter. Heat a frying pan with oil and bake pancakes for a few minutes on each side.
Appetizer
Potato mini pancakes with luxury topping
8 potato pancakes
2 dl fava bean hummus
2 dl dried funnel chanterelles
2 scallions
4 tbsp sauerkraut
4 tbsp lingonberry jam
Fava bean hummus
20 fava bean pods (about 2 dl beans)
1 tsp rapeseed oil
½ clove garlic, peeled and grated
Take out the beans of the pods. Put them into a saucepan with water and cook for about 10 minutes. Mix them with oil and garlic until smooth hummus.
Soak the funnel chanterelles in water for 15 minutes. Then fry them in a frying-pan with rapeseed oil until crunchy. Chop the green onions. Top the potato pancakes with fava bean hummus, funnel chanterelles, scallions, sauerkraut and lingonberries.
Dessert
Potato mini pancakes with crunch and sorbet
8 potato pancakes
2 dl pearl-barley and gray pea crunch
a few scoops of sea buckthorn sorbet
2 tbsp of honey
Barley and gray pea crunch
2 dl cooked barley groats
2 dl cooked gray peas
2 tbsp rapeseed oil
2 tbsp of honey
a pinch of cardamom
a pinch of salt
two pinches of cinnamon
Mix everything together and spread out on a baking sheet with parchment paper. Roast in the oven at 160 degrees Celsius for about 15-20 minutes. Stir from time to time and keep an eye on it so that it does not burn.
Sea buckthorn sorbet
4 dl frozen sea buckthorn
4 tbsp honey
1-2 tbsp water
Mix into a sorbet.
Top the potato pancakes with crunch and sorbet and drizzle over some honey.