For english, scroll down
Den här varianten på svartpeppartofu är väldigt enkel att göra. Det går att krydda ännu mer för maxad smak, men vi tvivlar på att du inte ska gilla denna, testa! Tofun är krispig, saltig och pepprig och balanseras upp bra med regnbågssalladen.
Svartpeppartofu med regnbågsquinoa
Svartpeppartofu
1 msk ättika (24%)
3-4 msk tamarisoja
1 msk kokossocker eller annat socker
1-2 vitlöksklyftor, skivade eller hackade
3 cm färsk ingefära, skivad eller hackad
2 tsk svartpeppar från kvarn
2 krm vitpeppar
2 krm kanel
2 krm mald nejlika
2 krm chiliflingor
300 g fast tofu
2 schalottenlökar eller 1 rödlök
Blanda ihop marinaden i en skål. Tärna tofun. Skala och strimla löken. Hetta upp kokosolja i en stekpanna och stek lök och tofu tills de fått lite färg. Tillsätt marinaden och låt koka in, rör om då och då.
Regnbågsquinoa
6 dl kokt quinoa, nudlar eller andra gryn
en bit rödkål
2 paprikor i olika färger
2 hjärtsallater
2 morötter
½ gurka
1 mango, äpple eller annan frukt
1 selleristjälk
1 avokado
två nävar mynta, basilika och persilja eller koriander, hackade
2 msk äppelcidervinäger
1/3 citron eller lime, juicen
1 msk olivolja
salt och peppar
Strimla alla grönsaker, frukt och sallad och blanda ihop allt i en skål.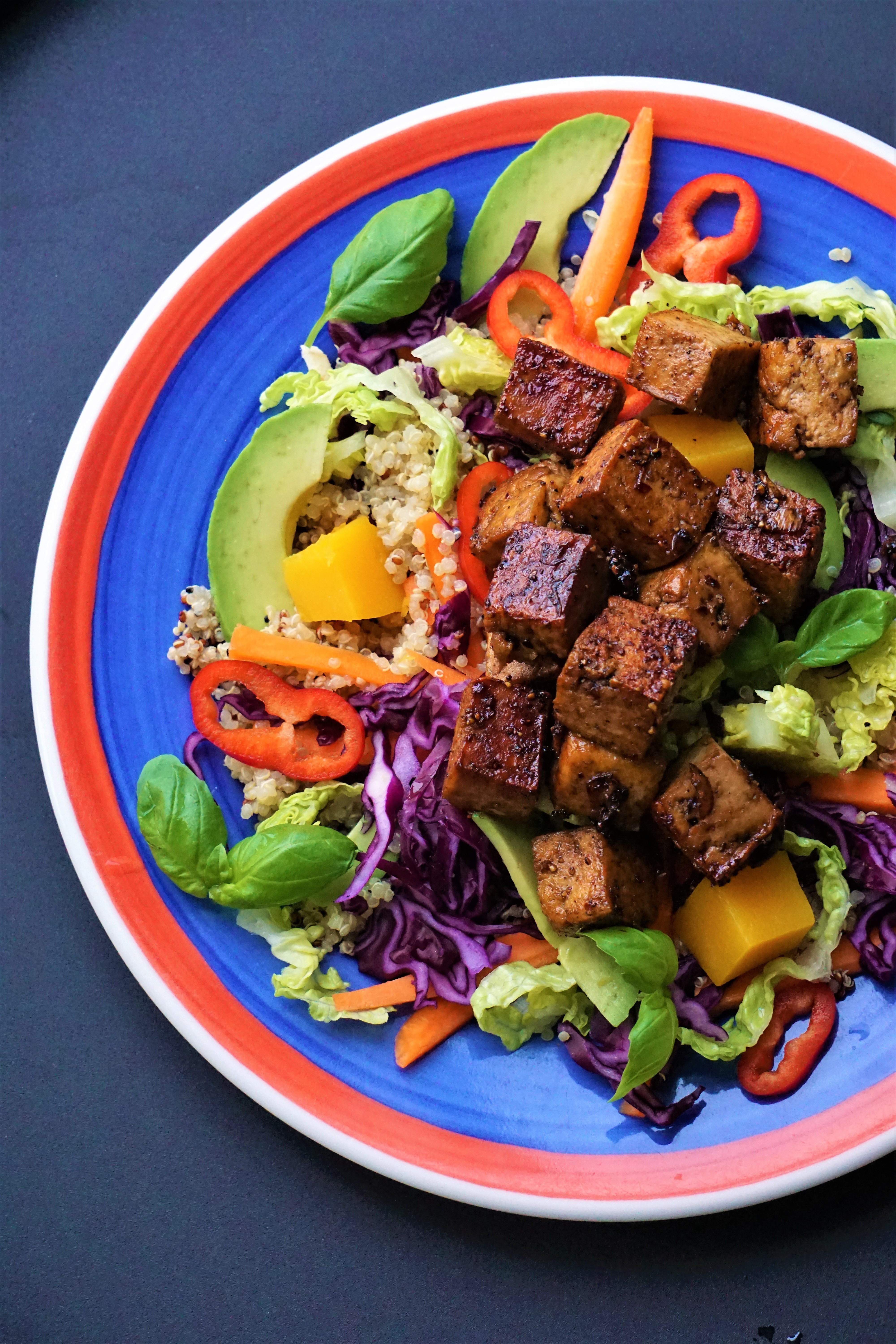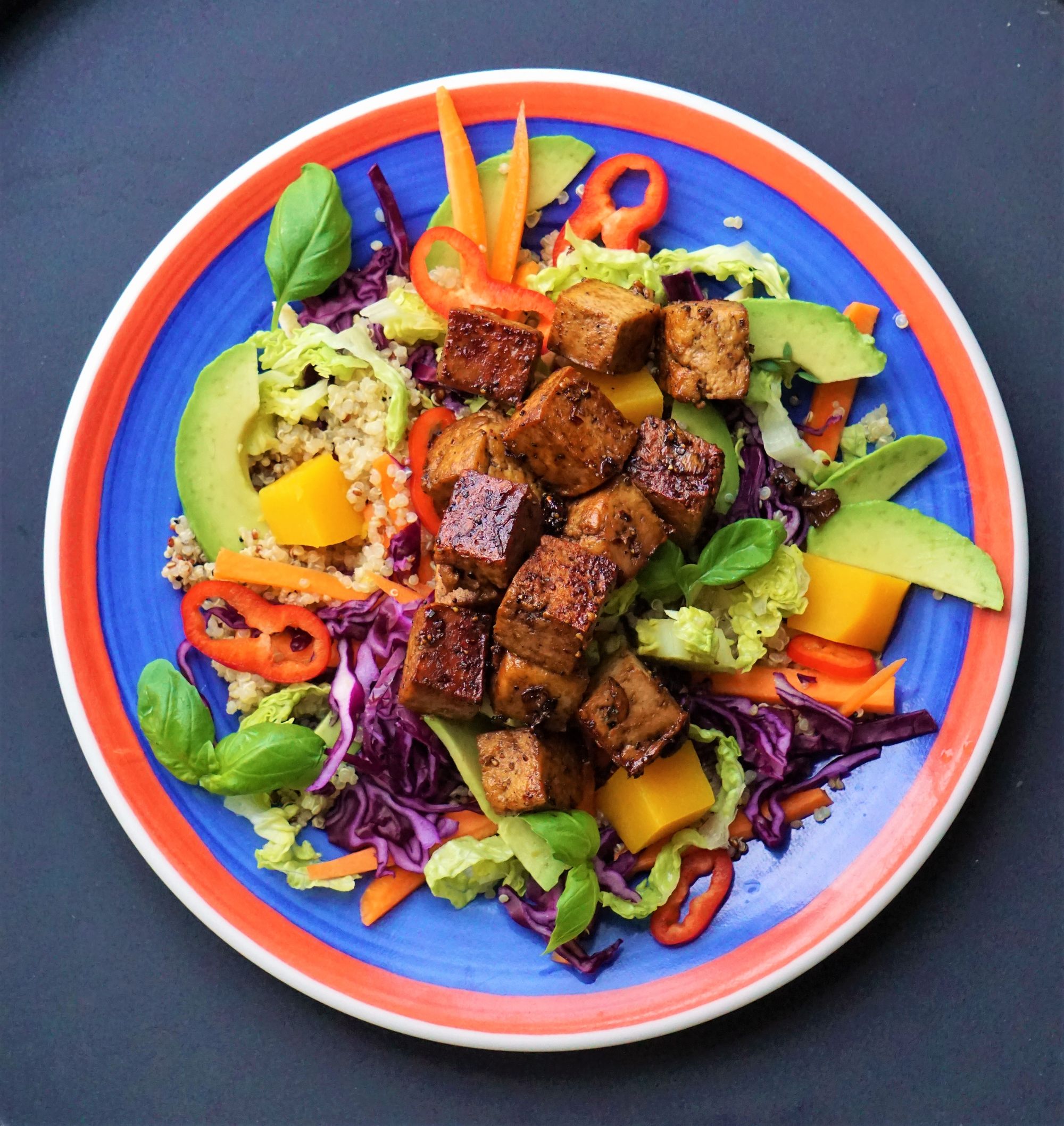 This black pepper tofu version is an very easy way of cooking it. But can be seasoned with lots of more spices for an extra sting. Though we doubt you woun't like it this way. Try it out! The tofu is crispy, salty and "peppery" and goes very well with the fresh rainbow salad.
Black Pepper tofu with rainbow quinoa
Black pepper tofu
1 tablespoon vinegar (24%)
3-4 tbsp tamari soy
1 tbsp coconut sugar or other sugar
1-2 garlic cloves, sliced or chopped
3 cm fresh ginger, sliced or chopped
2 tsp black pepper from grinder
2 pinches of white pepper
2 pinches of cinnamon
2 pinches of ground cloves
2 pinches of chili flakes
300 g firm tofu
2 shallots or 1 red onion
Mix the marinade in a bowl. Dice the tofu. Peel and chop the onion. Heat coconut oil in a frying pan and fry onions and tofu until slightly browned. Add the marinade and bring to the boil, stirring occasionally until the liquid is gone.
Rainbow quinoa
6 dl boiled quinoa, noodles or other groats
a piece of purple cabbage
2 bell peppers in different colors
2 heart lettuce
2 carrots
½ cucumber
1 mango, apple or other fruit
1 celery stalk
1 avocado
two handfuls of mint, basil and parsley or coriander, chopped
2 tablespoons apple cider vinegar
1/3 lemon or lime, the juice
1 tbsp olive oil
salt and pepper
Shred all vegetables, fruits and salad and mix everything in a bowl.