For english, please, scroll down.
Helgfrukost, då blir det hembakt bröd och bowl och hemgjord granola! Vi har vegsmör, vegost, ruccola, gurka och jordgubbar på våra grova mackor. De är goda några dagar efter bakning också, och går jättebra att frysa och rosta. I skålen har vi blandat proteinpulver med bärsmak tillsammans med chiafrön, havregryn och sojamjölk, med grekisk havregurt, jordgubbar, kokos och den goda och fräscha tropiska saffransgranolan.
Rågkusar med bärskål och saffransgranola
Linas grova rågkusar
2 plåtar
25 g jäst
6 dl vatten
3 msk olja
2 msk honung
2 tsk malda brödkryddor
1 ½ msk anis och fänkål, stötta
3 dl grahamsmjöl
3 dl grovt rågmjöl
1 dl valnötter, hackade
en näve gula russin
3 nypor salt
6 dl vetemjöl
Lös upp jästen med vatten, honung, olja och kryddor. Vispa ner grahamsmjöl och rågmjöl. Tillsätt nötter, russin och salt. Använd sedan elvisp med degkrokar och tillsätt vetemjöl pö om pö. Knåda med degkrokarna i minst 10 minuter. Forma degen till små runda bollar och lägg på plåtar med bakplåtspapper, Låt jäsa övertäckta i cirka 3-4 timmar. Grädda i cirka 20 minuter på 225 grader.
Tropisk Saffransgranola
5 dl havregryn
2 ½ dl blandade, naturella frön (solrosfrön, pumpafrön)
2 ½ blandade naturella nötter (valnöt, hasselnöt, cashew)
1 dl riven kokos
1 pkt saffran
två nypor salt
1 tsk gurkmeja
2 ½ dl tropisk smoothie (mix av mango, passion, apelsin, ananas)
2 msk kokosolja
ev. 2 msk valfri sirap om du vill ha den sötare
Blanda alla torra ingredienser i en bunke, tillsätt sedan smoothie, olja och eventuellt mer sötning. Rör om ordentligt. Sprid ut på en plåt med bakplåtspapper och baka i ugnen på 150 grader i ca 1 timme eller tills det blivit torrt, rör om då och då.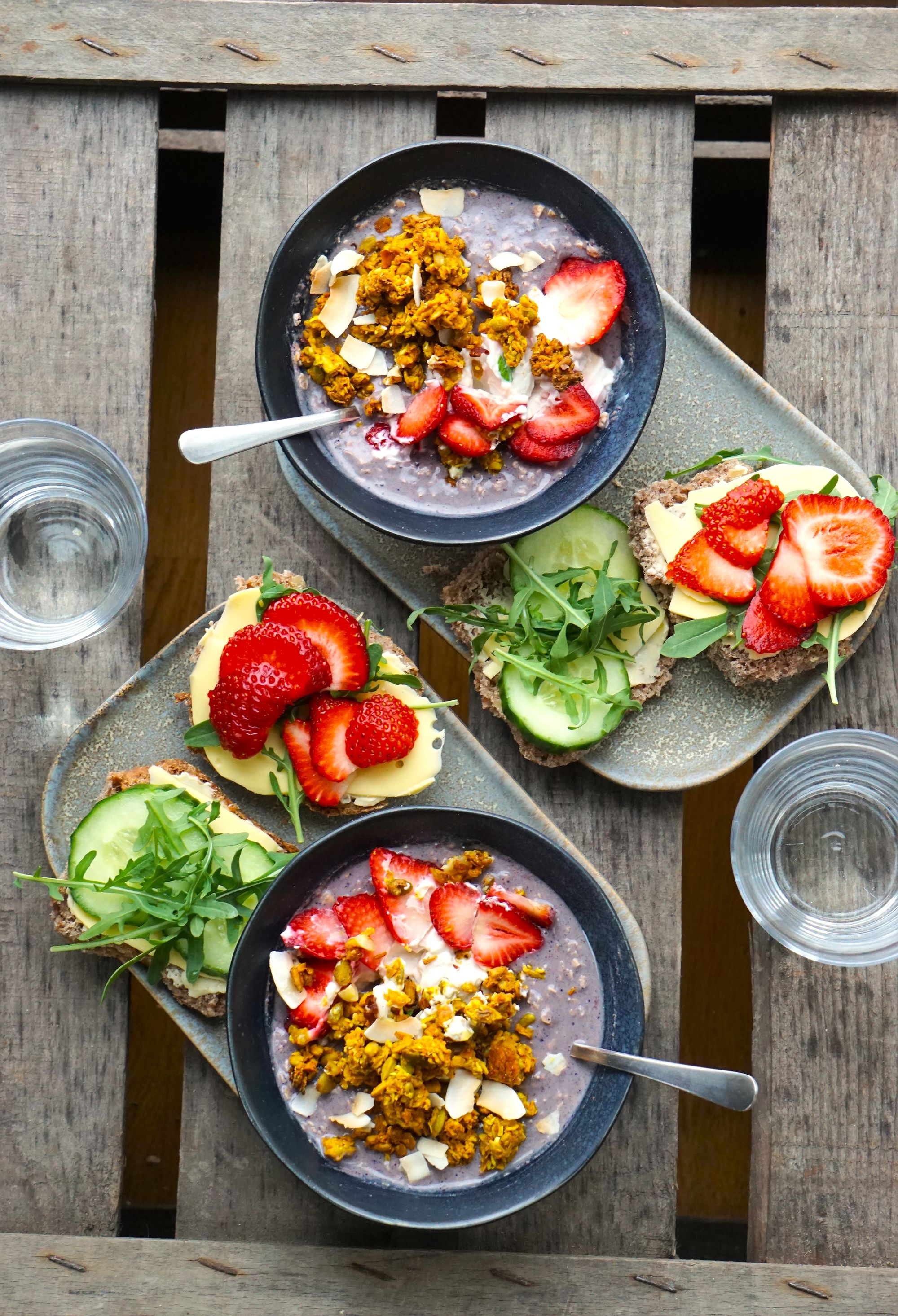 Weekend brekkie means homebaked bread and bowl with homemade granola! In the bowl we mixed berry-protein with chiaseeds, rolled oats and soymilk and topped with vegan Greek yogurt, strawberries, coconut flakes and the fresh tropical saffron granola.
Rye bread and bowl with berries and tropical granola
Lina's coarse rye buns
2 trays
25 g yeast
6 dl water
3 tbsp oil
2 tbsp honey
2 tsp ground bread spices
1 ½ tbsp anise and fennel, molded
3 dl graham flour
3 dl coarse rye flour
1 dl walnuts, chopped
a handful of yellow raisins
3 pinches of salt
6 dl wheat flour
Dissolve the yeast with water, honey, oil and spices. Whisk in the graham flour and rye flour. Add nuts, raisins and salt. Then use an electric whisk with dough hooks and add wheat flour little at a time. Knead with the dough hooks for at least 10 minutes. Shape the dough into small round buns and put on trays with baking paper, leave to rise covered for about 3-4 hours. Bake for about 20 minutes at 225 degrees celsius.
Tropical saffron granola
5 dl rolled oats
2 ½ dl mixed, natural seeds (sunflower seeds, pumpkin seeds)
2 ½ mixed natural nuts (walnut, hazelnut, cashew)
1 dl grated coconut
1 pkt saffron, (½ g)
two pinches of salt
1 tsp turmeric
2 ½ dl tropical smoothie (mango, passion, orange, pineapple)
2 tbsp coconut oil
2 tbsp of any kind of syrup if you want it sweeter
Mix all the dry ingredients in a bowl, then add the smoothie, oil and possibly more sweetening. Stir well. Spread out on a baking paper on a tray and bake in the oven at 150 degrees Celsius for about 1 hour or until dry, stirring occasionally.