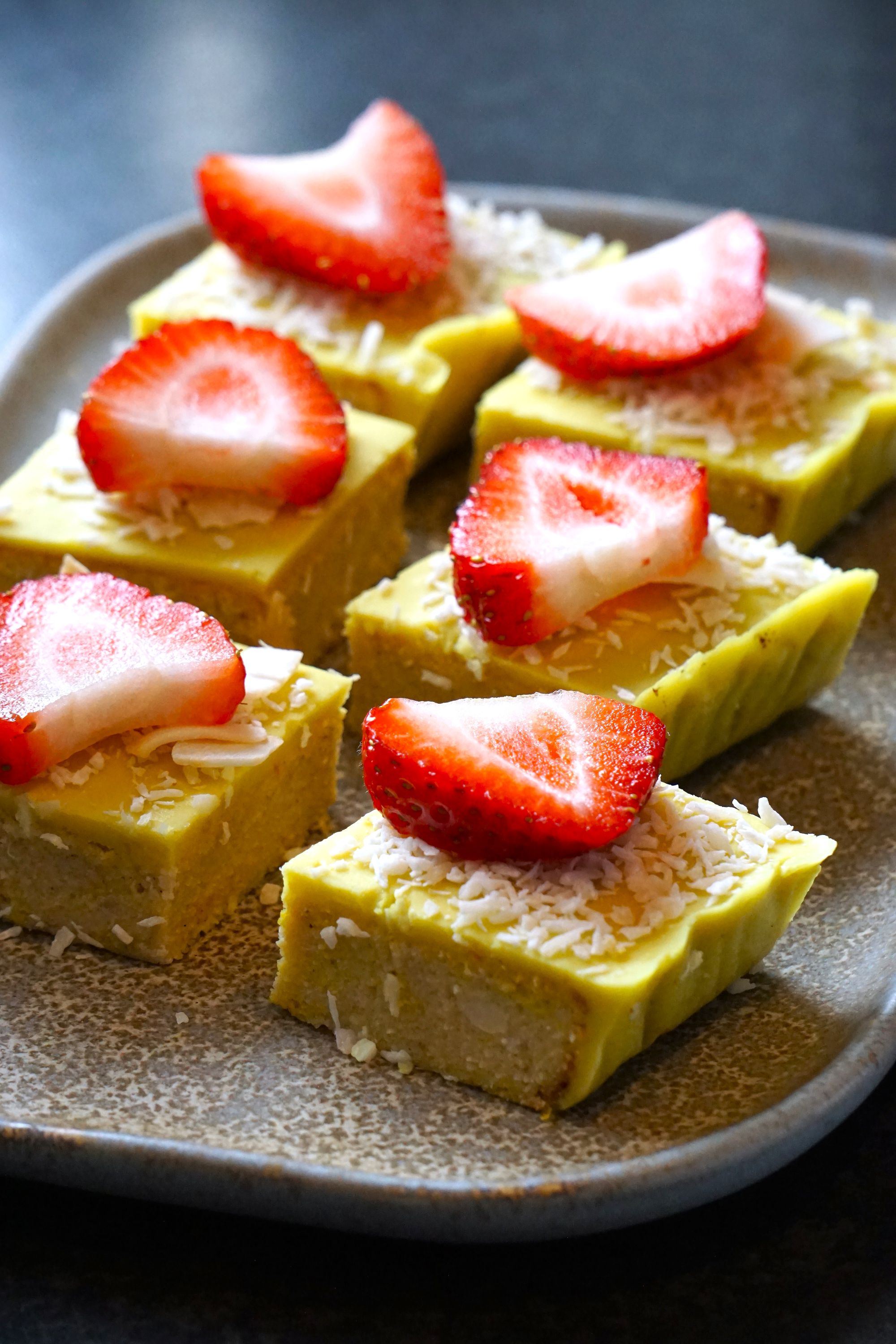 For english, scroll down.
Sötsyrliga bakverk är våra favoriter! De här är näringsrika dessutom med protein från tofu och fetter från mandel och kokos. Glasyren är samma recept som vi använder till citronpaj i vår bok Ät Färg Spring Berg – Frukost och Fika! Agar agar gör så att den stelnar och det går att köpa i de flesta välsorterade matbutiker. Vi mixade ner färdigköpt smoothie, men du kan såklart göra egen.
Citronrutor med glasyr och kokos
Rutor
230 g fast tofu
1 ½ dl tropisk smoothie (eller mixad mango/passion/apelsin/ananas)
3 tsk citronjuice
2 dl mandelmjöl
½ dl kokosmjöl
2 msk psylliumhusk
1 tsk bakpulver
1 dl valfri sötning (socker, björksocker, erythrol etc)
en nypa salt
en nypa vaniljpulver
Mixa ihop tofu, smoothie och citronjuice. Blanda sedan i alla torra ingredienser. Tryck ut i en rektangulär ugnsform med måtten 22 x 15 cm, klädd med bakplåtspapper. Bred ut den så att den är jämn och platt. Grädde på 175 grader i ca 20-25 minuter. Låt svalna innan du häller på glasyren.
Citronglasyr
3 citroner (juice och zest, ca 1 dl citronjuice)
250 g kokosmjölk
5 msk valfri sötning
1 tsk agar agar
Koka upp citronjuice och zest i en kastrull. Låt småkoka några minuter. Sila bort zesten. Blanda i resten av ingredienserna och låt sjuda i ca 7 minuter. Låt svalna något innan du häller vätskan på kakan. (Den stelnar först när det är kallt). Ställ kakan på en plan yta i kylen och låt glasyren stelna. Strö sedan på kokos och skär i rutor.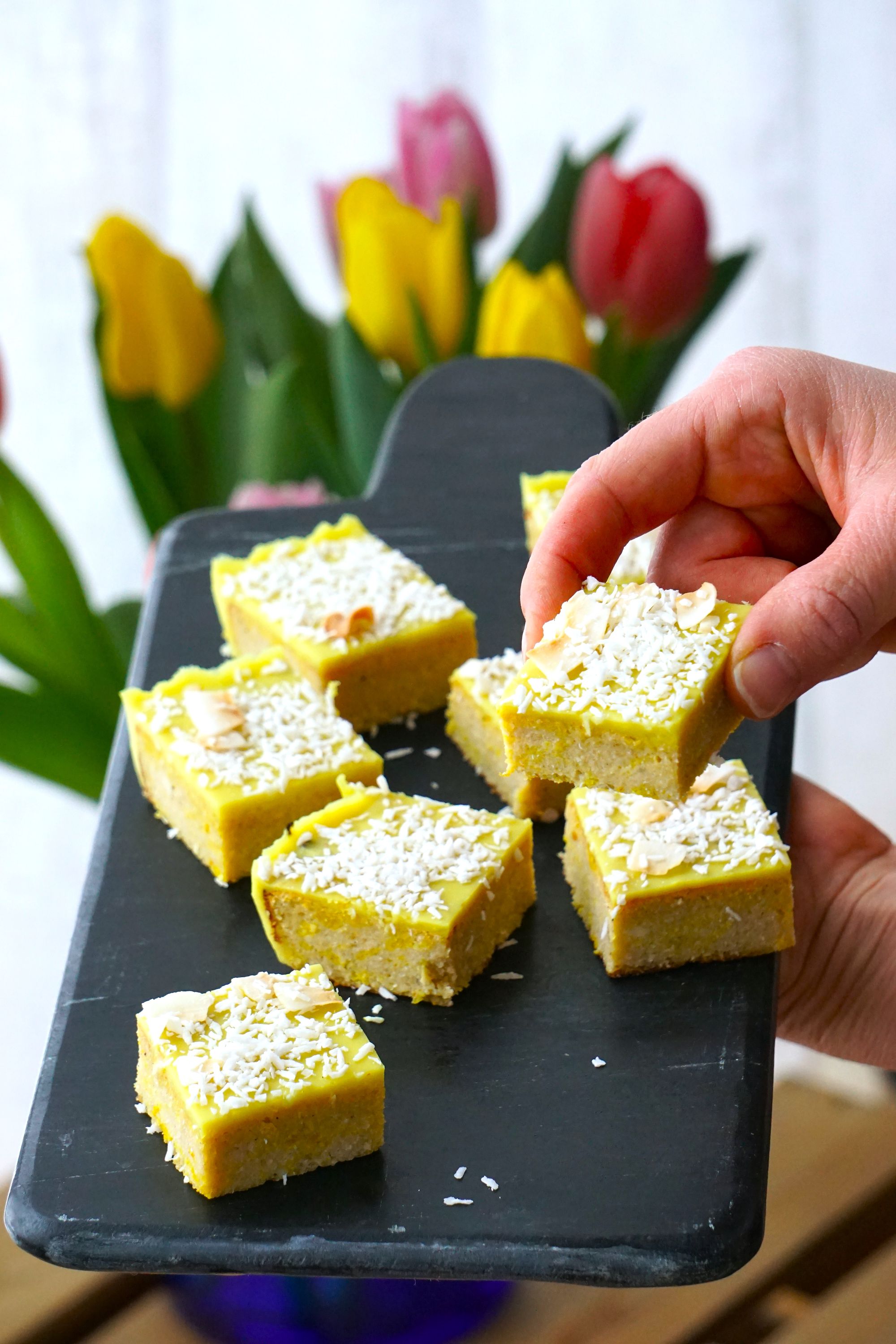 Sweet and sour pastries are our favorites! These are also extra nutritious with protein from tofu and fats from almonds and coconut. The glaze is the same recipe we use for lemon pie in our book Ät Färg Spring Berg – Frukost och Fika! Agar agar makes it solid and can be bought in most well-stocked grocery stores. We mixed down ready-made smoothie, but you can of course make your own.
Lemon squares
Squares
230 g firm tofu
1 ½ dl tropical smoothie (or mixed mango / passion / orange / pineapple)
3 tsp of lemon juice
2 dl almond flour
½ dl coconut flour
2 tbsp psyllium husk
1 tsp baking powder
1 dl sweetener of choice (sugar, birch sugar, erythrol etc)
a pinch of salt
and pinch of vanilla powder
Blend together tofu, smoothie and lemon juice. Then mix in all the dry ingredients. Press out into a rectangular oven dish with the dimensions: 22 x 15 cm, lined with parchment paper. Spread it out so that it is even and flat. Bake at 175 degrees for about 20-25 minutes. Allow to cool before pouring on the glaze.
Lemon glaze
3 lemons (juice and zest, about 1 dl lemon juice)
250 g coconut milk
5 tbsp sweetener of choice
1 tsp agar agar
Boil lemon juice and zest in a saucepan. Let simmer for a few minutes. Strain off the zest. Mix in the rest of the ingredients and simmer for about 7 minutes. Allow to cool slightly before pouring the liquid on the cake. (It only solidifies when it is cold). Place the cake on a flat surface in the fridge and let the icing set. Then sprinkle with coconut and cut into squares.