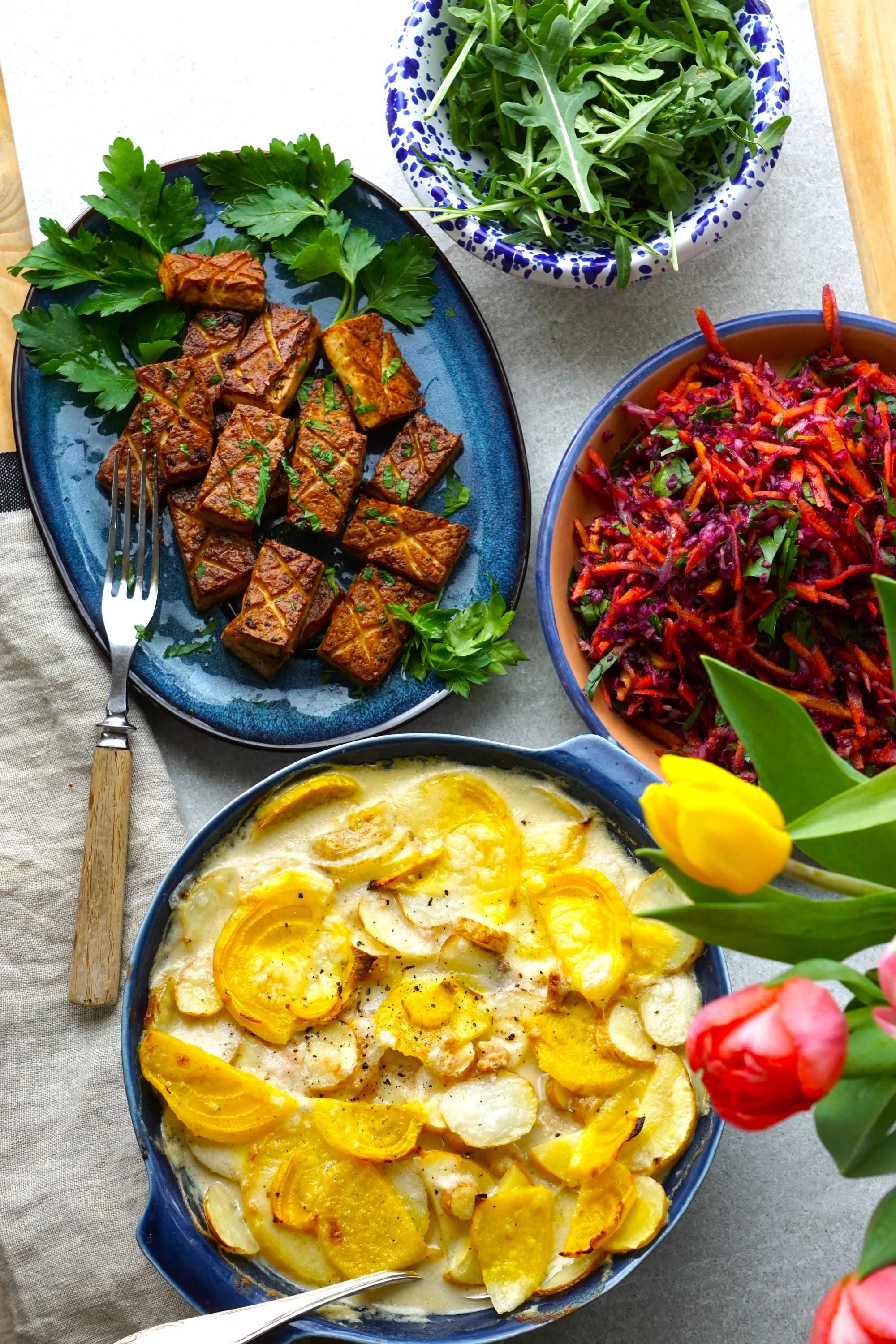 For english, please scroll down.
Påskmust i matlagning? Ja varför inte?! Vi har låtit tofu marienas i påskmust. Väldigt gott! Kan det bli mer påsk än såhär? Tveksamt. Påskmust är väldigt söt, men marinaden vi gjort blir fräsch och balanserad med vinäger, lime och soja. Tillsammans med en krämig gratäng och en än mer fräsch sallad är det här en rätt som många kommer få som favorit!
Påskmusttofu med gratäng och regnbågssallad
2 portioner
Påskmusttofu
400g fast tofu
Marinad
1 dl påskmust
2 ½ msk tamarisoja
2 nypor chiliflingor
1 msk svart och vitpeppar från kvarn
1 msk vitvinsvinäger
lite juice från lime
1 ½ msk kokosolja eller annat matfett till stekning
Skär igenom tofun på längden och lägg blocken i hushållspapper eller en kökshandduk. Lägg i press under något tungt cirka 30 minuter. (Detta för att få ur vätskan ur tofun och lättare absorbera marinaden och bli krispig under stekning). Skär skär smala jack i korsmönster halvvägs igenom tofublocken. Skär sedan önskade bitar av dem. Blanda ihop marinaden och häll över en påse. Lägg i tofun och dra ur luften. Skaka om och blanda och vänd åt alla sidor. Låt marineras några timmar i kylskåp. (Du kan steka tofun direkt i marinaden utan marineringstiden, men de smakar bara mer då). Häll över i en stekpanna och stek ur marinaden. Tillsätt därefter kokosolja. Stek på tills alla bitar är knaprig med fin färg.
Gratäng
Ugnsform cirka 15 x 15 cm i diameter
1 gulbeta
5 små potatisar
1 palsternacka
1 burk kokosmjölk (400ml)
1 msk cashewsmör (ej nödvändigt, bara ännu mer smak)
1 ½ msk näringsjäst
1-2 msk vitvinsvinäger (eller vitt vin)
peppar och salt efter behag
1 tsk rosmarin
en bit vegansk fetaost
Skala gulbeta. Tvätta potatis och palsternacka väl. Skiva allt i tunna bitar. Fördela ut i ugnsformen. Hetta upp kokosmjölk, cashewsmör, näringsjäst, vinäger, salt, peppar och rosmarin i en kastrull. Häll över såsen på rotfrukterna i formen och smula över fetaost. Grädda i ugnen på 175 grader tills de har mjuknat. Cirka 15 minuter.
Regnbågssallad
en bit rödkål
1 morot
1 gulbeta
ett knippe persilja, klippt
ett knippe mynta, klippt
en näve rostade och saltade jordnötter
olivolja
vitvinsvinäger
balsamvinäger
limejuice
(efter behag)
Skala morot och gulbeta. Grovriv Rödkål, morot och gulbeta. Blanda ihop allt i en skål.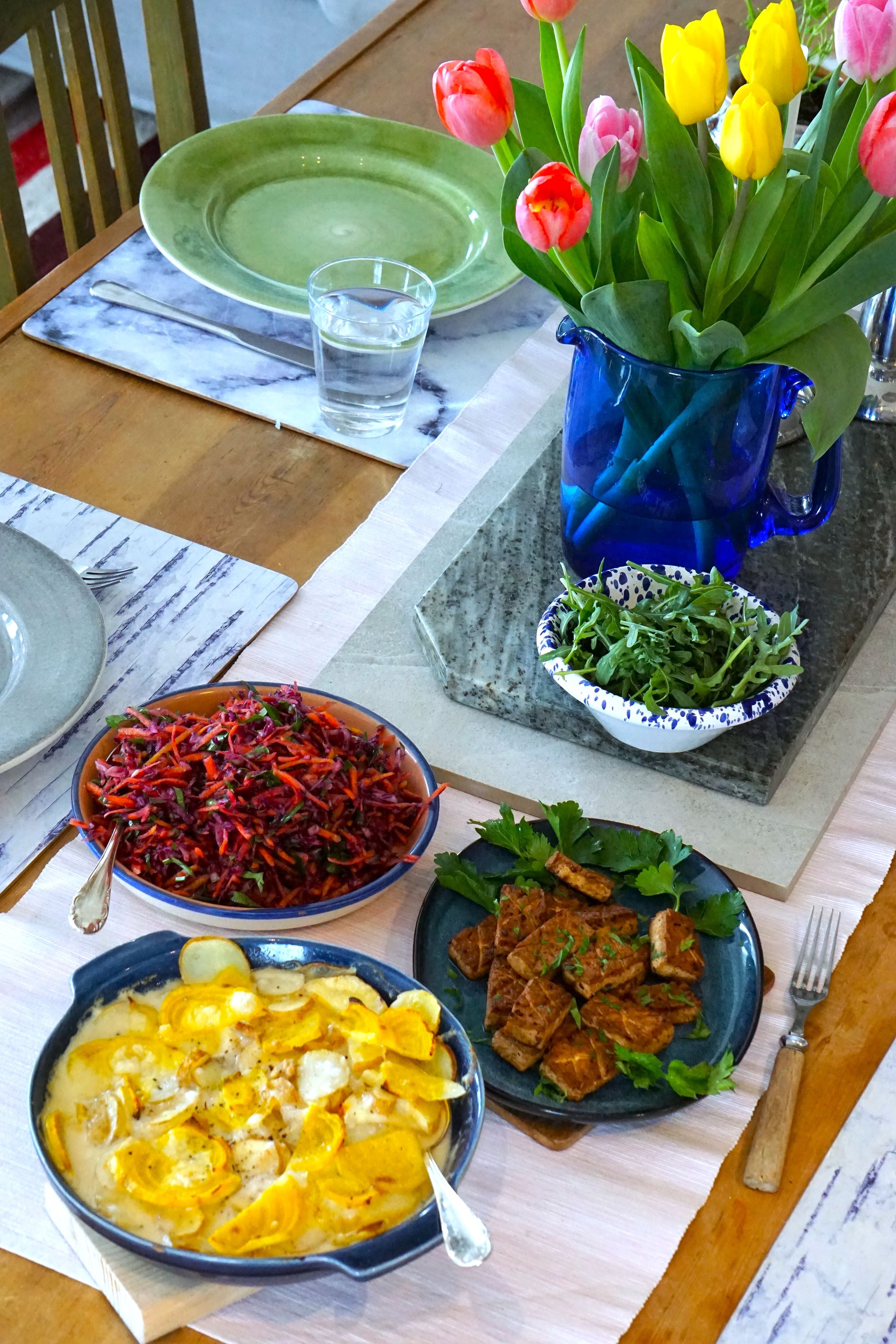 In Sweden it is very common to drink Påskmust, or Julmust during Easter and Christmas. Especially in families with children. It is a soft drink, almost like coke, just a little other flavor. We wouldn't say it is common in food, but we thought, why not? The sweetness in the drink is not a problem when it is mixed with soy, vinegar and lime, in addition the creamy gratin and the fresch salad makes the combination perfect.
Easter spiced tofu with gratin and rainbow salad
2 servings
Easter spiced tofu
400g firm tofu
Marinade
1 dl Påskmust
2 ½ tbsp tamary soy
2 pinches chili flakes
1 tbsp black and white pepper from grinder
1 tbsp white wine vinegar
a little juice from lime
1 ½ tbsp coconut oil or other fat for frying
Cut through the tofu lengthwise and put the blocks in kitchen paper or a kitchen towel. Put under something heavy for pressure for about 30 minutes. (This is to get the liquid out of the tofu and more easily absorb the marinade and become crispy during frying). Cut narrow notches into cross pattern halfway through the tofu blocks. Then cut the desired pieces of them. Mix together the marinade and pour over in a little plastic bag. Add the tofu. Shake and mix and turn to all sides. Leave to marinate for a few hours in the refrigerator. (You can fry the tofu directly in the marinade without the marinating time, but they only taste more then). Put the tofu and marinade into a frying pan and fry until the marinade is gone. Then add coconut oil. Fry until all the pieces are crunchy.
Gratin
Oven form about 15 x 15 cm in diameter
1 yellow beet
5 small potatoes
1 parsnip
1 jar coconut milk (400ml)
1 tbsp cashew butter (not necessary, just even more flavor)
1 ½ tbsp nutritional yeast
1-2 tbsp white wine vinegar (or white wine)
pepper and salt at will
1 tsp rosemary
a piece of vegan feta cheese
Peel the yellow beet. Wash the potatoes and parsnip well. Slice everything into thin pieces. Distribute in the oven form. Heat coconut milk, cashew butter, nutritional yeast, vinegar, salt, pepper and rosemary in a saucepan. Pour the sauce onto the root vegetables and crumble over the feta cheese. Bake in the oven at 175 degrees Celsius until softened. About 15 minutes.
Rainbow salad
a piece of purple cabbage
1 carrot
1 yellow beet
a bunch of parsley, cut
a bunch of mint, cut
a handful of roasted and salted peanuts
olive oil
white wine vinegar
balsam vinegar
lime juice
(at will)
Peel the carrot and yellow beetroot. Coarsely grate purple cabbage, carrot and yellow beetroot. Mix everything together in a bowl.