Pumpkin Smoothie with Pumpkin granola
Smoothie
1,5 dl cooked butternut pumpkin in cubes
1 dl frozen sea buckthorn
1 clementine
3 cm fresh ginger
½ -1 banana
½ tbsp maca powder
1 dl water + 1 dl soy milk
½ pkt firm tofu
turmeric, cinnamon and cardamom
Mix everything into a creamy smoothie. We use Vitamix. Top with Pumpkin granola!
Pumpkin Granola
2 dl cooked butternut pumpkin in cubes
1 pkt white beans
3 tbsp tahini
6 dl rolled oats
2 tbsp chia seeds
1 dl sunflower seeds
1 dl pumpkin seeds
2 dl almonds
1 dl cashews
1,5 tbsp yakun / maple syrup
1 dl water
2 tbsp cinnamon
½ tbsp cardamom.
Pour and rinse the white beans. Mix together with the cooked pumpkin and tahini to a smooth batter with a hand mixer. Chop the nuts roughly and then mix all the ingredients together. Spread in chunks on two oven trays with baking sheets. Bake in the oven on 150 degrees Celsius for about 25 minutes. Then lower to 75-100 degrees Celsius and bake until dry. Stir every now and then. Place in glass jar when cooled.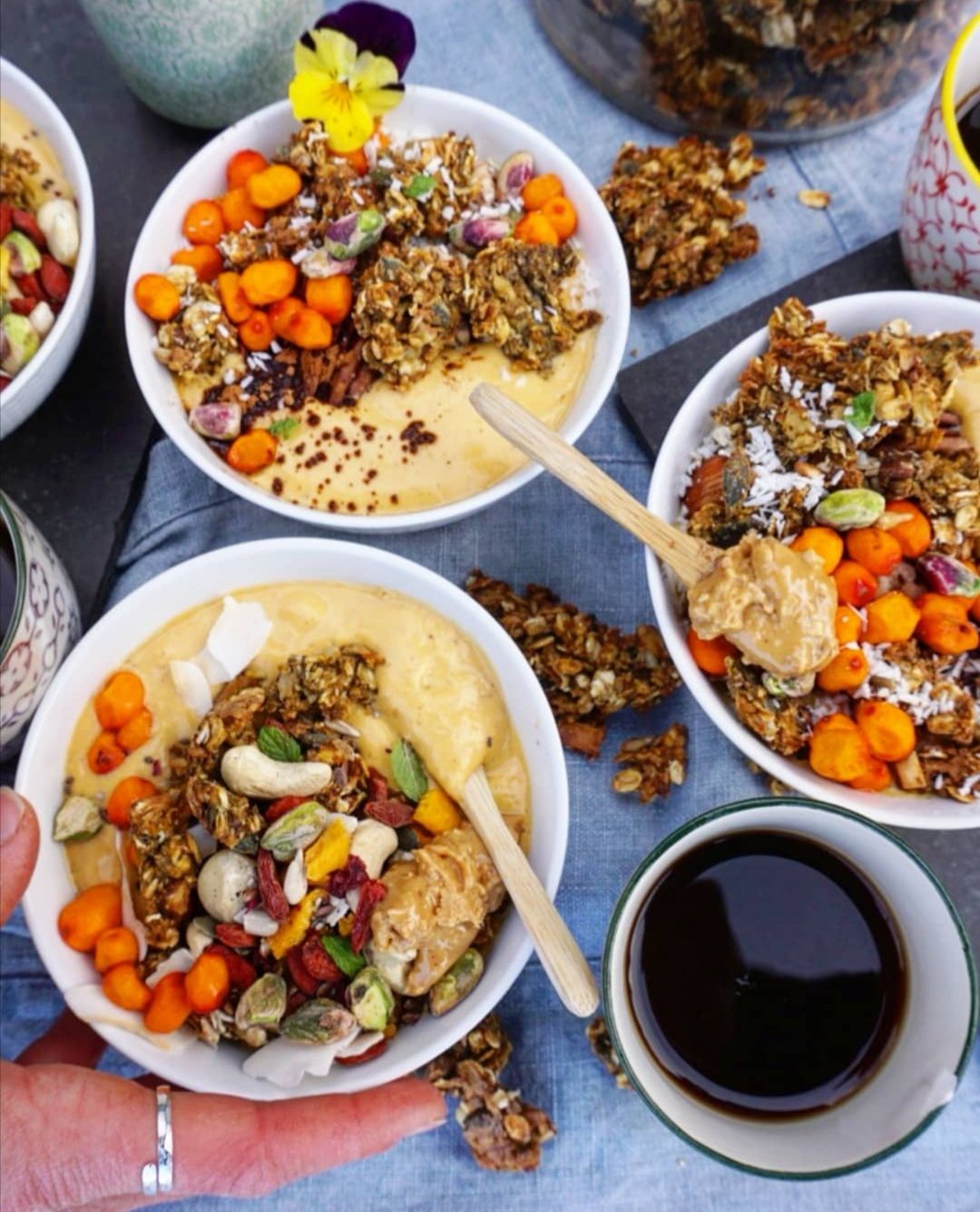 Pumpasmoothie med Pumpagranola
Smoothie
1,5 dl kokt pumpa i tärningar
1 dl fryst havtorn
1 clementin
3 cm färsk ingefära
½ -1 banan
½ msk macapulver
1 dl vatten + 1 dl sojamjölk
½ pkt fast tofu
gurkmeja, kanel och kardemumma
Mixa allt till en krämig och fyllig smoothie. Vi använder Vitamix. Toppa med Pumpagranola!
Pumpagranola
2 dl kokt pumpa i tärningar
1 pkt vita bönor
3 msk ljus tahini
6 dl havregryn
2 msk chiafrön
1 dl solrosfrön
1 dl pumpakärnor
2 dl mandlar
1 dl cashewnötter
1,5 msk yakun / lönnsirap
1 dl vatten
2 msk kanel
½ msk kardemumma.
Häll av och skölj de vita bönorna. Mixa tillsammans med den kokta pumpan och tahini till en slät smet med stavmixer. Hacka nötterna grovt och blanda sedan samman alla ingredienser till en gegga. Sprid ut i klumpar på två plåtar med bakplåtspapper. Grädda i ugnen på 150 grader i ca 25 minuter. Sänk därefter till 75-100 grader och låt gräddas till det är torrt. Rör om då och då. Lägg i glasburk när det svalnat.