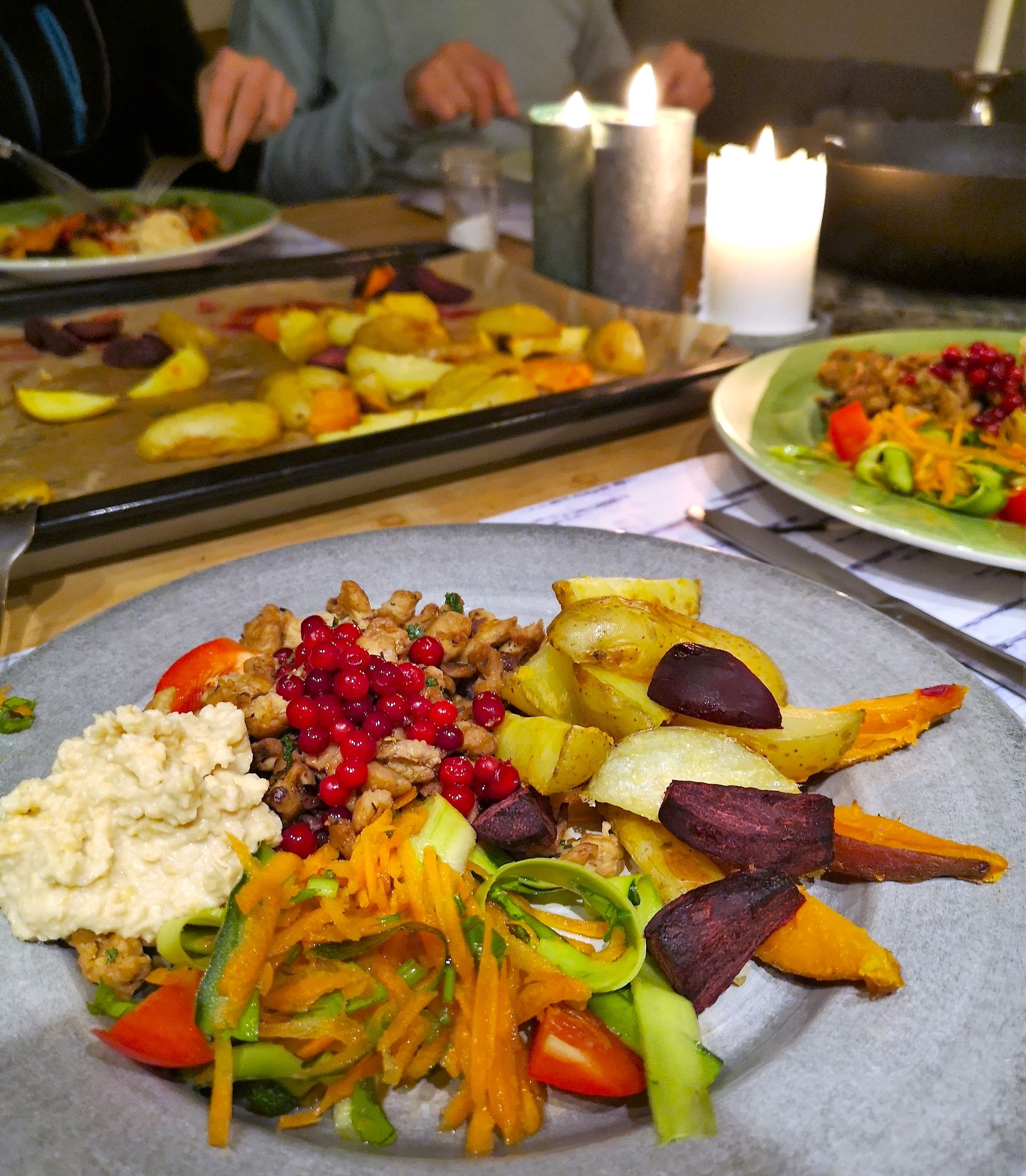 For english, please scroll down.
Lördagskvällar kräver sin middag, detta blev så gott! Känn lyxkänslan med enkla medel. Krispiga potatisbåtar, saltiga ärtproteinstrimlor, djup rödvinsås, krämig citronhummus och fräsch sallad.
Lördagsmiddag
Krispiga potäter
Tricket för att få krispig potatis som är mjuk och god inuti är att först koka den lätt med bakpulver! Vi testade också med sötpotatis som blev supergott. Nästa gång kokar vi rödbetorna en stund också!
potatis
sötpotatis
1 tsk bakpulver eller bikarbonat
en kastrull med vatten
salt
olivolja
ev. kryddor
rödbetor
Tvätta och dela potatis och sötpotatis i bitar. Koka upp vatten, salt och bakpulver och häll i potatis och sötpotatis. Koka i cirka 7 minuter. (De ska inte bli genomkokta!) Häll sedan av vattnet och låt potatisen svalna något. Ringla över olivolja och blanda runt ordentligt. Skala och skär rödbetorna i bitar. Sprid ut allt på en plåt med bakplåtspapper och baka i ugnen på 200 grader i 25-30 minuter.
Citronhummus
300g kokta kikärtor
½ citron, juice och zest
1 tsk vitvinsvinäger
½ dl barista havredryck
1 msk ljus tahini
salt och peppar
Mixa ihop till en krämig hummus.
Rödvinssås
1 schalottenlök
1 msk veganskt smör
3 dl rött vin
½ msk rött balsamvinäger
2 ½ dl vatten
½ tsk örtsalt
några drag med pepparkvarnen
1 msk majsstärkelse + 1 msk vatten
Skala och hacka lök. Fräs mjuk i en kastrull med smör. Tillsätt vin och låt reducera till hälften. Sila av löken. (Spara till de steka ärtstrimlorna!). Tillsätt vatten, salt och peppar och låt koka ihop cirka 15 minuter. Blanda majsstärkelse och vatten och vispa ner i såsen tills den tjocknar till önskad konsistens.
Frästa ärtstrimlor
1 ½ L torkade ärtstrimlor
2 msk kokosolja
3 msk näringsjäst
3 msk tamarisoja
några drag med pepparkvarnen
zest från 1 citron
ett knippe persilja, klippt
löken från rödvinssåsen
Blötlägg strimlorna minst 15 minuter. Stek ur vätskan i en stekpanna, och tillsätt olja. Fräs tills de fått färg. Tillsätt därefter resterande ingredienser och stek på några minuter till.
Apelsin- och morotssallad
3 morötter
½ zucchini
½ apelsin, jucie och zest
ett knippe färsk persilja
en nypa salt
Strimla zucchini med en potatisskalare. Riv morötterna. Hacka persiljan. Blanda ihop allt i en skål. Riv apelsinzest och pressa över juicen. Salta och blanda om.
Servera allt tillsammans och toppa med lingon.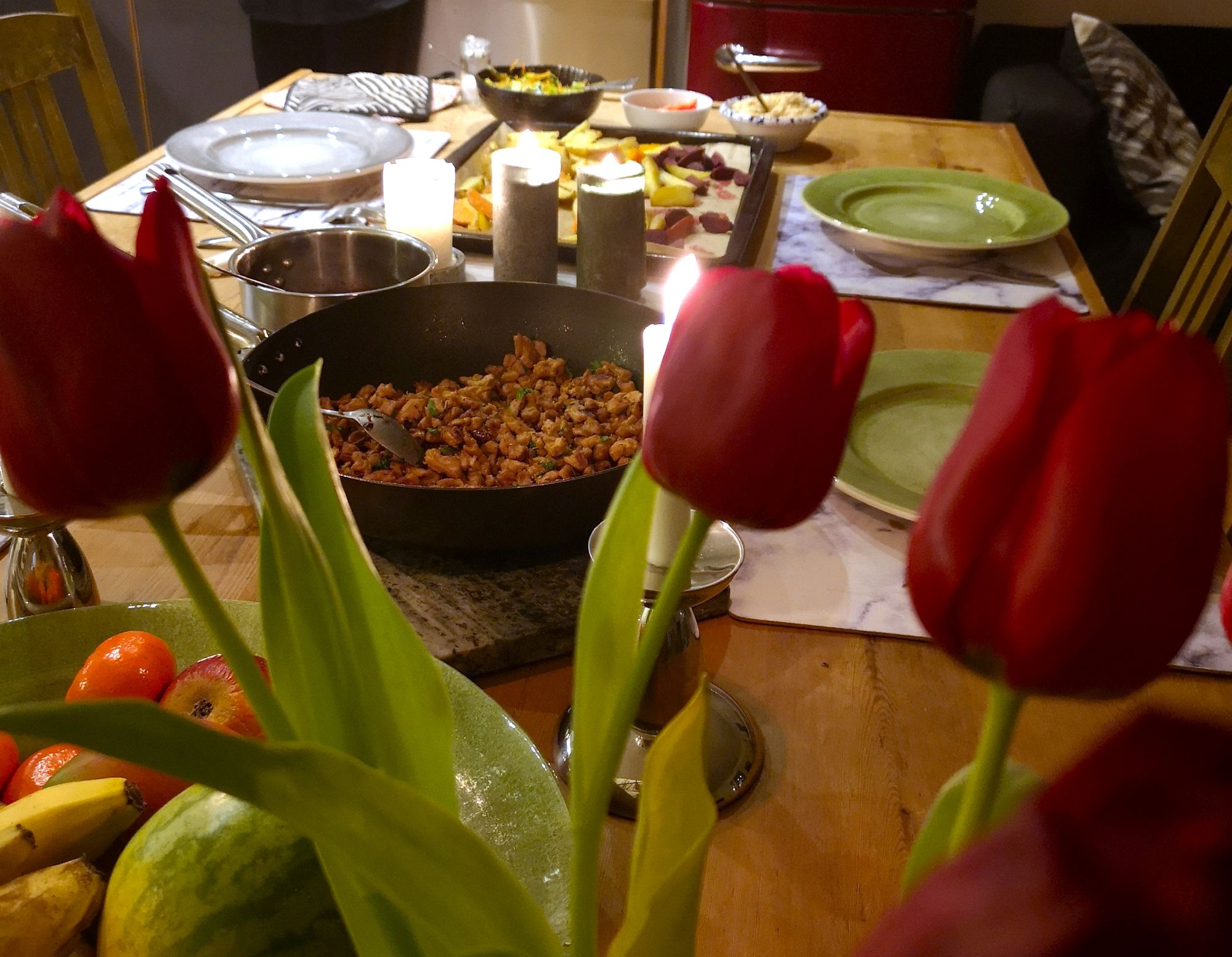 A saturday evening deserves its dinner. With this, everyone will be happy. Crispy potatoes and roots, salty pea protein chunks, red wine sauce, creamy lemon hummus, fresh salad and lingonberries. Yumyumyum.
Saturday dinner
Crispy Roots
The trick to getting crispy potatoes that are soft and tasty inside is to first cook it lightly with baking powder! We also tested with sweet potatoes and beets which turned out super tasty.
potato
sweet potato
1 tsp baking powder or bicarbonate
a saucepan of water
salt
olive oil
optional to mix with spices
beets
Wash and cut potatoes and sweet potatoes and beets into pieces. Boil water, salt and baking powder and add them in there. Cook for about 7 minutes. (They should not be cooked soft!) Then pour off the water and let the potatoes cool slightly. Drizzle over olive oil and mix well. Spread everything on a tray with parchment paper and bake in the oven at 200 degrees for 25-30 minutes.
Lemon hummus
300g cooked chickpeas
½ lemon, juice and zest
1 tsp white wine vinegar
½ dl barista oat milk
1 tbsp light tahini
salt and pepper
Mix together into a creamy hummus.
Red wine sauce
1 shallot
1 tbsp vegan butter
3 dl red wine
½ tbsp red balsamic vinegar
2 ½ cup water
½ tsp herb salt
pepper
1 tbsp cornstarch + 1 tbsp water
Peel and chop the shallot. Fry softly in a saucepan with vegan butter. Add wine and reduce to half. Strain the onion. (Save for the fried pea protein chunks!). Add water, salt and pepper and bring to the boil for about 15 minutes. Mix the cornstarch and water and whisk into the sauce until it thickens to the desired consistency.
Fried pea protein chunks
1 ½ L dried pea protein chunks
2 tbsp coconut oil
3 tbsp nutritional yeast
3 tbsp tamari soy
pepper
zest from 1 lemon
a bunch of parsley, cut
onion from the red wine sauce
Soak the chunks for at least 15 minutes. Fry in a dry pan at first to get out the water, then add oil. Fry until they get a nice color. Add the remaining ingredients and fry for a few more minutes.
Orange and carrot salad
3 carrots
½ zucchini
½ orange, jucie and zest
a bunch of fresh parsley
a pinch of salt
Shred zucchini with a potato peeler. Grate the carrots. Chop the parsley. Mix everything in a bowl. Grate orange zest and squeeze over the juice. Salt and mix again.
Serve everything together and top with lingonberries.