For english, scroll down please. :)
Superenkla, veganska rispuckar fyllda med smak. Passar både som energi på turer av olika slag, på långa träningspass eller som lunch eller middag. Doppa gärna i en krämig tahinisås.
Rispuckar
Puckar
150 g fast tofu
5 dl kokt, kallt, klibbigt ris
en bit rödkål
1 morot eller en bit butternutpumpa
2 salladslökar
½ röd paprika
3 cm färsk ingefära
1/3 röd chili
ett knippe persilja
ett knippe koriander
2 krm svart-och vitpeppar
3 msk tamarisoja
2 tsk sesamolja
sesamfrön
kokosolja att steka i
Topping
koriander
limezest och juice
salladslök
Riv tofu fint på ett rivjärn. Hacka grönsaker, kål, örter, lök, chili och ingefära fint. Blanda sedan ihop allt ordentligt. Tryck ihop till puckar med händerna, strö på sesamfrön. Hetta upp en panna med kokosolja och stek gyllenbruna på båda sidor.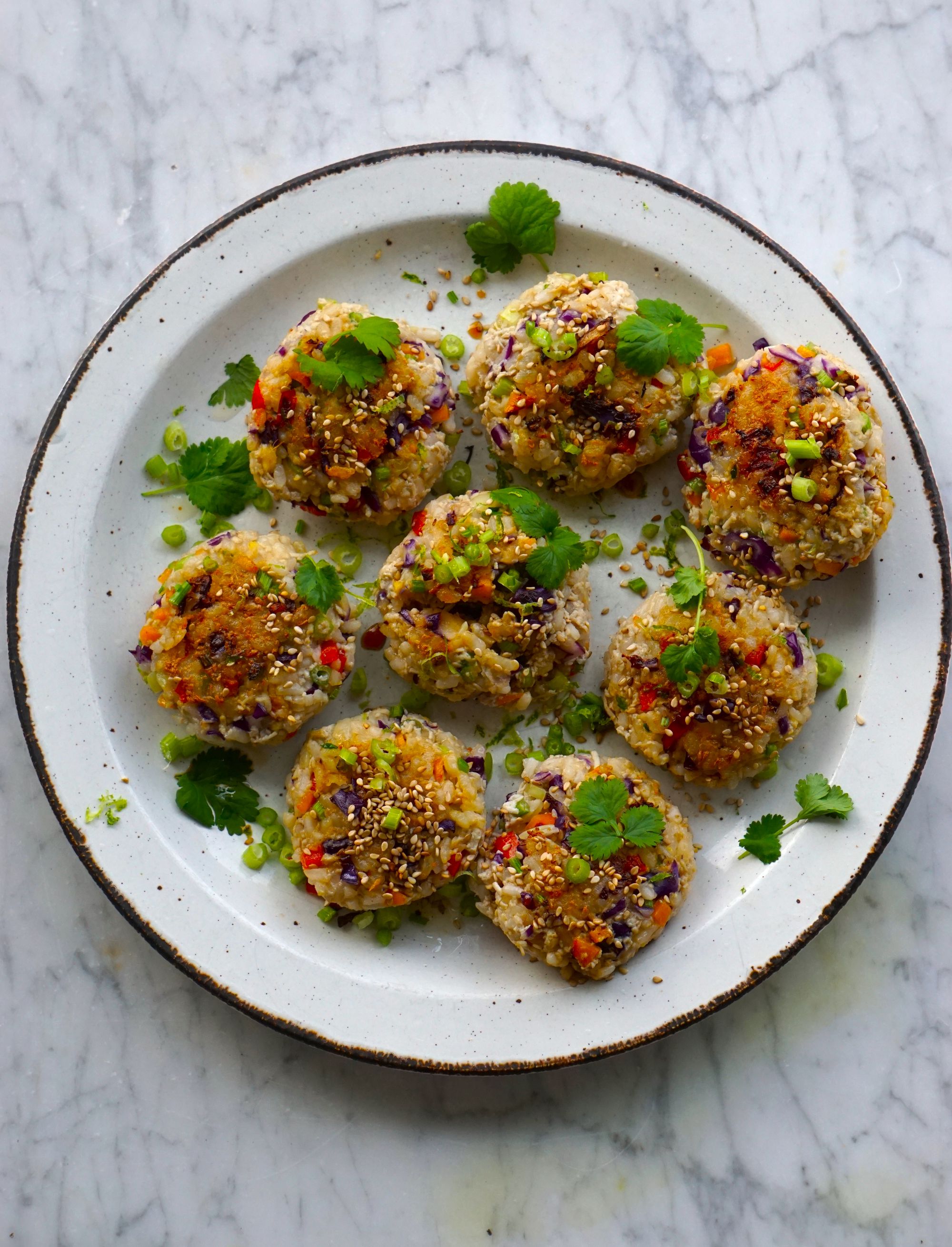 Very simple, but very yummy pucks, good for lunch, dinner, or snack. Convinient to bring outdoors on tours of any kinds.
Rice pucks
Rice pucks
150g firm tofu
5 dl cooked, cold, sticky rice
a piece of purple cabbage
1 carrot or a piece of butternut pumpkin
2 spring onions
1/2 red bell pepper
3 cm fresh ginger
1/3 red chili
a bunch of parsley
a bunch of coriander
2 krm black and white pepper
3 tbsp tamari soy
2 tsp sesame oil
sesame seeds
coconut oil to fry in
Topping
coriander
limezest and juice
scallion
Grate the tofu. Chop vegetables, cabbage, herbs, onions, chili and ginger finely. Then mix everything together properly. Press together into pucks with your hands, sprinkle on sesame seeds. Heat a pan with coconut oil and fry golden brown on both sides. Serve with a tahini sauce or similar.