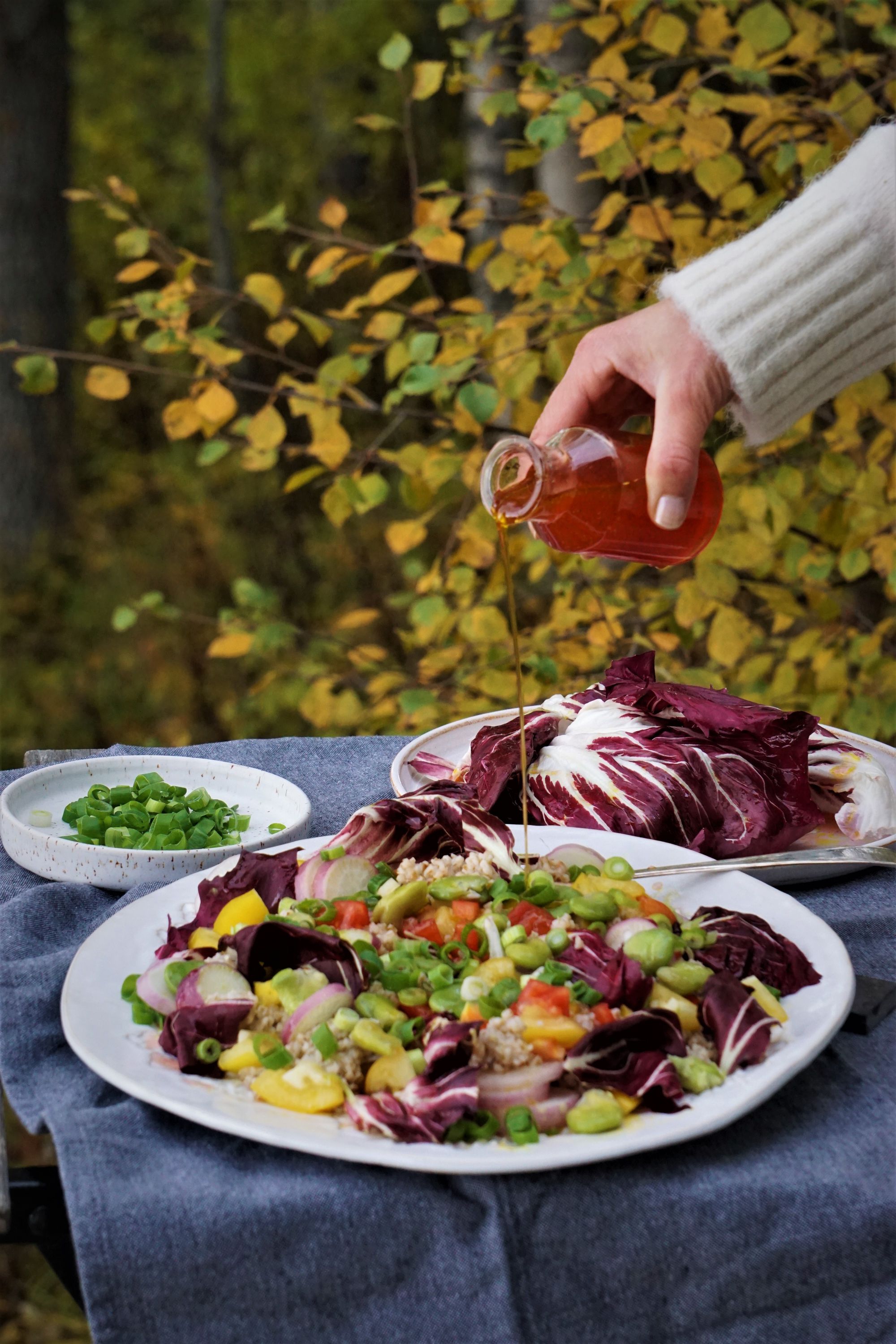 For english, please scroll down.
I samarbete med Hushållningssällskapet Jämtland har vi skapat en sallad med ingredienser endast från Jämtland. Den består av kokt korngryn och bondbönor tillsammans med härliga tomater, rädisa, salladslök, raddochio och en somrig dressing med jordgubbs- och rabarbersaft!
Korgrynssallad med dressing
Korngrynssallad
3 dl korngryn
2 dl bondbönor (urtagna ur skidorna)
1 stor rädisa
4 tomater i olika färger
3 salladslökar
några blad raddochio
Koka korngrynen enligt anvisning på förpackningen. Koka bönorna i cirka 10 minuter. Skala bort skinnet som är kvar. Skiva rädisan. Hacka tomaterna och löken smått. Dela raddochionbladen i mindre bitar. Blanda om allt på ett fat och ringla över dressing.
Jordgubbs/rabarberdressing
1 dl jordgubbs/rabarbersaft
3 msk rybsolja
salt och peppar
Blanda ihop och ringla över salladen.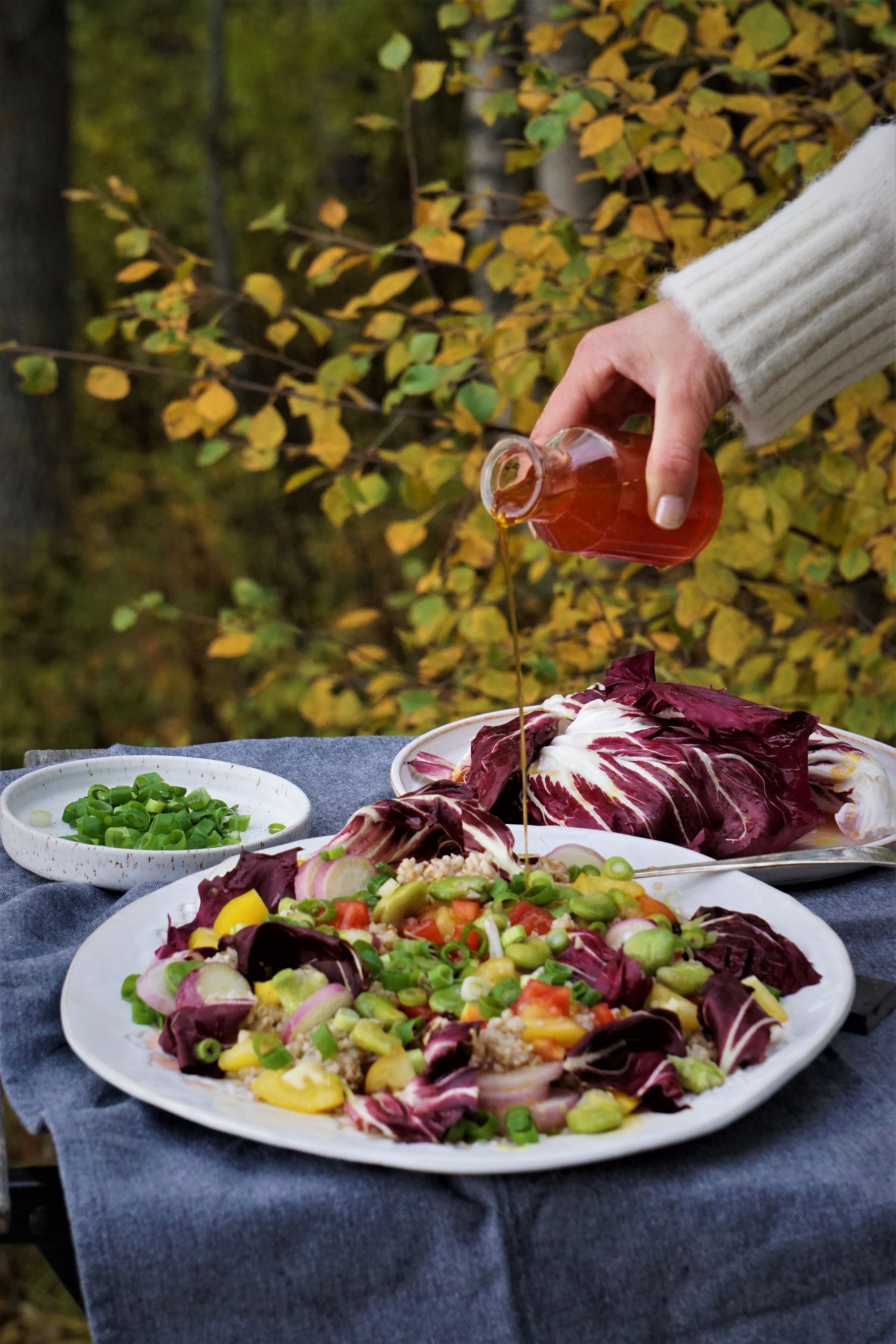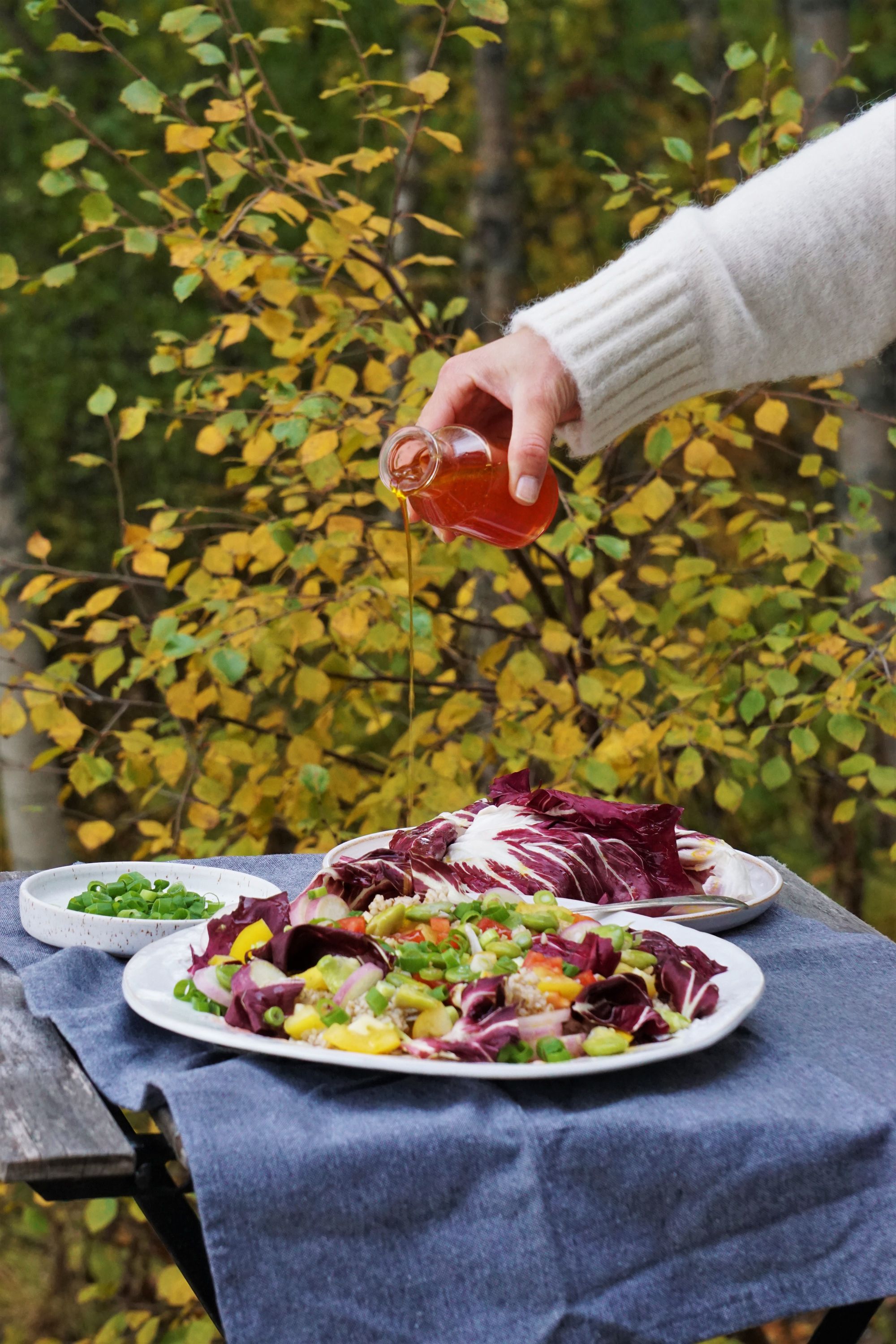 A Pearl barley salad with cooked fava beans, scallion, radish, tomatoes and the cool salad raddochio, (look at that color!) togehter with a sweet dressing made from strawberry and rhubard lemonade.
Pearl-barley salad
Pearl barley salad
3 dl pearl-barley
2 dl fava beans (taken out from the pods)
1 large radish
4 tomatoes of different colors
3 green onions
a few leaves of raddochio
Cook the pearl- barley according to the instructions on the package. Boil the beans for about 10 minutes. Peel off the skin that is left on them. Slice the radish. Chop the tomatoes and onions. Divide the raddochio leaves into smaller pieces. Put everything on a plate and drizzle with dressing.
Strawberry/rhubarb dressing
1 dl strawberry/rhubarb juice
3 tbsp rapeseed oil
salt and pepper
Mix together and drizzle with the salad.