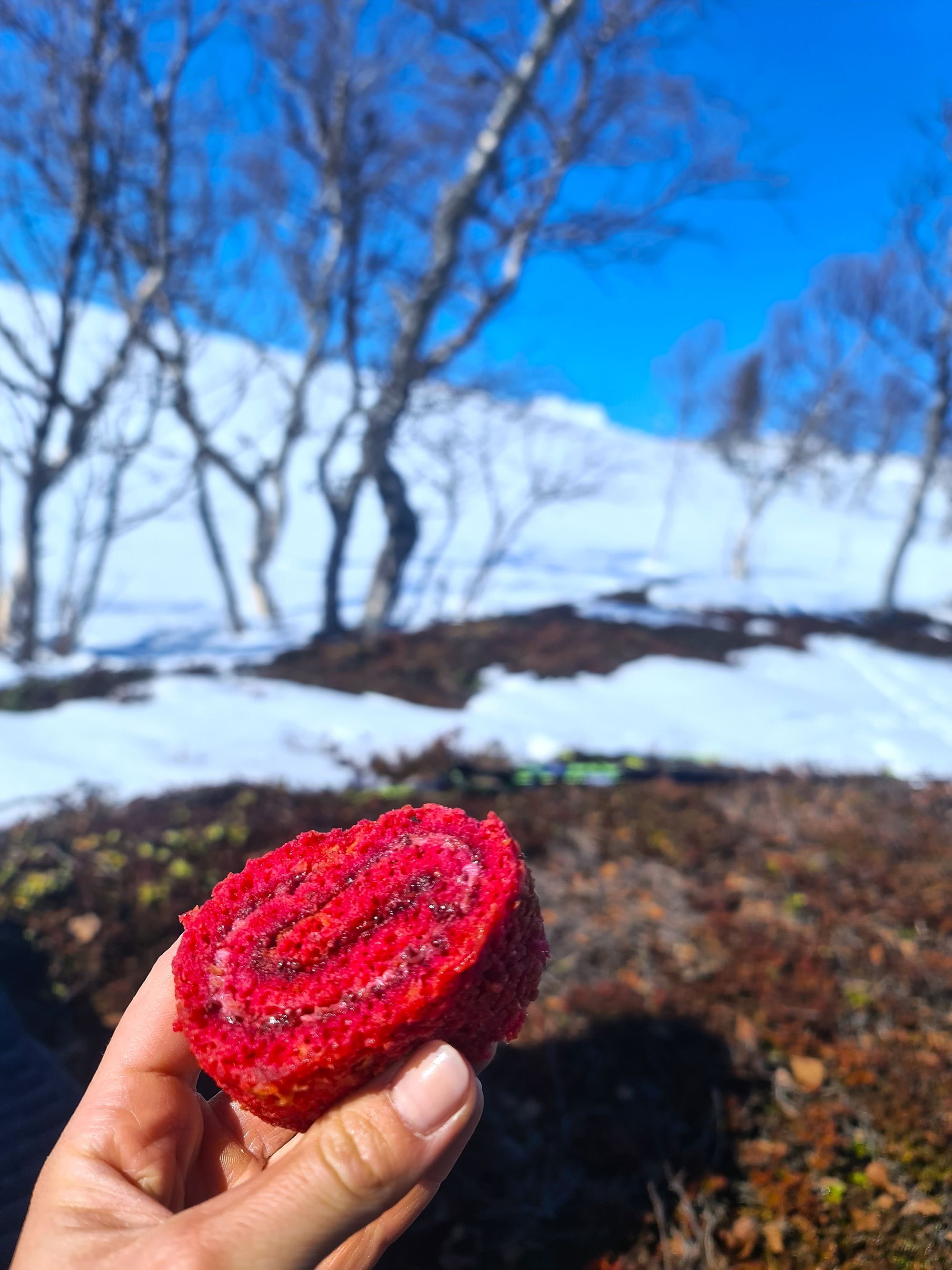 Rulltårta med hallon och gurtfyllning. En läcker färg är så enkel att få till med rödbetsjuice. Den här rulltårtan behöver några timmar i kylskåp för att sätta sig innan servering. Då är den perfekt att ta med ut på utflykt.
Hallonrulle
Kaka
2 dl rismjöl
1 dl potatismjöl eller tapiokamjöl
1 ½ tsk bakpulver
lite mindre än ½ tsk xantangummi
1 dl kikärtsspad
2 dl björksocker, eller annat socker
1 dl rödbetsjuice
Blanda alla torra ingredienser utom socker i en bunke. Vispa kikärtsspad fluffigt i en stålbunke (ej till maräng). Tillsätt socker och vispa lite till. Vänd ihop allt, även rödbetsjuicen. Bred ut på en plåt med bakplåtspapper. Grädda på 250 °C i 7 minuter. Ta ut och vänd upp och ner på ett annat bakplåtspapper. Pensla det översta med lite vatten och dra försiktigt loss pappret. Fyll med hallonsylt och bred på ett lager tjock grekisk gurt, och lite sirap eller honung och rulla ihop från långsidan. Strössla lätt med lite socker. Kyl i minst 12 timmar innan servering.
Fyllning
Hallonsylt
4 dl hallon
2 msk chiafrön
½ citron, juice
2 msk sötning
Koka upp allt i en kastrull till en sylt.
Några skedar vegansk grekisk gurt
ev lite sirap eller honung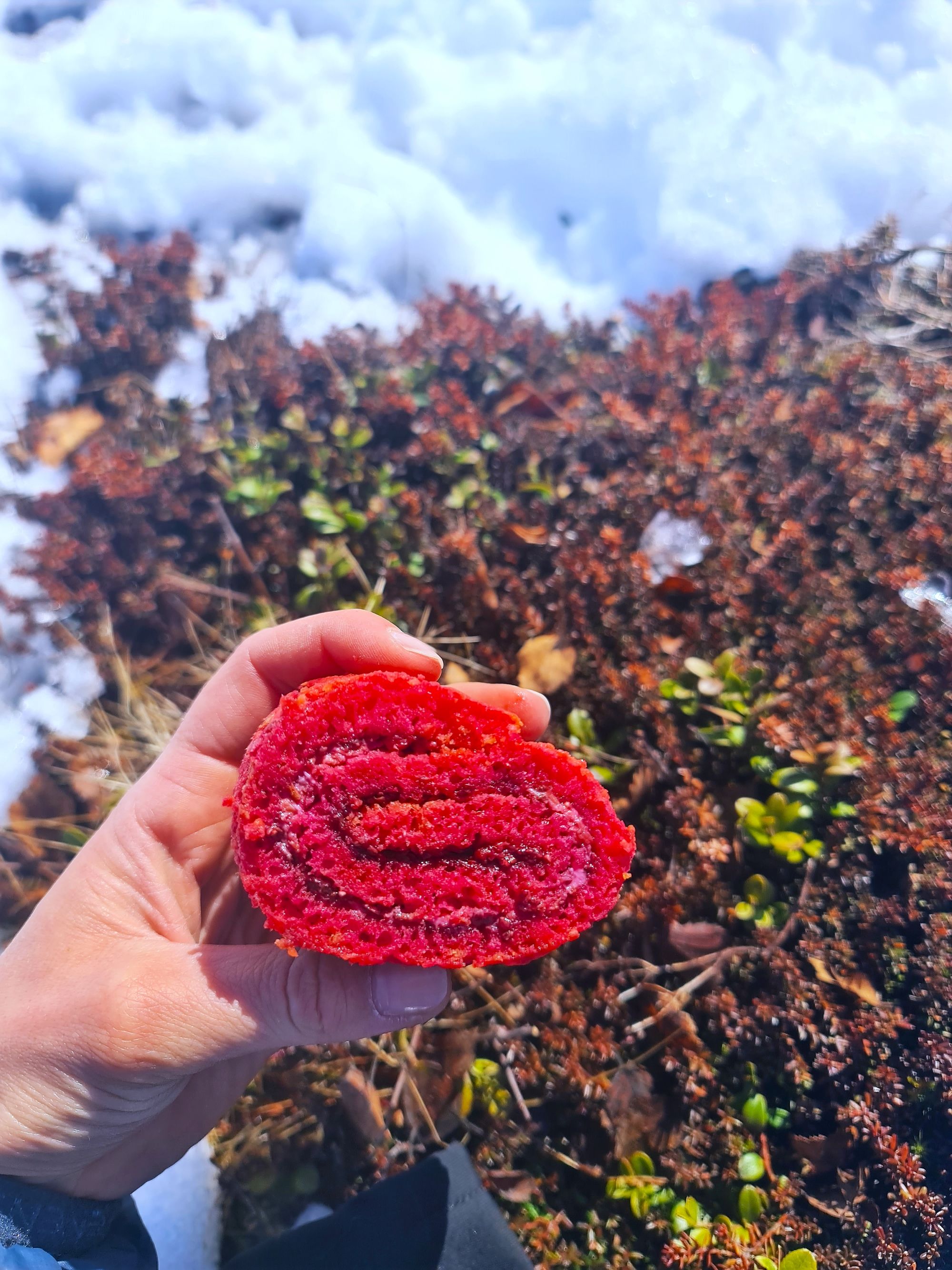 A cake roll with raspberry and vegan yogurt filling. Beetroot juice makes the very pink color. The roll needs some ours in the refrigerator before serving.
Raspberry roll
Cake dough
2 dl rice flour
1 dl potato flour or tapioca flour
1 ½ tsp baking powder
a little less than ½ tsp xanthan gum
1 dl aquafaba
2 dl birch sugar, or other sugar
1 dl beetroot juice
Mix all dry ingredients except sugar in a bowl. Whisk the aquafaba fluffy in a steel bowl (not to meringue). Add sugar and whisk a little more. Turn everything together, including the beetroot juice. Spread out on a baking paper on a tray. Bake at 250°C for 7 minutes. Turn it upside down with another tray with baking paper. Brush the top of the baking paper with the cake with a little water and gently pull off the paper. Fill it with raspberry jam and spread on a layer of thick vegan Greek yoghurt, and a little syrup or honey and roll up from the long side. Sprinkle with a little sugar. Refrigerate for at least 12 hours before serving.
Stuffing
Raspberry jam
4 dl raspberries
2 tbsp chia seeds
½ lemon, juice
2 tbsp sweetening
Bring everything to the boil in a saucepan to a jam.
A few spoons of vegan greek yoghurt
a little syrup or honey