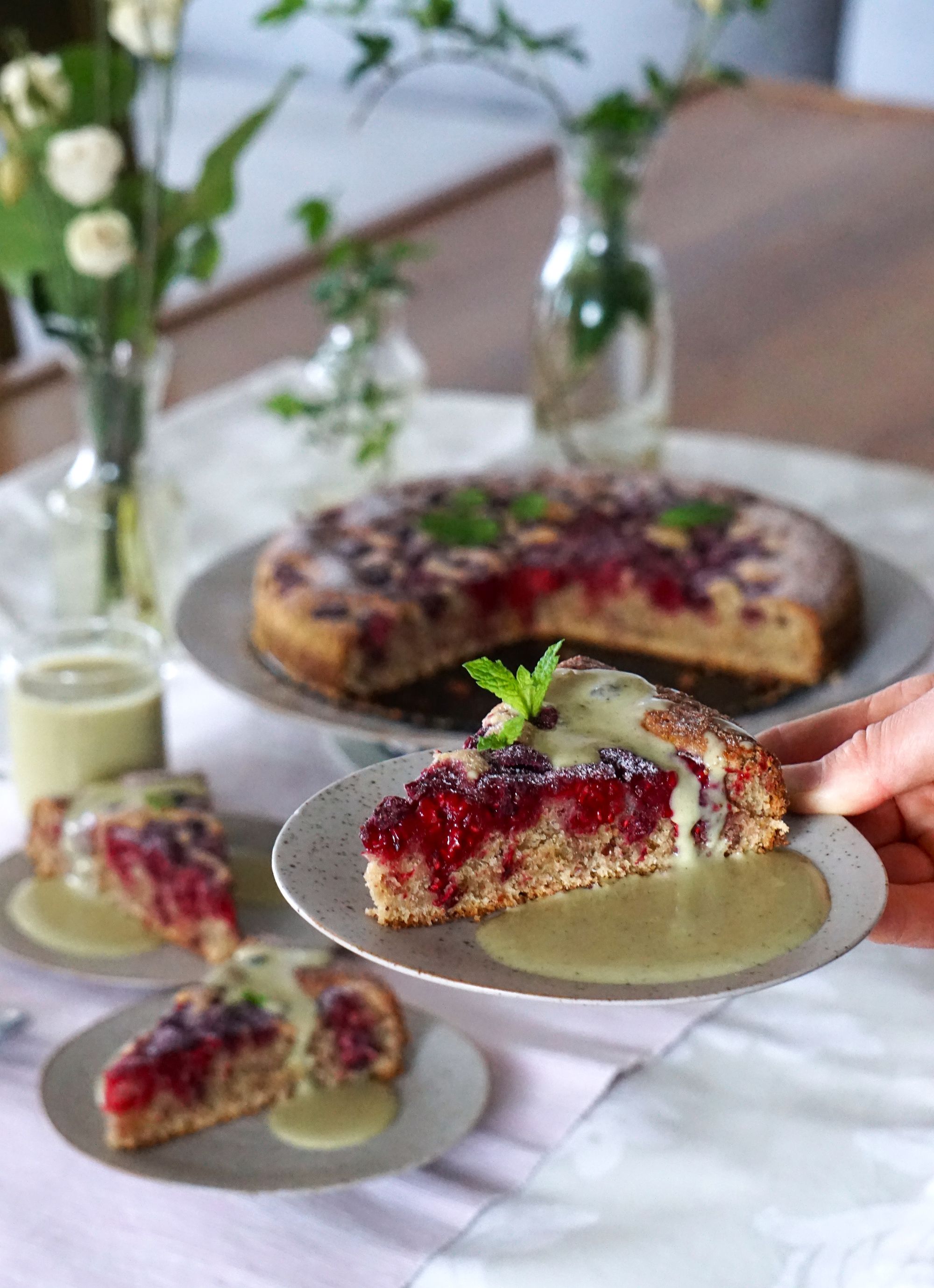 For english, please scroll down.
Vi har tidigare gjort en liknande kaka med med äpple i. Den här är bakad på samma sätt, men vi har tillsatt citron, vallmofrön och hallon istället och serverar till en varm vaniljsås! Så gott! Veganskt, glutenfritt och helt underbart gott!
Hallonkaka med citron och vallmo
Kaka
2 dl mandlar
1 ½ dl kikärtsmjöl
1 dl potatismjöl
1 ½ msk psylliumhusk
1 ½ dl fint rårörsocker
½ tsk salt
2 tsk bakpulver
2 msk vallmofrön
zest från 1 citron
100 g veganskt smör
1 msk citronjuice
2 dl växtbaserad mjölk
1 msk vitvins/äppelcidervinäger
2 ½ dl frysta hallon
Vegsmör/olja + 2 msk pofiber eller ströbröd till formen
Sätt ugnen på 175 grader. Smörj och bröa en rund kakform med löstagbara kanter. Mixa mandlar. till ett grovt mjöl i en höghastighetsmixer, matberedare eller mandelkvarn. Blanda med resten av de torra ingredienserna i en bunke. Smält smöret, tillsätt citronjuice, mjölk och vinäger och blanda ner i bunken. Rör ihop till en jämn smet. Häll i formen. Strö över hallonen. Grädda i ugnen i ca 35 minuter. Pudra gärna med lite florsocker och servera till vaniljsås.
Vaniljsås
2 dl sojamjölk (eller annan växtbaserad mjölk)
½ tsk vaniljpulver
3 msk socker
1 msk majsstärkelse
1 ½ msk veganskt smör
ev. 2 krm gurkmeja
ev. lite fet kokosmjölk att blanda ut med
Koka upp sojamjölk, vaniljpulver, socker och majsstärkelse under omrörning. Låt sjuda under omrörning tills det tjocknar. Tillsätt smör och gurkmeja. Vi valde att blanda ut såsen med det översta, feta i en burk med kokosmjölk för lite extra lyx, men det behövs ej.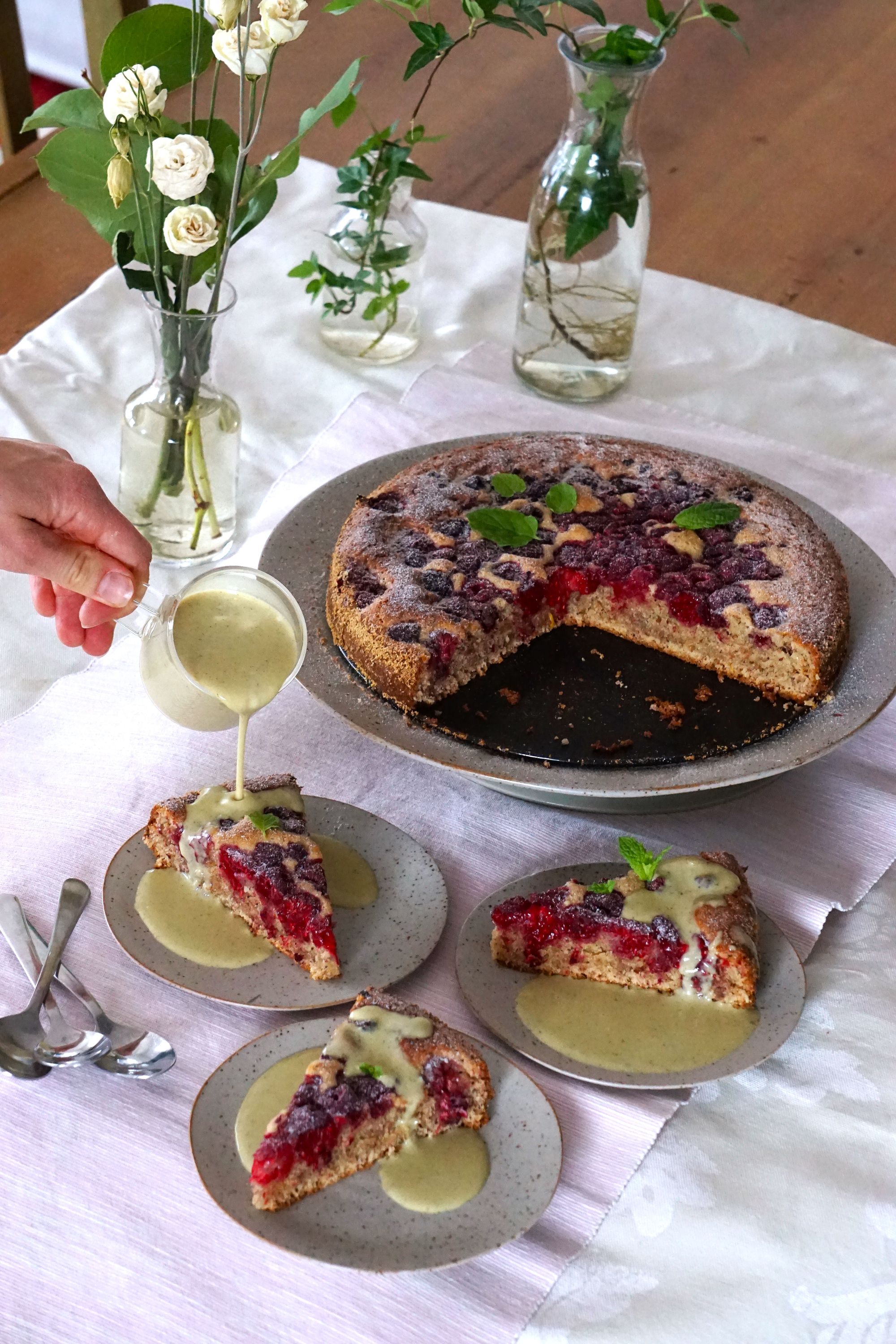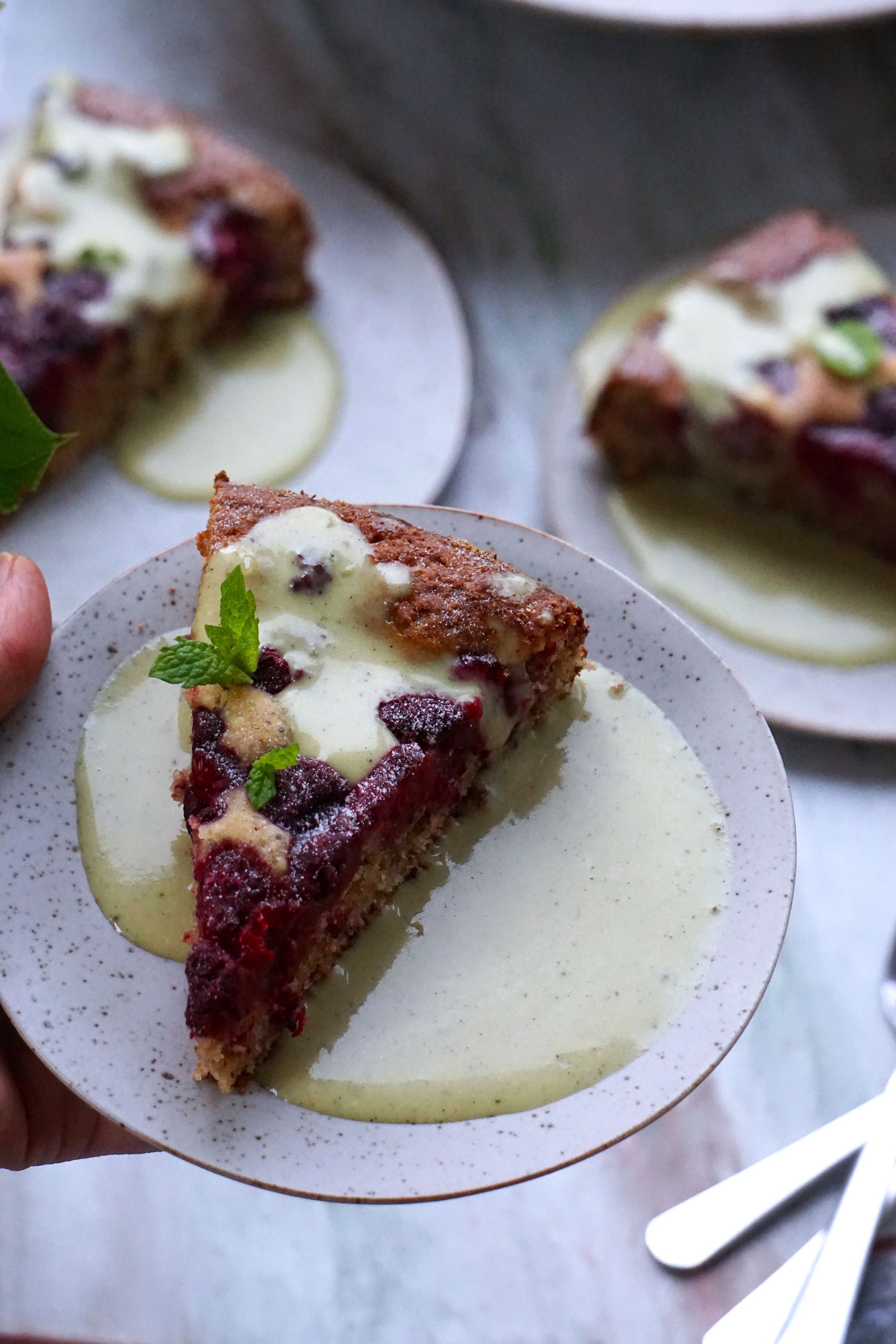 We have done a similar cake but with apples in. But this one we use lemon juice, poppy seeds and raspberries instead for the apples. And it turned out sooo delicicious. All glutenfree, plantbased and served with a vanilla sauce.
Raspberry cake with lemon and poppyseeds
2 dl almonds
1 ½ dl chickpea flour
1 dl potato flour
1 ½ tbsp psyllium husk
1 ½ dl fine raw cane sugar
½ tsp salt
2 tsbp poppyseeds
2 tsp baking powder
zest from 1 lemon
100g vegan butter
1 tbsp lemon juice
2 dl plant-based milk
1 tbsp white wine/apple cider vinegar
2 dl frozen raspberries
Vegan butter or oil + 2 tbsp pofiber or breadcrumbs for the cake tin
Set the oven to 175 degrees. Grease and braise a round cake tin with removable edges. Mix almonds into a flour in a high-speed mixer, food processor or almond grinder. Mix with the rest of the dry ingredients in a bowl. Melt the butter, add the lemon juice, milk and vinegar and mix into the bowl. Stir together into a smooth batter. Pour into the cake tin. Put the raspberries over. Bake in the oven for about 35 minutes. Powder with a little icing sugar and serve with tofu vanilla sauce.
Vanilla sauce
2 dl soy milk (or other plant-based milk)
½ tsp vanilla powder
3 tbsp sugar
1 tbsp cornstarch
1 ½ tbsp vegan butter
ev. 2 krm turmeric
a spoon coconut milk to mix with, but not needed
Bring the soy milk, vanilla powder, sugar and cornstarch to the boil, stirring. Simmer, stirring, until thickened. Add butter and turmeric. We chose to mix the sauce with the top, feta in a jar of coconut milk for a little extra luxury, but it is not needed.