For english, please, scroll down.
Silkestofu är jättebra att göra såser på. Vi har gjort en tofutzatziki med zucchini och silkestofu till ras el hanout-kryddade tofusticks ugnsbakade med sötpotatisbåtar till rödbetsquinoa och havre. Ras el Hanout är en kryddmix som används flitigt i Mellanöstern. Hittar du inte hela kryddmixen i affären går det bra att köpa och blanda själv.
Fröbakade sticks med sötpotatis, tofutzatziki och rödbetsmix
2 portioner
I ugnen
2 sötpotatisar
3 msk hel ras el hanout-krydda
4 msk blandade sesamfrön, svarta och vita
400 g fast tofu
1 dl växtbaserad mjölk
olivolja
flingsalt
Skölj och skär sötpotatis i båtar. Lägg upp på en plåt med bakplåtspapper. Blanda Ras el Hanout och sesamfrön i en skål. Skär tofu i stavar. Doppa stavarna i växtbaserad mjölk och rulla i kryddmixen. Lägg upp på plåten med sötpotatis. Ringla över olivolja över allt och strö över lite flingsalt. Baka i ugnen på 175 grader i 20 minuter. Akta så de inte bränns.
Rödbetsmix
2 dl hel havre
2 dl quinoa
4 dl rödbetsjuice
3 dl vatten
½ gul paprika
½ rödlök
ett knippe persilja
Vinägrett
1 msk senap
2 msk äppelcidervinäger
3 msk olivolja
1 msk vatten
¼ pressad citron
salt och peppar efter behag
Koka hel havre och quinoa med rödbestjuice och vatten. Strimla paprika och rödlök och hacka persilja. Rör ihop en vinägrett och blanda sedan om allt med grynen till en ljummen sallad.
Tofu-tztatziki
200 g silkestofu
1 msk ljus tahini
½ citron, juice och zest
1 msk olivolja
½ vitlöksklyfta, pressad
salt och peppar efter behag
1/3 zucchini
3 blad färsk mynta
Mixa ihop allt utom zucchini och mynta till en slät sås. Riv i zucchini och blanda i hackad mynta.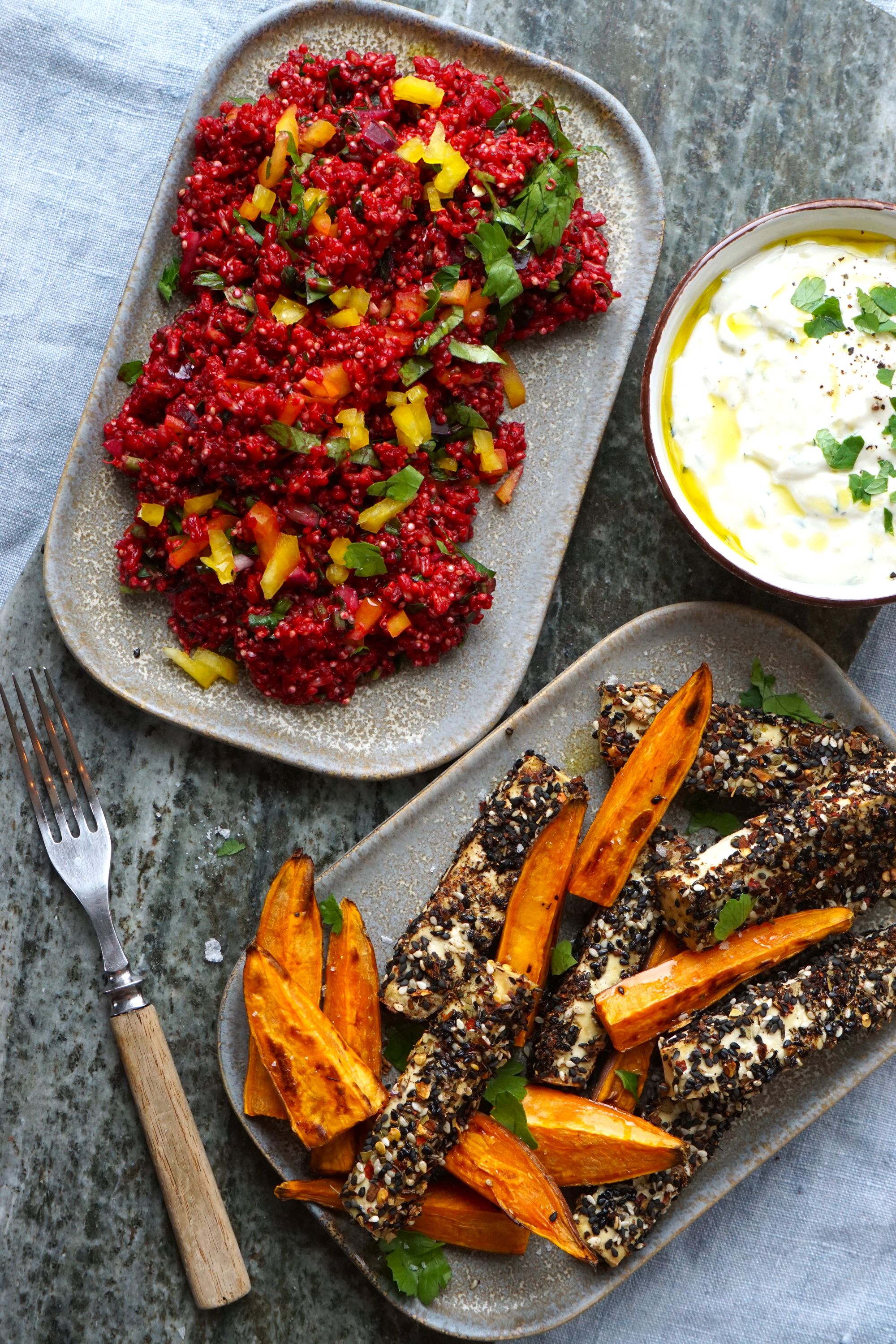 Silken tofu is great to make sauces of. We've made a tofutzatziki with zucchini and silk tofu with ras el hanout-seasoned tofu sticks, oven baked with sweet potato boats and beetroot quinoa and oat sallad.
Seed baked sticks with sweet potatoes, tofutzatziki and beetroot mix
2-4 servings
In the oven
2 sweet potatoes
3 tbsp whole ras el hanout spice
4 tbsp mixed sesame seeds, black and white
400 g solid tofu
1 dl plant-based milk
olive oil
flake salt
Rinse and cut sweet potatoes into boats. Place on a tray with baking paper. Mix Ras el Hanout and sesame seeds in a bowl. Cut the tofu into sticks. Dip the sticks in plant-based milk and roll in the spice mix. Place on the tray with sweet potatoes. Drizzle olive oil over everything and sprinkle with some flake salt. Bake in the oven at 175 degrees Celsius for 20 minutes. Be careful not to burn them.
Beetroot mix
2 dl whole oats
2 dl quinoa
4 dl beetroot juice
3 dl water
½ yellow bell pepper
½ red onion
a bunch of parsley
Vinaigrette
1 tbsp mustard
2 tbsp apple cider vinegar
3 tbsp olive oil
1 tbsp water
1/4 squeezed lemon
salt and pepper
Boil whole oats and quinoa with beetroot juice and water. Shred the bell pepper and red onion and chop the parsley. Stir together the vinaigrette, then mix everything with the grains into a warmish salad.
Tofu-tztatziki
200g silken tofu
1 tbsp light tahini
½ lemon, juice and zest
1 tbsp olive oil
½ garlic clove, pressed
salt and pepper
1/3 zucchini
3 leaves fresh mint
Mix everything except zucchini and mint into a smooth sauce. Grate in the zucchini and mix in chopped mint.