Mum always made this kind of christmas cake when we were kids. Filled with nuts and dried fruit! Though she used refined sugar and wheat flour. We changed to other flours and sweetner, and the result is even better. This is a real must on the christmas treat table, otherwhise it isn't complete! A tip is to freeze the cake if you don't eat the whole at once. When it has been frozen it's easier to cut thin slices. (we had our in the freezer for half a year! Still delicious.)
(recept på Svenska längre ner)
Siv's Christmas cake
1 dl aqua faba
1 msk apple cider vinegar
1 clementine (zest and juice)
1 ½ dl coconut sugar or cane sugar (or a mixture of both)
2 dl chopped natural nuts and almonds
½ dl candied orange zest
½ - 1 dl raisins or corinths
½ dl dried cranberries
1 ½ dl almond flour
1 dl chickpea flour
1 ½ dl oat flour or buckwheat flour
3 tbsp melted coconut oil
2 ½ tsp baking soda
1 tsp grounded bitter orange peel
2 tbsp psyllium husk
shredded coconut for the baking tin
Grease baking paper with some oil and put in a baking tin. Sprinkle with shredded coconut. Blend all dry ingredients except the sugar in a bowl. Whisk the aquafaba fluffy. Add the sugar and whisk some more. Blend carefully everything together. And put it in the baking tin. Bake for about 50 minutes on 175 degrees celsius.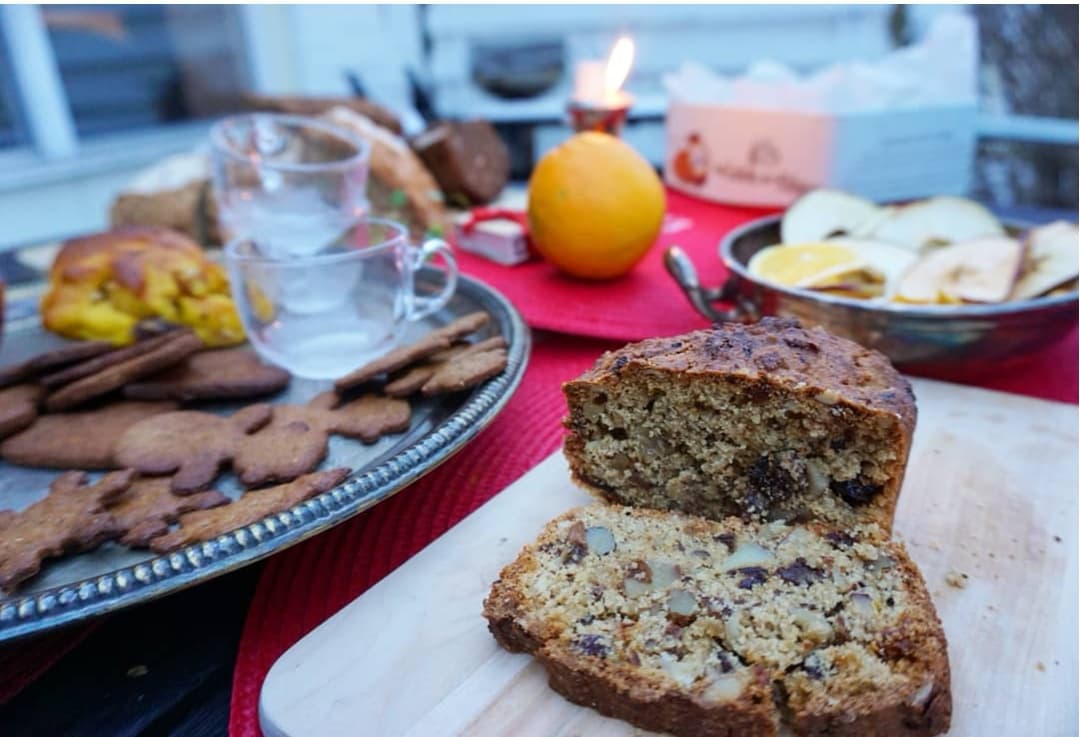 Mamma bakade alltid den här sortens julkaka när vi var små. Fylld med nötter och torkad frukt och bär! Men hon använde vitt strösocker och vetemjöl. Vi har bytt ut till andra mjöler och sötning, och resultatet är ännu bättre! Kakan är ett måste för oss på fikabordet under julen, annars blir det inte riktigt komplett! Ett tips är att frysa in den när den svalnat om man inte ska äta hela på en gång. När det sedan har tinat efter något/några dygn (vi hade den i frysen ett halvår!) är den lättare att skära i tunna skivor.
Siv's Julkaka
1 msk äppelcidervinäger
1 dl kikärtsspad
1 clementin (bade juice och rivet skal)
1 ½ dl kokossocker eller rårörsocker (eller blandning utav båda)
2 dl hackade naturelle nötter och mandlar
½ dl syltade apelsinskal
½ - 1 dl russin eller korinter
½ dl torkade tranbär
1 ½ dl mandelmjöl
1 dl kikärtsmjöl
1 ½ dl havremjöl eller bovetemjöl
3 msk smält kokosolja
2 ½ tsk bakpulver
1 tsk malda pomeransskal
2 tbsp fiberhusk
Kokosflingor (för att bröa formen med)
Smörj ett bakplåtspapper med lite olja. Beklä en avlång kakform och strössla i kokosflingor. Blanda alla torra ingredienser utom sockret i en skål. Vispa kikärtsspadet fluffigt. Tillsätt sockret och vispa lite till. Blanda försiktigt alltihopa tillsammans och häll över i formen. Grädda på 175 grader i ca 50 minuter.