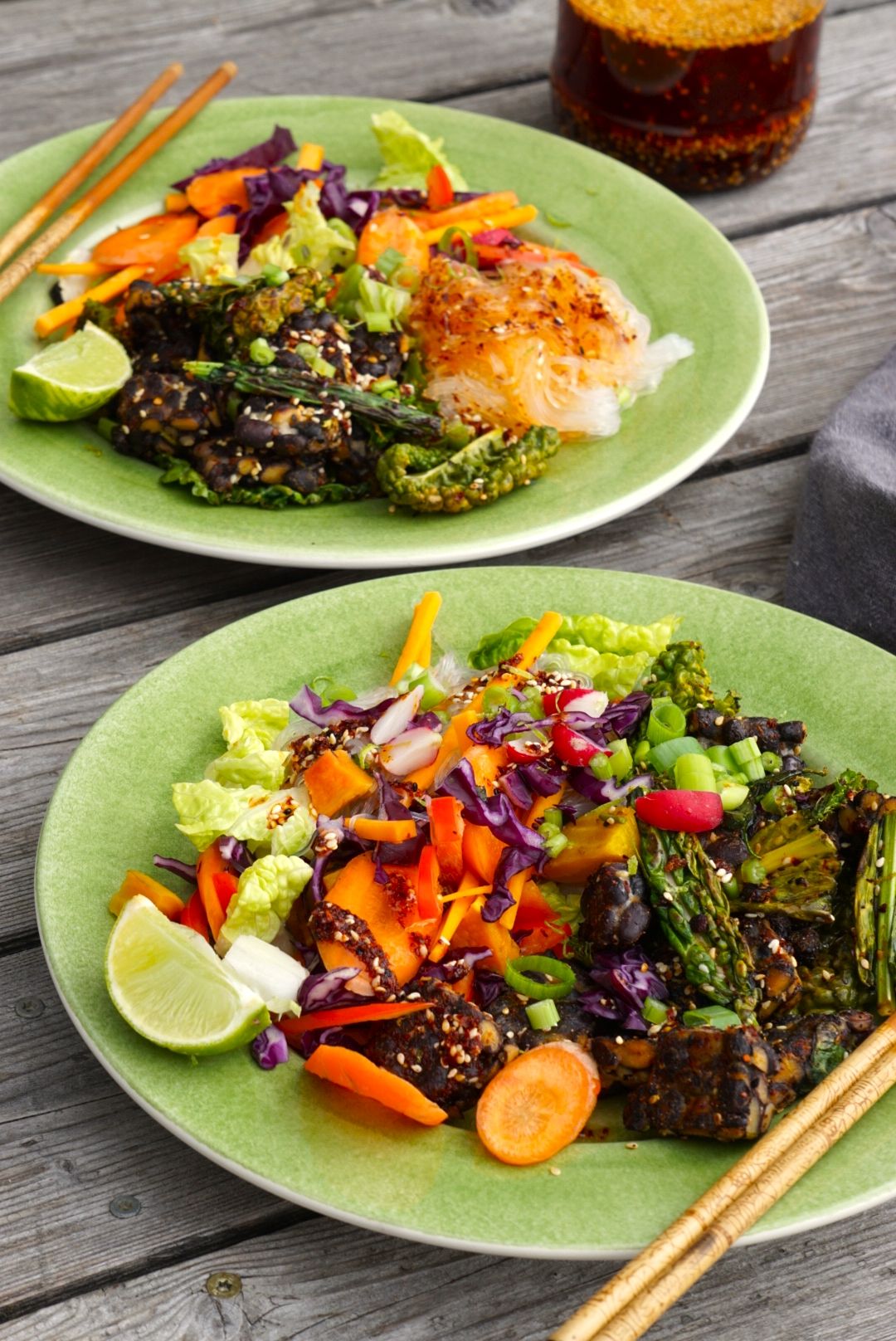 For english, please scroll down.
Har du inte gjort egen chiliolja bör du genast prova. Det är enkelt och ger ett fantastiskt lyft i många olika maträtter. Här är chiliolja både blandat med glasnudlar, och stekta med tempeh och kål.
Chilitempeh med svartkål, heta glasnudlar och grönsaker
Chilitempeh
500 g tempeh av svarta bönor (länk till hur man gör tempeh)
2 msk chiliolja (se nedan. Recept finns även i vår kokbok Ät Färg Spring Berg, Vego, Naturligt, Näringsrikt)
några svartkålsblad
zest från 1 lime
salt
100g glasnudlar
2 msk chiliolja
några färska myntablad
Valfria grönsaker, tillexempel morötter, pumpa och rödkål, paprika, rädisor, sallad och vårlök.
Stek på tempehn i bitar med chiliolja tills den fått fin färg. Tillsätt svartkålsblad i bitar och stek lite till. Sjud glasnudlarna i cirka 3 minuter. Häll av vattnet och blanda om med chiliolja och mynta. Servera allt tillsammans och pressa över lite limejuice
Chiliolja
1 dl sichuanpepparkorn
½ dl svarta och vita sesamfrön
11 hela kardemummakapslar
1 msk korianderfrön
4 stjärnanis
2 kanelstänger
10 nejlikor
3 cm färsk ingefära, skalad
och skivad
2 vitlöksklyftor, skalad och skivad
2 lagerblad
¾ dl gochugaru (koreanska
chiliflingor)
5 dl rapsolja
Rosta sichuanpepparn i en torr stekpanna tills det börjar ryka. Mortla
dem sedan. Rosta sesamfröna och ställ åt sidan. Passa så att de inte bränns.
Rosta resterande kryddor utom gochugaru och lagerblad i några minuter.
Häll oljan och allt utom chiliflingor och sesamfrön i en kastrull. Koka upp
och sänk värmen. Låt sjuda på svag värme i 20 minuter. Lägg under tiden
chiliflingor och sesamfrön i en annan kastrull. Ställ en sil över och sila ner
hälften av oljan när den kokat klart. Låt stå i ca 2 minuter. Häll sedan på
resten av oljan. Sila bort kryddorna. Låt oljan svalna i minst 1 timme
innan du häller över den i en ren glasburk. Chilioljan passar på allt och
lite till! Kryddorna kan du spara och använda i andra rätter.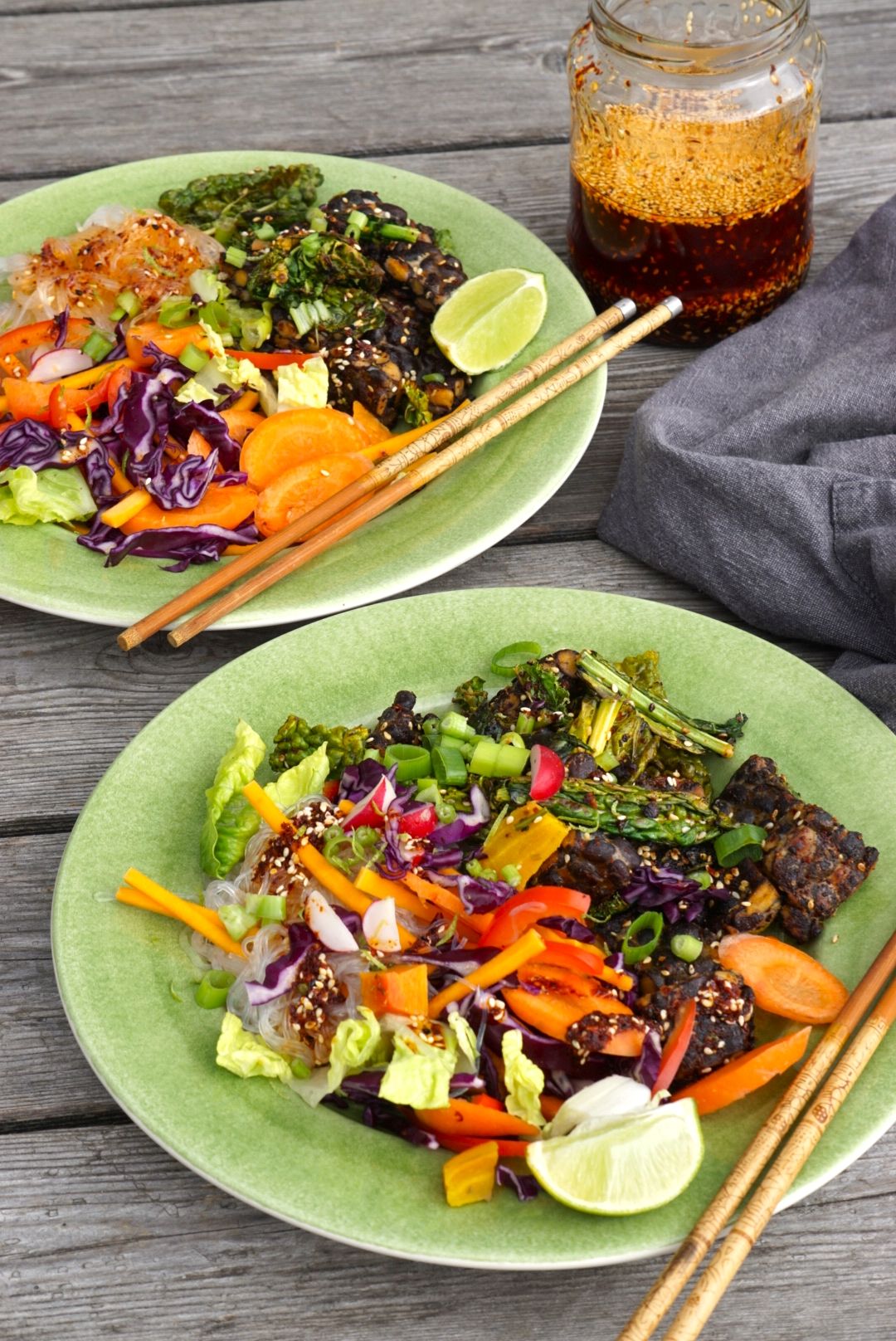 If you havn't made your own chili oil, you should immediately try. It's simple to do and gives a fantastic taste in many different dishes. Here, chili oil is both mixed with glass noodles, and fried with tempeh and dino kale.
Chili tempeh with dino kale, spicy glass noodles and vegetables
Chilitempeh
500 g tempeh of black beans (link to how to make tempeh)
2 tbsp chili oil (see recipe below)
some dino kale leaves
zest from 1 lime
salt
100g glass noodles
2 tbsp chili oil
some fresh mint leaves
Optional vegetables, such as carrots, pumpkin and purple cabbage, bell peppers, radishes, lettuce and spring onions.
Fry the tempeh in pieces with chili oil until nicely colored. Add dino kale leaves in pieces and fry some more. Bring water to the boil. Simmer the glass noodles for about 3 minutes. Rinse them and mix with chili oil and mint. Serve everything together and squeeze over a little lime juice
Chili oil
1 dl Sichuan peppercorns
½ dl black and white sesame seeds
11 whole cardamom capsules
1 tbsp coriander seeds
4 chinese anise
2 cinnamon sticks
10 carnations
3 cm fresh ginger, peeled and sliced
2 cloves garlic, peeled and sliced
2 bay leaves
¾ dl gochugaru (Korean chili flakes)
5 dl rapeseed oil
Roast the Sichuan pepper in a dry skillet until it starts to smoke. Then ground them. Roast the sesame seeds. Watch so that they do not burn. Set aside. Roast the remaining spices except gochugaru and bay leaf for a few minutes. Pour the oil and everything except chili flakes and sesame seeds into a saucepan. Bring to the boil and lower the heat. Simmer over low heat for 20 minutes. Meanwhile, put chili flakes and sesame seeds in another pan. Place a sieve over and strain down half of the oil when it has finished boiling. Leave on for about 2 minutes. Then pour on the rest of the oil. Strain off the spices. Let the oil cool for at least 1 hour before pouring it over into a clean glass jar. Store in the refrigerator. Chili oil fits everything and a little more! The spices you can save and use in other dishes.