When we were kids we made similar flat bread together in the kindergarden. But now we have made them gluten free and even better! They are best warm, directly from the pan! We topped these ones with basil pesto and red bell pepper sauce.
BUCKWHEAT PAN BREAD
12 small or 6 big bread
3 tsk physslium husk
2 dl unsweetened natural soygurt (plantbased yoghurt)
1- 1,5 tbsp agave syrup
2 pinches of salt
1/2 tsp baking soda
1/2 tsp anis
1/2 tsp fennel
1/2 tsp bread spices
3 dl buckwheat flour
Mix soygurt, agave syrup and physslium husk in a bowl. Use a mortar to pound the fennel and anis. Put togehter everything in the bowl and mix until it's a nice dough. roll 6 or 12 balls depending on how big breads you want. Tuck out flat bread on some buckwheat flour and bake in a dry pan on both sides.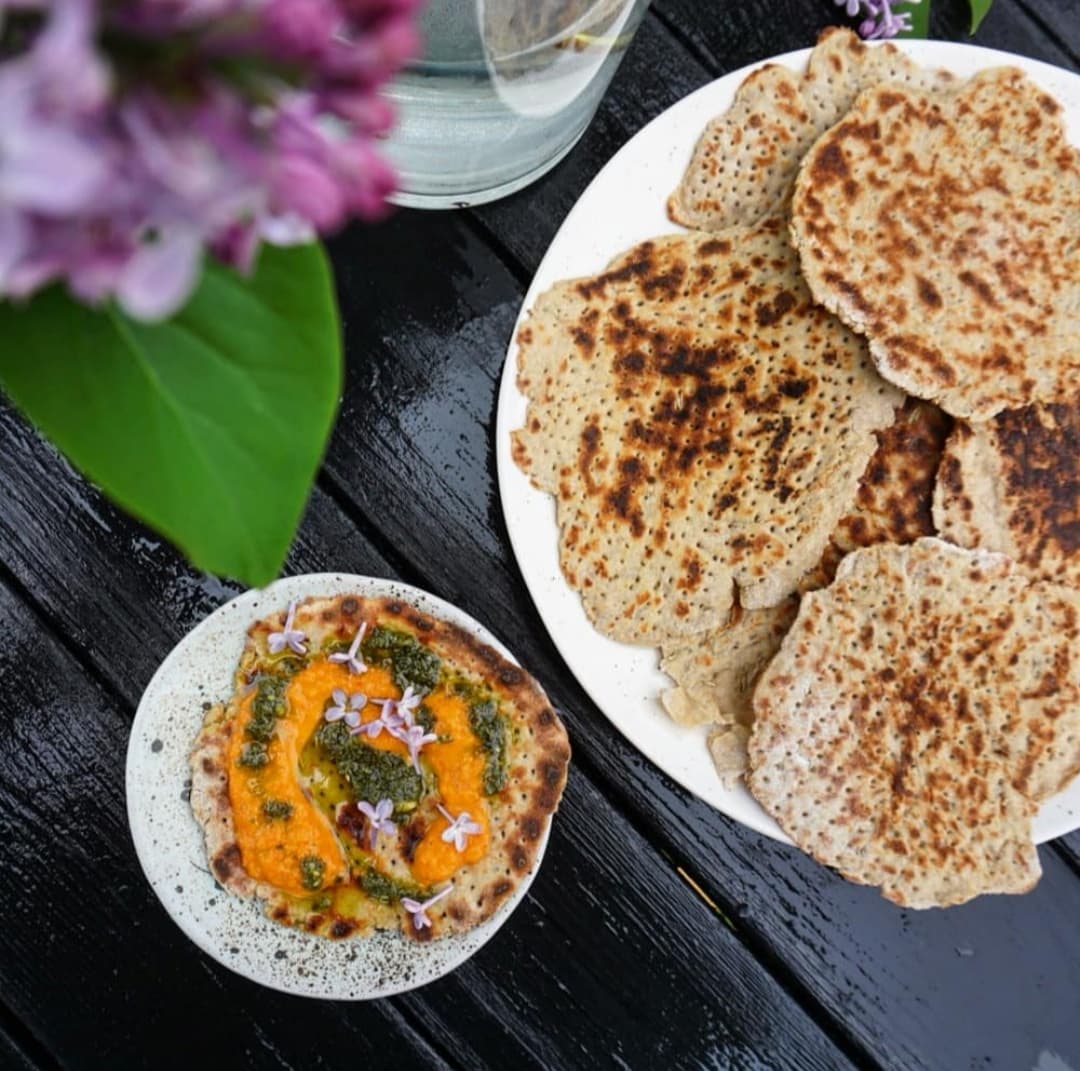 När vi var små bakade vi liknande tunnbröd i panna på dagis. Nu har vi tagit fram än glutenfri variant med bovetemjöl, som är ännu godare! De smakar bäst nygräddade, fortfarande lite varma direkt från pannan. Här toppar vi dem med basilikapesto och röd paprikasås.
STOMPA
12 Små eller 6 Stora stompa
3 tsk fiberhusk från LindroosHälsa
2 dl osötad naturell soygurt (växtbaserad yoghurt)
1-1,5 msk agavesirap
2 nypor salt
1/2 tsk bikarbonat
1/2 tsk anis
1/2 tsk fänkål
1 tsk brödkryddor
3 dl bovetemjöl
Blanda ihop soygurt, agavesirap och fiberhusk i en bunke. Mortla anis och fänkål. Tillsätt övriga ingredienser i blandningen och arbeta ihop till en fin deg. Rulla 6 eller 12 bullar beroende på hur stora stompa du vill göra. Mjöla lätt ett bord med bovetemjöl och kavla ut runda kakor. Värm upp en stekpanna och grädda på båda sidor tills de är genomgräddade och har fin färg.