Have you ever tried a Sorghum and Buckwheat Creamy Porridge? If not, it's time! We found whole Sorgum on our supermarket, but if you don't find it, it can maybe found on a health store. Otherwise just go with whole buckwheat! Make sure you make enough porridge so you get leftovers, because that's when you can make this Saffron curd cake!
Mum alwayas made a Rice porridge curd cake on Christmas day (since we eat rice porridge on Christmas in Sweden), but we made another Vegan version here and with Buckwheat and Sorgum instead of Rice.
We heard from a friend that balsamic vinegar gives the blueberries an extra flavour, and ohh my, they are amazing! (Well they taste blueberries, but with that extra little kick)
Porridge
3 cinnamon rods
1 pinch of salt
1 cup Whole buckwheat
1 cup Whole Sorghum
2 cups fat oat milk (we used Oatlys Ikaffe)
maybe some more liquid when it cooks, we added some soy milk since we had that at home.
Rinse the sorghum and buckwheat and soak for a coule of hours. Then rinse again and put in a pot with the rest of the ingredients. Bring to the boil and let simmer on medium heat for about 20 minutes, stirring occasionally. Eat directly or save to the curd cake.
Curd Cake
1- 1 1/2 cup porridge
1/2 block of silken tofu
0,25 g saffron
3 tbsp chickpea flour
4 tbsp almond flour
1 bitter almond (crushed)
some plantbased milkoptional to add some sweetener. We like it without.
Mash everything together, grease a baking form and put the batter in it. Bake in the oven on 200 C degrees until golden. Serve with chopped almonds, blueberries and some fresh herbs.
Balsamic Bluberries_
1 cup blueberries
1 tbsp balsamic vinegar
a splash of water
Put all togehter and bring to the boil. Let simmer for a couple of minutes. Serve directly with the curd cake.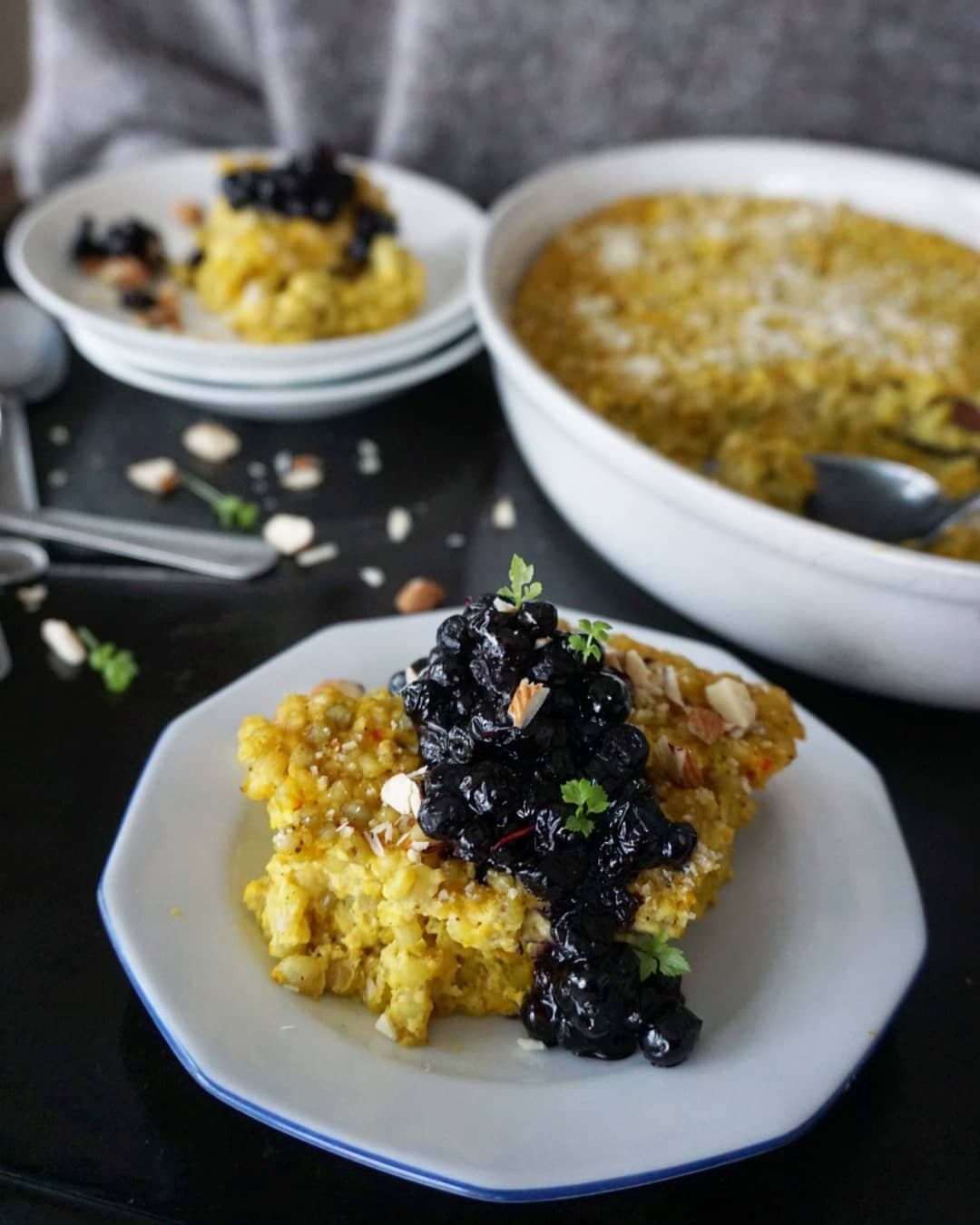 Vegansk Saffransostkaka med Vinägerblåbär

Har du nånsin provat en krämig Durra/Bovetegröt? Om inte så är det dags!
Det är ungefär som risgrynsgröt med både proteinrikare och fiberrikare med durra och bovete. Vi hittade hela Durrakorn på vår vanliga mataffär, annars kan de säkert finnas på en hälsokost. Om du inte hittar så kör med bara bovete! Se till att du gör tillräckligt med gröt s att det blir rester kvar till den veganska ostkakan! ;)
Mamma gjorde alltid en rispudding/ostkaka på juldagen när vi var små, nu har vi uppdaterat receptet på vårt sätt, och även hon gillade det!Vi hörde från en vän att balsamvinäger get blåbär mer smak! Vi var helt enkelt tvungna att prova, och jaa! Det blev fantastiskt gott!
Krämig Durra/Bovetegröt
3 kanelstänger
en nypa salt
3 dl hel bovete
3 dl hel durra
6 dl fet havremjölk (vi använde Oatlys Ikaffe)
eventuellt lite mer mjölk eller annan vätska när det kokat ihop en stund, vi använde sojamjölk då vi hade det hemma
Skölj och blötlägg durra och bovete i några timmar. Skölj sedan igen och lägg i en kastrull med resten av ingredienserna. Koka upp och låt småkoka i ca 20 minuter. Ät direkt eller spara till ostkakan.
Saffransostkaka

1 tbsp balsamic vinegar
3-4 dl gröt
1/2 paket silkes tofu
0,25 g saffran
3 msk kikärtsmjöl
4 msk mandelmjöl
1 bittermandel (hackad)
Lite växtbaserad mjölk
Valfritt med någon sötning. Vi gillar utan.
Mosa ihop allt och häll smeten i en smord form. Baka i ugnen på 200 grader tills den är gyllene. Servera med hackade mandlar, blåbär och färska örter.
Vinägerblåbär
2-3 dl blåbär
1 msk balsamvinäger
en skvätt vatten
Blanda ihop, koka upp och låt sjuda någon minut. Servera till ostkakan.