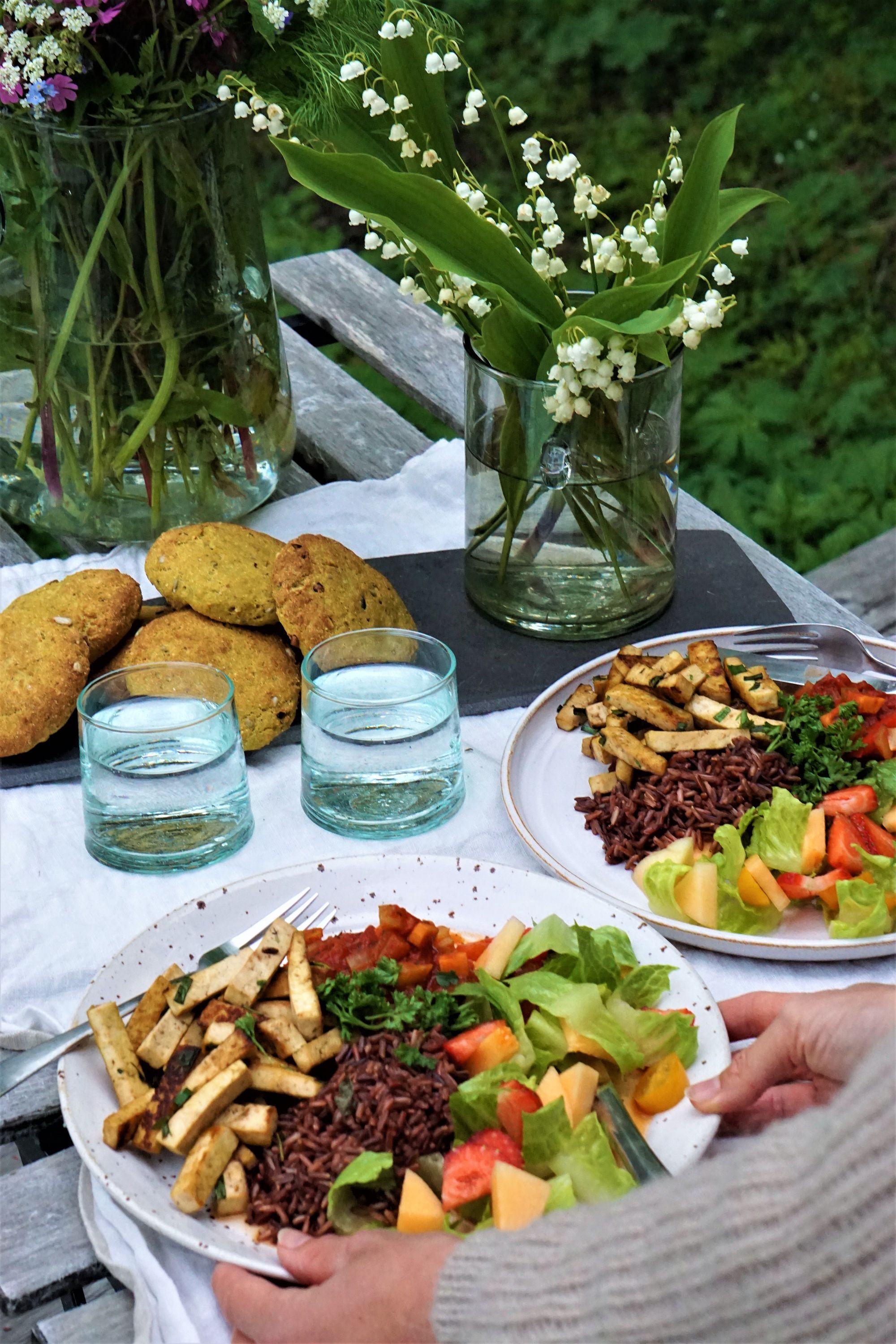 For english, please scroll down.
Melon, jordgubbar och tomater går himla bra ihop. Prova att tärna dem smått och blanda till en salsa. Eller som vi gjort här, i en sallad tillsammans med ris, knaperstekta tofuremsor och tomatsås.
Melonsallad, rismix, knaperstekt tofu och mustig tomatsås
Tomatsås
½ sötpotatis
en bit fänkål
1 selleristjälk
½ röd paprika
500ml tomatsås med hela tomater (finns ofta i burk)
en skvätt vatten
några droppar balsamvinäger
1 tsk balsamico
1 msk tamarisoja
lite örtsalt
svart och vitpeppar
½ tsk torkad timjan
2 krm spiskummin
Svart och rött ris för två portioner
Knaperstekt tofu
1 pkt fast tofu, ca 230g
en bit vegetabiliskt smör eller olja till stekning
½ lime, juice och zest
2 msk tamarisoja
½ tsk liquid smoke
1 tsk agavesirap
en näve färsk oregano
svart och vitpeppar från kvarn
Melonsallad
Chrunchita sallat, eller annan krispig sallat
körsbärstomater
jordgubbar
melon av valfri sort. (På bilden, Cantaloumelon)
Skala och hacka sötpotatis, selleri och fänkål smått. Strimla paprikan. Koka upp. Tillsätt resterande ingredienser och låt puttra minst 15 minuter. Koka svart och rött ris enligt anvisning på förpackningen tillsammans. Skär tofu i avlånga bitar. Stek på i veganskt matfett tills de fått fin yta. Pressa över limejuice och riv över zest. Tillsätt tamari, liquid smoke och sirap och stek knaprigt. Klipp över färsk oregano och peppra. Skölj och hacka sallat, jordgubbar och tomater. Skala och skär melon i kuber. Blanda till en sallad.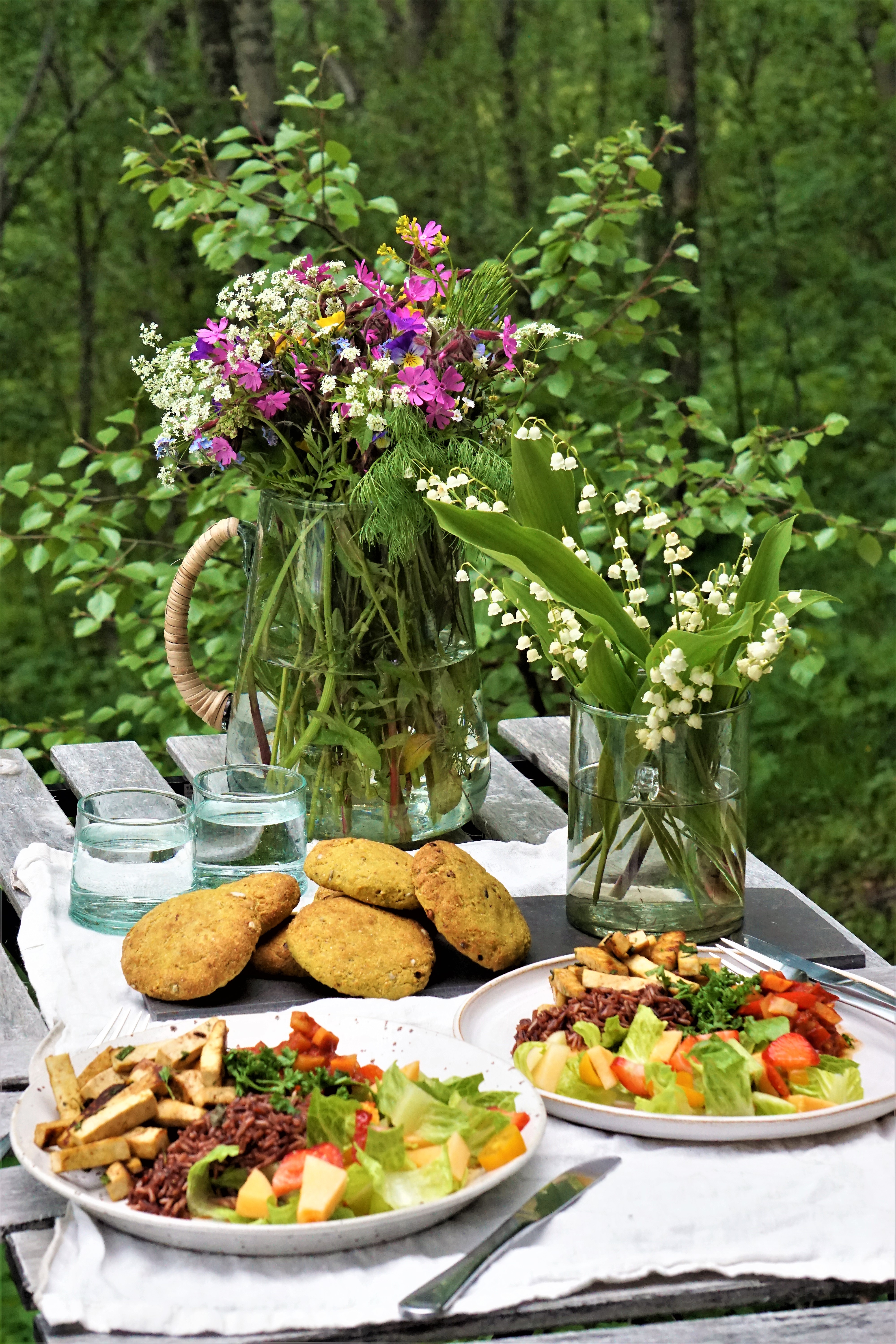 Melons, strawberries and tomatoes go very well together. Try dicing them small and mixing into a salsa. Or as we did here, in a salad with rice, crispy tofu strips and tomato sauce.
Melon salad, rice mix, crispy tofu and tomato sauce
Tomato sauce
½ sweet potato
a piece of fennel
1 celery stalk
½ red bell pepper
500ml tomato sauce with whole tomatoes (often available in cans)
a splash of water
a few drops of balsamic vinegar
1 tsp balsamico
1 tbsp tamari soy
a little herbal salt
black and white pepper
½ tsp dried thyme
a pinch cumin
Two servings of black and red rice
Crispy tofu
1 pkt solid tofu, about 230g
a piece of vegetable butter or oil for frying
½ lime, juice and zest
2 tbsp tamari soy
½ tsp liquid smoke
1 tsp agave syrup
a handful of fresh oregano
black and white pepper from mill
Melon salad
Chrunchita lettuce, or other crispy lettuce
cherry tomatoes
strawberries
melon of any variety (Cantalou melon on the pictures)
Peel and chop sweet potatoes, celery and fennel finely. Slice the bell pepper. Bring to the boil. Add the remaining ingredients and simmer for at least 15 minutes. Boil black and red rice according to the instructions on the package together. Cut tofu into oblong pieces. Fry in veg butter or oil until they have a nice surface. Squeeze over lime juice and zest. Add tamari, liquid smoke and syrup and fry crispy. Cut over fresh oregano and pepper. Rinse and chop lettuce, strawberries and tomatoes. Peel and cut melon into cubes. Mix into a salad.