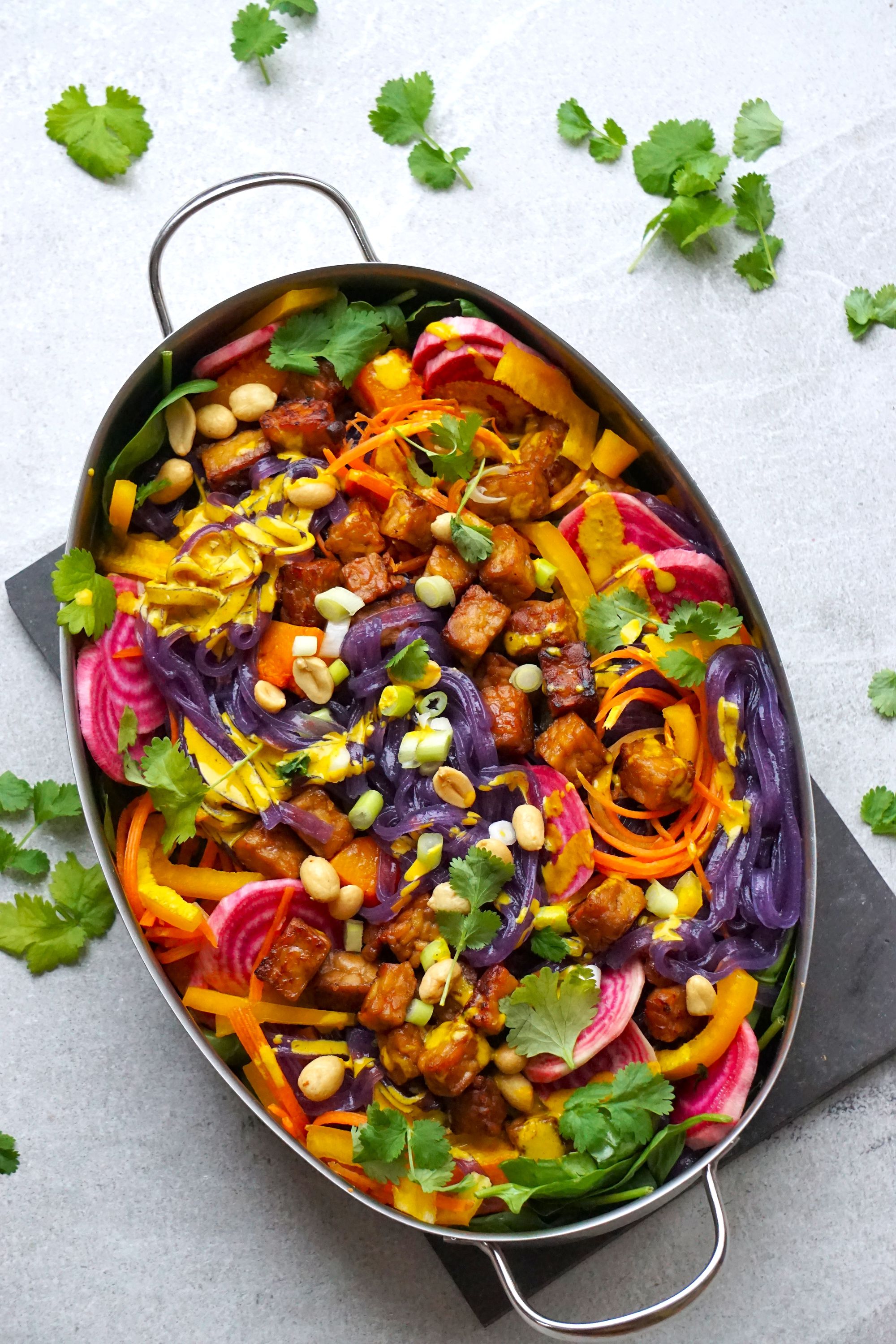 For english, please scroll down.
Vi älskar tempeh och den nötiga smaken den har. Men att det skulle bli såhär gott att marinera i teriyakisås hade vi aldrig trott! Perfekt till en färgglad nudelsallad och jordnötsås. Vi hittade lila sötpotatisnudlar på en affär i Österrike när vi var ute och reste. Men det är ju enkelt att färga nudlar själv genom att koka tillsammans med rödkål eller rödbetjuice.
Teriyaki tempeh med nudelsallad och jordnötssås
4 portioner
Ljummen sallad
500 g tempeh marinerat i teriyakisås. (finns att köpa färdig, men går lätt att göra själv också)
1 msk kokosolja till stekning
½ butternutpumpa
2 morötter
2 polkabetor
1 gul paprika
2 salladslökar
1 pkt lila sötpotatisnudlar, (eller andra nudlar, exempelvis risnudlar eller glasnudlar. För att få en fin färg på dem kan du koka i rödbetsjuice eller med hackade rödbetor eller rödkål till exempel)
2 msk olivolja
salt och peppar
en skvätt citron
200 färsk babyspenat
en näve koriander
en näve rostade jordnötter
Skär tempehn i tärningar om den inte redan är det. Stek på i kokosolja så de får en fin och krispig yta. Skala och hacka pumpa i små tärningar, koka mjuk cirka 10 minuter. Skala och strimla polkabetor, morötter och paprika. Hacka salladslök. Koka nudlarna enligt anvisning på förpackningen. Häll av vattnet och rör om med olivolja. Blanda ihop salladen i en form eller skål. Toppa med koriander, rostade jordnötter och jordnötssås.
Jordnötssås
2 msk tahini
2 msk jordnötssmör
1 msk äppelcidervinäger
1 apelsin, juice och zest
salt och peppar
gurkmeja
vatten, lite i taget under omrörning till önskad konsistens.
Vispa ihop såsen och toppa på salladen.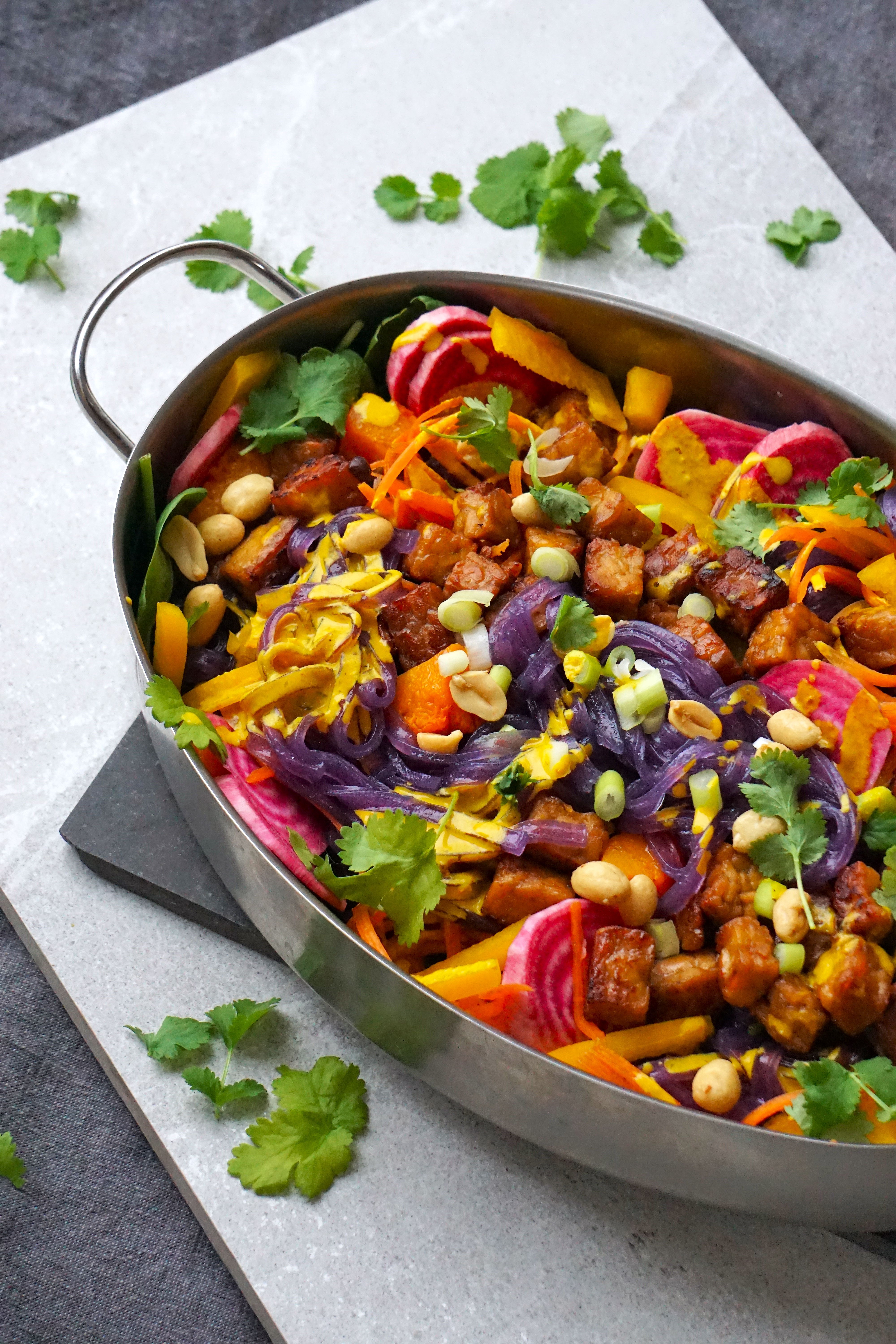 We love tempeh and the nutty taste it has. But that it would be so good to marinate in teriyaki sauce we would never have thought! Perfect with a colorful noodle salad and peanut sauce. We found purple sweet potato noodles in a store in Austria when we were traveling. But it is easy to color noodles yourself by boiling together with purple cabbage or beetroot juice.
Teriyaki tempeh with noodle salad and peanut sauce
4 servings
Salad
500 g tempeh marinated in teriyaki sauce.
1 tbsp coconut oil for frying
1/2 butternut pumpkin
2 carrots
2 polka beets
1 yellow bell pepper
2 spring onions
1 pkt purple sweet potato noodles, (or other noodles, such as rice noodles or glass noodles. To get a nice color on them, you can boil in beetroot juice or with chopped beetroot or purple cabbage for example)
2 tbsp olive oil
salt and pepper
a dash of lemon
200 g fresh baby spinach
a handful of coriander
a handful of roasted peanuts
Cut the tempehn into cubes. Fry in coconut oil so they get a nice and crispy surface. Peel and chop the pumpkin into small cubes, cook softly about 10 minutes. Peel and shred the polka beets, carrots and bell pepper. Chop the spring onions. Cook the noodles according to the instructions on the package. Drain the water and stir with olive oil. Mix the salad together. Top with coriander, roasted peanuts and peanut sauce.
Peanut sauce
2 tbsp tahini
2 tbsp peanut butter
1 tbsp apple cider vinegar
1 orange, juice and zest
salt and pepper
turmeric
water, little by little, stirring to the desired consistency.
Whisk together the sauce and top on the salad.