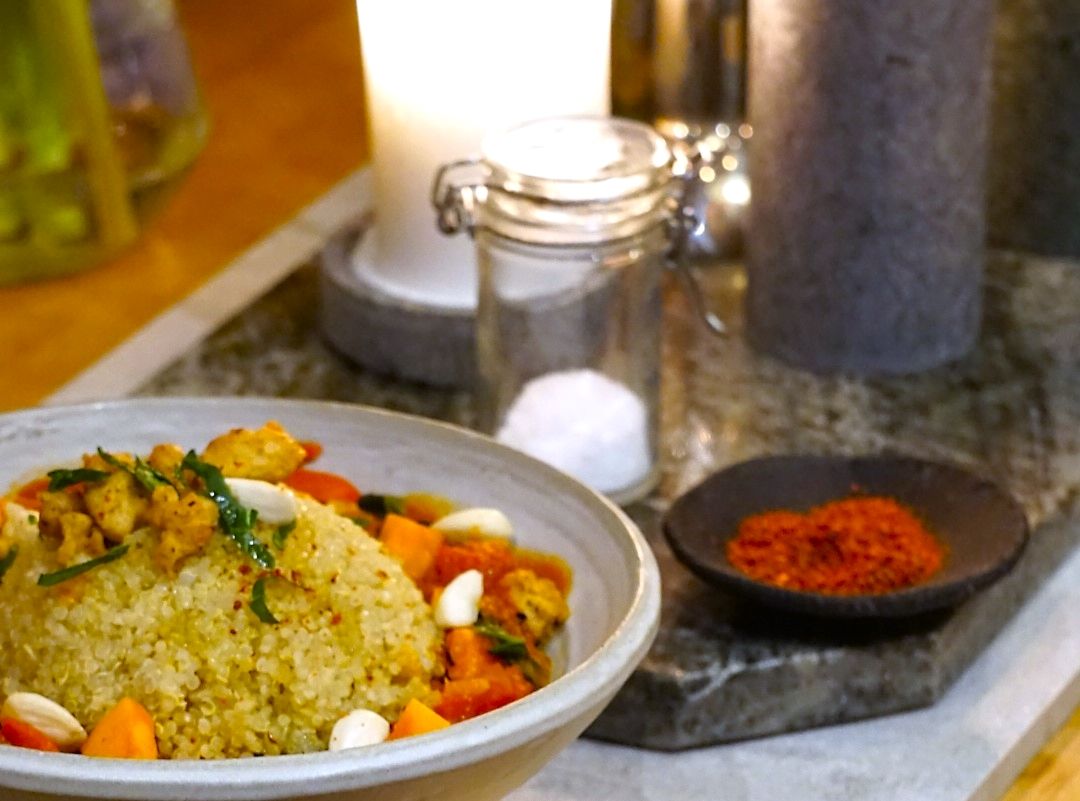 For english, scroll down
En sötpotatisgryta med saffran som toppas med quinoa, skållad mandel och grytbitar. Enkel god och smidig att göra storkok av, bara dubblera ingredienserna.
Sötpotatisgryta med saffran
2 - 3 portioner
Gryta
1 sötpotatis
1/3 zucchini
1/2 äpple
1 röd paprika
en näve spenat eller svartkål (eller andra gröna blad)
1/2 apelsin, juicen
1 tetra krossade tomater, ca 400g
2 1/2 dl vatten
1 tsk örtsalt
vit- och svartpeppar från kvarn
1/2 tsk rosmarin
1/2 tsk timjan
1 tsk gul currykrydda
1/2 pkt saffran á 1/2 g
1/2 dl barista havredryck
Till servering
Kokt quinoa, skållad mandel, stekta grytbitar av till exempel ärtprotein eller soja, (alternativt tofu eller bönor).
Skala och hacka sötpotatis, zucchini och äpple. Strimla paprika. Häll över alla ingredienser utom havredrycken i en kastrull och låt puttra i cirka 20 minuter. Tillsätt därefter havredryck och låt grytan svalna något innan servering.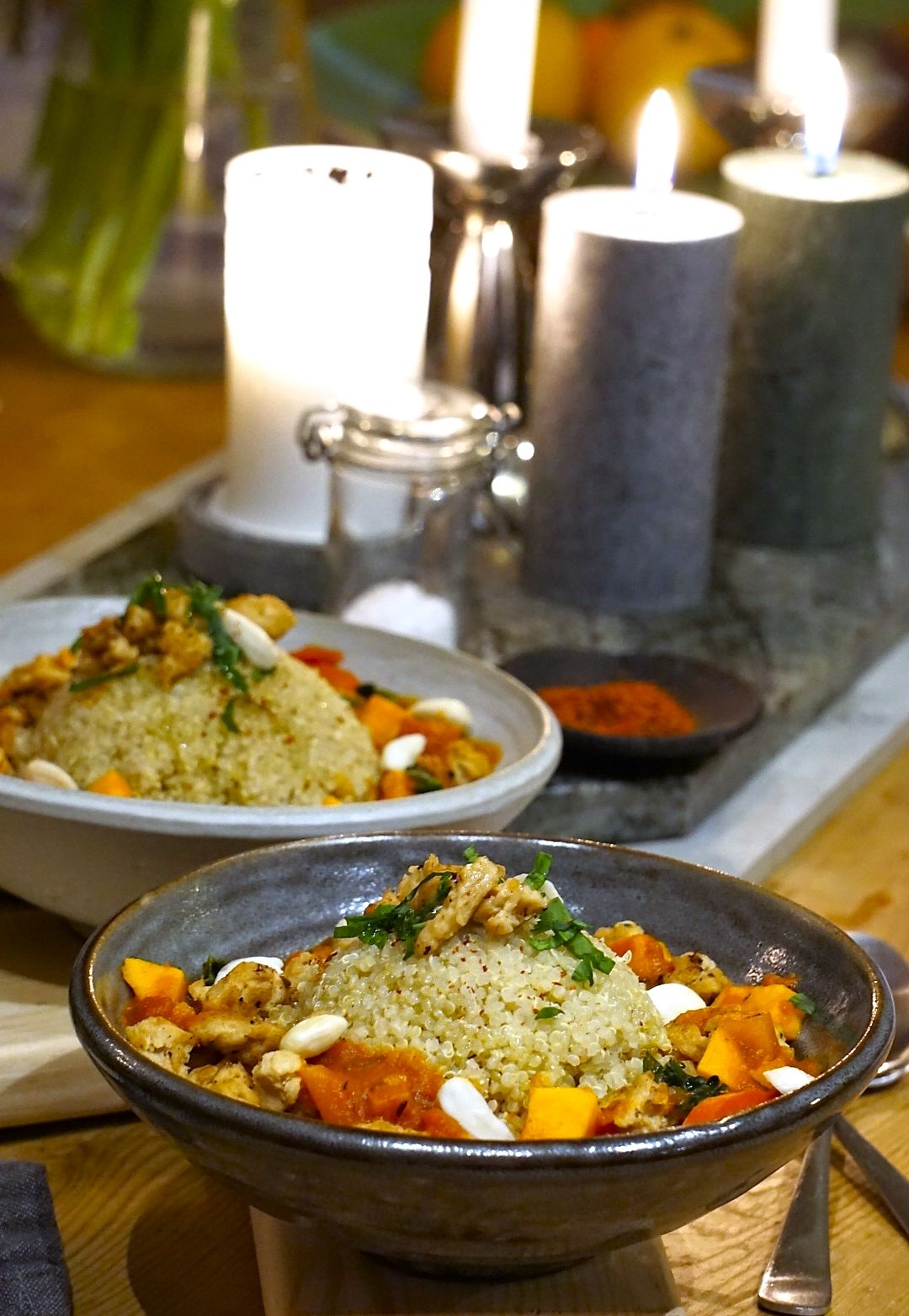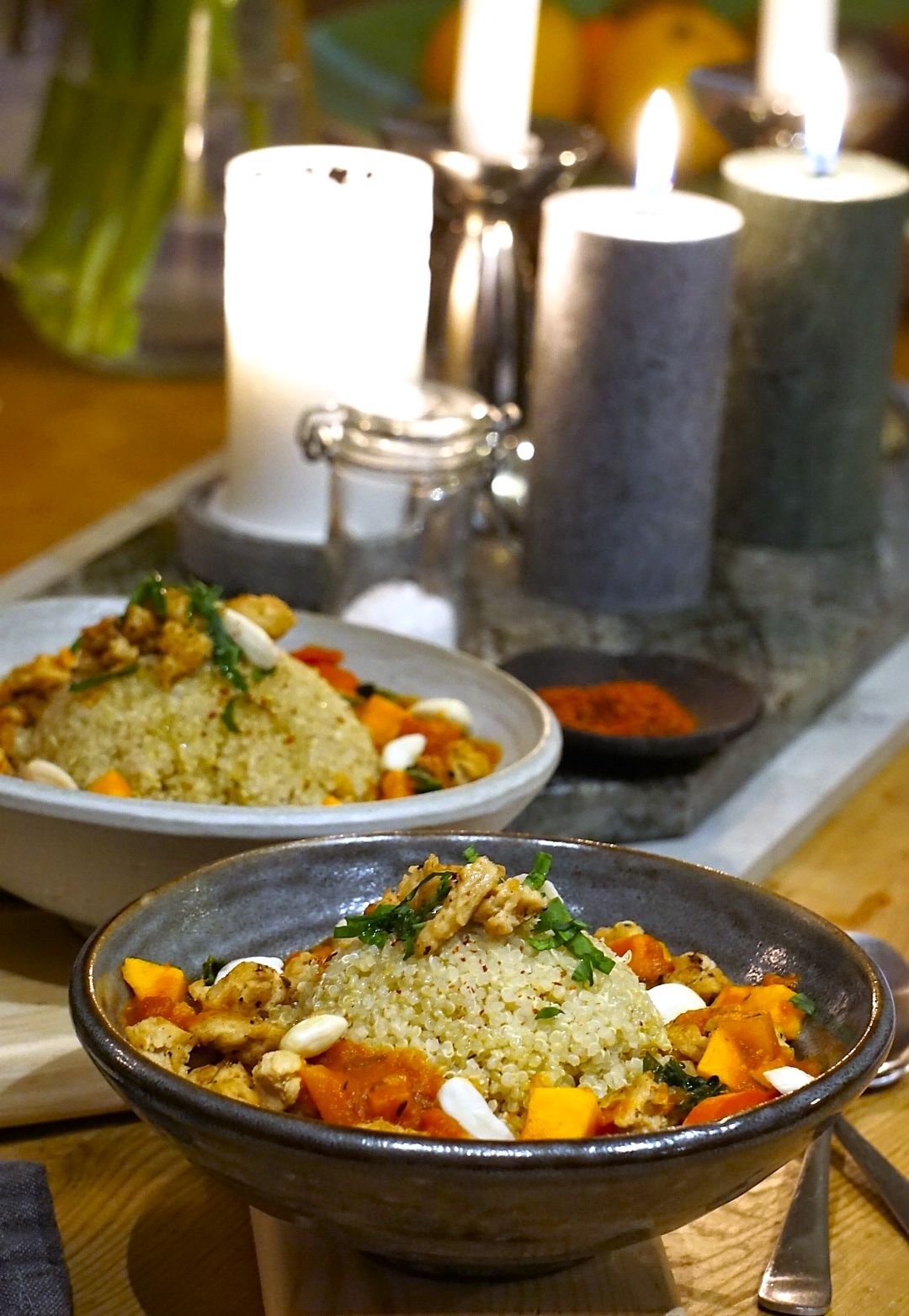 A sweet potato stew with saffron, topped with quinoa, soy bites and blanched almonds.
Sweet potato stew
2 - 3 portions
Stew
1 sweet potato
1/3 zucchini
1/2 apple
1 red bell pepper
a handful of spinach or dino kale (or other green leaves)
1/2 orange, juice
400g crushed tomatoes
1 cup water
1 tsp herb salt
white and black pepper from the mill
1/2 tsp rosemary
1/2 tsp thyme
1 tsp yellow curry spice
1/2 pkt saffron á 1/2 g
1/2 cup barista oat drink
To serving
Boiled quinoa, blanched almonds, fried pieces of for example, pea protein or soy, (alternatively tofu or beans).
Peel and chop sweet potatoe, zucchini and apple. Cut the bell pepper thinly. Put all ingredients except the oat drink into a saucepan and leave to simmer for about 20 minutes. Then add the oat drink and let the stew cool slightly before serving.