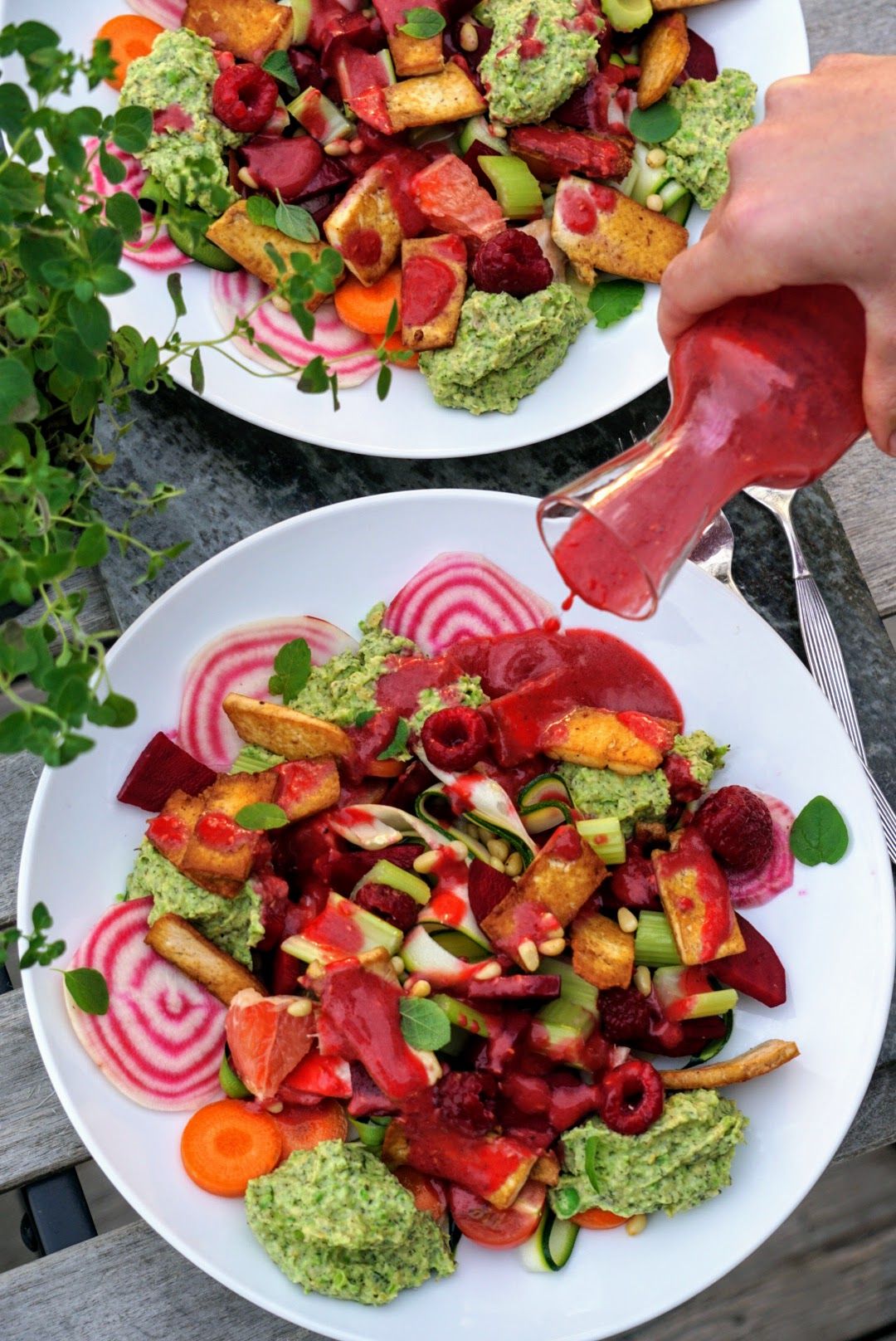 For english, scroll down
Kan en fräsch sallad bli ännu fräschare? Svar: JA! Med en hallonvinägrett så lyfts den till ovan moln! Vi lovar. Bärvinägretter är supergott, och denna fungerar även bra med jordgubbar eller vinbär.
Sallad med Tofejkon och hallonvinägrett
2 port
Sallad
½ zucchini
1 blodgrape
2 selleristjälkar
1 morot
½ polkabeta
en näve hallon
några myntablad
pinjenötter
Hyvla zucchini. Skala och skär grape i bitar. Hacka selleri och morot. Skala och mandolinera polkabetan. Rosta pinjenötterna i en torr panna. Fördela ut på en tallrik och toppa med tofejkon, hummus och hallonvinägrett.
Tofejkon
275 g tofu
1 msk kokosolja
1 msk tamarisoja
½ tsk liquid smoke
Skiva tofu i tunna bitar. Hetta upp en stekpanna med kokosolja. Stek på tofun några minuter på båda sidorna. Tillsätt soja och liquid smoke och stek på tills allt är knaprigt.
Grönärtshummus
2 dl kokta kikärtor
2 dl tinade, frysta gröna ärtor
½ pressad citron
1 msk olivolja
1 msk ljus tahini
1 msk äppelcidervinäger
salt och peppar
Mixa slätt med stavmixer.
Hallonvinägrett
2 dl hallon
½ dl apelsinjuice (vi hade Brämhults med en mix av apelsin, äpple, ananas, ingefära och gurkmeja)
3 msk olivolja
1 ½ msk äppelcidervinäger
salt och peppar
Mixa slätt.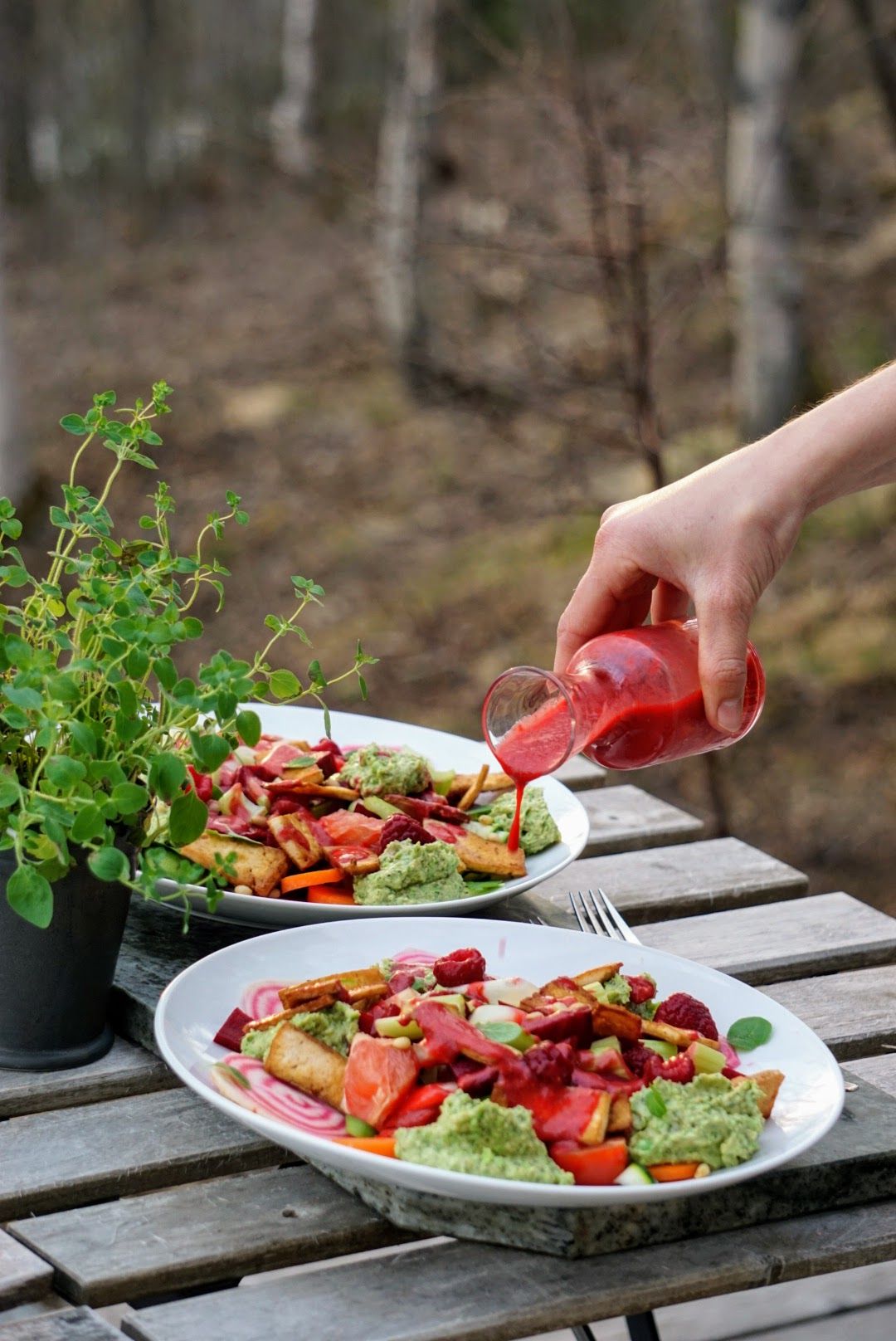 In english
A fresh salad can be even better with a raspberry vinaigrette! Also strawberries to this is very yummy!
Salad with Tofacon and raspberry vinaigrette
2 portions
Salad
½ zucchini
1 blood grape
2 celery stalks
1 carrot
½ polka beet
a handful raspberries
some mint leaves
pine nuts
Slice zucchini. Peel and cut the grape into pieces. Chop celery and carrot. Peel and mandoline the beet. Roast the pine nuts in a dry frying pan. Spread out on a plate and top with tofacon, hummus and raspberry vinaigrette.
Tofacon
275 g firm tofu
1 tbsp coconut oil
1 tbsp tamari soy
½ tsp liquid smoke
Slice the tofu into thin pieces. Heat a frying pan with coconut oil. Fry the tofu for a few minutes on both sides. Add soy and liquid smoke and fry until crispy.
Green hummus
200 g cooked chickpeas
200 g thawed, frozen green peas
½ lemon, the juice
1 tbsp olive oil
1 tbsp tahini
1 tbsp apple cider vinegar
salt and pepper
Blend until smooth
Raspberry vinaigrette
200 g raspberry
50 ml of orange juice (we had a mixture of orange, apple, pineapple, turmeric and ginger)
3 tbsp olive oil
1 ½ tbsp apple cider vinegar
salt and pepper
Blend until smooth.