On the New Year menu many people want something that shines a little bit extra. But with that, it doesn't have to be expensive or complicated. Try our Rösti with tofu cheese and smoked coconut flakes. Either as a complete dish, on the buffet table, or as a starter! For english recipe, scroll down.
På Nyårsmenyn brukar många vilja ha något lite extra festligt. Men det behöver inte betyda dyrt eller komplicerat.
Testa våra rösti med tofukeso och rökt kokos.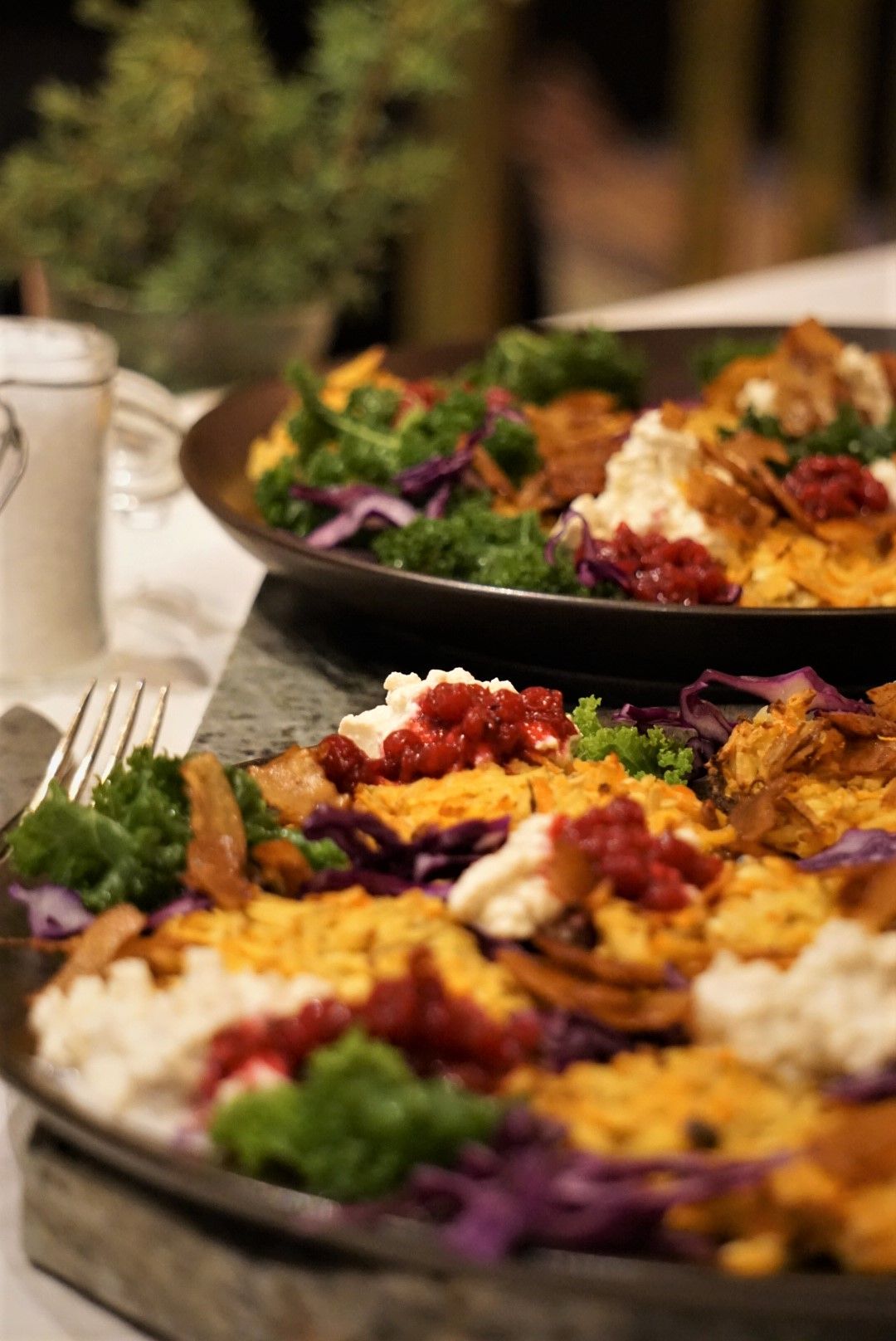 Rösti med tofukeso och fejkon
Keso på veganskt vis, en uphottat rösti och pricken över i, fejkon som är gott att toppa på allt.
2 portioner
Rösti
5 potatisar
1 sötpotatis
1 morot
½ pkt fast tofu, ca 135 g
¾ dl kikärtsmjöl
¾ dl vatten
två nypor salt och peppar
Riv potatis, rotsaker och tofu grovt. Blanda kikärtsmjöl och vatten i en skål. Blanda sedan ihop allt. Tryck ut rösti på en plåt med bakplåtspapper, och grädda i ugnen på 175-200°C i ca 15 minuter (eller stek i en panna i kokosolja på båda sidor).
Tofukeso
½ pkt fast tofu, ca 135 g
5 msk kokosmjölk
¼ citron, juicen
en nypa flingsalt
Smula tofun och blanda ihop allt i en skål. Kyl innan servering.
Fejkon
1 ½ dl kokosflakes
1 msk olivolja
2 msk tamarisoja
1 tsk liquid smoke
1 msk näringsjäst
en skvätt lime eller citron
Blanda olja, soja, liquid smoke och lime/citron i en liten skål. Hetta upp en torr stekpanna.
Sänk värmen något och häll i kokosflakes och marinad. Rör om hela tiden och rosta några minuter tills det blivit knaprigt.
Tillbehör
lingonsylt
några enbär
1 msk kapris
en bit rödkål, strimlad
ett knippe grönkål, låt stå och dra i kokande vatten några minuter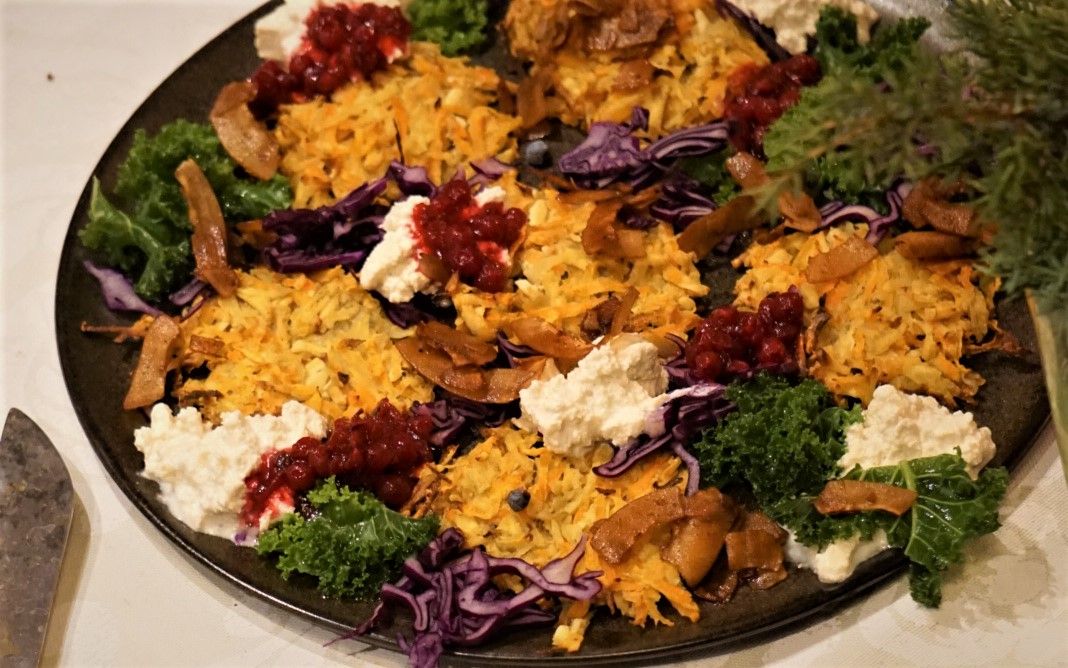 Rösti with tofu cheese and facon
2 servings
Rösti
5 potatoes
1 sweet potato
1 carrot
½ pkt firm tofu, about 135 g
¾ dl chickpea flour
¾ dl water
two pinches of salt and pepper
Roughly grate the potatoes, roots and tofu. Mix chickpea flour and water in a bowl. Put everything together. Press rösti on a tray with baking paper, and bake in the oven at 175-200 ° C for about 15 minutes (or fry on both sides in a pan in coconut oil).
Tofu crumble cheese
½ pkt firm tofu, about 135 g
5 tbsp coconut milk
¼ lemon, juice
a pinch of salt
Crumble tofu and mix everything in a bowl. Cool before serving.
Facon
1 dl coconut flakes
1 tbsp olive oil
2 tbsp tamari soy
1 tsp liquid smoke
1 tbsp nutritional yeast
a splash of lime or lemon
Mix oil, soy, liquid smoke and lime juice in a small bowl. Heat a dry frying pan. Lower the heat slightly and pour in the coconut flakes and marinade. Stir constantly and fry for a few minutes until crispy.
To serving
lingonberry jam
some junipers
1 tbsp capers
a piece of red cabbage, shredded
a handful kale, soak in boiling water for a few minutes