RASPBERRY AND CRUSHED PUMPKIN SEEDS ROLLS
Bun Dough recipe:
Blend by hand all dry ingredients in a bowl. Make sure the milk is 37 degrees celsius. Dissolve the yeast in a bowl and add milk, oil. Add the dry mix. Whisk with an electric whisker or a baking machine about 5 minuters until you have a smooth dough.
Swirl filling:
Put chia seeds in the water for about 20 minutes. Cut the raspberries with a fork. Cut the dates in pieces. Mix everything together and stir it down in the bun dough not so carefully. Put the dough in a icing bag and string out rolls on a baking sheet on a tray. Top with crushed pumpkin seeds. Let rise for 2-3 hours. Bake in the oven for about 20 minutes on 175-200 degrees Celsius.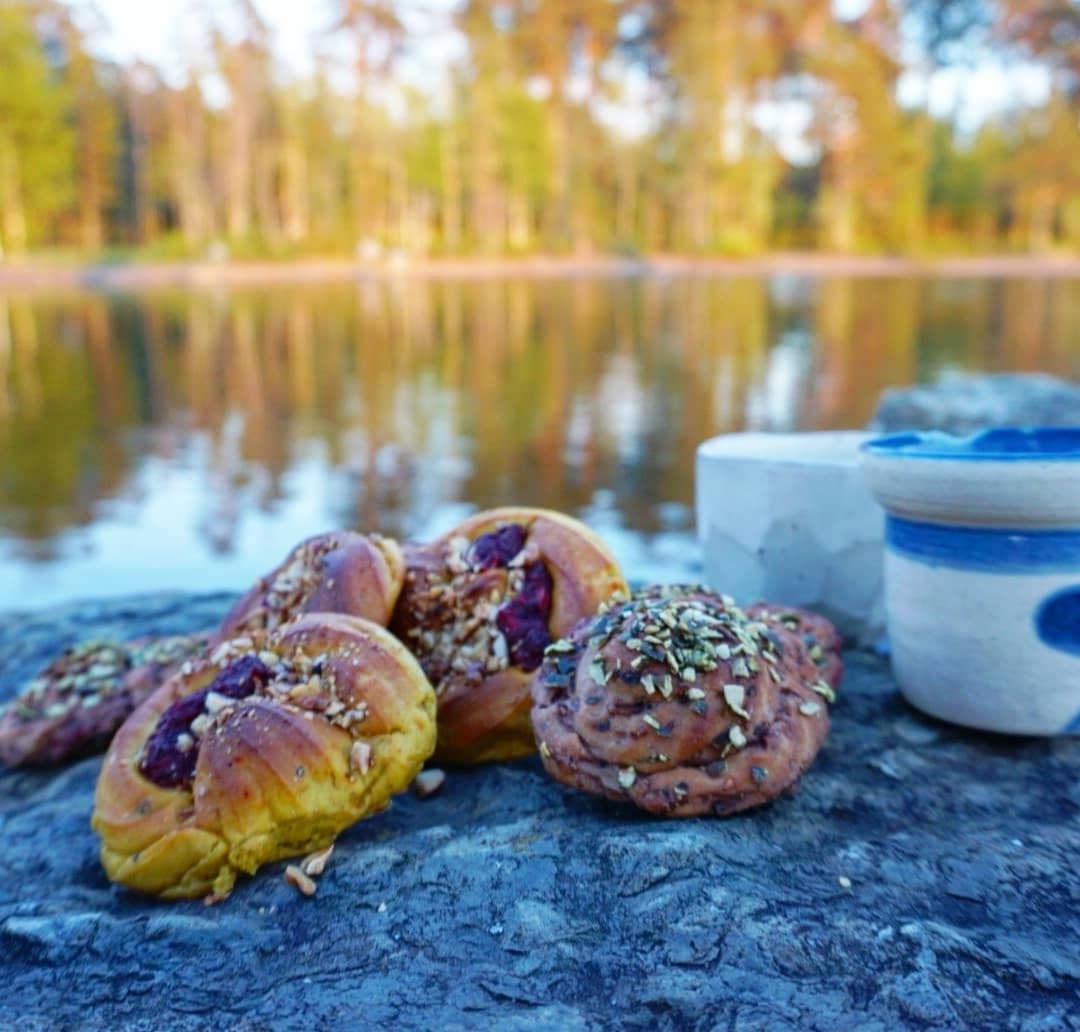 HALLON OCH PUMPAKROSSFYLLDA SNURROR
Bulldeg:
Blanda alla torra ingredienser i en bunke. Se till att mjölen är rumstemperatur. Smula ner jästen i en bunke och tillsätt mjöken och oljan. Tillsätt den torra mixen. Vispa med elvisp eller bakmaskin ca 5 minuter tills att du har en jämn fin smet.
Fyllning:
Lägg chiafrönen i vattnet och låt mjukna ca 20 minuter. Hacka sönder hallonen med en gaffel. Kärna ur och hacka dadlarna. Blanda ihop alltsammans och rör ner det i bulldegen med bara några vändor med en slev. Häll över degen i en spritspåse och spritsa ut snurror på en bakplåtsbeklädd plåt. Toppa med Pumpakross. Låt jäsa 2-3 timmar utan bakduk. Grädda ca 20 minuter på 175-200 grader beroende på ugn.