For english, scroll down.
Pepparkakssallad med havtornsdressing
Nu i juletider är det verkligen grönkål och granatäpple i fokus, och vi tycker det kan få vara så. Men då kan man krydda till det med att smula över pepparkakor över salladerna och ringla på en fräsch dressing av apelsin och havtorn!
Pepparkaksallad
2 port
1 stor sötpotatis
½ granatäpple
2 ½ dl kokta gröna linser
två nävar färsk grönkål
6 pepparkakor
en nypa salt
Tvätta och skär sötpotatisen i kuber. Ugnsbaka på 175 °C tills de är mjuka. Kärna ur granatäpplet. Skölj av linserna. Dela grönkålsbladen i mindre bitar. Häll över kokande vatten och låt rinna av. Blanda samman allt och smula över pepparkakor. Ringla över dressing.
Havtornsdressing
1 dl havtorn
½ apelsin (eller ½ dl apelsinjuice)
2 msk olivolja
1 msk äppelcidervinäger
en nypa salt och peppar
Mixa allt med en handmixer till en dressing.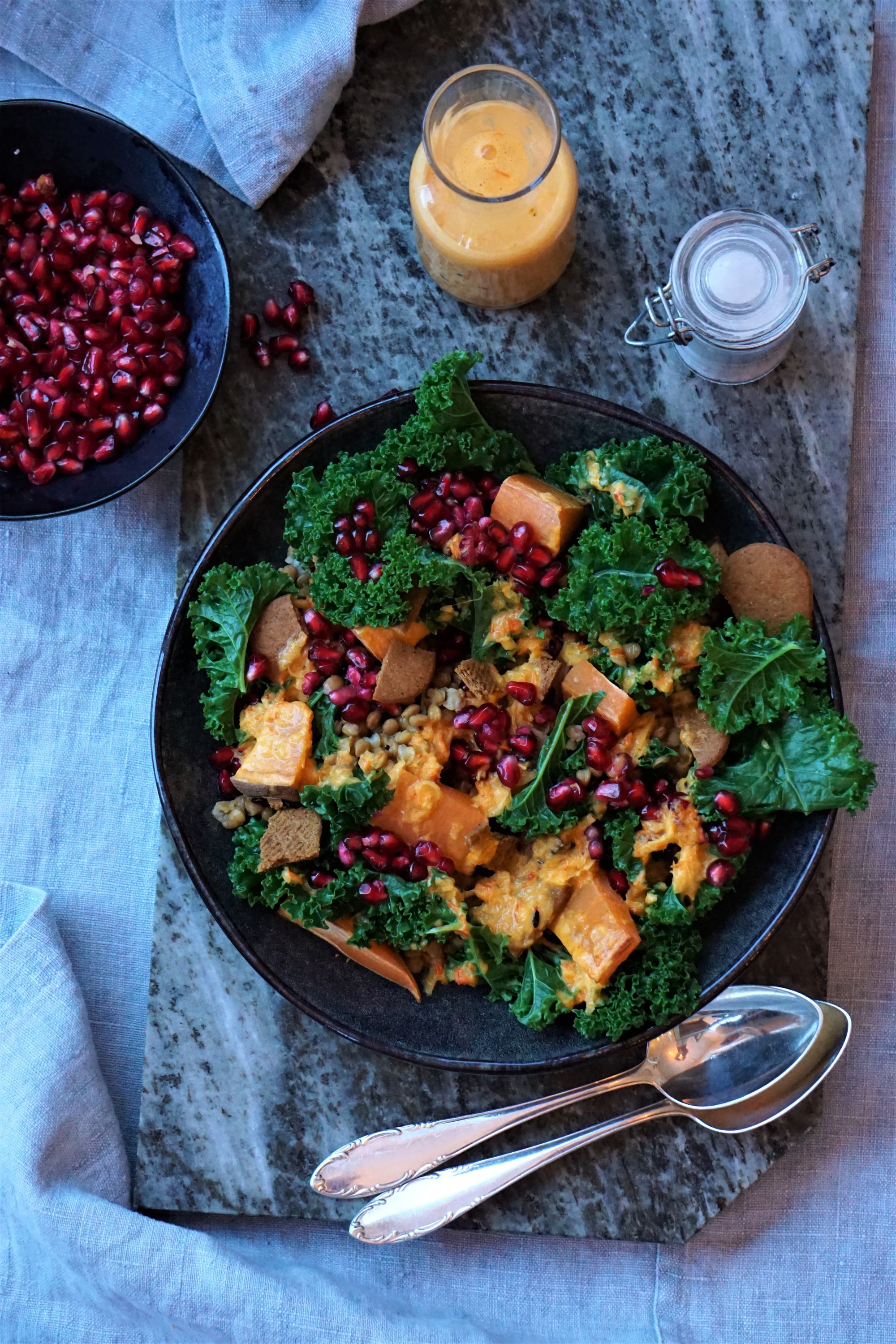 Gingerbread cookie salad with sea buckthorn dressing
Now around Christmas, the focus is really on kale and pomegranate, and we think that is absolutely fine. But you can season by crumbling over gingerbread cookies over the salads and drizzle on a fresh dressing of orange and sea buckthorn, and it is something new for sure!
Gingerbread cookie salad
2 portions
1 large sweet potato
½ pomegranate
1 cup cooked green lentils
two handfuls of fresh kale
6 gingerbread cookies
a pinch of salt
Wash and cut the sweet potatoe into cubes. Bake at 175°C until soft. Pit the pomegranate. Rinse off the lentils. Tear the kale leaves into smaller pieces. Pour boiling water over and let drain. Mix everything together and crumble over gingerbread cookies. Drizzle over some dressing.
Sea buckthorn dressing
½ cup sea buckthorn
½ orange (or a glass of orange juice)
2 tbsp olive oil
1 tbsp apple cider vinegar
a pinch of salt and pepper
Mix everything with a hand blender into a dressing.