Beroende på vilket ris du använder varierar tiden rätten bakas i ugnen. Vi har använt råris med koktid 12-15 minuter. Använder du annat ris, kan du förkoka riset en stund eller ha det inne längre i ugnen.
Depending on what kind of rice you use in this dish, the time will differ. We have used brown rice with a cooking time of 12-15 minutes. But if you use other kind of rice, you can precook it or have it longer time in the oven.
Glöggtofu med saffransris
Det är saffran och pepparkakskryddor till allt den här tiden på året. Glöggmarinerad tofu med smakrikt ris, som allt bakas i ugnen i samma form är så gott och enkelt så du måste prova!
It's all about saffron and ginger bread spices this time of the year. A marinated tofu with rice full of flavour which is baked togehter in the oven is the best dinner right now and you have to try it! For English recipe, scroll down!
Saffransris
3 dl råris
1 dl kokosmjölk
4 dl vatten
1 pkt saffran
1 tsk gurkmeja
1 tsk kardemummakärnor, mortlade
1 tsk örtsalt eller 1 smulad buljongtärning
1 morot
två nävar brysselkål
Topping
1 dl torkade tranbär
½ dl rostade pinjenötter
en näve klippt persilja
en näve klippt dill
en näve granatäppelkärnor
Skär morot i bitar. Ta bort den grövsta delen på brysselkålen, skär sedan ett kryss ovanpå varje. Blanda ris, kokomsmjölk, vatten och kryddor i en ugnsform. Lägg i morotsbitar, brysslekål och tofu. Grädda i ugnen på 200 grader i ca 15 minuter. Toppa med rostade pinjenötter, persilja, dill, granatäppelkärnor och torkade tranbär. Servera gärna till en sallad och tahinisås.
Glöggtofu
2 pkt fast tofu
1 dl alkoholfri glögg
2 msk tamarisoja
1 msk olivolja
några drag med pepparkvarnen
Skär tofun mitt itu. Skär sedan skåror i ett rutmönster i varje bit. Blanda ihop marinaden och pensla på ordentligt. (Låt gärna marinera i en påse lite längre tid). Lägg sedan varje bit på saffransriset med skårorna uppåt, och grädda i ugnen. (se ovan beskrivning).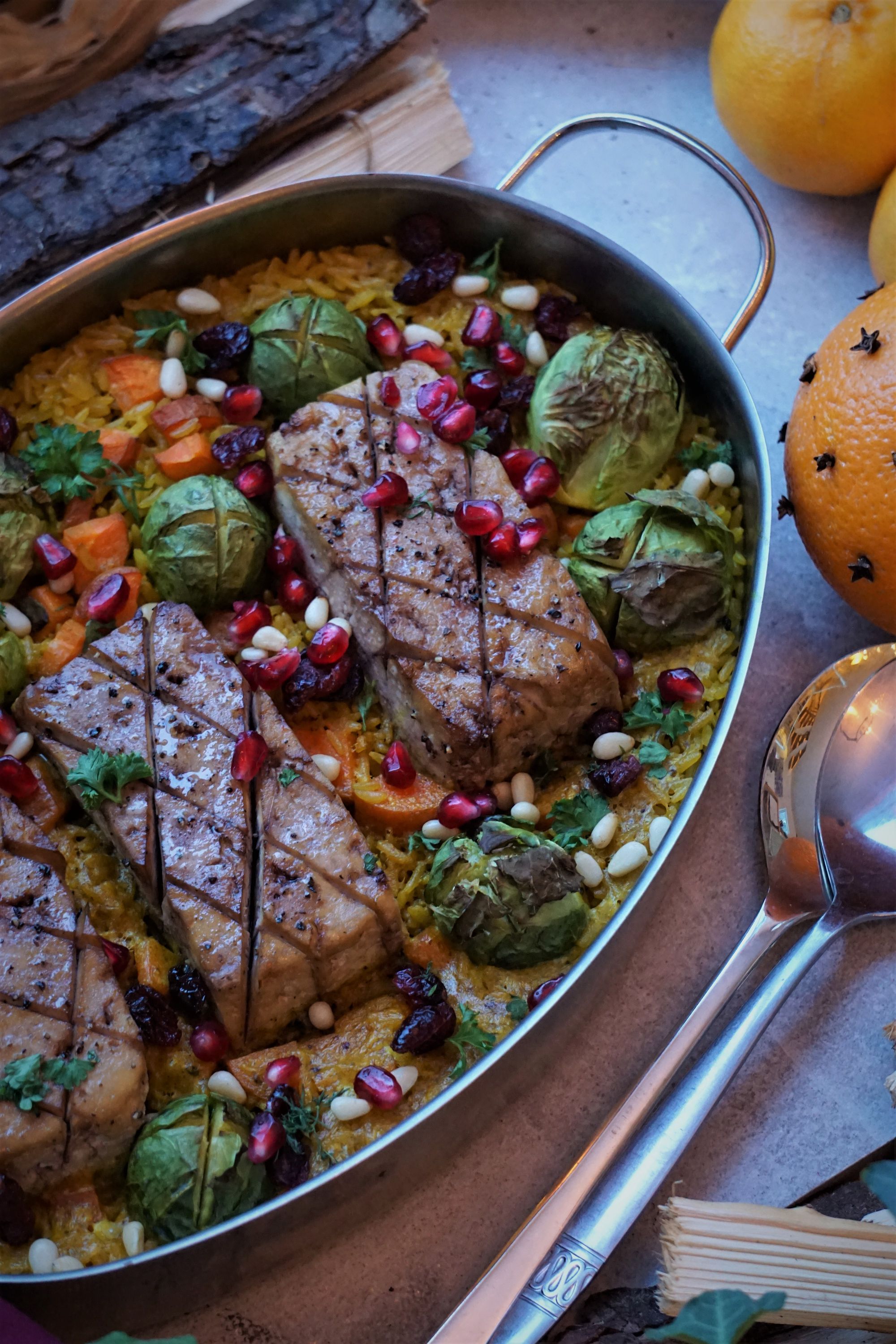 Mulled wine tofu with saffron rice
Saffron rice
1 cup brown rice
100 ml of coconut milk
400 ml of water
½ g saffron
1 tsp turmeric
1 tsp cardamom seeds, ground
1 tsp herbal salt or 1 crumbled bouillon cube
1 carrot
two handfuls of Brussels sprouts
Topping
100 g dried cranberries
50 g roasted pine nuts
a handful of chopped parsley
a handful of dill
a handful of pomme granate kernels
Cut the carrot into pieces. Remove the coarsest part of the Brussels sprouts, then cut a cross on top of each. Mix rice, coconut milk, water and spices in an ovenproof dish. Add carrot pieces, brussels sprouts and tofu. Bake in the oven at 200 degrees for about 15 minutes. Top with roasted pine nuts, parsley, dill, pomme granate and dried cranberries. Serve with a salad and tahini sauce.
Mulled wine tofu
2 blocks firm tofu
100 ml non-alcoholic mulled wine
2 tbsp tamari soy
1 tbsp olive oil
a few strokes with the pepper mill
Cut the tofu in half. Then cut notches in a checkerboard pattern in each piece. Mix the marinade and brush it in well. (Feel free to marinate in a bag for a little longer). Then place each piece on the saffron rice with the notches facing up. Bake for about 15 minutes at 200 celsius degrees