Hur en helt vanlig Onsdagsfrukost kan se ut hos oss! En smarrig smoothie med färska bär och topping, och glutenfria minibaguetter med valnötter, med avokado, paprika, gurka och hampafrön som pålägg!
Onsdagssmoothie
Det går ju att göra hur enkla smoothies som helst som blir supergoda. Men vi är ute efter mycket näring och energi också, och då dyker det ner lite av varje. Den här är mättande och supergod!
3-4 dl havremjölk
2 dl fryst mango
1 fryst banan i slantar
100 g tofu
en näve jordgubbar
2 selleristjälkar
1 bit palsternacka
2 cm ingefära
1/4 citron eller lime
1 msk jordnötssmör
1 tsk mixade chiafrön
2 tsk macapulver
en skvätt rödbetsjuice
Valnötsbaguetter
Supersnabba och supergoda minibaguetter som vi rörde ihop på morgonen. Skippa inte valnötterna, det är så gott att ha i bröd! Ät direkt från ugnen, varma, det kan ju inte bli bättre!
6 bröd
2 dl durramjöl
1 mandelmjöl
1 dl kikärtsmjöl
½ dl rismjöl
1 ½ msk psylliumhusk
½ tsk salt
½ tsk gurkmeja
anis och fänkål
½ tsk bakpulver
2 nävar valnötter
3 msk olivolja
2 ½ -3 dl vatten
1 msk äppelcidervinäger
Blanda alla torra ingredienser för sig. Tillsätt olja och vätska. Rör ihop och låt stå någon minut. Fukta händerna och forma till 6 avlånga bröd. Grädda på 180 grader i 20 minuter.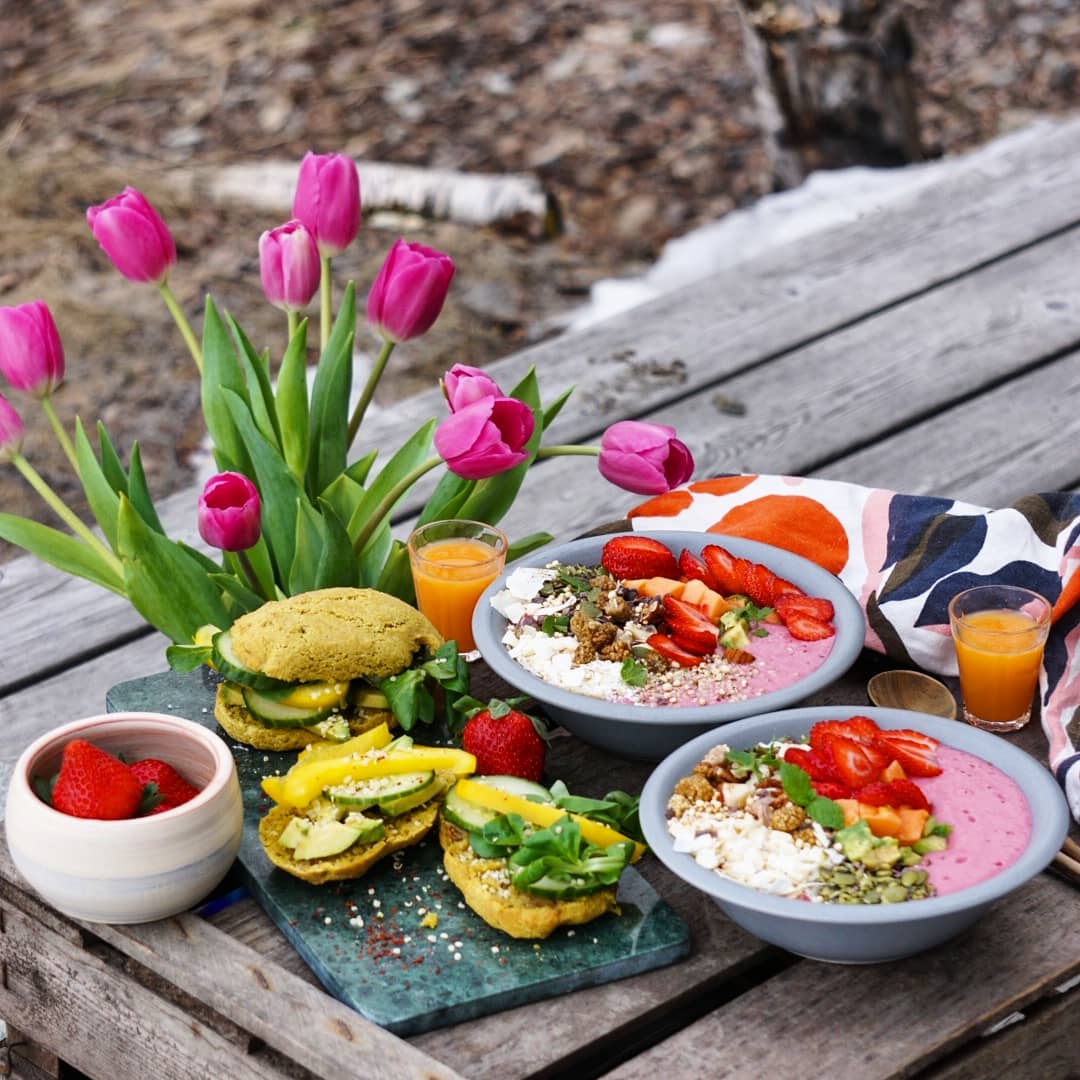 What an ordinary Wednesday breakfast can look like in our house! A tasty smoothie with fresh berries and topping, gluten-free mini baguettes with walnuts, topped with avocado, bellpepper, cucumber and hemp seeds!
Wednesday Smoothie
You can make very simple smoothies that are super tasty. But we want a lot of nutrition and energy, and then a little of each often dives down in our blender. This one is very filling and super tasty!
1, 3 – 1,7 cups oat milk
1 cup frozen mango
1 frozen banana
100 g tofu
a handful strawberries
2 celery stalks
1 piece parsnip
2 cm ginger
1/4 lemon or lime
1 tbsp peanut butter
1 tbsp mixed chia seeds
2 tsp maca powder
2 tbsp beetroot juice
These are superfast and super yummy glutenfree breads. Don't skip the walnuts, it is so good in bread! Eat directly, warmish from the oven, can't be better!
Walnut baguettes
6 loaves
0,8 cup sorghum flour
0,4 cup almond flour
0,4 cup chickpea flour
0,2 cup rice flour
1 tbsp psyllium husk
½ tsp salt
½ tsp turmeric
anise and fennel
½ tsp baking powder
2 handfuls of walnuts
3 tbsp olive oil
1 cup of water
1 tbsp apple cider vinegar
Mix all dry ingredients separately. Add oil and liquid. Stir and let stand for a few minutes. Wet your hands and shape into 6 small baguettes. Bake at 180 degrees celsius for 20 minutes.