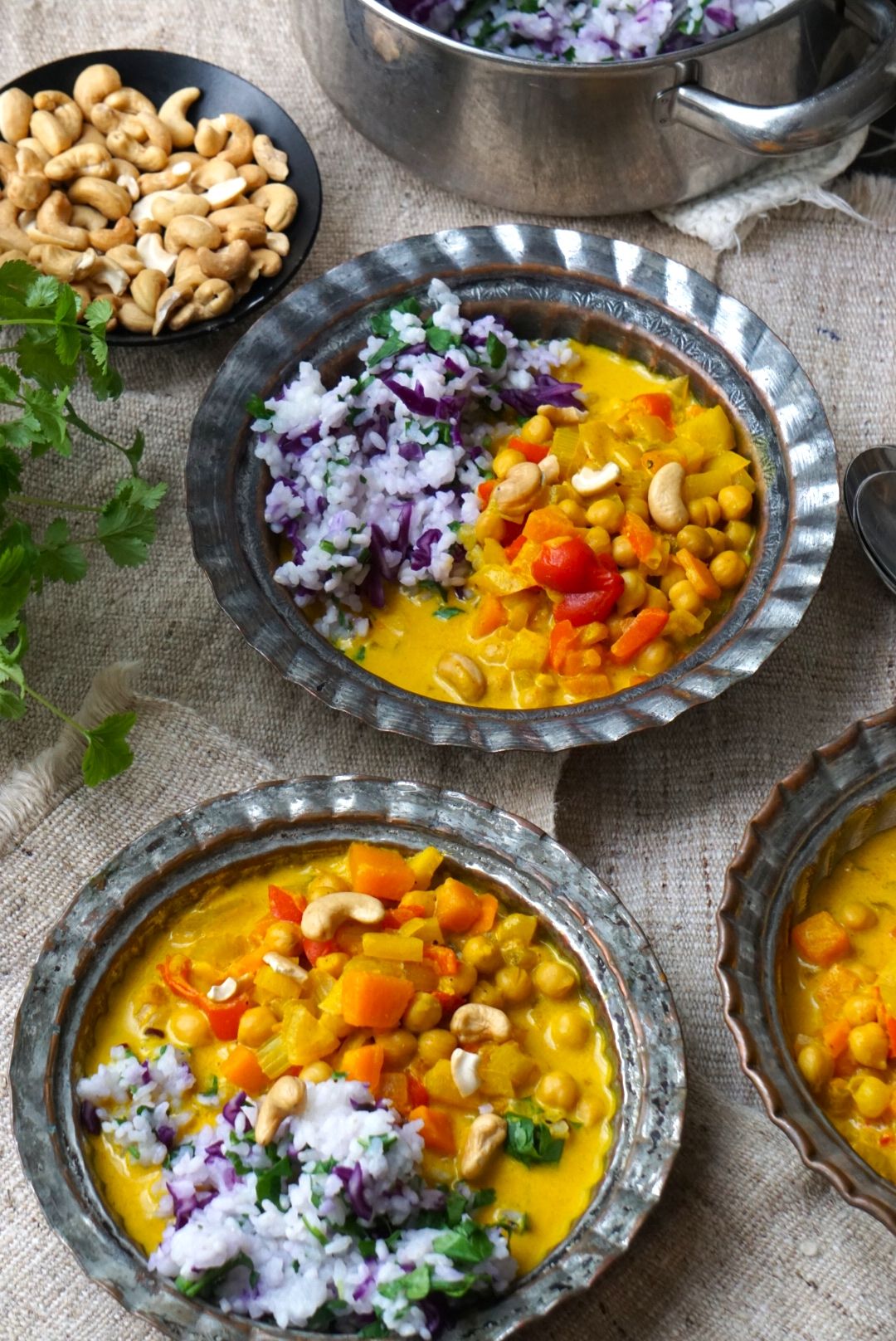 For english, scroll down
Gul currygryta med örtris
Enkel grönsaksgryta med gul currykrydda och örtigt, fräscht ris.
Gul currygryta
4 portioner
1 sötpotatis
½ fänkål
3 selleristjälkar
1 gul lök
1 röd paprika
3 cm färsk ingefära
en liten bit färsk chili eller chiliflingor
500ml kokosmjölk
2-3 dl vatten
zest och juice från 1/2 apelsin
3-4 msk gul currykrydda
0,5 g saffran (kan uteslutas)
salt och peppar
500 g kikärtor
Skala och hacka sötpotatis, fänkål, selleri, paprika, lök och ingefära. Häll över alla ingredienser utom kikärtor i en stor kastrull och koka upp. Låt puttra i cirka 20 minuter. Tillsätt därefter kikärtorna.
Örtris
3 dl grötris (eller annat ris)
5 ½ dl vatten
¼ rödkål
ett stort knippe persilja
ev 2-3 msk olivolja
en näve rostade cashewnötter
ev koriander, om du är förtjust i det.. (bara en av oss är tycker om det)
Blötlägg riset i drygt 30 minuter. Skölj av och koka sedan upp i nytt lättsaltat vatten. Låt sjuda i cirka 20 minuter. Strimla rödkålen tunt. Hacka persilja. Blanda om väl i riset. Toppa med rostade cashewnötter, och eventuellt koriander och olivolja.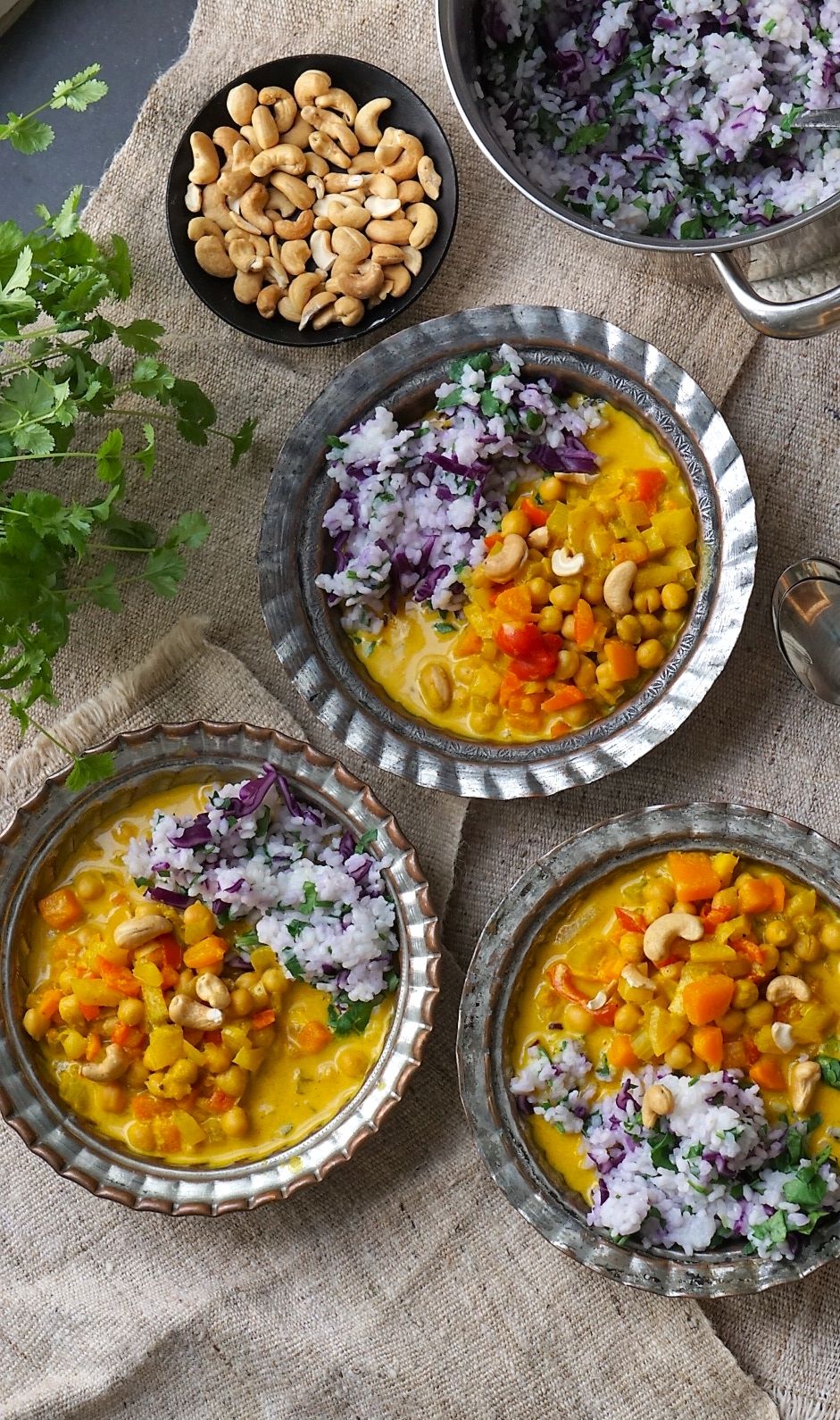 Yellow curry stew with herb rice
Simple, but yet so yummy vegetable stew with yellow curry, served with fresh, herb rice.
Yellow curry stew
4 portions
1 sweet potato
½ fennel
3 celery stalks
½ red bell pepper
1 onion
3 cm fresh ginger
a small piece of fresh chili or chili flakes
500ml coconut milk
2-3 dl water
zest and juice from 1/2 orange
2 tbsp curry spices
0.5 g saffron (can be excluded)
salt and pepper
500g chickpeas
Peel and chop sweet potatoes, fennel, celery, bell pepper, onion and ginger. Pour all ingredients except chickpeas into a large saucepan and bring to the boil. Let simmer for about 20 minutes. Then add the chickpeas.
Herb rice
3 dl sticky rice
5 ½ cup water
1/4 purple cabbage
a large bunch of parsley
2-3 tbsp olive oil
a handful of roasted cashews
a handful fresh koriander (if you like it, only one of us does..)
Soak the rice for about 30 minutes. Rinse them and then bring to the boil in new lightly salted water. Simmer for about 20 minutes. Shred the purple cabbage thinly. Chop parsley. Mix well in the rice along with olive oil. Top with roasted cashews and coriander.