Sweet Potato Vermicelli with Asian tofu crunch and blanched vegetables
sweet potato noodles (vermicelli)
blanched vegetables
2 carrots
4 celery stalks
a couple dino kale leaves
the boiling water from the noodles
Salad
½ zucchini
juice from ½ orange
2 tbsp kimchispad
1 tsp apple cider vinegar
1 tsp white wine vinegar
salt and pepper
2 tsp sesame seeds
a piece of fresh red cabbage
Asian tofucrunch
300 g firm tofu
¼ leek
3 cm fresh ginger
1 tbsp coconut oil
1 tbsp tamarisoja
1 tbsp coconut sugar
marinade
1 tbsp dark tahini
1 tbsp daojeng (Korean soybean paste)
2 tsp sesame oil
3-4 tbsp kimchi liquid
½ tbsp chili oil
a pinch of whole cardamom
a splash of white wine vinegar
pepper
Peel and cut thin slices of carrots, celery and dino kale. Put water into the boil and let sweet potato noodles simmer for 6 minutes. They are long, so it can be good to cut with scissors during the cooking time. Pour the boiling water over the thin sliced vegetables, and let them be blanched for a few minutes. Pour off the water.
Slice the zucchini thinly and mix with the juice from ½ orange, a splash of kimchi, a little vinegar, salt, pepper and sesame seeds.
Mix the marinade for Asian Tofu Crunch in a small bowl. Crumble tofu with your hands in a frying pan and fry with coconut oil. Finely chop the leek and ginger. Add to the pan and fry everything crispy together with tamari soy and coconut sugar. Pour over the marinade, stir and leave on low heat for a few minutes before serving.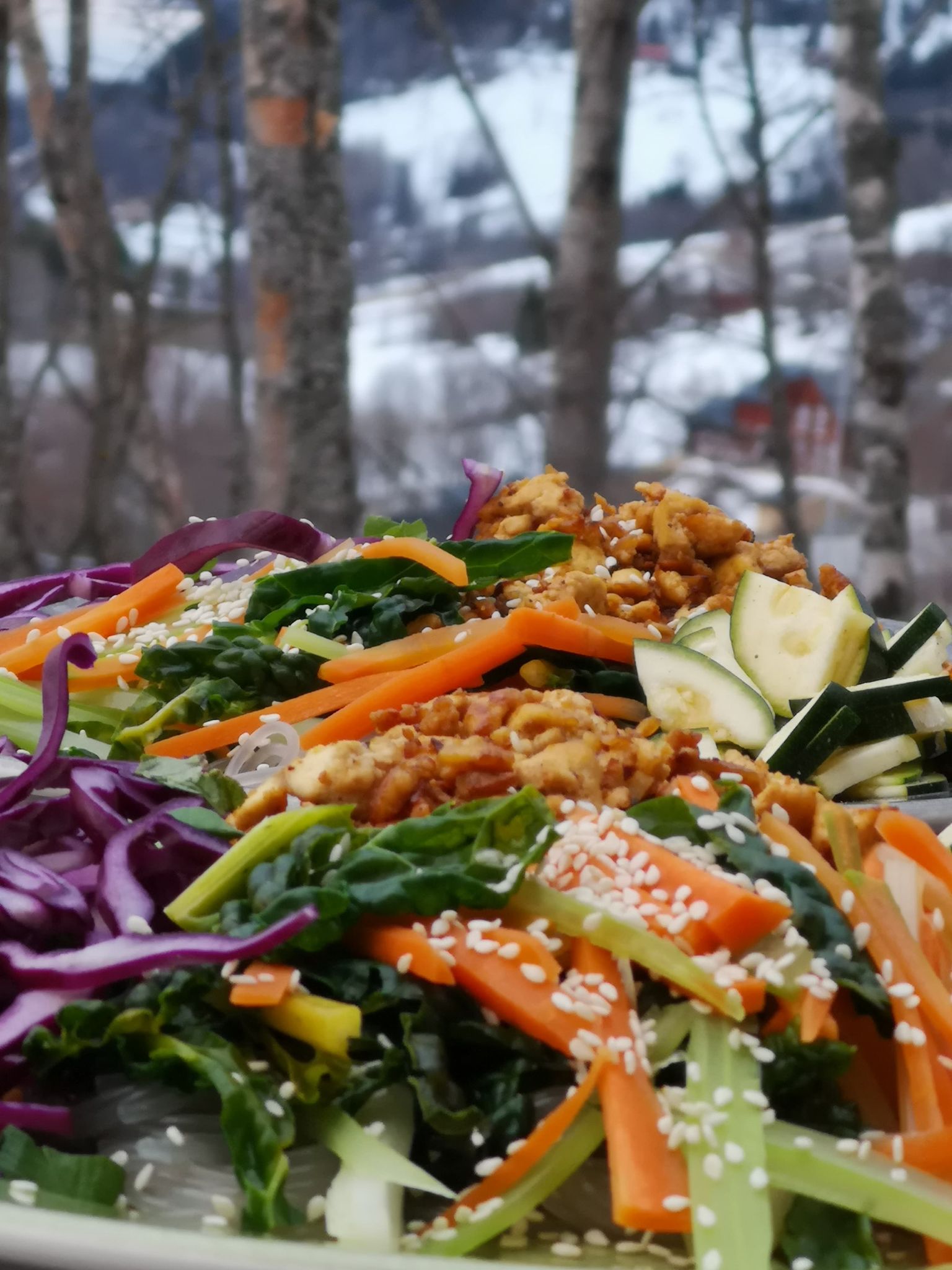 SötpotatisVermicelli med Asian tofu crunch och blancherade grönsaker
sötpotatisnudlar (vermicelli)
blancherade grönsaker
2 morot
4 selleristjälkar
ett par svartkålsblad
kokvattnet från nudlarna
Sallad
½ zucchini
juice från ½ apelsin
2 msk kimchispad
1 ½ tsk äppelcidervinäger
1 tsk vitvinsvinäger
salt och peppar
2 msk sesamfrön
en bit färsk rödkål
Asian tofucrunch
300 g fast tofu
¼ purjolök
3 cm färsk ingefära
1 ½ msk kokosolja
1 ½ msk tamarisoja
1 msk kokossocker
marinad
1 ½ msk mörk tahini
1 msk daojeng (koreansk sojabönspasta)
2 tsk sesamolja
3-4 msk kimchivätska
½ msk chiliolja
en nypa stött kardemumma
en skvätt vitvinsvinäger
peppar
Skala och strimla morötter, selleri och svartkål. Koka upp sötpotatisnudlar och sjud 6 minuter. De är långa, så kan vara bra att klippa med en sax under koktiden. Häll kokvattnet över de strimlande grönsakerna som får blancheras någon minut. Häll bort vattnet.
Skiva zucchini tunt och blanda med juice från ½ apelsin, en skvätt kimchispad, lite vinäger, salt, peppar och sesamfrön.
Blanda marinaden till Asian Tofu Crunch i en liten skål. Smula tofun med händerna i en stekpanna och fräs på med kokosolja. Hacka purjolök och ingefära smått. Tillsätt i pannan och stek allt knaprigt tillsammans med tamarisoja och kokossocker. Häll över marinaden, rör om och låt stå på svag värme några minuter innan servering.