Baked hasselback Pear with Ginger Nicecream and Caramelised Rosemary
Hasselback pear:
1 big pear
a handful pecan nuts
cardamom and cinnamon
some coconut oil
1 msk agave syrup + coconut sugar (or other caramelly sweetner)
Caramelized rosemary
Fresh rosemary
a little coconut oil
a little agave syrup + coconut sugar
Ginger nicecream
2 frozen banans in money form (Easier to mix)
1-2 tsp ginger powder
Cut the pear in half. Cut thin slices half way through, but so that it holds togehter. Put it in an ovenware. Chop the nuts. Swab a little oil on the pears and spread the nut crumbles over. Drizzel some agave syrup and cinnamon and cardamom spices. Put it in the oven on 175 degrees celsius for about 20 minutes or until the pears are soft. Watch out for the nuts so they don't get burned.
Melt coconut oil, coconut sugar and agave syrup in a pan together with fresh rosemary. Let them be caramelized and crispy, then they are ready to decorate the dessert!
Mix the frozen banana and ginger powder together into a smooth nicecream. Serve togehter with hot hasselback pears and caramelized rosemary!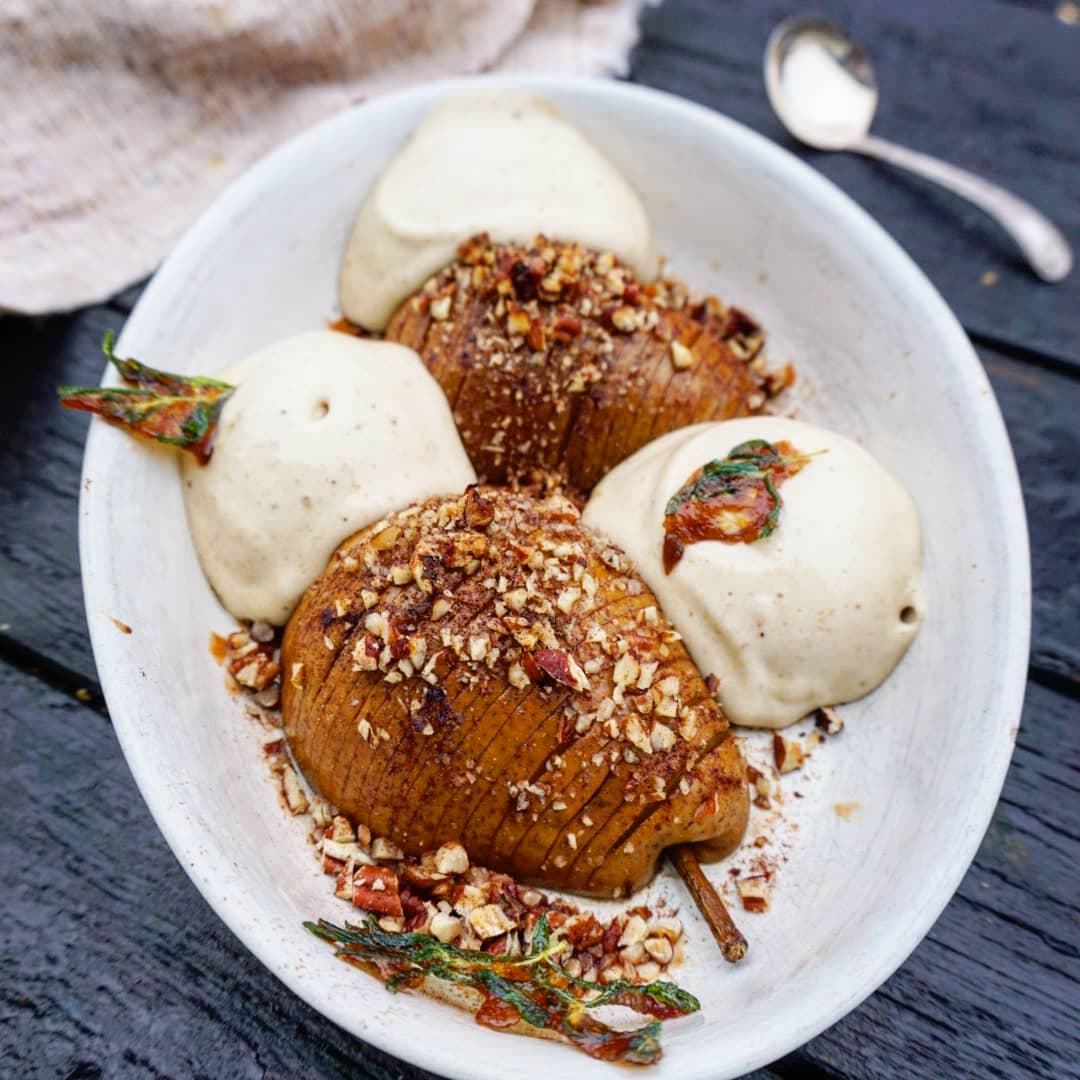 Bakad HasselbacksPäron med Ingefärsglass och karamelliserad Rosmarin
Hasselbackspäron med nötcrunch
1 stort päron
en näve pekannötter
kardemumma och kanel
lite kokosolja
1 tsk agavesirap, kokossocker eller annan form sötning.
Ingefärsglass
2 frysta bananer (infrysta i slantar, enklare att mixa då)
1-2 tsk mald ingefära
Karamelliserad rosmarin
några småkvistar färsk rosmarin
lite agavesirap + kokossocker
lite kokosolja
Skär Päronet mitt i på längden. Använd en vass kniv. Skär tunna hack i nästan ända ner i päronet, men inte så att det går igenom. Hacka pekan-nötter fint. Lägg päronen i en ugnsform och pensla lätt med lite kokosolja och strö över nötsmulet. Krydda med kardemumma och kanel och ringla över lite sirap. Ställ in i ugnen på 175 grader i ca 20 minuter eller tills päronen är mjuka. Ugnstemperaturen kan variera på olika ugnar, så håll koll att inte nötterna bränns.
Smält agavesirap, kokossocker och kokosolja försiktigt i en stekpanna tillsammans med småkvistar av färsk rosmarin. Snart klibbar det fast och då låter du de svalna så är de färdiga att toppas på desserten!
Till ingefärsglass rekommenderar vi att använda en matberedare eller en high speed blender för bästa resultat, men en stark stavmixer fungerar också. Mixa bananslantarna och mald ingefära tillsammans till en krämig glass. Servera till varma hasselbackspäron med nötcrunch