Oh, we just love tofu! Actually we can eat it just plain and natural! But sometimes it's ofcourse a bit more fancy to MAKE something with it. So here we have these golden patties with fresh herbs, soo nice!
Tofu and Carrot Pucks with Beluga Salad
about 15 pucks
400 g tofu
4 carrots
3 tbsp nutritional yeast
5 tbsp rolled oats
10-15 kalamata olives
6 sundried tomatoes
1 pot parsley
a handful dill
1 tsp red chili pasta
salt and pepper
1,5 tsp turmeric
Peel and grate carrots. Chop olives (without the stone) and sundried tomatoes. Blend tofu, the grated carrots, nutritional yeast and oats. Cut the parsley and dill. Add the chopped olives and tomates. Put also in the chili pasta and the dry spices. Mix. Form to about 15 pucks. Fry on both sides in coconut oil until they have a nice color.
Beluga Salad
1 cup beluga lentils + 2 cups water
4 celery stalks
1 beetroot
2 carrots
2 tsp balsamico
some dried thyme
salt and pepper
Cook the beluga lentils with water for about 20-25 minutes. Peel and grate the beetroot and the carrots. Mix everything togehter into a fresh salad.
Herby Nuts
1/2 cup natural nuts (we used walnuts and cashews)
2 garlic cloves
1 small shallot
a handful of parsley
1/2 lemon (zest and a little juice)
salt and pepper
Chop the nuts or mix them to a crumble. Also chop the shallot and the garlic into small bits. Fry them first in some coconut oil in a pan, they should be a bit crunchy, but not burnt! Then put it an a bowl, and gently roast the nuts, add, parsley and lemon zest and jucie. combine with the garlic and onion.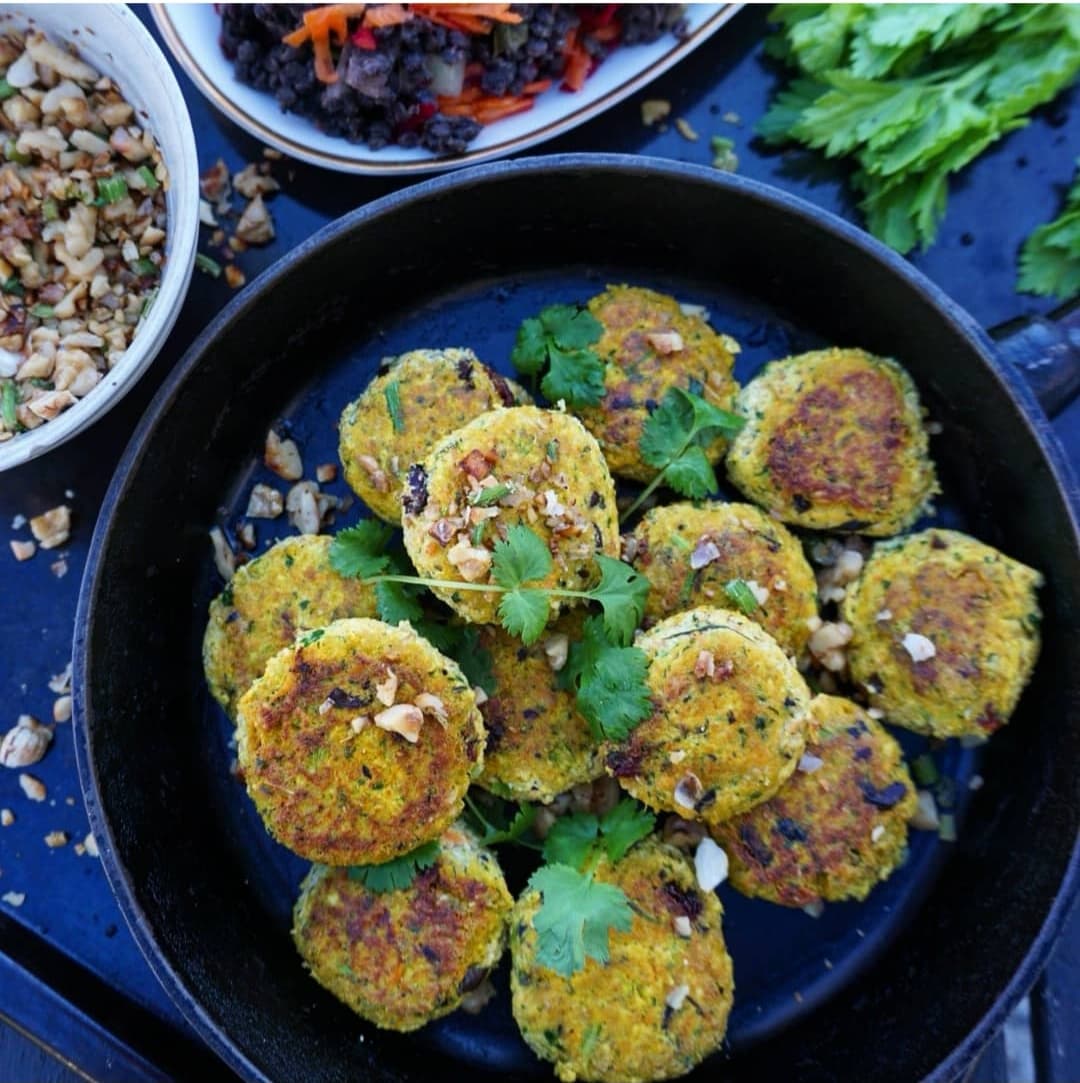 Tofu och morotspuckar med belugasallad
ca 15 st puckar
• 400 g tofu
• 4 st morötter
• 3 msk bjäst
• 1/2 dl havregryn
10-15 kalamata oliver
• 6 st soltorkade tomater
• 1 kruka färsk persilja
• Några kvistar färsk dill
• 1 tsk röd chili pasta
• Salt och peppar
• 1,5 tsk gurkmeja
Skala och riv morötterna. Kärna ur oliverna och hacka dem. Hacka de soltorkade tomaterna. Mixa tofu, morotsrivet, bjäst och havregryn. Klipp i persilja och dill. Häll över oliv och tomathacket. Tillsätt chillipasta och resterande torra kryddor. Blanda om ordentligt. Forma till cirka 15 stycken små puckar. Stek på båda sidor i kokosolja tills de har fin färg.
Belugasallad
2 dl torra belugalinser + 4 dl vatten
4 stycken selleristjälkar
1 rödbeta
2 morötter
2 tsk balsamico
en nypa torkad timjan
salt och peppar
Koka Belugalinserna med vattnet cirka 20-25 minuter. Hacka selleri i småbitar. Skala och riv rödbetor och morötter. Blanda samman allting till en fräsch sallad.
Örtigt nötsmul
1 1/2 dl naturella nötter (vi använde valnötter och cashewnötter)
2 vitlöksklyftor
1 liten sharlottenlök
en handfull färsk persilja
1/2 citron
salt och peppar
Hacka eller mixa nötterna. Hacka också vitlök och sharlottenlök fint. Bryn löken först i lite kokosolja. Det ska bli lite knaprigt, men inte bränt. Häll i en skål. Rosta sedan försiktigt nötterna, tillsätt persiljan, citron, salt och peppar. Blanda sedan med löken.