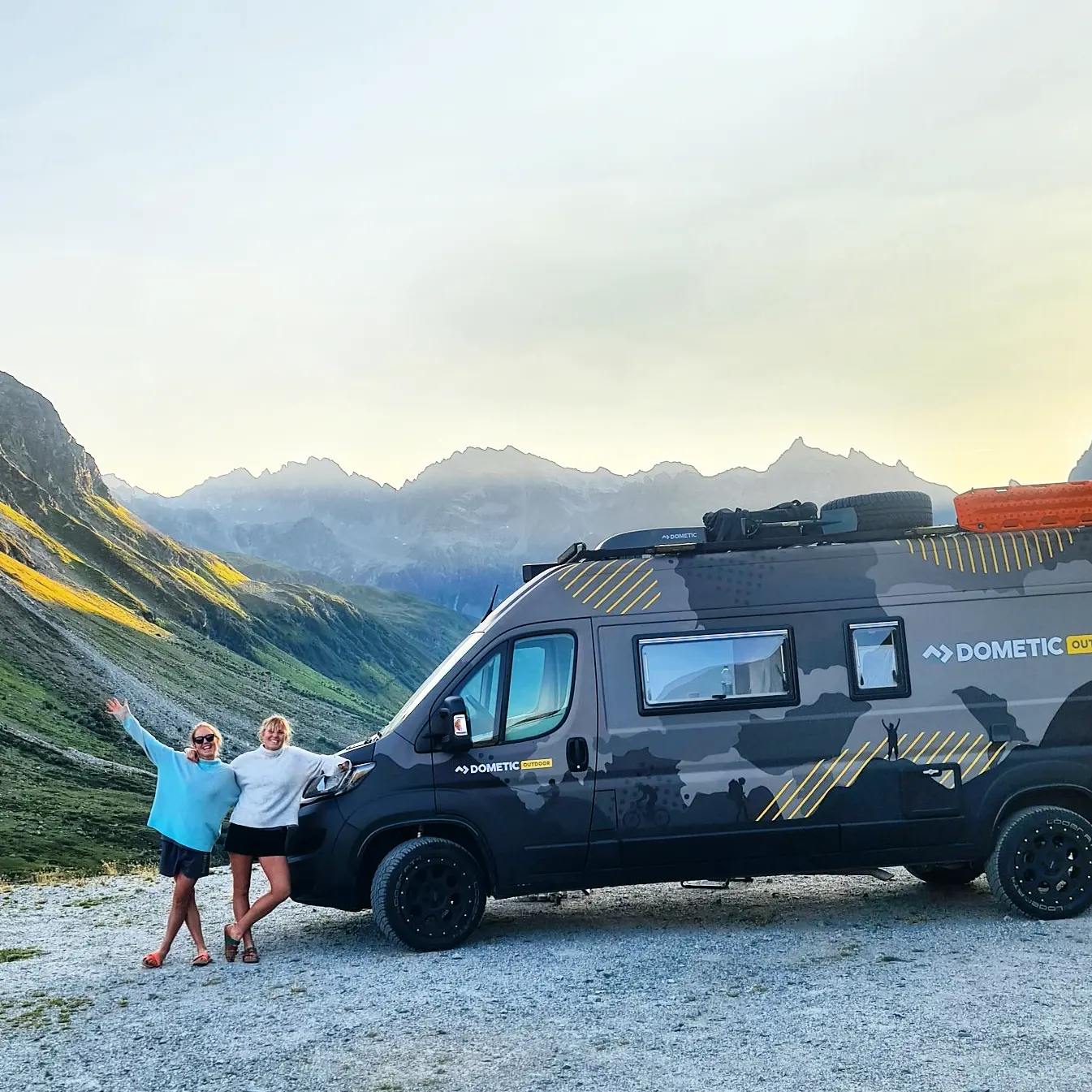 After a very nice training camp in Mandarfen in Pitztal we were eager to explore more and run races. We had the opportunity to borrow a van from Dometic for a week, do some content and enjoy mountain life. But the van was in north of Germany. Our intention was ofcourse to be in the mountains. So it was just to get it solved.
SilvrettaRun 3000 Race Report
We had plan to drive up to Silvretta since we were in Voralberg in june 2020 and the pass wasn't open that early due to too much snow.
So now we were excited to go and explore the valleys in there. Then, by accident, Lina saw that it was a race the 16th! We were about to pick up the van in Emsdetten/Münster in Germany the 14th evening. So it was a bit of a hurry. We had to take a train from Pitztal to there, and travelled for 12 hours and then got the Dometic van (it's awesome!) And drove straight down the whole way again to the mountains. 🤣
Swollen body, no sleep and pretty bad leg feelings. But worth it. And we were very excited for the race. Very beautiful area. It started in Ischgl where we had a stage on Trans Alpine Run a few years ago. Damn how tough that week is, but so many memories! 🥰
The Silvrettarun3000 offers 4 different lenghts. We wanted to do the marathon, but the next weekends race, Schlegeis3000run, a part of the skyrunning series was more important for us than this spontaneous one, so we tried to be smart and choose the medium distance instead. 29,9k with 1482 meters of elevation. What we didn't look at was the terrain. Which came to be a surprise.
The first part was up a ski slope on a runnable gravel road. Good so that all runners could find their own pace. Lina and I ran side by side here, but could see another woman pretty close behind us that we couldn't get rid of. The road continued and became asphalt. And now we could see the road meander like a river into the valley. I had a gap to Lina and the other one. I realized pretty quick that this was not a mountain trail race that we are used too. This was a asphalt and trail race surrounded by mountains. Hahah what a surprise.
However, it was quite fun to be able to really stretch out and run. But I had stomach cramps already… fuck. I was in the lead though. The strong feeling, I had a couple of kilometers was about to fade away. And soon both Lina and the other woman passed me and I couldn't really follow along. I felt like and elephant not coming anywhere. It was beautiful surroundings though the positive thing on races like this, where you don't have to look where to put your feet, you have time to look around. 😆
The road passed some streams, on the side there were bridges, but Lina and I ran straight through, and I saw the woman and some other guys ran on the bridges every time. That also showed these runners were not trail runners. Because we don't care if we get wet or muddy feet. But other runners do. So with that in mind I thought, where the trail starts, I got to run the fastest I can to be able to catch them.
Though for me, my legs felt slow and stiff. You know this awkward feeling like in a nightmare where you are hunted by someone or something and try to run away, but you are standing still? It really felt like that.
Frustrating. But the little single trail section finally started once reaching a hut into the valley where the gravel road ended. It was so nice to eventually feel my feet fast moving over rocks and small stones. I directly felt I came closer to the other woman. Lina had already made a gap to her too. I could see them clearly further up the mountain. We came up to a pass and there it all went downhill. It was a fun zigzagging trail with lots of rocks. And I caught the woman and Lina too. She had cramps as me… We'll probably come back talking about these cramps and hopefully we will manage to deal with them.
I focused on my breathing blowing out air trying to get rid of it. And could come forward in an okay speed. But it was painful and I was irritated not to be able to use my energy. And as the trail became a gravel road again the woman who didn't have any stomach cramps apparently, could easily pass.
The rest of the course was downhill on this gravel road and some grass trail in the end. It was literally just about to get to the finish line to finally stop running without the stomach ache.
But it had been a fun experience with this type of course. All the people around were very happy and nice as well.
I don't have any pictures for the race except the beer I got on the podium. :P