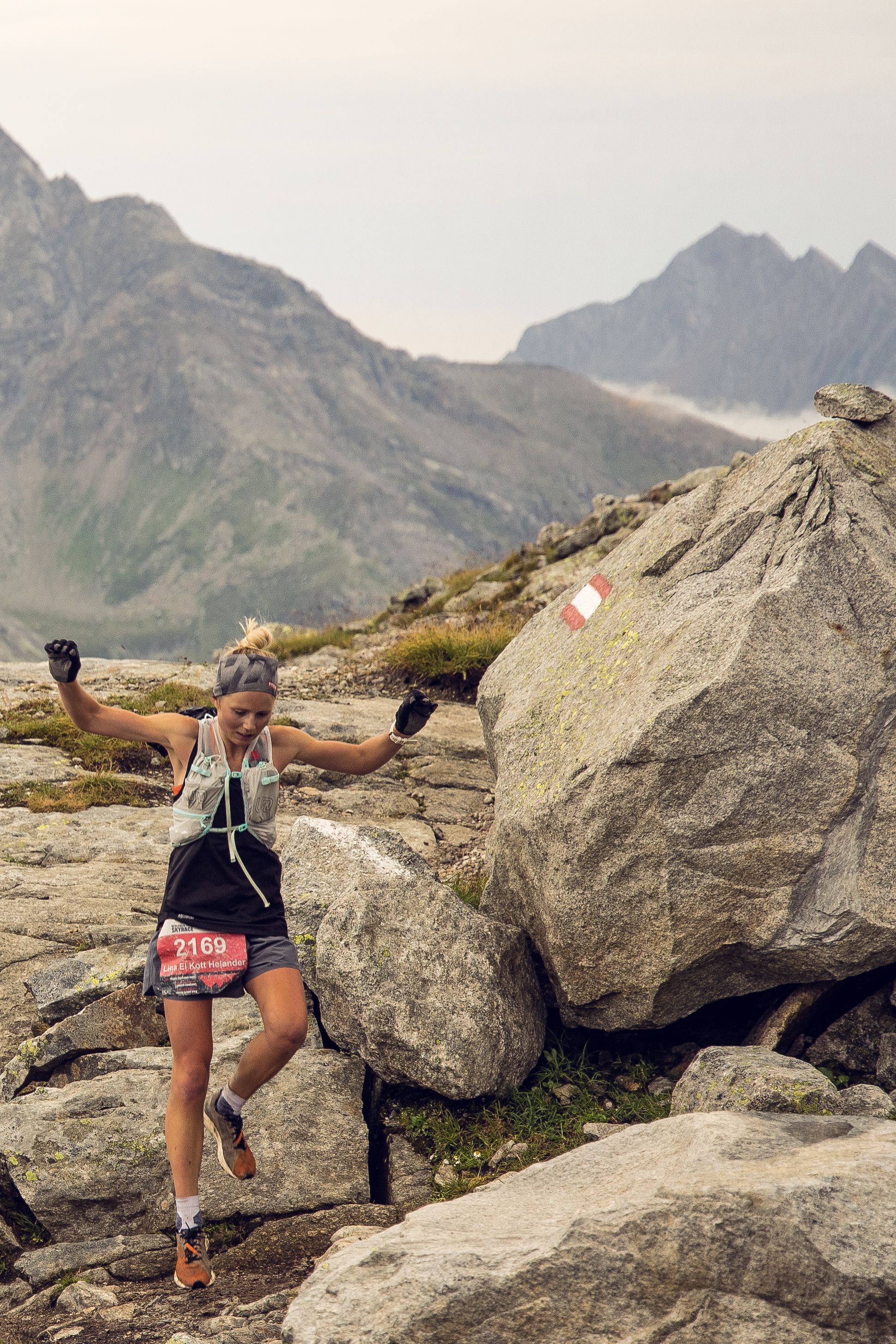 Schlegeis3000run
Schlegeis3000 VK race report
Sanna is writing.
(Pictures from Adrian Niski, Damiano Benedetto and Schlegeis3000 and skyrunning.)
During the weekend of the Schlegeis3000 run event we were about to participate in both the vertical and the skyrace.
The vertical is 4,9 kilometers with more than 1000+ of elevation. It is similar as a well-known vertical at home in Åre where we live. The skyrace is 34 kilometers with 2380+ of elevation.
Many runners seem to be afraid of participate in two races in a row. But for us, we rather do more, than resting down in a too hot valley, (which was the occasion now). In addition, our legs often feel better after a short but hard workout or race uphill, as a VK usually is. Weird sometimes how the body works…
It was extremely hot even at the reservoir. But as we came up with a shuttle about 1,5 hour before the race started we went down to the dam and swam so we were soaked. I think that was really good. Otherwise, I would have been too hot and probably tired.
We had warmed up with poles and had heard it would probably be an advantage to have them. But my gut feeling was that I would be annoyed by them. And as we spoke to some Americans, they said no immediately on the question weather to use poles or not. There were large rocks and last sections a bit technical. So both of us decided in the last minute to leave them. I'm very glad I did.
We started with 30seconds intervals. I was glad I started after both Lina, Vicky Kreuzer and Baily Kowalczyk, so that I wouldn't be overtaken by them directly. Now the hunting started instead. But I wasn't really excited to be stressed too much. My mistake during Pierra Menta, when I was over excited resulted in a very bad performance, so this time I wanted to focus on staying calm but push at the same time. Pretty difficult equation.
But as it was my turn and I came into the flow, it felt good to take a step in front of the other. And I did the best I could forward, upward. It wasn't too hot either. It came to be windy and nice. So many hikers who cheered us on. I passed the guy who started in front of me. And could see Bailyes white tank top further up, but it seemed she were faster than me. Suddenly a woman came from nowhere, very quiet and passed me, kind of crawling on all fours up the rocky off trail. I tried to follow in the same style. Realizing the legs didn't get too tired of this method. And once it wasn't that steep, she straightened her back and forced her body to move forward, kind of walking/running style. Weird, but apparently efficient. For a while I really tried to imitate her style. And she didn't get a way too fast. But then again, we all have a certain style of running ourselves, and soon I came to my own style. It was the strong Slovakian woman, Mojka. I wasn't surprised she would pass me, but she had numbered 28 and I 21, so I thought for a long time she had won…
I faced a big mountain to my right and a big to my left. I hadn't checked the route, so had no idea which it could be. But they seemed so high, so I couldn't believe we were running up all that. We had been running for a while now. It seemed too far.
For me though, I prefer a VK ending on a real top. But then I saw the little cross further down to the left. I don't know why they put a cross there, because it wasn't really a peak or anything, just an end of a ridgeline. But however, at that moment I was pretty glad the finish wasn't on any of the other peaks.
The last kilometer was first very runnable, which felt good, and was the most fun part I believe, and then some minutes of light scrambling and then up on the wide ridge with some stone blocks to the cross. What a spectacular view! And so fun to have the other runners in the finish and just enjoying being up on the mountain. Lina said she had felt really strong and seemed to have a good confidence, so who could the winner be?
Lina and I were both so high on endorphins and joy, so all the way down again we laughed and cheered on the later starting runners, and had so much fun.
Later that evening on the prize giving we got the result of the race, and Lina won!! I came 5th, but was stoked for Lina's result and I have respect to the strong runners in front of me, and actually my main goal was the skyrace.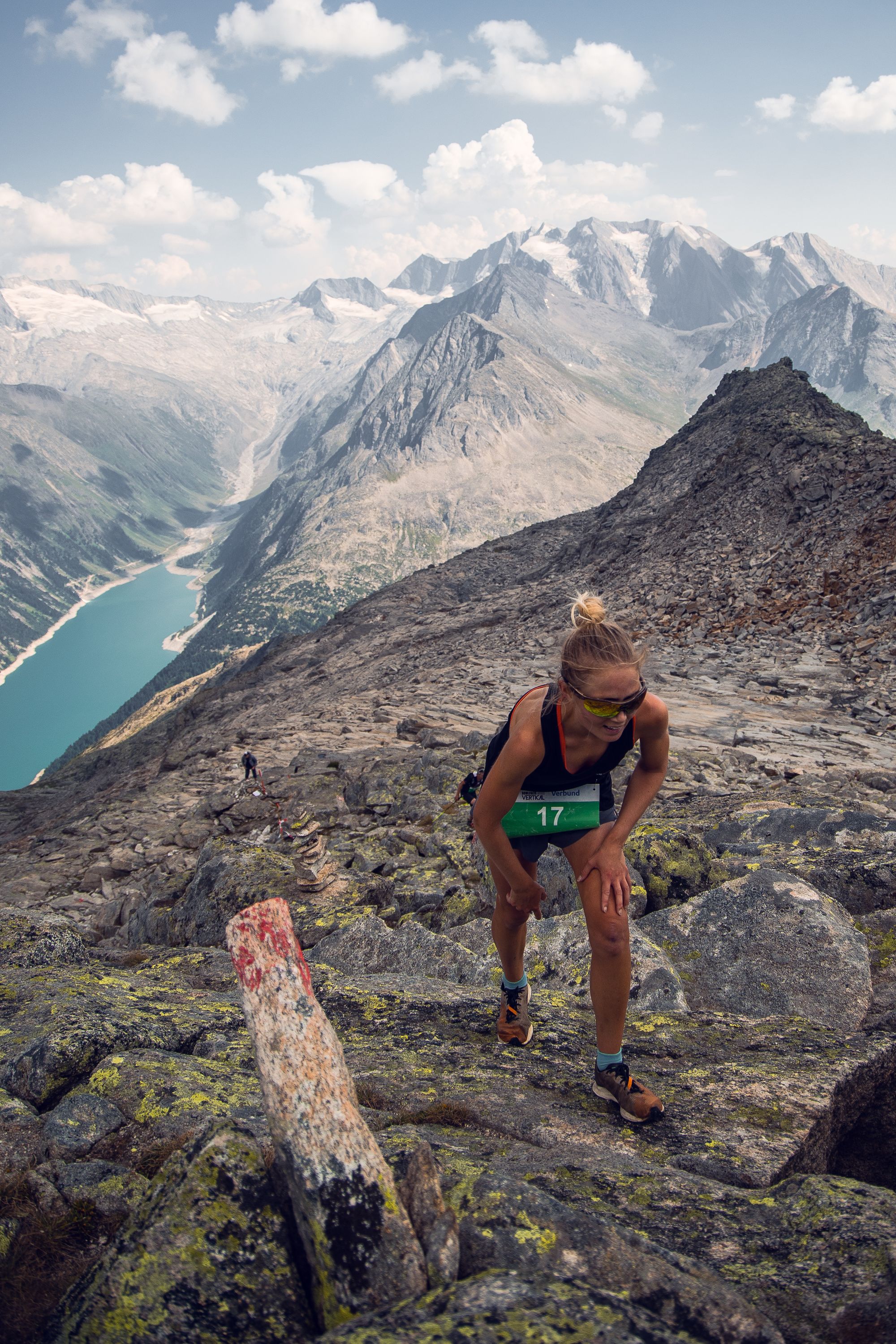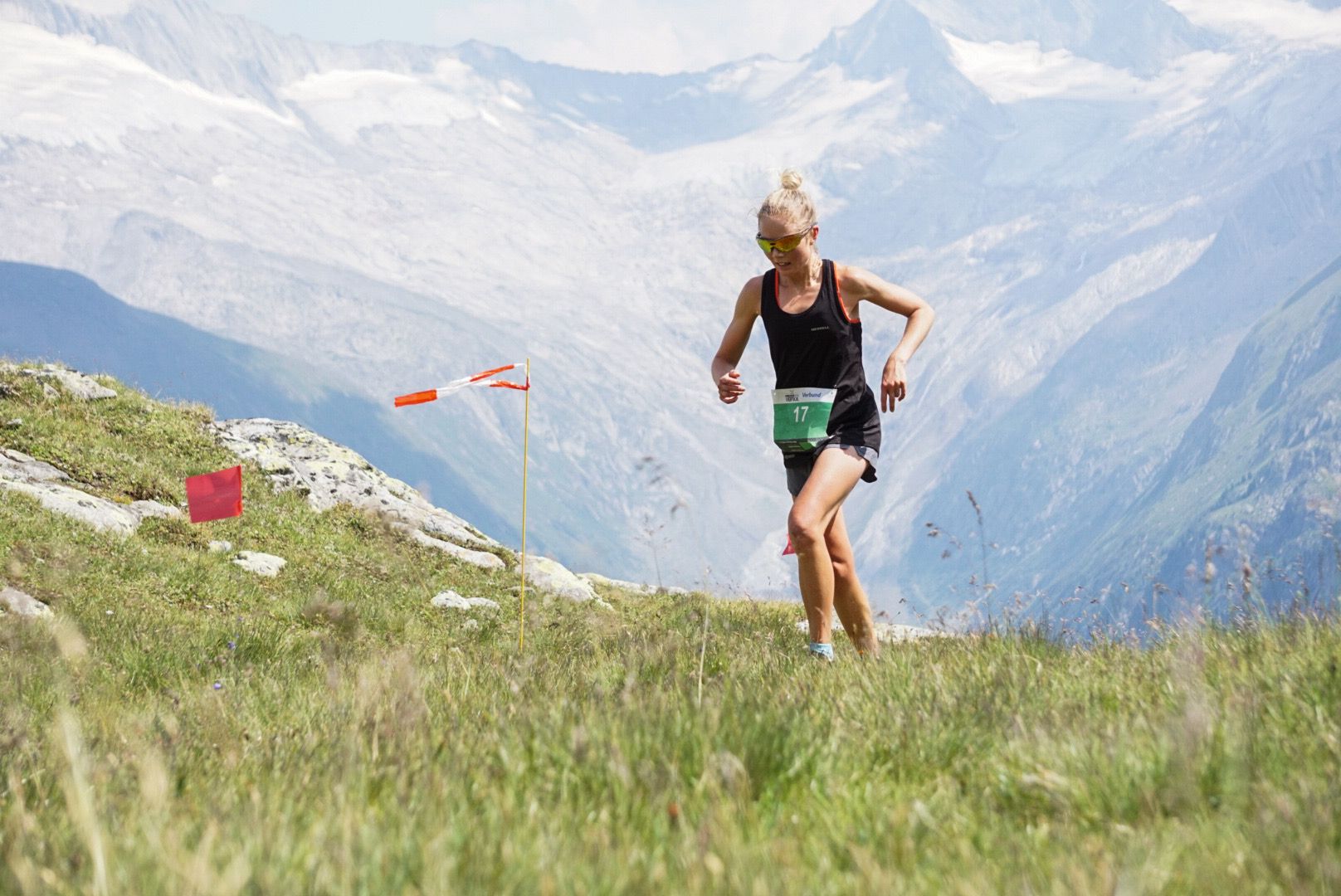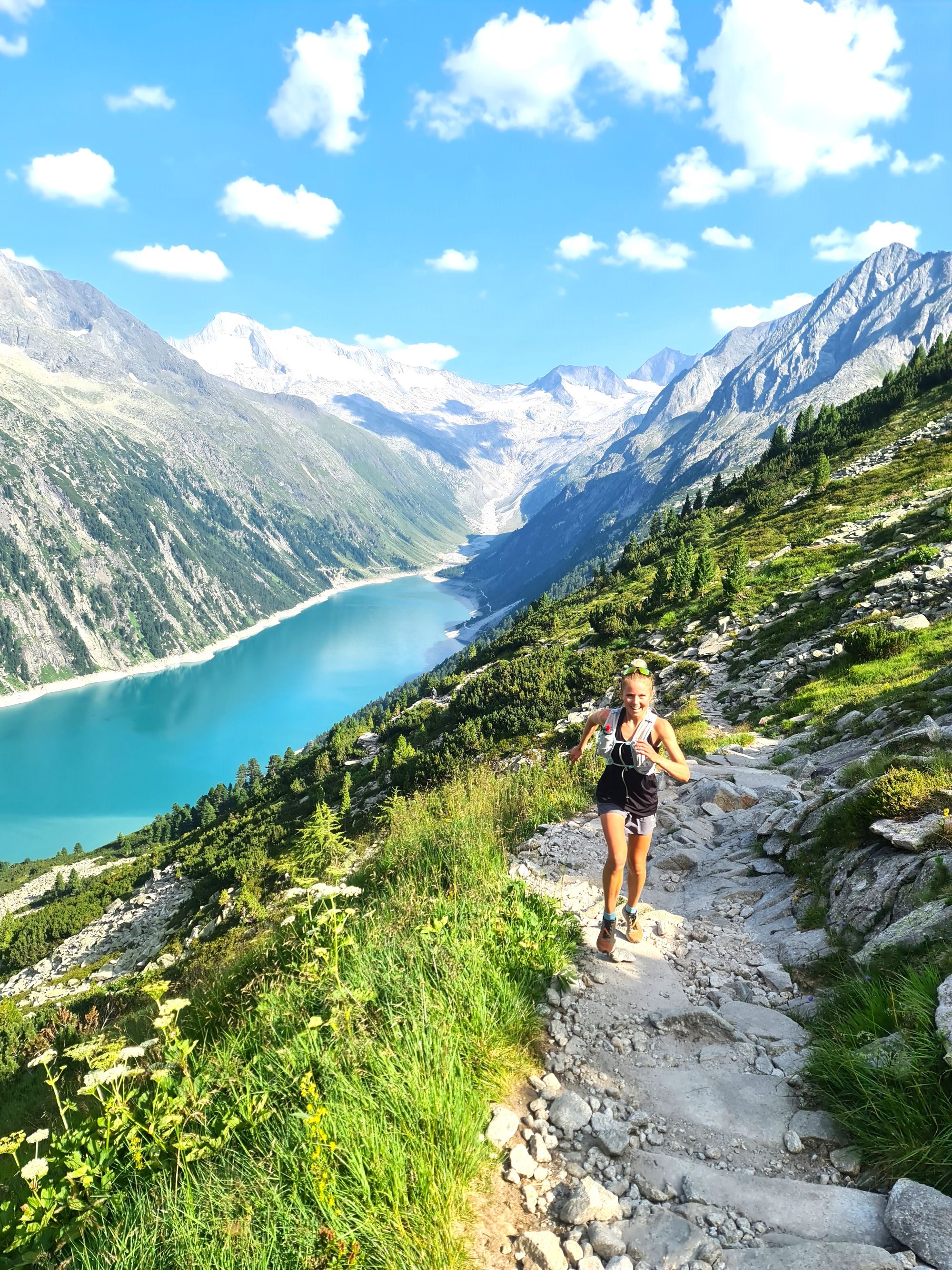 Schlegeis3000run SKYRACE Race Report
This race was one of the races I had looked most forward to this season. First of all, I like Austria very much and the mountains there. But also, because the course looked like it would suit me pretty well. I liked that it started very high, up on Schlegeis reservoir so that we didn't have to climb for a long time in the forest to reach the open mountain area.
The dates for the race were also very well for us, since we had been on training camp in Pitztal for 10 days, and after that a week with a van, mostly up high too. So, we felt strong and prepared.
The night to the race it was thunderstorm, lightning and it was hard to get to sleep. Too much adrenaline, feelings and caffeine still in our bodies from the VK in combination with this sound.
The start was set 06:30 am. Sooo early! But when we were about to drive up to the dam (approx. 35mins drive from Mayrhofen) I saw the update on Instagram from the race account that it was postponed an hour due to a thunder storm. As we thought. So, we got some more sleep. And then tried again. It was still raining, lightning and thunder on our way up. And once there everyone was sitting in their cars, kind of waiting for the cancellation call. But it never happened. Instead as the rain continued and it looked scary up on the mountains. The organizers were calm and said in half an hour this would be gone.
Actually I believed them since thunder storms tend to come in a rush and leave in the same speed. I know another runner though, who didn't want his ass fried by lightning, who left. He regret it pretty much afterwards…
We had our jackets on during the warmup and decided to keep them in the start. The first 6k were om asphalt and gravel. Actually, I liked that, so the field spread out. I planned to run fast here to be in the front from the beginning. Because I wanted to push today, and once you are in the leading pack, it is easier for the motivation to keep on going.
The first kilometers felt okay and my legs were responding. Soon the Swiss girl Amelie came by my side, and I let her have about 15 meters as well. I had my own controlled pace. Lindsay Webster also came along and the 3 of us ran close, and Lina as well.
Now the sun shined through the clouds and it was way too warm to wear a rain jacket. Off it went. So nice with tank top. Felt more free and much lighter!
When the trail finally started in a little downhill I took my chance to take the lead again. But as a balcony kind of trail continued, Lindsay passed pretty fast and I couldn't hold on.
The weather just got better and better, but not too hot. It was perfect running weather. It must have been hail up here because there were snow traces here and there.
The trail went smoothly along the mountain and I just tried to keep a steady pace. I enjoyed it.
As a climb started and I didn't see anyone in front it was hard to push. I knew both Lina, Martina Cumerlato and Amelie would be somewhere probably close behind me.
I saw the cross of the VK finish and understood we were about to come up on it and down the trail we ran yesterday.
It was a little technical section up there. And it was nice to use the arms a bit as well. Lina was breathing in my back and we ran together up to the top.
On the descent it felt good to have run it. So, I knew what was coming. One of the organizers ran just in front of me with a Gopro too and that made it even more fun. You always run better when someone is filming you.
😂
It was a great play down to the hut before another balcony trail continued. Now we went straight into the trail course as well and passed many of those runners. But everyone was kind to move to let pass and cheered on us.
I was out of my 3 gels that I brought. And started snacking on a Torq fitness bar and drank now and then. A great strategy to keep the speed up all the time. So that the body feels "safe" with energy.
Though, as I face the off trail section with the huge rock field going straight up, my legs were not moving forward so fast. But I could -tell, no one was moving fast here. So, it was just to get it done and not lose the sight if Lina's back some meters above me.
The course was a little similar to Matterhorn Extreme. Very technical at some parts and big blocks. I loved it! They had put up ropes the last part towards the ridge and once again I were happy to drag myself up with my arms. On the ridge there were also ropes, which felt save and fun. A little like Pierra Menta, but without the Via Ferrata rope. On the decent it took some time before I could catch up with Lina again, and when I did, a little uphill appeared again, and then she went off again. But after that section I knew it was only downhill left. Unfortunatley Lina fell just when I was at her side. And she couldn't run so fast downhill more. So there wasn't a battle between us to the finish, what could have been more exciting. She got help with cleaning the wound and also got some stiches..
I was happy to finish 2nd but also dissapointed because I wanted to win hahah, maybe another race. Lindsay was worth the victory this time.
The rest of the day was very nice with good food, great company and a ending biking through the valley with the hotel bikes.