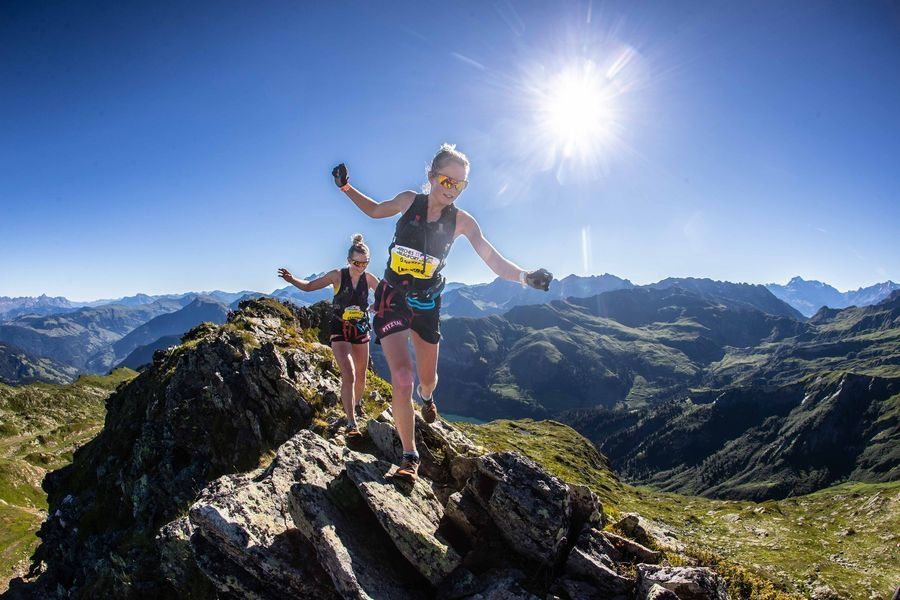 PIERRA MENTA ÉTÉ STAGE 2 AND 3
Pierra Menta stage 2
Our legs felt smashed and an early start at 06:30 was not what we looked forward to. That meant not much sleep, I we need sleep to recover. Well, everyone needs I guess.
At dinner we get a kind of 3 meal course. A big salad to start with, then for non- meat eaters there were potatoes totally covered in cheese. As we mostly eat plant based this wasn't very appealing, but we don't have any "rules" in what we eat. If we want to try some cheese, we do. If a dessert is served with dairy and we feel like eating it, we do. If there is pasta with eggs in it, we can eat it. Because the WHY we eat plant based is not about that. We don't want to support the animal industry that is going on, but me eating an egg or butter once in a while will not change anything. It will only affect me.
And so it did. Was it Karma? Haha, no as I said I don't want to "feel bad" mentally for eating something I usually don't. But I felt really bad in my stomach the whole night and the day after. This was not something my body liked. And that thing I mentioned in the other race report at breakfast, eating only bread, did not work the next morning. I was totally bloated and full to the start. (Next morning I'll do good old chiapudding, fruit, nuts and coffee instead!) We really believe in Eat Green Run Mean. So that will continue to be our motto and strategy.
Yeah this was supposed to be a race report, not a diet text ;P
Sanna is now writing:
The start went off and everyone went super fast. We both felt tired and wambly, we had no go. Really no GO at all to hang on to Hillary and Fiona who had decided to rush. We felt cooked.
We also realized that it was an advantage to use poles on this stage. People passed us as we struggled with our hands on our thighs. But as we came over the tree line it got better. And running on singles tracks between flower fields and grass meadows with Mont Blanc and other stunning mountains around was absolutely amazing.
The first Via ferrata part was pretty simple, and I actually didn't get why we used them, because it wasn't so exposed here. But it was fun anyway to click in and out on the ropes and making our way forward.
Both of us were tired pretty much the whole race and switched positions with each other so that the one in front could help to speed up a little. The second Via ferrata came after a long steep rocky climb, and here the views were so beautiful again. You have to experience it yourself to get it.
Now a long downhill waited, more than 10k. We didn't find the same flow as the previous day, where we really played down the trails. But down we came, and happy to have finished the most stunning of the 3 courses with blue skies and sun.
The rest of the day was all about resting.
Pierra Menta stage 3
Sanna is writing.
Last day!
We had slept well yesterday afternoon and also during the night.
We had had our legs and feet up towards the ceiling and felt okay, despite our heals. They were destroyed after some sharp rocks. Yesterdays' breakfast was not to eat one more time. So, we had prepared what we usually eat instead. It was way tastier. Maca- Chia pudding with banana and a coffee. I don't want to see baguettes for a long time now.
Since we were a bit disappointed how our bodies felt on stage 2. We decided beforehand to go out hard and hope we could hold on the whole stage. It was a shorter one, only 19k. But skip the only. Because it turned out to be very steep and very hard, at least for me. Lina was on a stroll in the park…
The start time was at 7. And as we took off. Everyone seemed to have decided to go out faster than usual, especially the mixed teams. We were fighting for a good place when the single tracks would start. I had my breath up in the sky already. I was telling myself that the pace would slow down a bit after a while, right? Everyone is just finding their spot. But what I pretty fast realized was that even though I went out and ran the fastest as I could for the day, the others (that we usually had had the same pace as previous days) were disappearing in front. Lina seemed to be frustrated, but I really did run and struggled the best I could. The first 600m+ we were still in the lead. But half way up the second climb of also about 600m+ I heard some familiar voices behind me. Chatting with each other. Chatting!! I was almost about to die here, trying to catch up with Lina every single meter, and they were chatting in French. Probably about how they saw I was struggling and Lina not…
We did a real mistake here, not having thought about a rope between us, so Lina could help to pull me. All mixed teams had this, and for sure it helps a lot. And Fiona was stronger than Hillary, so they had a rope as well and she told me afterwards that had really made them stronger together. They hadn't used one the first stage, but on the second and today, the third. So I can't resist imagine how it would turned out if we had used a rope too…
I don't know how to describe my breathing. But it was so intense that I noticed runners around were looking at me checking I was alright. Probably thinking "poor girl, not her day today".
At one point Lina ask if I wanted a gel. I felt embarrassed since it felt like the race hadn't even started. But then again. I'm not bringing gels to still have them unopened in the finish thinking why the hell didn't I use the energy I brought. So I said yes (I carried my own, but it was easier I kept on going and Lina could "fish up" a gel to me). She opened it and by mistake squeezed it when handing it over, so I saw half of my intended rescue spat down in the mud. I got very sticky fingers, but luckily there were also some left to put in my mouth.
In Linas opinion it seemed the gel didn't work at all. But for me I pretended anyhow I felt a little kick. Fool yourself that you are filled with so much adrenaline and endorphins that you run faster than everyone else. The problem I faced though, was that the trails just got steeper, and walking (climbing) with poles isn't my strongest side. Very glad for the poles though. They saved me. Otherwise, we would have been even slower I think.
I am very disappointed over how I didn't come forward. I apologized this to Lina and said I didn't understand why I wasn't moving forward in the same pace as her and the others since I really fought for it so much. But maybe that was the thing. That I tried so hard that that took all energy. I was stressed and couldn't calm down. And while performing you are basically searching for the inner calmness to be able to push hard. I couldn't find mine and are very disappointed because of that. But still I am proud over my performance since I couldn't push myself more than I did.
The race was amazing due to the good weather and all the people cheering along the way. I don't think we ran even 1k without people cheering somewhere, people in all ages. And on the grassy ridge where it God thank you was flat and runnable there were people cheering in a big line. Zegama feeling, just a bit shorter, but they had color bombs, music, whistles, trumpets and even an electric saw that made me gain some more motivation. That part was the best.
In the last uphill I was in front. I felt I did better that way today, and could finally trip in a controlled way with the poles. I tried to focused and not be overstressed as the first two climbs. Could we still beat them? I wanted to believe it, still, with such short left, it looked impossible.
We got time indications that we were getting closer and closer. 2 minutes ahead (!) What! Could that be true? It sounded so little, but still so far. I wanted to catch them, for Lina, because she was so strong today, and I felt bad destroying for her. Though I knew she wouldn't have change me as team mate to anyone else in the world.
If you haven't done a team race or similar with someone you may not understand. When you run a race alone, you care about yourself and your performance. It is only about you. But in a team you get through together, and you are never faster than the slowest team member.
However. I maybe shouldn't be this bad to myself, my performance wasn't that bad, but the feeling of not coming anywhere when trying hard, is tough to handle.
Instead of being angry on myself I will try to remember that the last 7k we took in Hillary and Fiona minute by minute and saw them down in the open ski slope, and in the end only had 2 minutes to then in the finish. The last downhill it finally dropped and I felt like flying, it was fun and I was happy in the finish and Hillary and Fiona had been really strong. They had struggled to not let us any closer.
The mens podium stayed the same those 3 days. More interesting were the mixed teams. They also really fought for the podium, 5 times swap podium positions on every stage. And it differed only seconds I think on the last calculation for the overall win.
We are very content with the organization of Pierra Menta Été. Everything is professional and the event is great. With accommodation, food, information, videos, photos, music, live streaming etcetera, and the courses are amazing!
All people and runners during weekend were so kind, even though a handful spoke English other than French. We will for sure come back and recommend this event to others.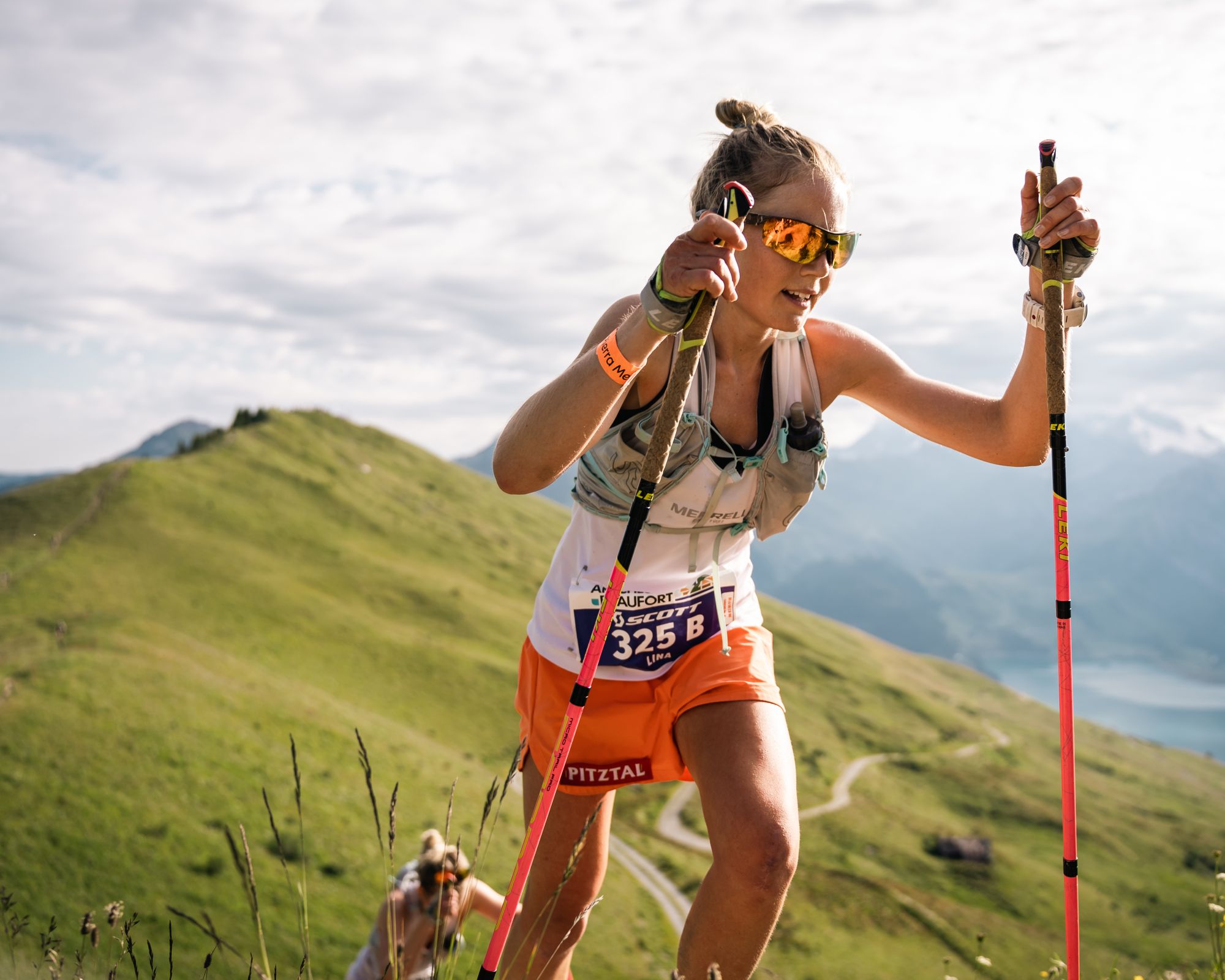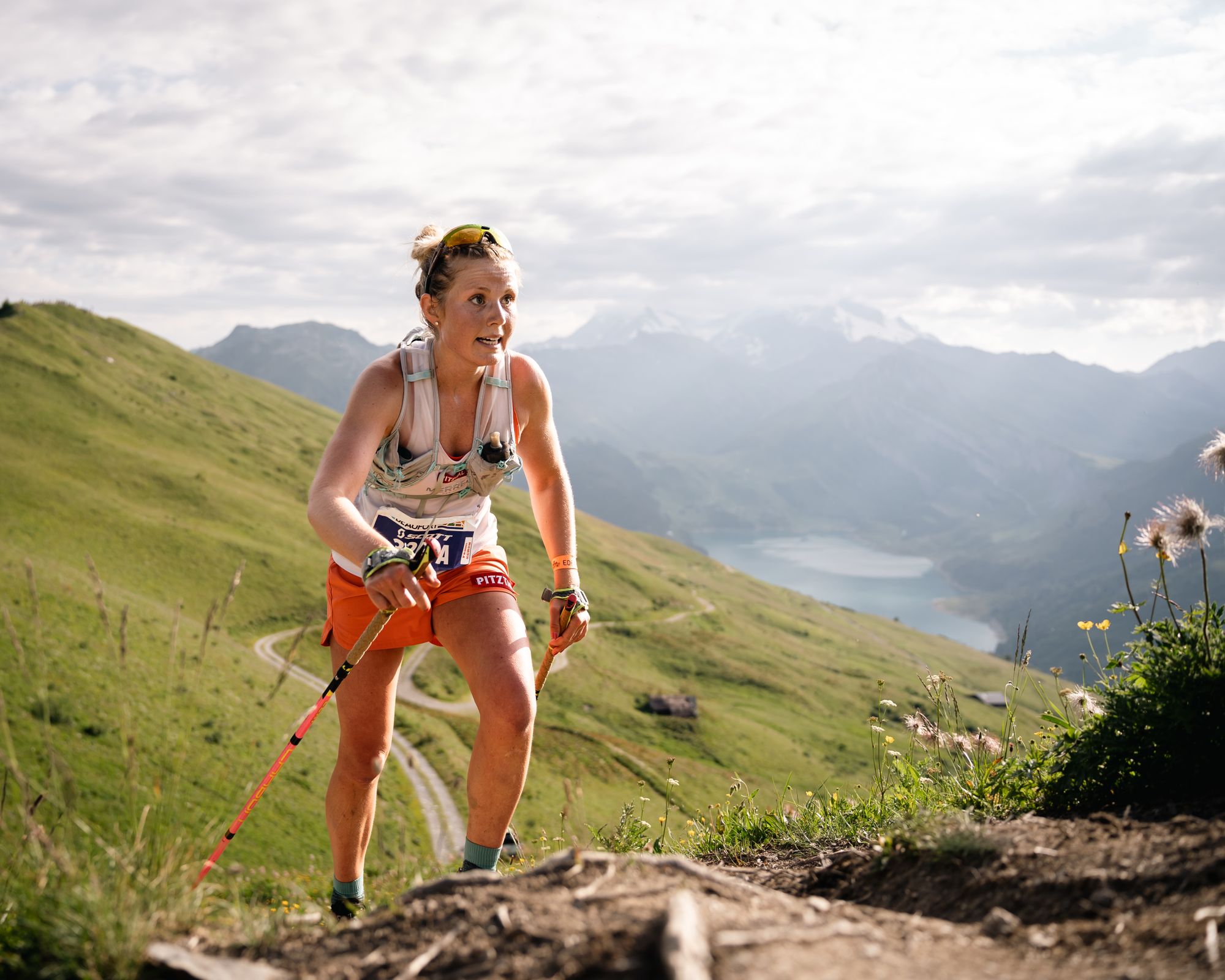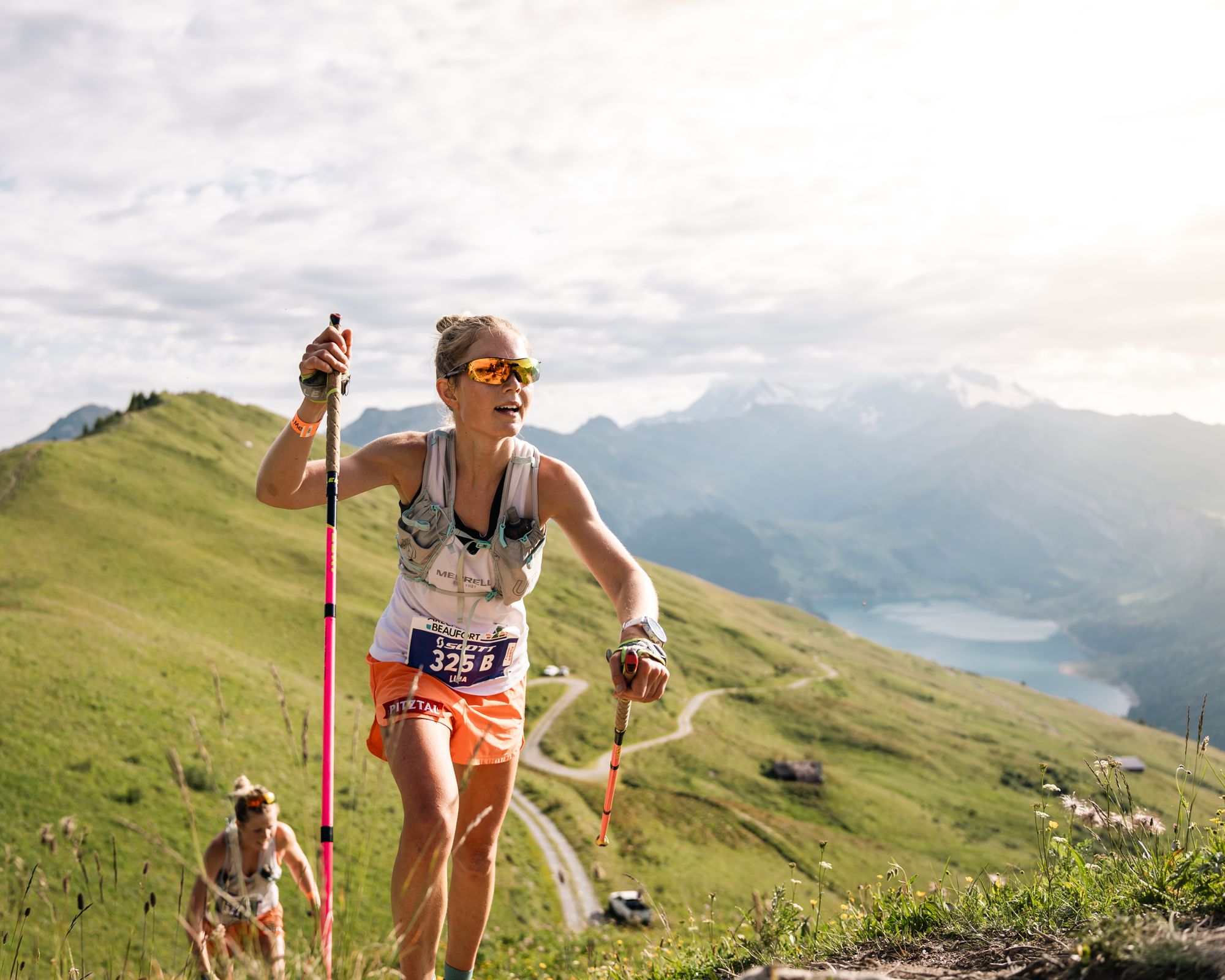 Pictures from Pierra Menta Étés facebook page by Franck Oddoux and also Alex Pichon.