Porridge is the Ultimate breakfast. Right? And it can be so variated! We always make different porridges, depending on what we have home and so on. Oats is of course a good base, but it's kind of boring with only oats. And the consistency is a bit slimy sometimes! So we like to add some crunch or chew in there, like sunflower seeds, shreddded coconut, chia seeds, almond flour, buckwheat, quinoa or similar.
AND it's great to shred either apple, pear,ginger or veggies like zucchini or beets!
Don't forget the spices. Always cinnamon and cardamom, salt. Often add turmeric, maca, black pepper or saffron.With the topping you can go wild. Just everything good. Berries, fruits, nuts, avocado, tahini etc..
Also, to make it creamier, cook it with plantbased milk instead of water. Coconut mik is a favourite! It's also nice with beet juice, not creamier though, but colourful, flavourful and super healthy!
Here we have a Blueberry Buckwheat oatmeal :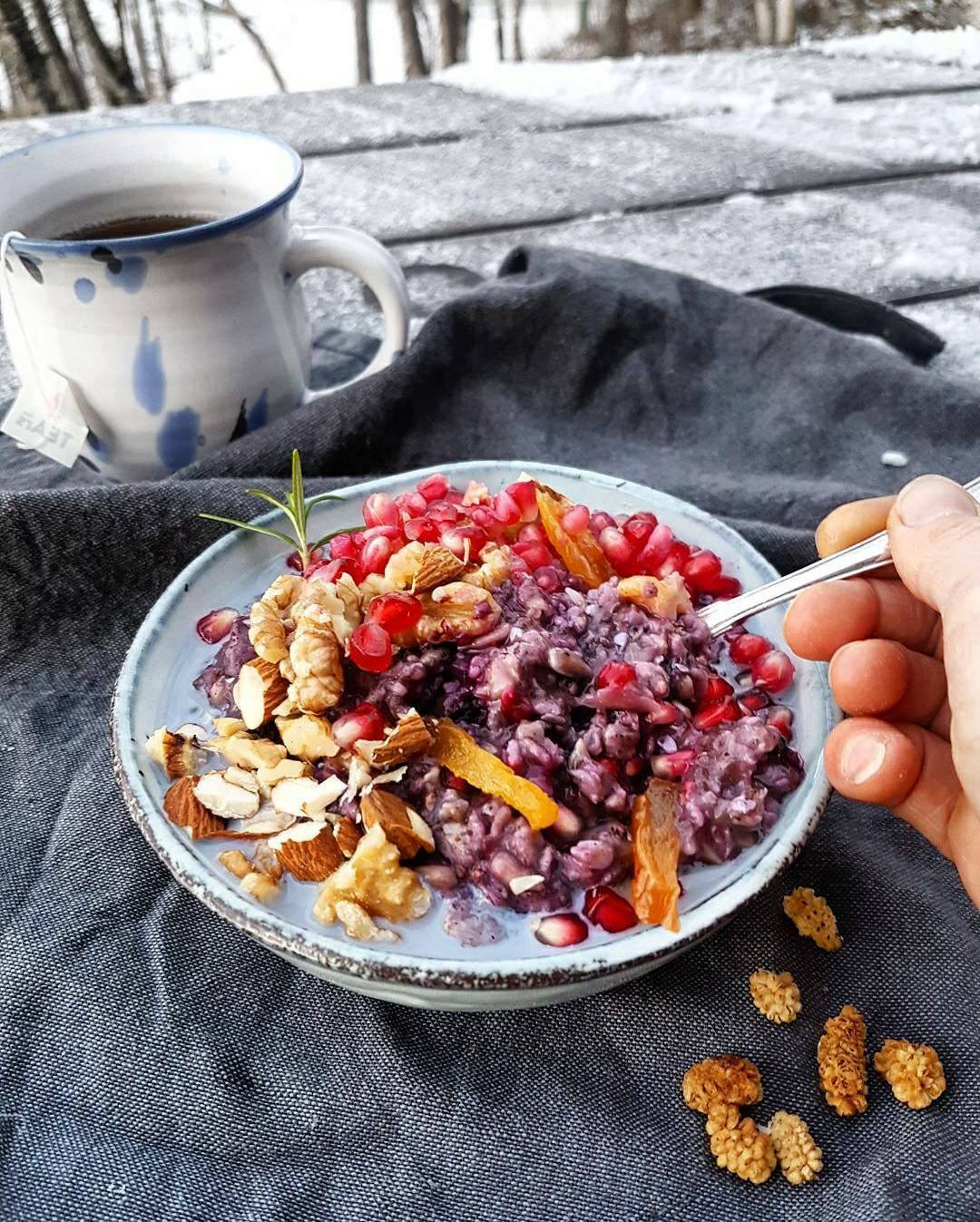 Blueberry Buckwheat Oatmeal
2 portions
1.5 dl soaked whole buckwheat overnight
1 dl oats
2 dl water
1 1/2 msk chiafrön
a pinch of sea salt
2 dl blueberries
1/2 dl nuts (youur favorite)
2 pinches of vanilla powder
Chop the nuts and blend alltogehter in a little pot. Cook about five minutes. Top with cardammom, zest from clementine, serve with clemenintes and soy- or oatmilk!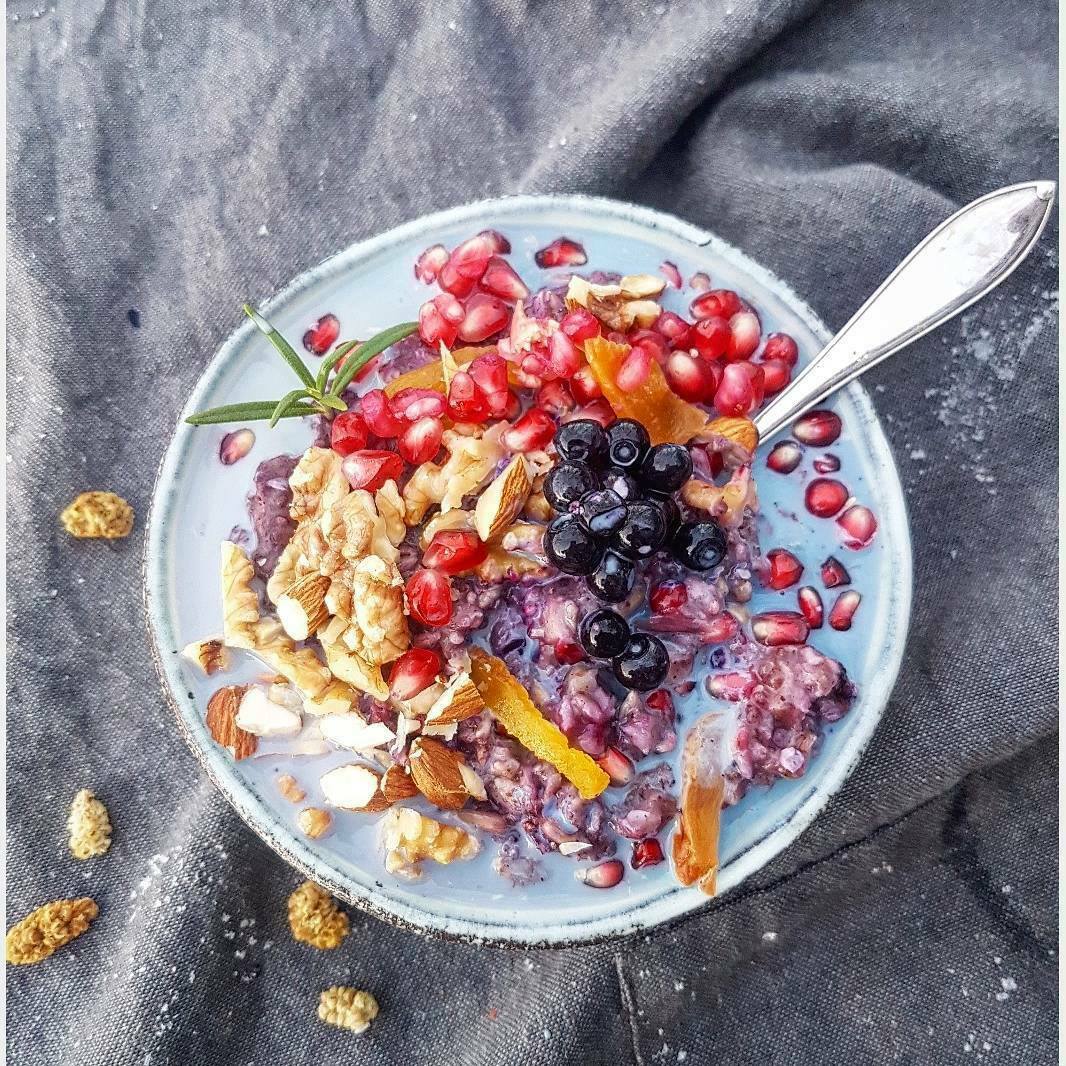 Gröt är ju den ultimata frukosten! Och det går ju att variera i oändlighet! Vi häller alltid i lite olika beroende p¨å vad som finns hemma och vad vi är sugna på. Havregryn är ju alltid en bra bas, men lte tråkigt med bara det. Vi vill ha lute mer att tugga i! Så har ofta i frön av olika slag, bovete, quinoa, kokosflingor, chiafrön till exempel. Det är även supergott att riva i äpple, päron, ingefära eller någon grönsak som zucchini eller rödbeta.
Och glöm inte kryddor! Alltid Kanel, kardemumma och salt. Har ofta i ingefära, gurkmeja, maca, svartpeppar eller saffran.
Med toppingen kan man ju go wild! Frön, nötter, bär, frukt, avocado, tahini...
Vill man ha det lite krämigare är det ju bra att koka den i någon växtbaserad mjölk istället för vatten. Kokosmjölk är en favorit hos oss.
Rödbetsjucie är också toppen, det smakar fantastiskt, vackert för ögon och kropp!
Här har vi recept på en Blåbärsgröt:
Blåbärsgröt med bovete
2 portioner
1,5 dl blötlagt helt bovete över natten
1 dl havregryn
2 dl vatten
1 1/2 msk chiafrön
en nypa havsalt
2 dl blåbär
1/2 dl nötter (din favorit)
2 krm vaniljpulver
Hacka nötterna och blanda sedan ihop allt i en kastrull. Koka upp gröten och rör om i ca 5 minuter. Toppa med stött karedmumma och clementinzest, servera med clementiner och soja- eller havremjölk!