Apelsinpasta
For English, scroll down
En god bolognese med smak av apelsin. Även annan citrus fungerar utmärkt istället för apelsin.
4 portioner
2 pkt fast tofu, (ca 600 g)

2 ½ msk japansk soja eller tamarisoja

olja att steka i

Ev. 1 dl finhackade valnötter eller solroskärnor
--

3 morötter

1 röd paprika

½ aubergine

3 selleristjälkar

2 msk tomatpuré

olja att steka i
--

1 pkt krossade tomater

2 dl vatten eller tomatjuice

½ tsk torkad timjan

2 ½ msk rödvinsvinäger

några drag med pepparkvarn

en nypa chilipulver

1 apelsin, juice och zest

salt efter behag

1 dl pastavatten

en stor näve färsk basilika
--

saltat vatten

500 g valfri pasta

3 msk olivolja
sallad, kalamataoliver och basilika till servering
Smula tofun med händerna och stek i olja några minuter, tillsätt sojan, och eventuellt finhackade nötter och stek tills de är knaprigt. Rör om då och då. Ställ åt sidan.
Riv morötterna och hacka grönsakerna fint. Hetta upp olja i en stor stekpanna och stek grönsakerna några minuter. Tillsätt tomatpuré och stek i några minuter till under omrörning. Rör ner resterande ingredienser utom basilikan. Låt småputtra i ca 15-20 minuter. Koka under tiden valfri pasta i saltat vatten. Blanda om olivolja i pastan när den är färdig. Klipp i basilika i färsen och blanda ner den stekta tofun.
Servera till en fräsch sallad (sallarossa är supergott!) och kalamataoliver.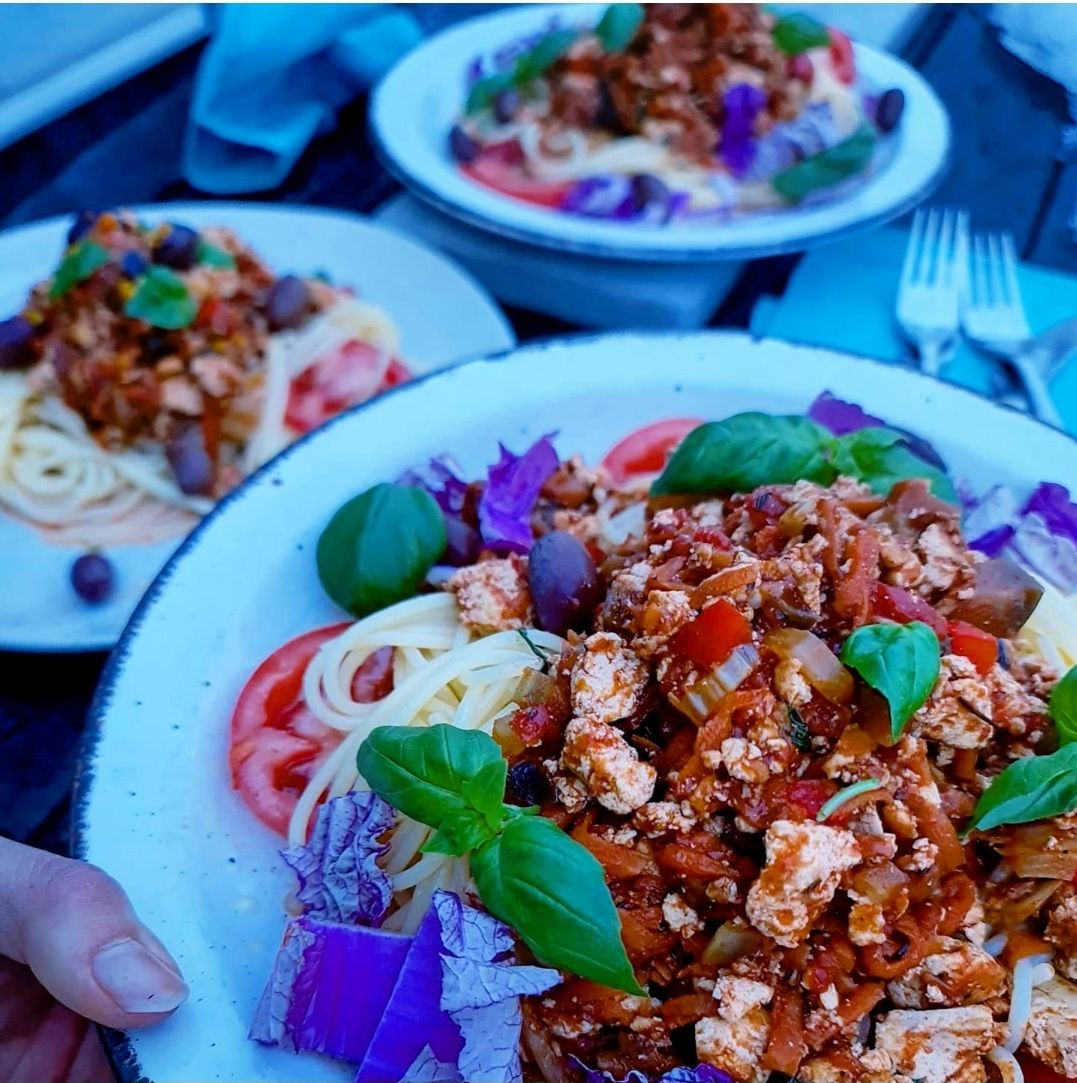 Orange Spaghetti
A veggie Bolognese with orange flavor. Other citrus fruit work very well instead of orange.
4 port
2 pkt firm tofu, (about 600 g)

2 1/2 tbsp Japanese soy or tamari soy

oil, for frying

1 dl finely chopped walnuts or sunflower seeds
--

3 carrots

1 red bell pepper

1/2 eggplant

3 celery stalks

2 tbsp tomato puree

oil, for frying
--

1 pkt crushed tomatoes

2 dl water or tomato juice

1/2 tsp dried thyme

2 1/2 tbsp red wine vinegar

pepper

a pinch of chili powder

1 orange, juice and zest

a pinch of salt

1 dl pasta water

a large handful of fresh basil
--

salted water

500g pasta of choice

3 tbsp olive oil
salad, kalamata olives and basil for serving
Crumble the tofu with your hands in a frying pan and fry in oil for a few minutes, add the soy, and possibly finely chopped nuts and fry until crispy. Stir from time to time. Set aside.
Grate the carrots and chop the vegetables finely. Heat the oil in a large frying pan and fry the vegetables for a few minutes. Add the tomato puree and fry for a few more minutes, stirring. Add the remaining ingredients except the basil. Simmer for about 15-20 minutes. Meanwhile, cook pasta in salted water (time according to the package). Put some olive oil in the pasta when it is ready. Cut the basil on the mince and add the fried tofu. Stir.
Serve with a fresh salad and kalamata olives.