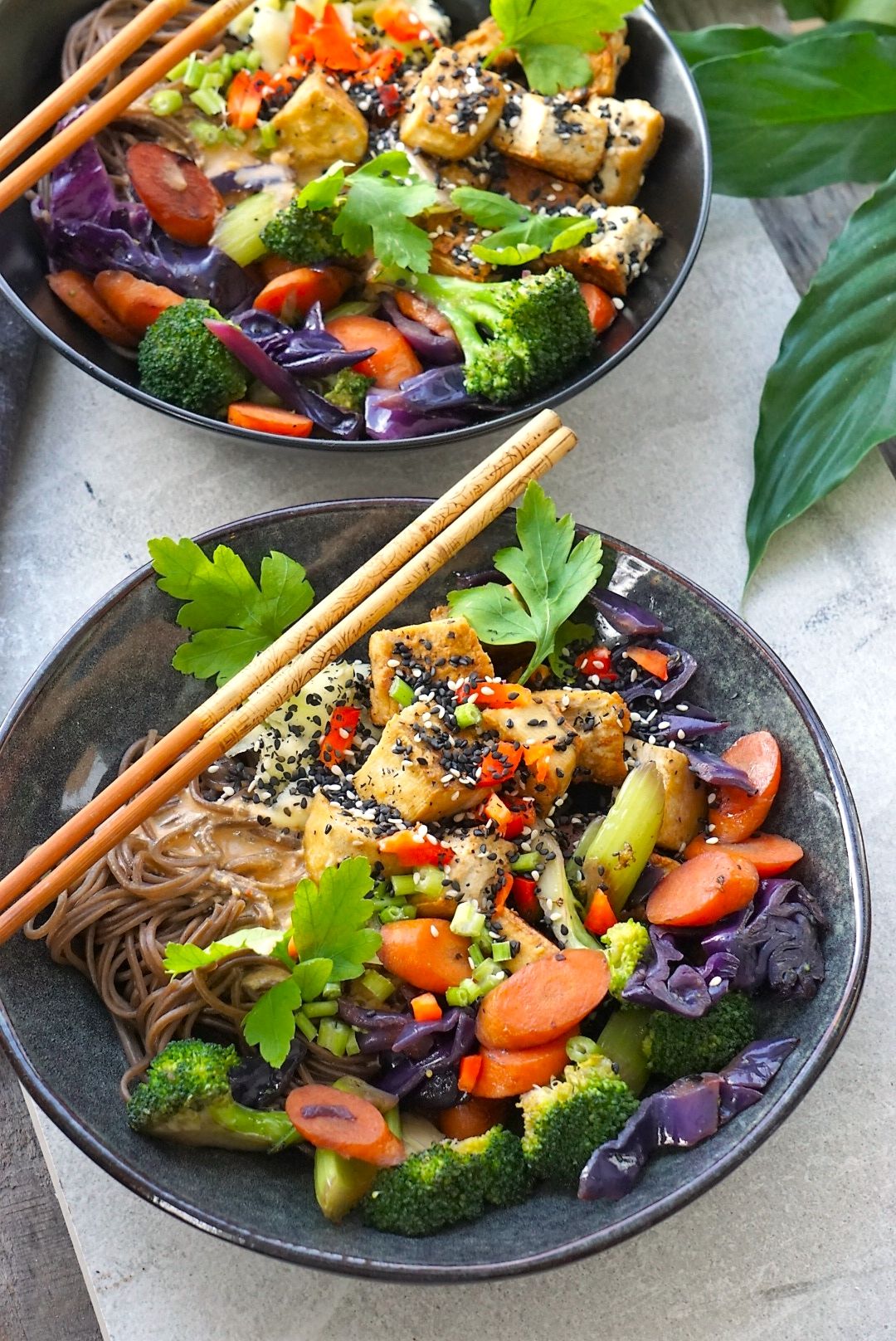 For english, scroll down.
Riktiga håll käften bowls! Starkt smak av sesam som möter jordnöt tillsammans med goda grönsaker. Allt i en härlig skål. Snabbt, enkelt och väldigt, väldigt gott.
Jordnötsnudlar med grönsakswok och sesamtofu
4 portioner
Sesamtofu
600 g fast naturell tofu
2 msk kokosolja
3 msk tamarisoja
2 msk sesamolja
3 msk sesamfrön, svarta och vita
Bryt tofun i bitar. Hetta upp kokosolja i en stekpanna och stek tofun så den får färg på alla sidor. Tillsätt tamarisoja och sesamolja och stek tills knaprigt, tillsätt sist sesamfrön och värm på någon minut till.
Grönsakswok
1 broccolihuvud
3 morötter
¼ rödkål
4 selleristjälkar
1 paprika
2 vitlöksklyftor
ev. en bit färsk ingefära
2 msk kokosolja
1 dl vatten
salt och peppar
Hacka allt och häll i en stor wokpanna. Hetta upp med kokosolja och stek på hög värme under omrörning i några minuter. Häll på vatten och låt det ånga bort. Salta och peppra.
Nudlar
sobanudlar (eller andra nudlar) för 4 portioner
lättsaltat vatten
Koka nudlarna enligt anvisning på förpackningen. Blanda sedan med jordnötssås och servera till grönsaker och sesamtofu.
Jordnötssås
200 ml kokosmjölk
1 msk röd currypasta (kolla så att den inte innehåller fisk eller skaldjur)
1 msk jordnötssmör
Häll allt i en kastrull och koka upp under omrörning. Låt småputtra några minuter.
Tillbehör och topping
½ zucchini
några droppar olivolja
½ lime, zest och juice
salt och peppar
salladslök
½ röd chili
färsk koriander
Strimla zucchinin till tagliatelle med en potatisskalare. Blanda i en skål med olivolja, limezest och jucie, salt och peppar. Hacka salladslök, chili och koriander att toppa med.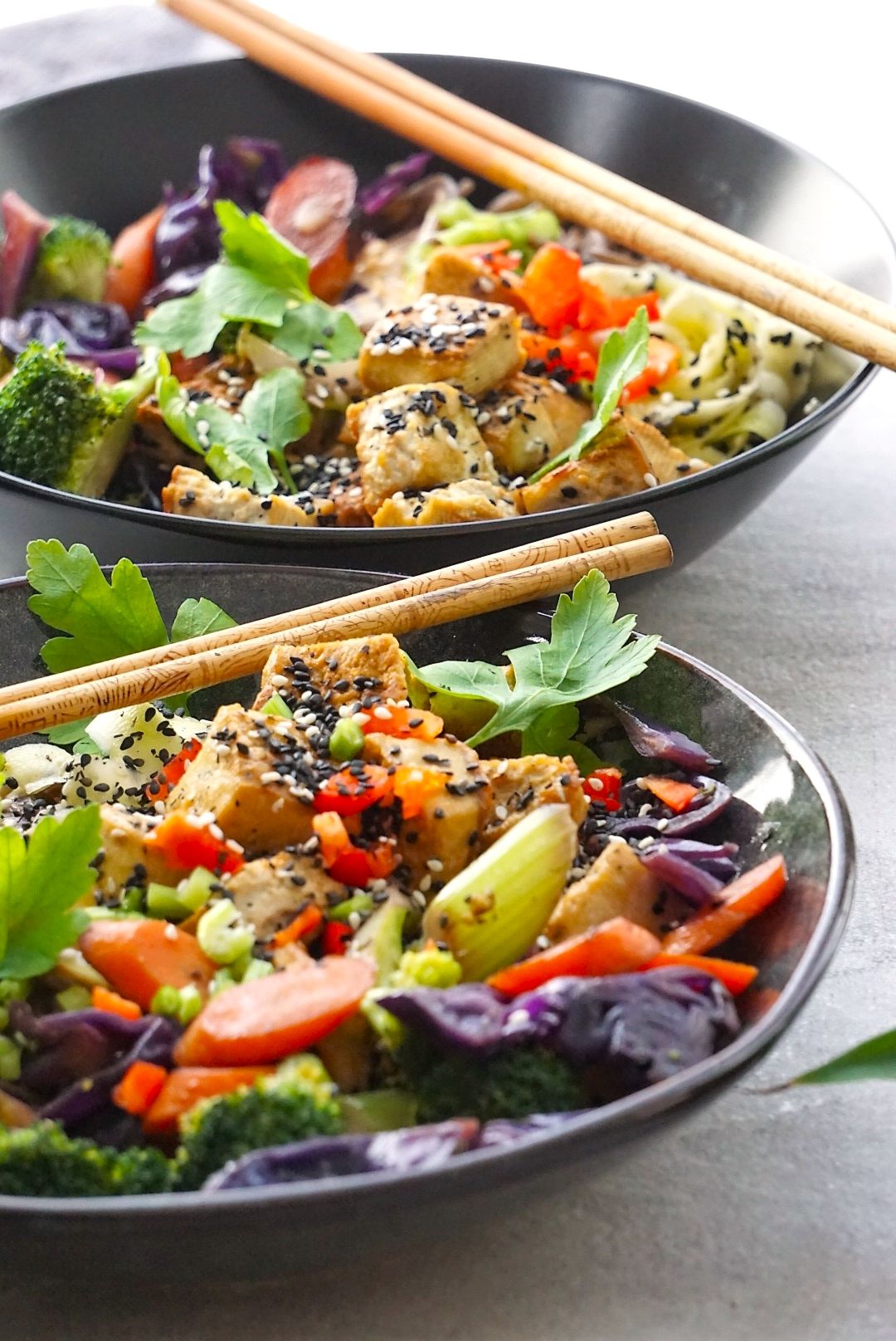 This is a real shut me up bowl! Something to impress your guests with. Fastfood but healthy and way yummier! A strong taste of sesame togehter with creamy peanut noodles and colorful vegetables.
Peanut noodles with veggie wok and sesame tofu
4 servings
Sesame tofu
600 g firm natural tofu
2 tbsp coconut oil
3 tbsp tamarisoja
2 tbsp sesame oil
3 tbsp sesame seeds, black and white
Break the tofu into pieces. Heat coconut oil in a frying pan and fry the tofu until it gets color on all sides. Add tamari soy and sesame oil and fry until crispy, finally add sesame seeds and heat for a few more minutes.
Vegetable wok
1 broccoli
3 carrots
¼ purple cabbage
4 celery stalks
1 bell pepper
2 cloves garlic
optional a piece of fresh ginger
2 tbsp coconut oil
1 dl water
salt and pepper
Chop everything and put in a large wok pan. Heat with coconut oil and fry on high heat while stirring for a few minutes. Pour on water and let it evaporate. Salt and pepper.
Noodles
soba noodles (or other noodles) for 4 servings
lightly salted water
Boil the noodles according to the instructions on the package. Then mix with peanut sauce and serve with vegetables and sesame tofu.
Peanut sauce
200 ml coconut milk
1 tbsp red curry paste (check that it does not contain fish or seafood)
1 tbsp peanut butter
Pour everything into a saucepan and bring to the boil while stirring. Let simmer for a few minutes.
Topping
½ zucchini
a few drops of olive oil
1 lime, zest and juice
salt and pepper
2 spring onions
½ red chili
fresh coriander
Shred the zucchini into tagliatelle with a potato peeler. Mix in a bowl with olive oil, lime zest and juice, salt and pepper. Chop spring onions, chili and coriander to top with.