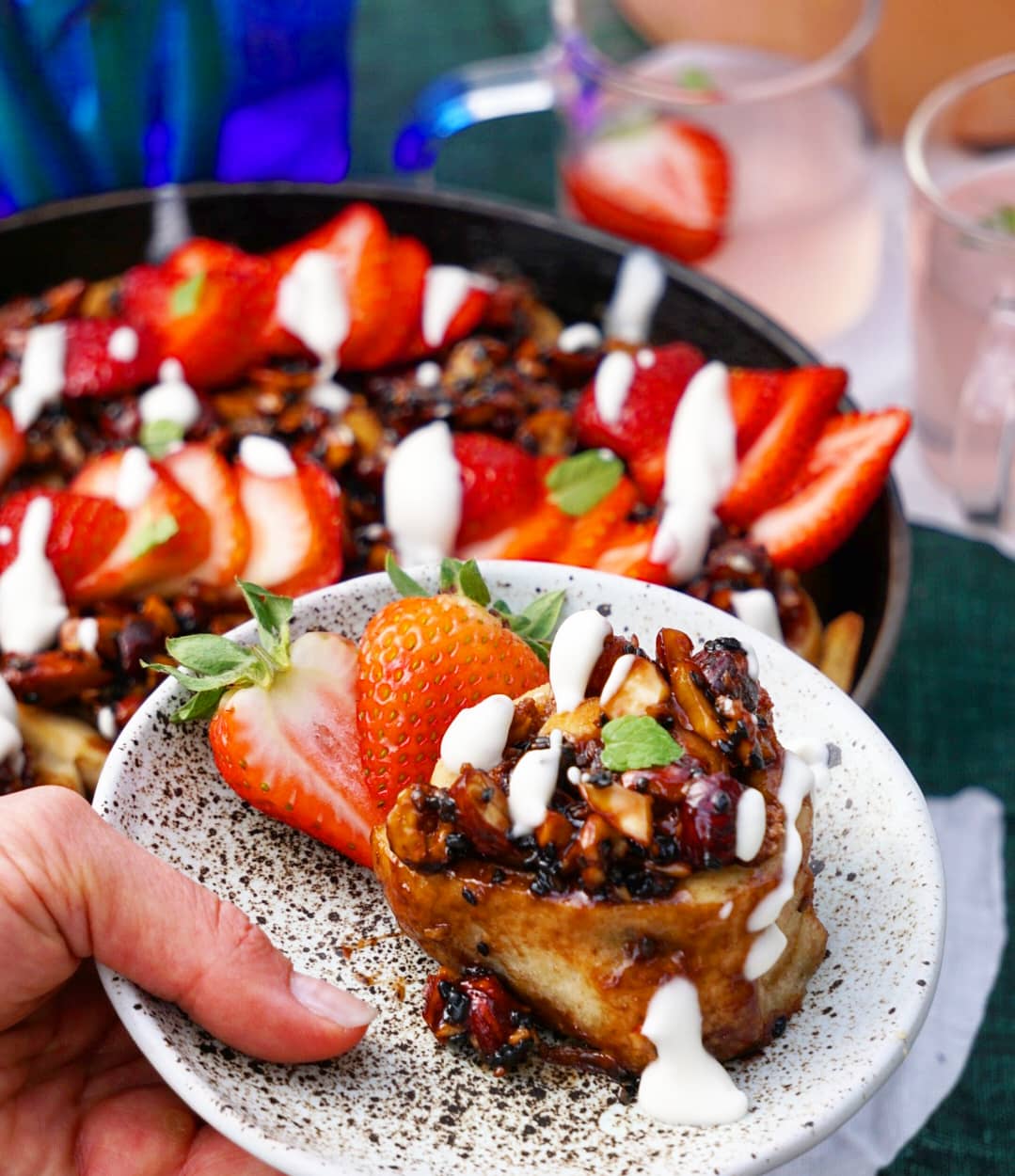 For english, scroll down
Gjutjärnsbullar
Sanna låg i sängen en kväll och kunde inte sova. Men tänka på bullar var enkelt. Då kom hon på det här receptet i huvudet. Lite som sticky buns, fast såklart ännu godare!
Bulldeg
15 g jäst

3 ½ dl växtbaserad mjölk

3 msk rapsolja

2 dl rismjöl

1 dl kikärtsmjöl

1 dl durramjöl

2 msk fiberhusk

½ tsk xantangummi

1 krm vaniljpulver

½ dl rårörsocker

en nypa salt

kokosolja till gjutjärnspannan

kokosgrädde, jordgubbar och mynta till topping
Lös jästen i vätskan. Blanda alla torra ingredienser för sig. Rör sedan ihop allt och knåda till en fin deg. Täck över med plastfolie. Låt jäsa 1 ½ timme. Kavla ut på mjölat bakbord till en rektangel. Fyll med vaniljkräm och mandelmassa. Skär i smala längder och rulla ihop varje längd till en snurran. Fördela ut snurrorna i en kokosoljad gjutjärnspanna och låt jäsa i 30 minuter. Grädda i ugnen på 225 grader i 8 minuter. Häll över tosca. Grädda på något lägre grad i 7 minuter till. Toppa med kokosgrädde, jordgubbar och mynta.
Vaniljkräm
4 msk vegetabiliskt smör
2 msk kokosolja
2 msk dadelsirap
3 msk kokossocker
1 tsk vaniljpulver
1 tsk kardemumma
Rör ihop till en kräm
Mandelmassa
1 ½ dl mandelmjöl
1 msk dadelsirap
1 krm vaniljpulver
Knåda ihop.
Tosca
1 dl hasselnötter och mandlar, hackade
1 msk sesamfrön
2 msk kokosmjölk
½ dl kokossocker
2 msk dadelsirap
2 msk citronjuice
en nypa flingsalt
Blanda ihop allt i en kastrull och koka upp. Låt koka under omrörning i några minuter.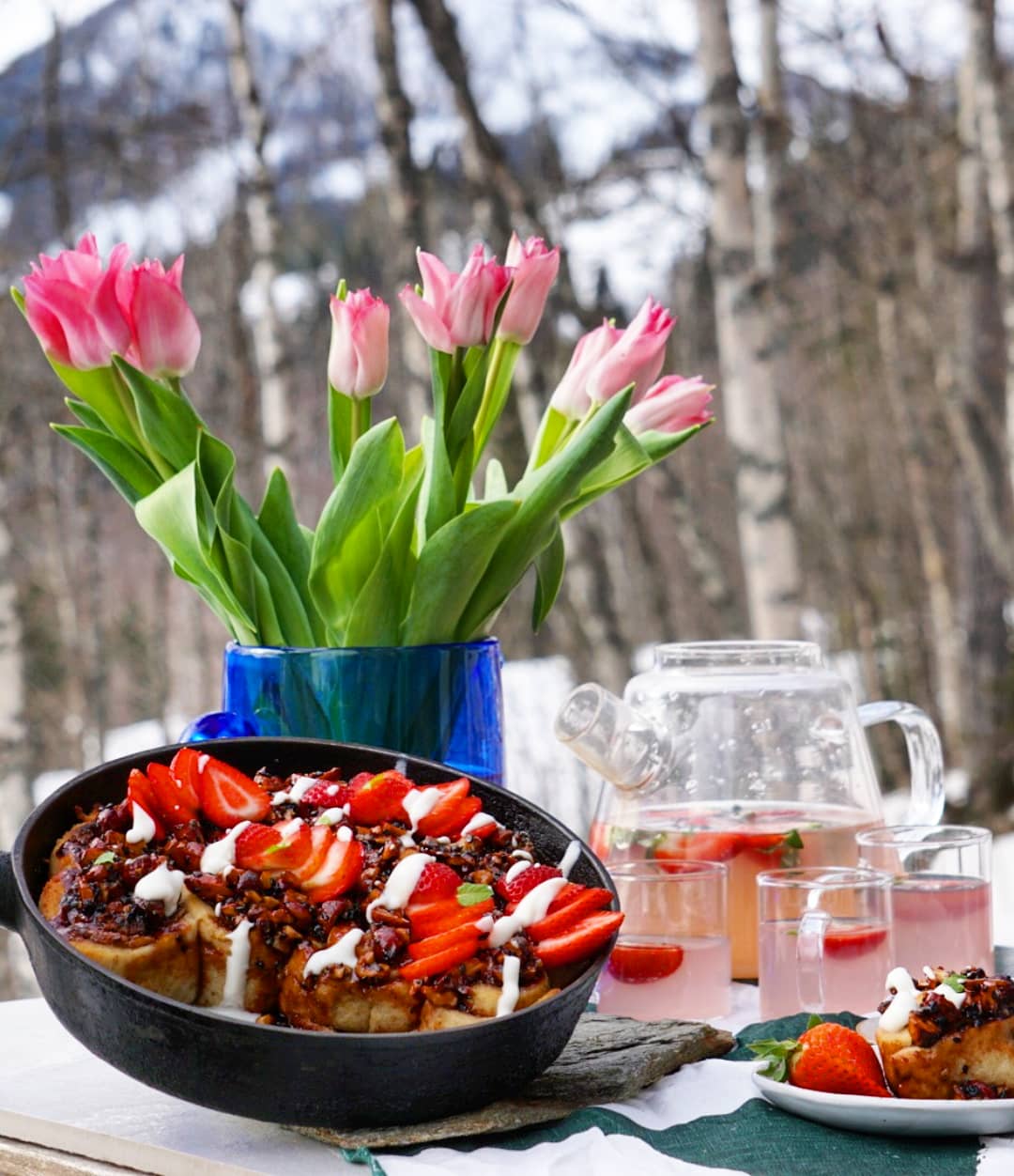 Cast iron buns
Sanna was in bed one night and couldn't sleep. But thinking about buns was easy. Then she came up with this recipe in her head. A bit like sticky buns, but of course even tastier!
Dough
15g yeast

1 ½ cup plant-based milk

3 tbsp rapeseed oil

0, 85 cup rice flour

0,4 cup chickpea flour

0,4 sorghum flour

2 tbsp psylliumhusk

½ tsp xantan gum

1 krm vanilla powder

0,3 cup raw cane sugar

a pinch of salt

coconut oil for the cast iron

coconut cream, strawberries and mint for topping
Dissolve the yeast in the liquids. Mix all the dry ingredients. Then stir everything together into a fine dough. Cover with clingfilm. Let rise for 1 1/2 hours. Tuck out the dough on a floured baking table into a rectangle. Fill with custard and almond paste. Cut into narrow lengths and roll each length to a bun. Put the buns in a coconut-oiled cast iron pan and leave to rise for 30 minutes. Bake in the oven at 225 degrees Celsius for 8 minutes. Pour over the tosca. Bake at a slightly lower degree for another 7 minutes. Top with coconut cream, strawberries and mint.
Custard
4 tbsp vegetable butter
2 tbsp coconut oil
2 tbsp date syrup
3 tbsp coconut sugar
1 tsp vanilla powder
1 tsp cardamom
Stir into a cream
Almond pulp
1 1/2 dl almond flour
1 tbsp date syrup
a pinch of vanilla powder
Mix together.
Tosca
0,4 cup hazelnuts and almonds, chopped
1 tbsp sesame seeds
2 tbsp coconut milk
0,3 cup coconut sugar
2 tbsp date syrup
2 tbsp lemon juice
a pinch of salt
Mix everything together in a saucepan and bring to the boil. Cook, stirring, for a few minutes.