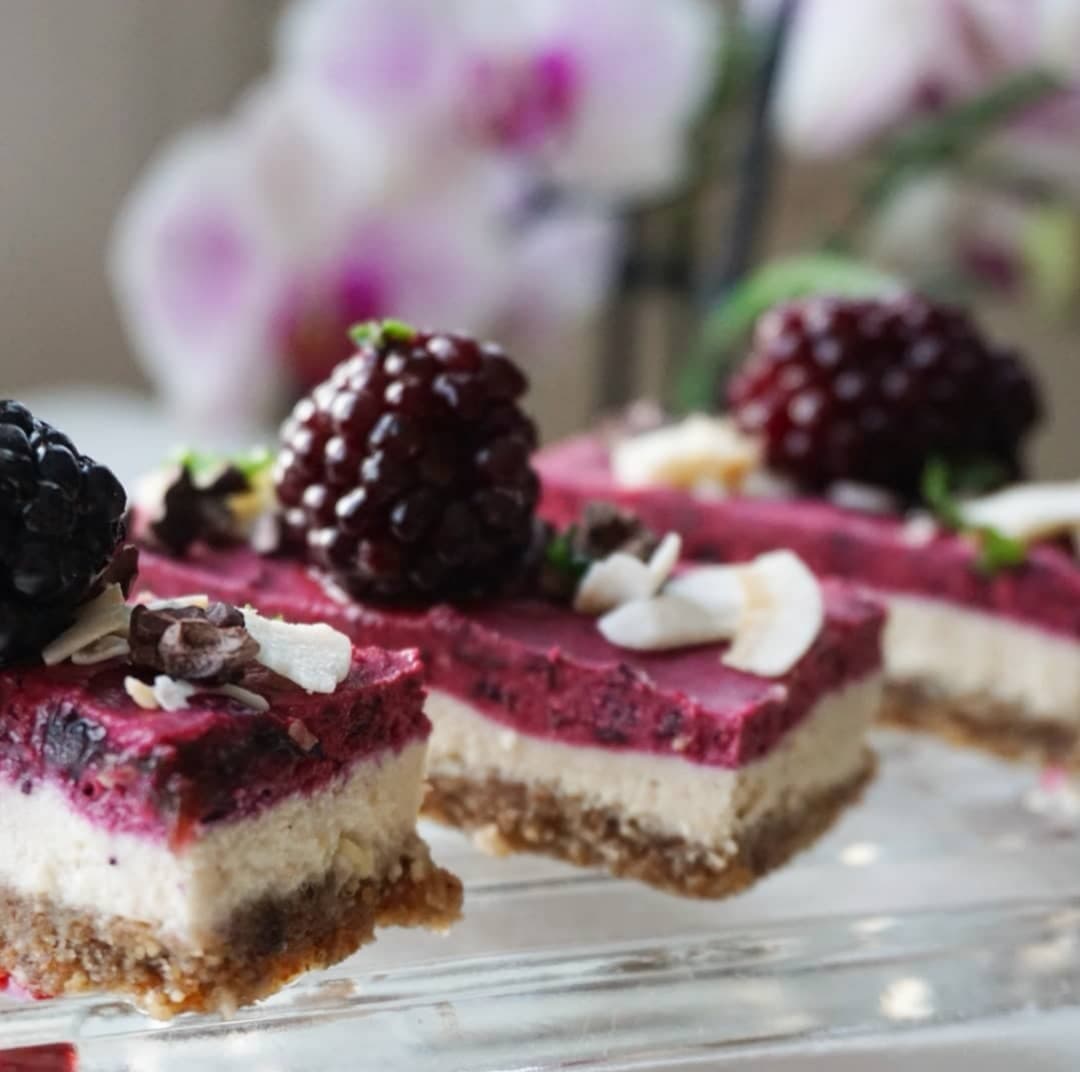 A frozen 3 layer cake that you want for yourself, but please, be kind to share it, no one want to miss it! ;)
For about 6-8 pieces.
Bottom crust:
½ dl pecans
¼ dl walnuts
¼ dl raisins
1 date
½ tbsp coconut oil
¼ dl sunflower seeds
Middle layer:
1 dl soaked cashews
½ dl silken tofu
1 tbsp soy milk (or other plantbased milk)
2 cm bite of cacao butter
1 tsp maca powder
1 tbsp agave syrup
1 date
Top layer:
1 dl frozen black currants
½ dl fat from coconut milk
1 tbsp soy milk
Start with the bottom crust. Mix everything in a food processor. Put a baking sheet in an oven form about 15x15 cm. Spread out the nut dough and put it in the freezer.
Meanwhile, start with the middle layer. Mix everything there aswell in the food processor. And then spread out on top of the frozen bottom crust. Freeze again.
Mix for last time in the food processor, also all ingredients for the top layer. When the middle layer is solid, spread it out on top. Freeze for an hour before serving. Cut in four corner pieces or round pieces. Top with black berries, grated cacao butter, pecans, cacao nibs and coconut flakes!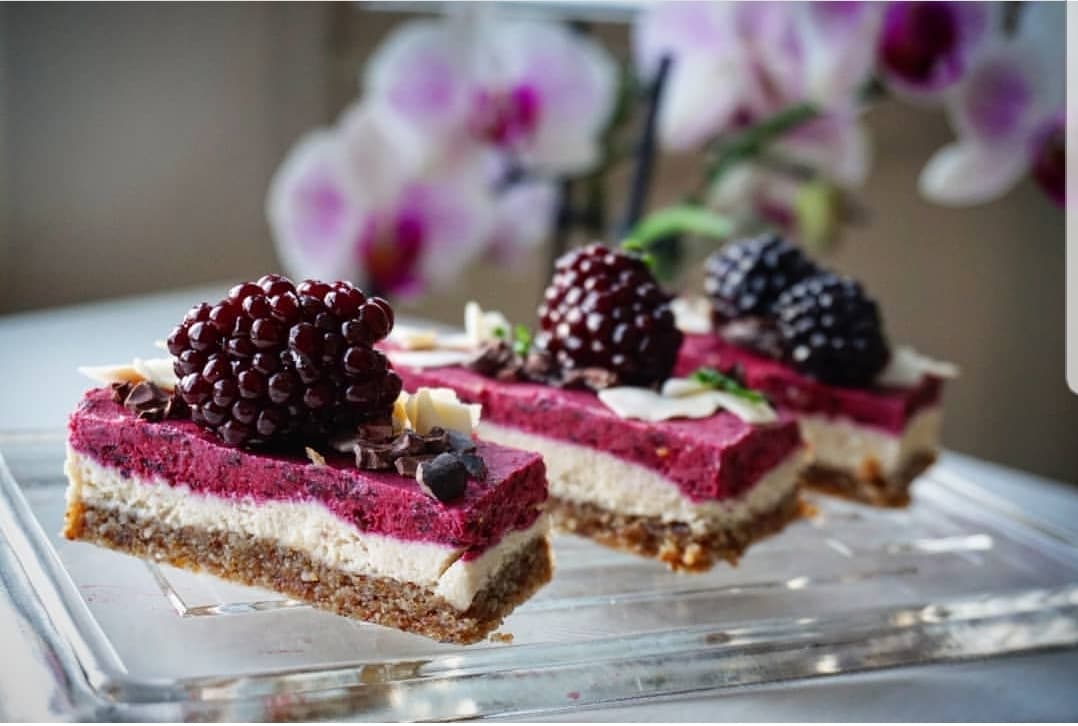 Svartvinbärslagerkaka
En 3 lagerskaka som du egentligen vill ha för dig själv. Men, snälla dela med dig, den här vill ingen missa!
För omkring 6-8 avlånga eller runda bitar.
Botten:
½ pekannötter
¼ dl valnötter
¼ dl russin
1 dadel
½ msk kokosolja
¼ dl solrosfrön
Mittenlager
1 dl blötlagda cashewnötter
½ dl silkestofu
1 msk sojammjölk
2 cm bit kakaosmör
1 tsk macapulver
1 msk agavesirap
1 dadel
Översta lagret:
1 dl frysta svarta vinbär
½ dl fett av kokosmjölk
1 msk sojamjölk
Börja med bottnen. Mixa allt i en matberedare. Bred ut ett bakplåtspapper i en form, ca 15x15 cm och tryck ut nötdegen. Ställ in frysen.
Börja under tiden med mellanlagret. Mixa även här alla ingredienser i matberedaren. Bred över på den frysta bottnen. Frys igen.
Använd för sista gången nu matberedaren och mixa allt i översta lagret också. Bred över när mellan lagret har stelnat. Frys in en timme innan servering. Skär ut i avlånga rutor eller runda formar. Toppa med björnbär, kokosflingor, pekannötter, riven kakaosmör och kakonibs!