For english, scroll down.
Bärbullar som går utmärkt att frysa in och ta med på utflykt. De har en krämig och syrlig fyllning av citron och vanilj som passar jättebra till bär! Vi har doppat dem i socker så de smakar som sockerkringlor.
Bärbullar med Citron-vaniljkräm
Bulldeg
25 g jäst
5 dl vatten
1 dl rapsolja
2 tsk mortlade kardemummakärnor
1 dl rårörsocker
2 dl durramjöl
2 ½ dl rismjöl
1 dl mandelmjöl
1 dl majsstärkelse
1 tsk bakpulver
½ dl psylliumhusk
1 tsk xantangummi (har du inte det kan du tillsätta 2 msk mer psylliumhusk)
Lös upp jästen i vattnet tillsammans med socker, olja och kardemumma i en stor bunke. Vispa sedan ihop med mjölerna. Tillsätt sist psylliumhusk och xantangummi. Använd en elvisp och vispa till en jämn och fin smet. Forma sedan en stor bulle med hjälp av en slickepott och täck bunken med plastfolie. Låt jäsa i 3 timmar. Gör under tiden citron/vaniljkrämen.
Pudra ett bakbord med rismjöl och dela degen i två delar. (Det är lättare att jobba med lite mindre satser, då kan du också fylla med två olika sorters bär).
Kala ut en rektangel åt gången och bred på vaniljkräm över halva. Strö över blåbär och vik över långsidan. Skär 1 ½ cm tjocka remsor och snurra ihop till knutar. Lägg på en plåt med bakplåtspapper. Täck med plastfolie och låt jäsa 1 timme till. Grädda i ugnen på 225 grader i 15-18 minuter. Pensla med smält, växtbaserat smör och doppa varje bulle i socker.
Vi tycker att de är godast att äta efter att ha varit frysta, och sedan äta lite småkalla eller uppvärmda i ugn.
Fyllning:
Citron-vaniljkräm
4 dl frysta blåbär eller andra bär
Topping efter gräddning:
2 msk växtbaserat smör
socker att doppa i
Citron-Vaniljkräm:
5 dl sojamjölk
1 vaniljstång
1 citron (zest och juice)
¾ dl majsstärkelse
1 dl socker eller annan valfri sötning
1 msk kokosolja eller växtbaserat smör
Skär vaniljstången på längden och skrapa ur frönen. Koka upp allt med resterande ingredienser och rör om med en handvisp, låt sjuda under omrörning tills krämen tjocknar. Låt svalna.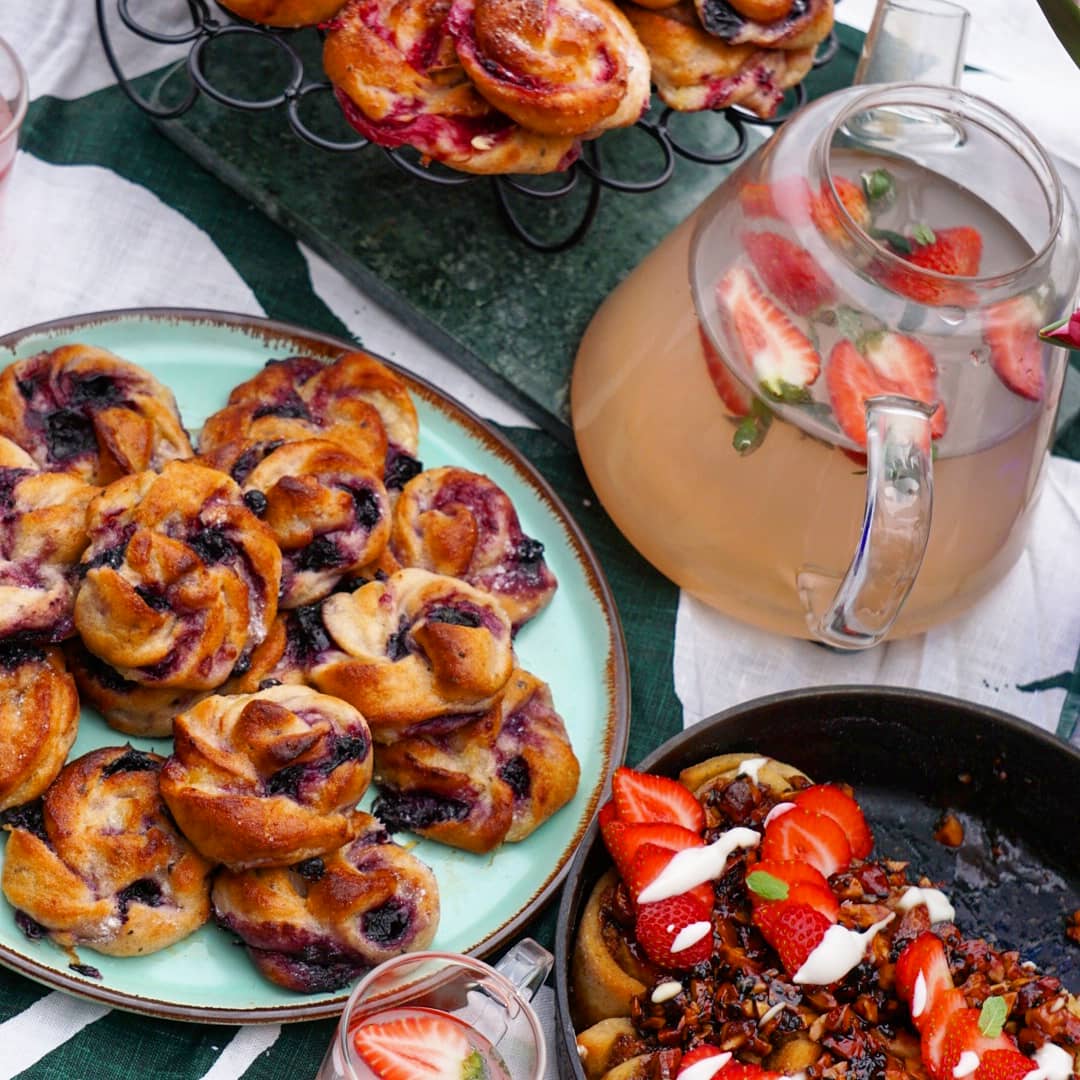 In english
Berry buns with a fresh filling and sweet topping. Very tasty on picknick and anyone will be happy if you share these on the fika table!
Berry buns with lemon custard
Dough
25g yeast
2 cups of water
0,42 cups rapeseed oil
2 tsp pounded cardamom kernels
0,42 cups cane sugar
0,84 cups sorghum flour
1 cup rice flour
0,42 cups almond flour
0,42 cups cornstarch
1 tsp baking powder
0,2 psyllium husk
1 tsp xantan gum (if you don't have it, you can add 2 tbsp more psyllium husk)
Dissolve the yeast in the water together with sugar, oil and cardamom in a large bowl. Then whisk together with the flours. Add psyllium husk and xantan gum. Use an electric whisk and whisk to a smooth and fine dough. Form a large bun with the help of a dough scraper and cover the bowl with clingfilm. Leave to rise for 3 hours. Meanwhile, make the lemon custard.
Powder a baking table with rice flour and divide the dough into two parts. (It is easier to work with slightly smaller doughs, then you can also fill with two different kinds of berries).
Tuck out one rectangle at a time and spread on custard over half. Sprinkle with berries and fold over the long side. Cut 1 1/2 cm thick lengths and spin into knots. Place on a baking tray with baking paper. Cover with clingfilm and leave to rise for another hour. Bake in the oven at 225 degrees celsius for 15-18 minutes. Brush with melted, plant-based butter and dip each bun in sugar.
We think they are the best to eat after being frozen, actually very good cold, or just heated in the oven.
Filling
Lemoncustard
1,6 cups frozen blueberries or other berries
Topping after baking
2 tbsp plant-based butter
sugar to dip in
Lemon custard
2 cups soy milk
1 vanilla bar
1 lemon (zest and juice)
0,3 cups cornstarch
0,4 sugar or other optional sweetening
1 tbsp coconut oil or plant-based butter
Cut the vanilla bar on the lengths and take out the vanilla seeds. Bring everything to the boil and stir with a hand whisk, simmering, stirring, until the cream thickens. Leave to cool.