We had a bunch of riped banans, so we froze some of them, did a bread of a couple and smoothie of the rest. We just love bananas, our favorite fruit!
Banana Granola
3 riped bananas
1 tbsp cinnamon
3 dl pecans from https://ekonotter.se/
3 dl sunflower seeds
4 dl rolled oats
a pinch of salt
Ripe and blend the bananas. Chop the nuts. Put everything together in a bowl and mix. Spread it out on baking sheet on a tray. Bake on 125 degrees celsius for about 10 minutes and then stir. Bake another 15-20 minutes until the granola is crunchy and dry.
Banana Bread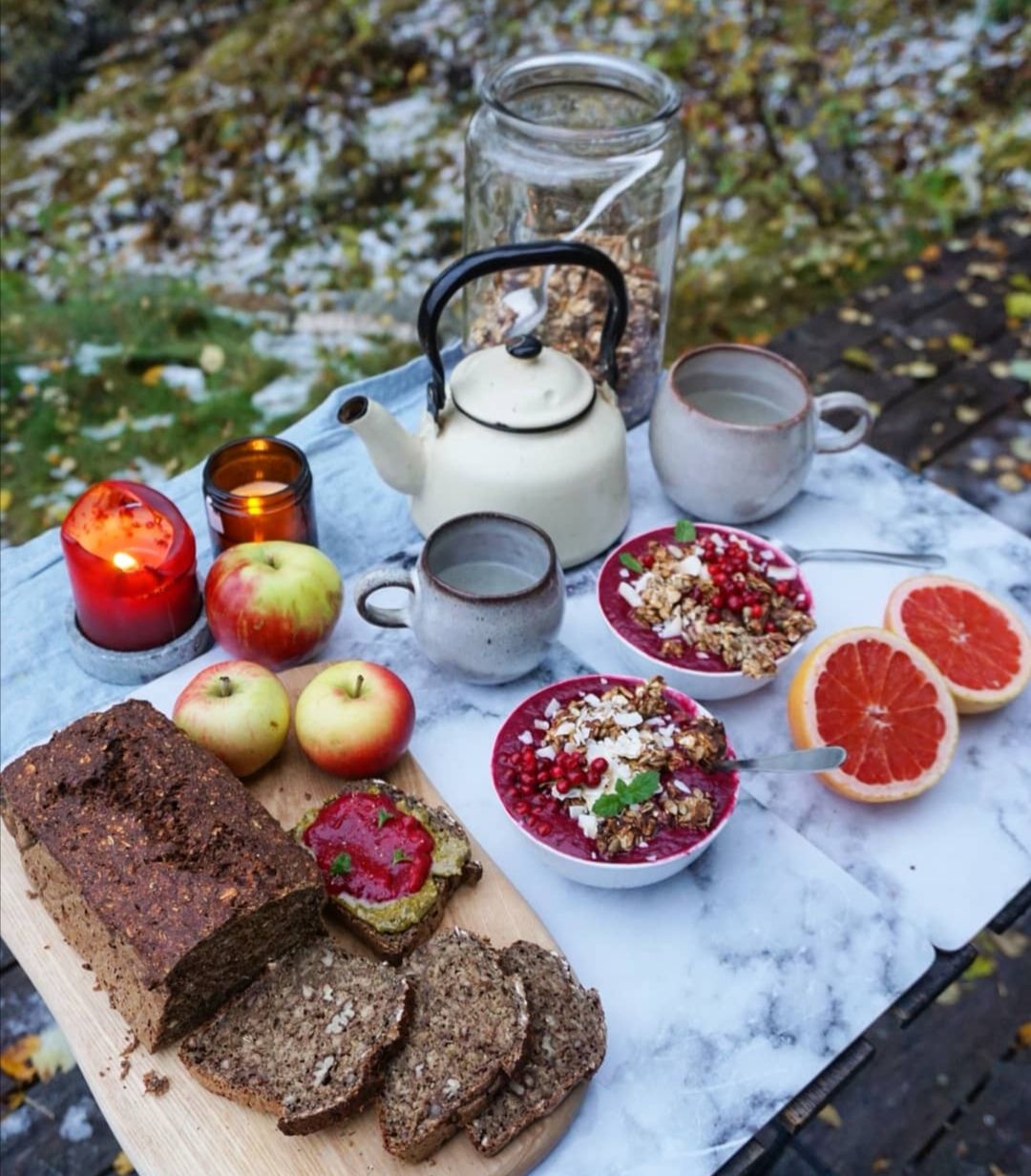 Banana Bread
3 bananas
1 dl coffee
4 dl rolled oats mixed into a flour
2 dl chickpea flour
2,5 tbsp chia seeds + 1 dl water (put togehter and let set)
3 tbsp physsulium husk
a handful chopped pecans
1 tsp baking soda
1 1/2 tsp baking powder
2 tbsp apple cider vinegar
cinnamon, ginger, cardammom and salt
a little water (less than 1 dl)
Blend coffee and the bananas. Mix all dry ingredients in a bowl, add the blended coffee and banana cream, chia jam and apple cider vinegar. Make a ball out of a baking sheet, open it again and put it in a bread form. Put the batter in the form. Bake for about 1 1/2 hour on 150-175 degrees celisus. Take out the bread from the form and leave it in the oven on after heat.
Beetroot and Black Currant Smoothie
1 frozen banana (sliced)
1 dl beetroot juice
1 dl black currants
1/2 dl lingonberries
1/3 zucchini
3 cm fresh ginger
juice from 1/2 lemon
maybe some water or plantbased milk
Blend everything in a high speed blender. Top with banan granola, lingonberries and coconut flakes!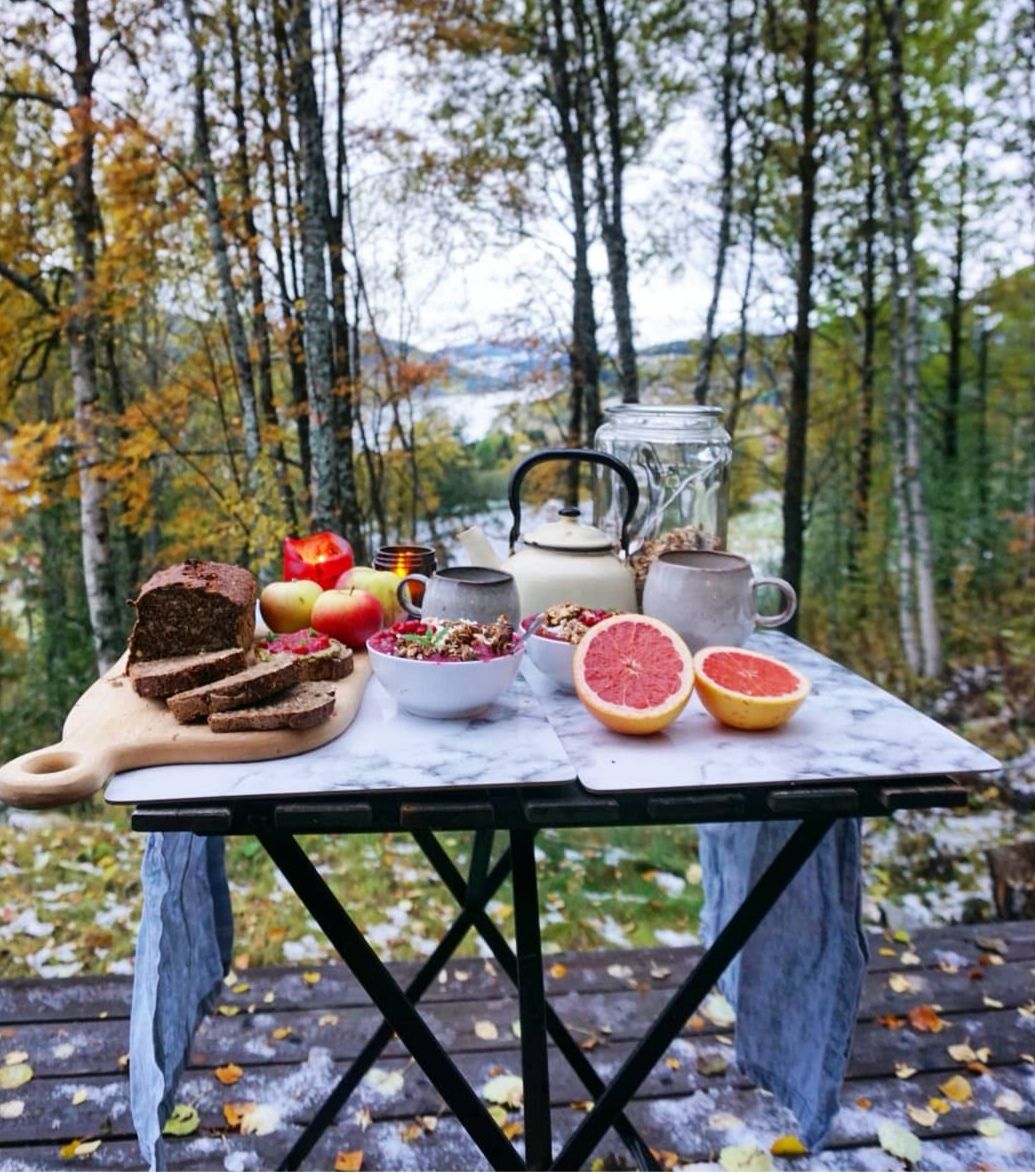 Banangranola
3 mogna bananer
1 msk kanel
3 dl pekannötter från https://ekonotter.se/
3 dl solrosfrön
4 dl havregryn
en nypa salt
Skala och mixa bananerna slätt. Hacka nötterna. Blanda sammans allting i en skål och häll ut på ett bakplåtspapper på en plåt. Baka på 125 grader i 10 minuter. Rör om litegrann och grädda 15 minuter till, tills det att granolan är torr och har fin färg.
Bananbröd
3 bananer
1 dl kaffe
4 dl havregryn mixat till ett mjöl
2 dl kikärtsmjöl
2,5msk chiafrön + 1 dl vatten (blanda ihop och låt stå)
3 msk psyllium husk
en näve hackade pekannötter
1 tsk bikarbonat
1,5 tsk bakpulver
2 msk äppelcidervinäger
kanel, ingefära, kardemumma och salt
Blanda alla torra ingredienser. Blanda sedan ihop allt. Knöla ihop ett bakplåtspapper och veckla sedan ut det igen och lägg det i en avlång brödform. Häll i smeten. Grädda i ugnen ca 1 1/2 timme på 150-175 grader (vi hade varmluftsugn). ta sedan ut brödet ur formen och låt vara inne på eftervärme.
Rödbets -och Svartvinbärssmoothie
1 frusen banan i slantar
1 dl rödbetsjuice
1 dl frusna svarta vinbär
1/2 dl lingon
1/3 zucchini
3 cm färsk ingefära
juice från 1/2 citron
eventuellt lite mer vätska, some vatten eller växtbaserad mjölk
Mixa allt i en high speed blender. Toppa med banangranola, lingon and kokosflakes!